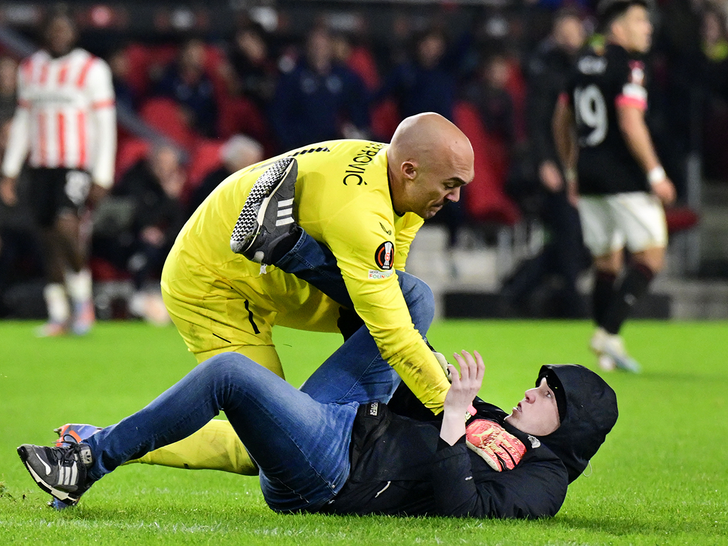 An unruly spectator stormed the pitch and punched a player in the face during a Europa League match on Thursday … and his reward was getting dropped with a vicious right hand before being dragged out by security.
It all went down at Philips Stadium in the Netherlands …. where PSV was playing Sevilla FC.
During the contest, a man ran onto the field and punched Sevilla goalkeeper, Marko Dmitrovic — but the fan was in for a rude awakening because the Serbian star was ready for the smoke.
Check out the clip … the guy comes face to face with Dmitrovic before teeing off, but Marko demonstrates quick reflexes and drops the fan to the ground with one punch.
Once Dmitrovic leveled the guy, who was wearing a black jacket, blue jeans, and sneakers when he did the ambush, Marko tried to subdue him until security intervened.
Players on the field began running in Dmitrovic's direction once they realized what was happening … and eventually, a swarm of people surrounded the man.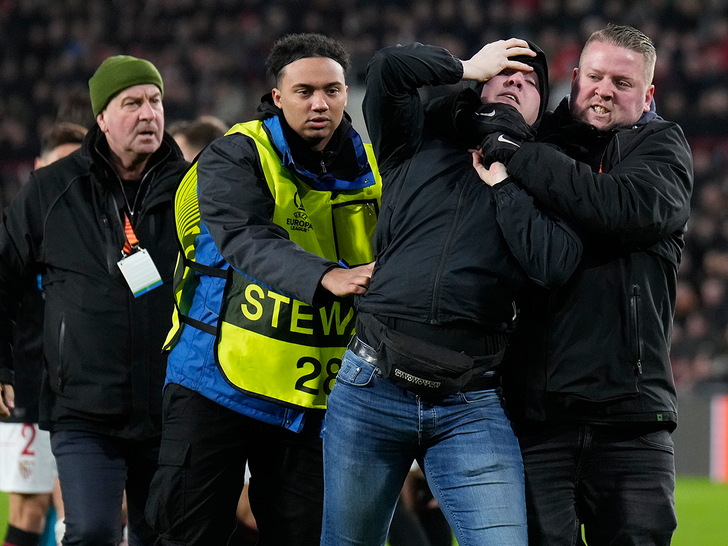 The guy attempted to put up a fight while on the ground by trying to break free from Marko's grasp … but he was unsuccessful, and security ultimately booted him from the match.
Storming the pitch is a common tradition in soccer … but in this instance, the fan got more than he bargained for and chose the wrong goalkeeper to put his hands on.
PSV ended up winning the match, 2-0 … but the intruder is the real loser here.
Source: Read Full Article