Ginger Zee just never stops! The popular meteorologist is always all around the country highlighting the issues of climate change with her informative reports.
PHOTOS: Ginger Zee leaves fans amazed with incredible beauty makeover
However, all the travel can sometimes take it out of someone, and on Wednesday she shared her response when someone left a message about her appearance. In a comment to the star it was asked: "Why are your eyes so red?" And Ginger made sure that she had a classy response to the query.
WATCH: Ginger Zee left surprised during work mission
The mom-of-two replied: "Because I woke up at 3 am ET, did the show, have a ton of makeup on and flew across the country off the plane to another shoot. Dry airplane middle seat lots of screen time. Just a guess."
MORE: Ginger Zee shares snippet of time spent with her sons while off work
MORE: Ginger Zee celebrates son's birthday in Miami during time away from GMA
Ginger is currently in Pacifica, California, where she is reporting on the oncoming storm that the town is soon to experience, alongside major cities in the state.
She showed how strong the storm would be on her Instagram Stories both with a photo of the storm system, as seen from space, and a video of her on Pacifica Pier at low tide.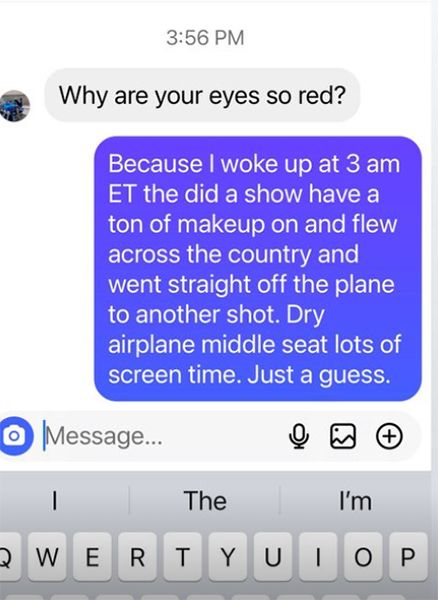 Ginger handled the question with class
In the short clip, waves could be seen crashing onto the rocks as Ginger explained the issues around coastal erosion.
LOOK: Ginger Zee unveils new look on GMA as her co-stars reveal what they think
The popular TV host has made it her mission to spread awareness about the issues of climate change, and has been open about her fears for the world that her sons will inherit.
She explained: "When I was pregnant with Miles, my second, one of my siblings said to me, 'I can't believe you would do that or I wouldn't think you would do that because of the planet,' and I was stunned."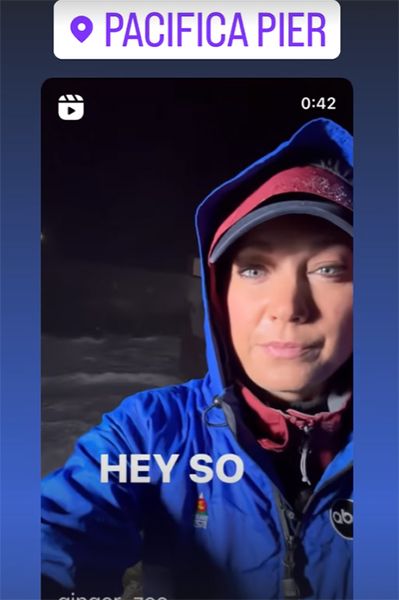 The star is in the middle of the storm
However, she said: "But, it's a conversation, a lot of people are having," going on to share a clip of a feature by Good Morning America which discusses the topic, including a quote Miley Cyrus told Elle, which read: "Until I feel like my kid would live on an earth with fish in the water, I'm not bringing in another person to deal with that."
MORE: GMA star Ginger Zee sparks concern from fans after announcing new project
PHOTOS: GMA's Ginger Zee's enormous Christmas tree revealed – and it comes with a twist
The series Ginger shared revealed that in a study conducted by Ipsos, 23% of U.S. adults from ages 18 to 45 said climate change has made them reconsider not having children.
The host further added: "On pure carbon emissions alone, yes, having one less child is one of the most significant ways to greatly reduce your carbon footprint. It would be like 24 people not having a vehicle."
Read more HELLO! US stories here
Like this story? Sign up to our newsletter to get other stories like this delivered straight to your inbox.
Source: Read Full Article