James Middleton has recently been supported by his family following the sad death of his dog Ella, and on Thursday he returned the favour to his eldest sister Kate as she announced an exciting new project.
Taking to social media, the Princess of Wales shared a new photo of herself alongside radio presenter Roman Kemp, and wrote: "Talking early years and mental health with @romankemp. An important conversation on all things #ShapingUs – coming tomorrow with @earlychildhood."
WATCH: James Middleton shares heartbreaking video of beloved Ella
James, 35, was one of the first to comment, writing: "Can't wait," alongside two red heart emojis.
Kate and Pippa's brother is a mental health advocate and often speaks about relying on his beloved pets in times of need.
Just last week, in a new essay for The Sunday Times, James wrote all about the passing of his 15-year-old cocker spaniel and explained how she had saved his life.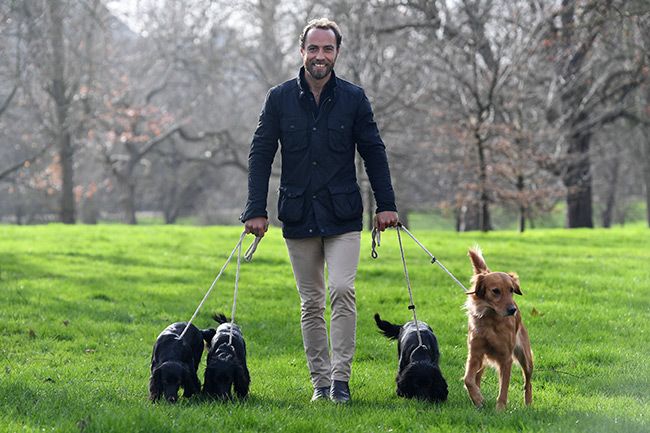 James Middleton's dog Ella died earlier this year
"Everybody knew how much she meant to me and there was a day they feared the most: the day Ella was no longer in my life. She meant something to all of them too," James wrote.
LISTEN: Royal photographer Arthur Edwards describes why Prince William's birth was Charles' happiest moment
Both Kate and Pippa have dogs that were Ella's puppies, and James was surrounded by all the family at Ella's funeral.
"All the family came to say their goodbyes. I can't speak for them but I believe she influenced their lives too," he wrote. "Lupo, Catherine and William's dog, was one of Ella's puppies. My sister Pippa and her husband have a pup from Ella, as do other family members."
The Middleton family are very supportive of each other's projects
After Ella's passing, James attended therapy to get through the challenging time—and his sisters supported him there, too.
"My sisters came to some of my therapy sessions. They've always been there during difficult times and they were at my side during the hardest of times as well. For that, I am forever grateful," he wrote.
Make sure you never miss a ROYAL story! Sign up to The Royal Explainer newsletter to receive your weekly dose of royal features and other exclusive content straight to your inbox.
Source: Read Full Article