The former Xscape member also receives support from her friends, Monica and Tiny Harris, after her ex Russell Spencer questions why he needs to pay child support if Kandi makes more money.
AceShowbiz –Kandi Burruss' daughter doesn't have the best relationship with her father and the drama has unfolded on social media. Riley Burruss, whom the singer shares with her ex Russell Spencer a.k.a. Big Block, has called out her father after he dissed her and her mother in an interview.
Russell recently sat down with VladTV to discuss his relationship with Kandi and their daughter Riley. In it, he questioned why he needs to pay the reality TV star child support if she makes more money than he does. "Now how you got more money than me … and you put me on child support?" he asked.
Of his relationship with Riley, Russell initially said, "We cool." He claimed, "We're coming along," before admitting, "I don't know what happened between 10 [through] 15 [years of age]."
Of what caused their strained relationship during much of his daughter's teen years, the producer said, "I think a lot of people get in her head. There's a lot of jealousy because all my kids live with me. I've got three daughters and three boys. Every last one of them lives with me except Riley."
Catching wind of the interview, Riley has put her father on blast. "My mom and I always try to take the high road," the 19-year-old wrote. "But honestly it's really upsetting that I constantly have to see you badmouthing us publicly."
She denied that she was jealous of not being raised by her father, saying, "I was blessed to be raised in a household where my mom provided the best life I could have. No jealousy here." Riley then begged with her father, "I would appreciate it if you could stop talking about us."
Kandi herself responded to Russell's interview by posting a quote that read, "I don't care how well I'm doing, I still need that money you owe me." She added, "Don't BLOCK your blessings not doing right by your children."
Kandi and Riley have since received support from the "No Scrubs" co-writer's friends. Monica, in particular, wrote underneath a repost of Riley's response, "so eloquently stated ! We all love you and we're so proud of you and all your accomplishments! You and @kandi will forever be successful in life , love & family !"
She also posted a picture of Kandi and Riley on her Instagram Story and wrote underneath, "Sending extra love and light to one of the greatest moms I know. [Kandi] you've always gone above and beyond for your children & [Riley] is a shining example Of just how amazing you are! Love you both."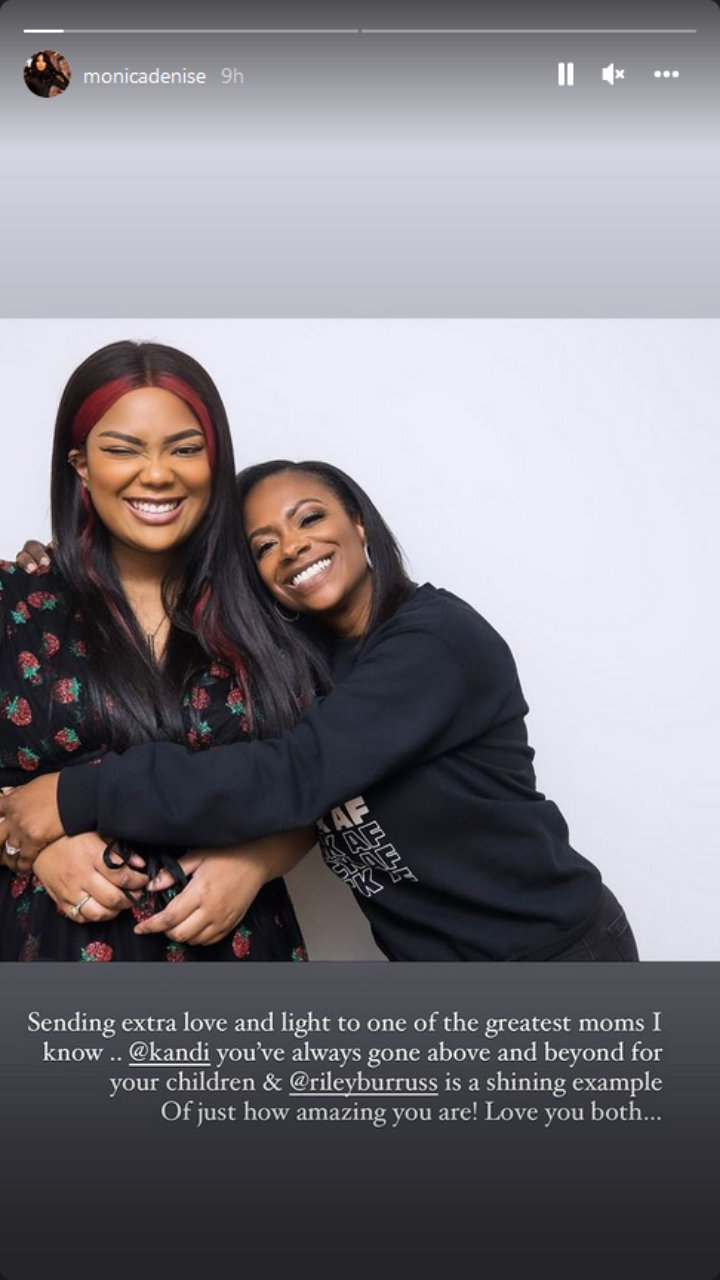 Monica showed her support to Kandi Burruss and her daughter Riley.
Tiny Harris a.k.a. Tameka Cottle commented on Kandi's statement, "Damn right!! Fuk he thought!!!!" She additionally wrote in response to Russell's interview, "Man this is a bunch of bullis**t! Just cause she makes more money u shouldn't give her money to help with y'all's child."
T.I.'s wife went on accusing Russell of being a deadbeat father, "It's bad enough u never acted like she existed. That man was absent for years on years at a time [eye roll emoji] Riley balled out her whole life & ain't stopped yet!! Them single mama's don't play bout they baby's they just go harder. He should be thanking Kandi instead of talkn [poop emoji]."
Source: Read Full Article