The NBA star has clarified his remarks after he called out the Lakers for being reluctant to trade first-round picks to improve the roster during a recent interview.
AceShowbiz – LeBron James has cleared the air after he commented on the Los Angeles Lakes' reluctance to trade first-round picks to improve the roster amid a 19-21 start to the season. On Sunday, January 8, the NBA star clarified his remarks that he made during a recent interview with The Athletic.
James responded to the Athletic's Sam Amick who claimed that the whole thing got the athlete's patience "waning." Making it clear, James wrote, "Hey Sam actually my patience isn't waning. You make it sound like I'm frustrated when I'm really not."
"I told you over and over, my job is focused on the guys in the locker room, my job isn't the roster. That's the reality of that conversation," he went on to explain. "And I said what I said with the upmost respect and calmness cause that's the mood I'm in! Your welcome! 5 game winning streak."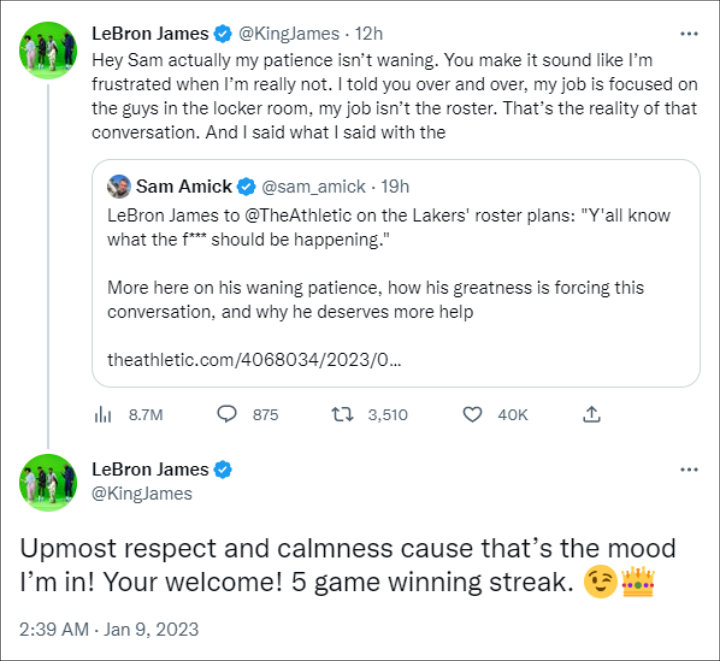 LeBron James clarified his Lakers trade comment.
In the aforementioned interview, James weighed in on the lack of movement on the trade front. "Y'all know what the f**k should be happening," he said. "I don't need to talk."
James was referring to the Lakers trading one or both of their remaining future first-round picks in 2027 and 2029 to get him some help. However, the front office appeared to be reluctant to send away either asset for fear of mortgaging the future for an average team.
The Lakers is currently 19-21 on the season. Prior to this, James hinted that his future with the team being unclear following a five-game losing streak back in December.
"I'm a winner and I want to win. I want to win and give myself a chance to win, and still compete for championships," James said at the time. "Playing basketball at this level just to be playing basketball is not in my DNA. It's not in my DNA anymore. We'll see what happens and see how fresh my mind stays over the next couple years."
You can share this post!
Source: Read Full Article