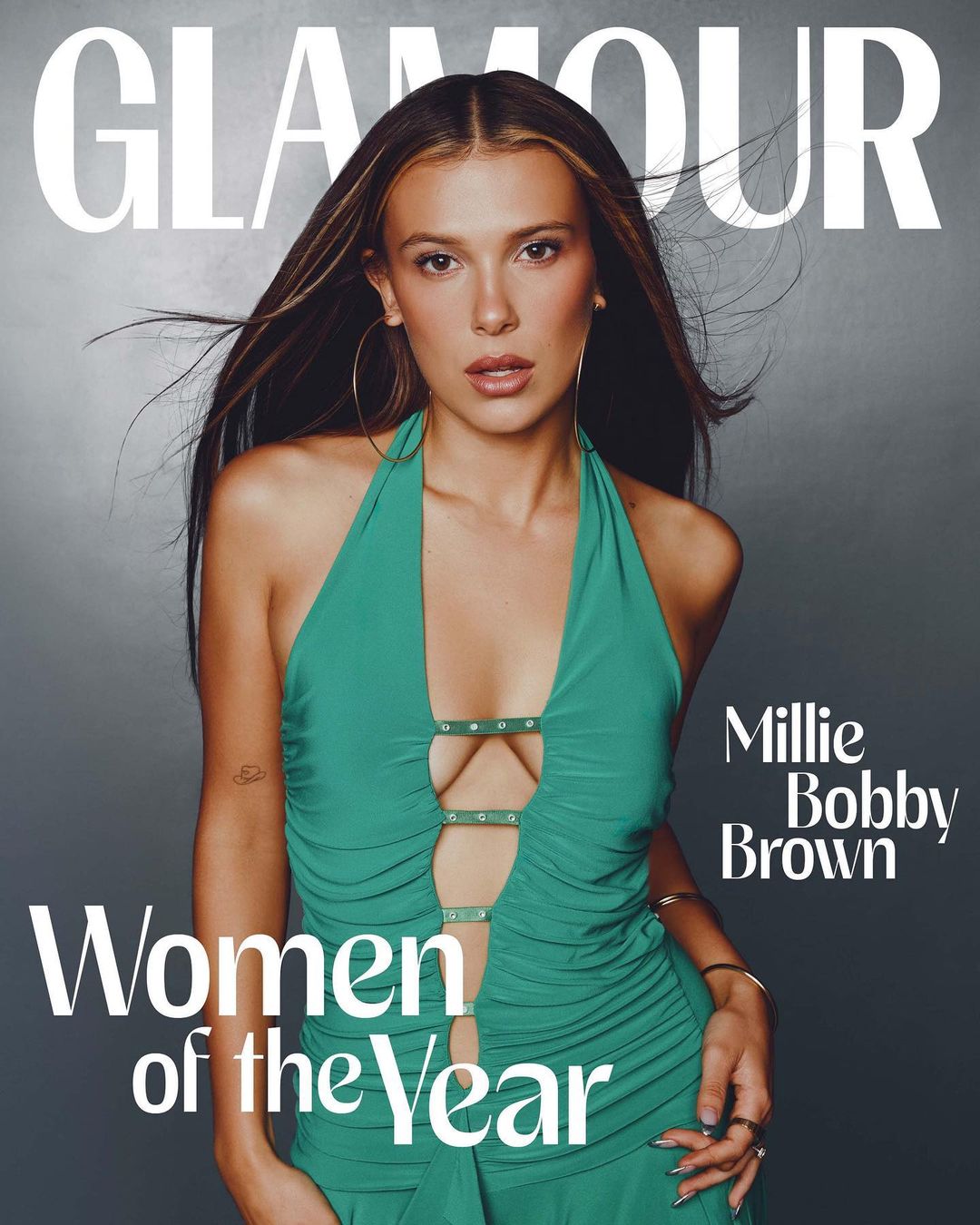 Millie Bobby Brown is a lot. She's 19 years old, she's been super-famous for half of her young life, and she's engaged to Jon Bon Jovi's son. She's also an author, an actress, a producer, a soon-to-be screenwriter and on and on. It's a lot, and this kind of frenetic energy makes me want to take a nap! No, I actually like MBB and I don't blame her for striking while the iron is hot and figuring out a way to do things on her terms. There's a boldness there which I appreciate and respect, even if I think she would find it beneficial to go to college for a few years. MBB is currently promoting Nineteen Steps, her novel which is sort of based on her grandmother and London during WWII. She's also Glamour's Global Woman of the Year. Some highlights from a somewhat overwrought cover story:
How she starts her day: "I'm somebody who wakes up, drinks a kombucha, pets my donkey, you know?"

Being criticized for talking too much when she was a kid: "We're kids—we talk over each other. I was just penalized for overtalking and oversharing and being too loud." She was accused of, as she recalls it, "trying to steal the thunder" of her castmates. Grown adults called her "an idiot," "stupid," and "a brat." "It's hard to hear that at 13. You're like, 'I don't want to ever talk again. I don't want to be the loud person.' In interviews I couldn't help but think of all the comments. So I just remembered to stay silent and speak when I was spoken to, even though I was dying to join in. I just felt it wasn't my turn."

She tries to look out for other child actors: "You cannot speak on children that are underage. I mean, our brains physically have not grown yet. To diminish and practically stunt someone's growth mentally, strip them down, tell them, 'Hey, listen, you don't look that great. Why are you wearing that? How dare you think you can wear that? How dare you say that?'"

She's put up gates: "Nobody's allowed in. Nobody can say sh-t. This is my life, and the only people that are allowed are the people that I open the gate for. Other than that, everybody's out. And yes, it's sad. There are trust issues. And yes, I have issues with having friends. I don't have a lot of friends. Yes, I block out a lot of people. I'm a reserved person, socially. I will never let that gate open again. Because everyone's crossed it."

Falling for Jake Bongiovi: "I think I was so afraid to be a strong woman in a relationship," Brown says of her past relationships. Being attractive to men, she thought, meant not taking up too much space. "When I met Jake. I just felt I could be loud. He embraced that and encouraged that. And I fell in love with myself while being with him."

She has always known she wants children. "I wanted to be the woman that my mom is to me and I wanted to be the woman that my grandmother was to me. So that was never my, like, intention, to be a wife. But after meeting Jake and seeing, 'Oh, I don't have to be this stereotypical wife for him. He doesn't want me to be that either. He wants me to go and do my thing and live my life, and he will hold my hand in the process of that.' I was like, 'Oh, I do want this.'"

Her feminist awakening: She credits her feminist awakening to a visit to a psychic, who informed her that she was, in fact, a feminist. Brown went home and googled "How do I know if I'm a feminist?" After reading articles and books, she "really grasped the idea of feminism and what it means to me," she says. "Ultimately it's about opportunity."
[From Glamour]
She also talks about Jake's family and how she and Jake both come from happy families with long marriages, and I genuinely winced because she just jinxed herself so hard. But I generally feel like she'll survive whatever happens. Jake sounds like a nice guy and it sounds like a healthy relationship (for her age). She thinks that being married will make her more settled, that she'll have a real home and that this is, finally, the answer. And that's a lot to put on a marriage at 19 years old! But again, she's a survivor and she'll figure that out in real time.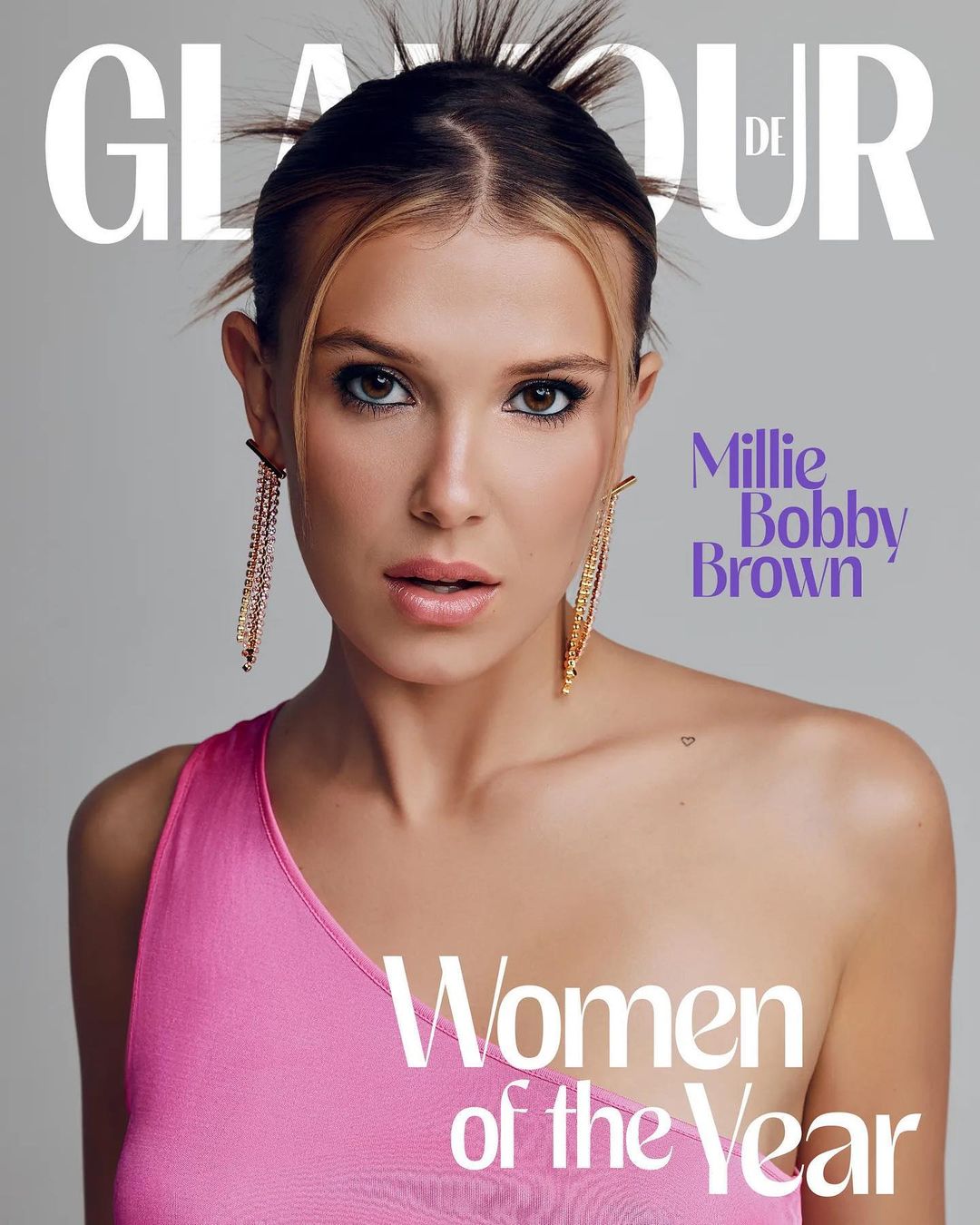 Covers courtesy of Glamour.
Source: Read Full Article