London-based label AGR is grounded in technical knitwear practices, often injecting textiles with vibrant palettes that boast a distorted feel. As a result, founder Alicia Robinson has become synonymous with exciting design manipulations that rule their own universe.
Now, AGR presents its Fall/Winter 2023 collection that steps into a lively Y2K realm dominated by vigorous affirmations and spiritual energy. This season, the brand collaborated with Smiley and U.K. artist Niki Hare to craft a sustainable offering with a psychedelic mentality. Alongside the "Smiley Future Creatives Fund," the duo debuts a trippy take on the classic grinning face, where the character is seen weaving a ball of yarn filled with blended rainbow tones.
Elsewhere, Niki Hare delivers an energetic message of balance and personal growth through bespoke artwork that illuminates mohair knitted cardigans, mismatched pullovers, and printed catsuits with warped graphics. Wrinkled sets receive a metallic finish, while staple T-shirts sport pastel gradient decor and liquified AGR branding.
Robinson took a trip to Lisbon, Portugal, seeking further inspiration, channeling its bustling city streets through geometrical tiling that hops from look to look. Coordinating denim ensembles don faded tones that transition between blue, green, purple, and brown, accented by rhinestone-encrusted cowboy belts, bandanas, and jewelry.
Hypebeast caught up with London-based designer, Alicia Robinson, to walk us through the inspiration and design process behind her FW23 collection.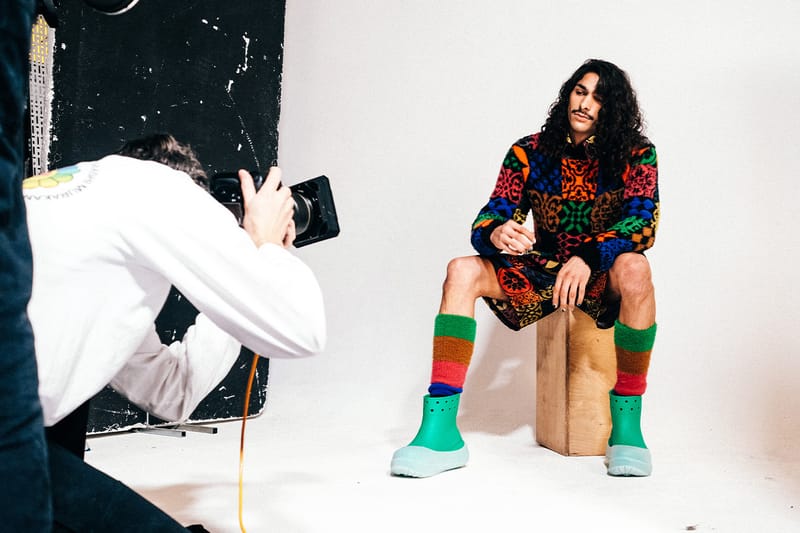 Andrew Vowles
Vibrancy is always a top note in your collections. Why do you feel this is important?
Alicia Robinson: I'm all about "more is more" and high energy. That's my characteristic, and the brand is my baby, so I guess it all just trickles down. I don't really do anything by halves, and so I like my designs and clothing to make people stop and stare and say, "WOW." If it's not doing that, then I'm not really interested.
"I don't really do anything by halves, and so I like my designs and clothing to make people stop and stare and say, "WOW." If it's not doing that, then I'm not really interested."
Walk us through the inspiration behind AGR's FW23 collection.
AR: The inspiration for this collection started with a trip I took to Lisbon last summer. That's where all the tile & geometric patterns on this season's puffers and denim came from. We then blended this with our Niki Hare collaboration; she is a wicked artist from up North. I visited Niki's studio in person, and we spent some time together, which was great — it's really important for me to work with people I like and can build a proper connection with. We ended up making a really cool piece of art specific for AGR that is featured heavily in the collection and gives off a major 90's feel, which is a continuous inspiration throughout all of our collections.
What was your creative process like when designing this collection?
AR: Once the foundations of the collection were there — from Niki's artwork to the tiling patterns I found out in Lisbon — the focus shifted to the most innovative and fun ways we could incorporate these on our clothes. The team and I worked our magic over the months following, developing new knit techniques in our studio, laser denim designs, and prints to pull everything together. We did a lot of editing, which is just as important a process as the initial design stage. It's key to be able to focus on what works and what needs to be removed. We had fun trialing out new yearns this season, looking for alternatives to mohair that still had that fluffy feel. It's really important to me that all our pieces have longevity, so we are constantly researching new materials to make it all happen. 1 of 4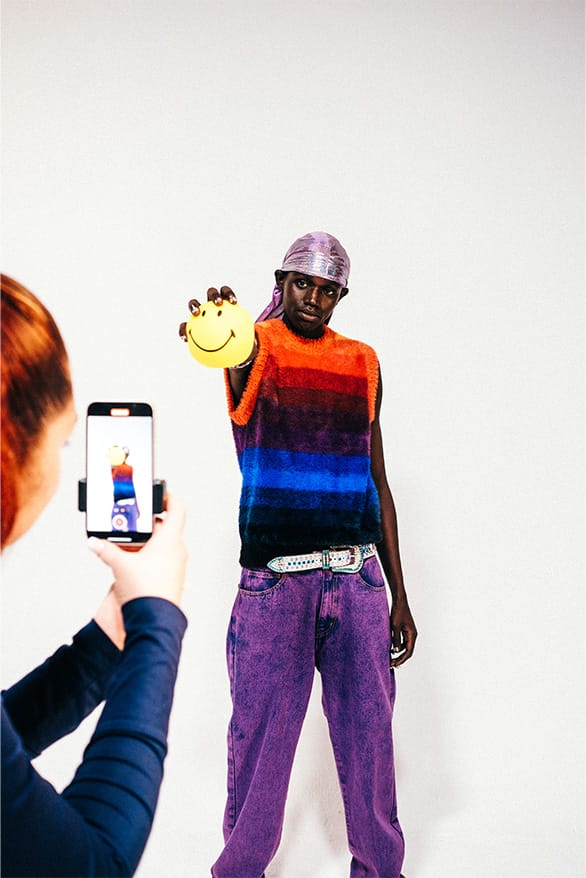 Andrew Vowles2 of 4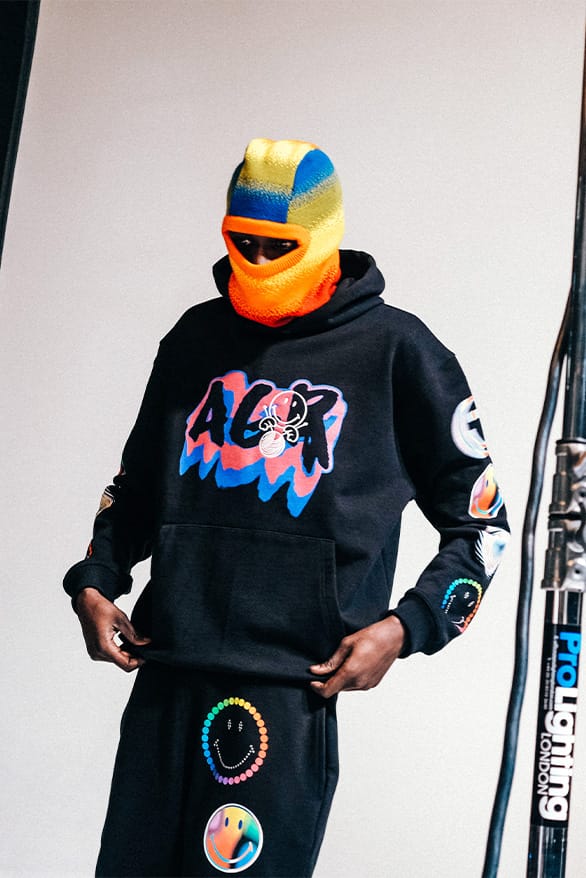 Andrew Vowles3 of 4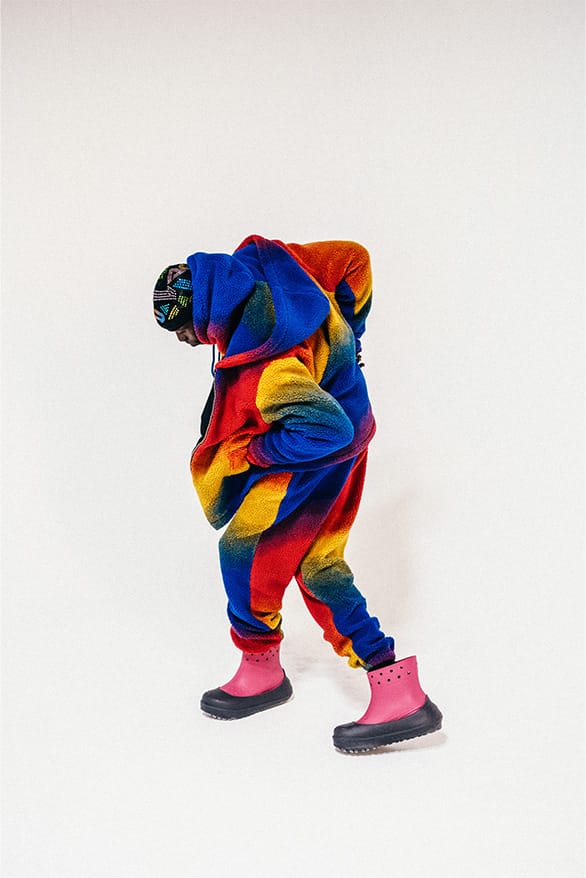 Andrew Vowles4 of 4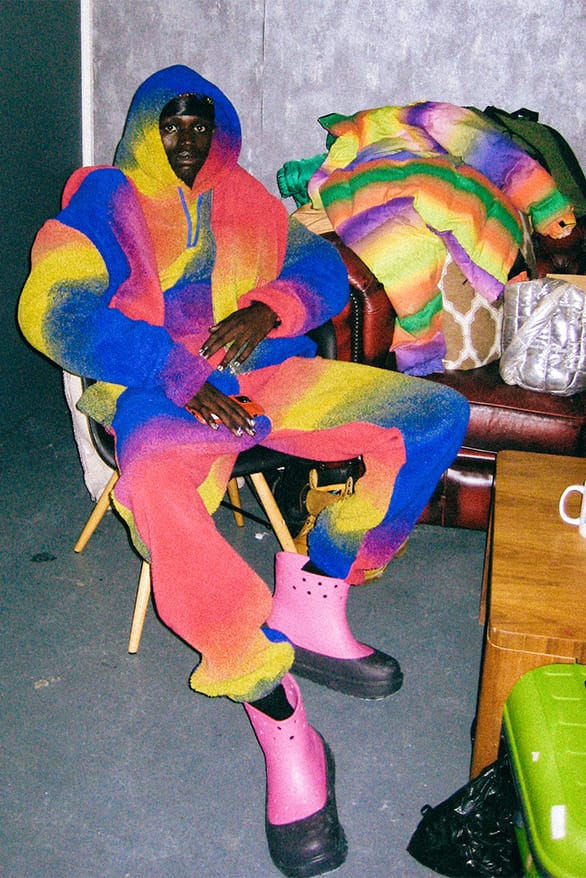 Andrew Vowles
This season, you are working closely with Smiley. In what way are they amplifying the AGR personality?
AR: The theme behind this season's collection, and AGR's overall personality, is to always invoke joy and positivity through our clothing. When we first connected with Smiley, it was clear they were on board with all our eccentric ideas of how we could incorporate the iconic Smiley logo and blend it into our playful and psychedelic graphics this season. The "Smiley Future Creatives Fund" focuses on creating sustainable pieces, which we really aligned with, so it was great to have the chance to work closely with them while sourcing the best sustainable materials for the collection.
What can we expect next from AGR?
AR: It's a new year for AGR, and we are already making some shifts, starting with our website relaunch, which is much cleaner and more user-friendly. We are also looking to focus heavily on special projects and collaborations this year; that is how AGR started, and we are really trying to retain what feels authentic to us and, most importantly, trying to have some fun while doing so.
Take a closer look at AGR's FW23 collection in the gallery above.
In other news, Kiko Kostadinov's ASICS GEL-QUANTUM ZIENTZIA collaboration has been revealed.
Source: Read Full Article