A new cultural hub named Aviva Studios has opened in Manchester. Designed by Dutch practice OMA, the multipurpose venue will host a year-round programme, and is able to facilitate anything from theatre productions to raves.
A team from OMA, headed up by Ellen van Loon, began work on the project back in 2015. As described by the Guardian, the final form differs incredibly from the initial designs. But the mission remained the same – by creating a new cultural hub for the northern city, the creative pulse of the immediate and surrounding areas can be revived.
"All too often, abandoned post-industrial buildings and neighborhoods are erased from the map, and with them the creative scenes that once thrived within them," she said. "This building reinstates what was lost."
The design for Aviva Studios is made up of two main buildings over 13,350-square-meters. Inside, spaces are designed to be large, open, and flexible enough to be reconfigured depending on the requirements of events or projects taking place. The main space has been dubbed the "Warehouse", which measures 33 meters wide, 64 meters long and 21 meters high, and has two "multiwalls", which can be moved to create a limitless set of configurations.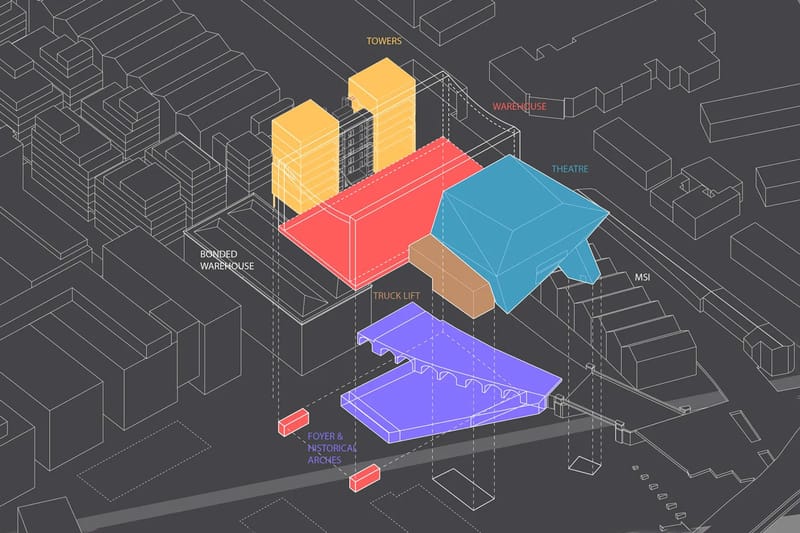 Drawing Courtesy Of Oma
Next door is a 1,600 seat auditorium named "The Hall", which can host ballet, theater, music, and art performances. The Hall and the Warehouse can also be linked together to create a huge, expansive space. "I've worked on numerous theaters and performance spaces, but none compare to this one in terms of what it offers to performers," van Loon said. "This venue serves as a platform, unlocking the full potential of the performing arts."
Aesthetically, the architects describe Aviva Studios as being "representative of the industrial and cultural history of Manchester" – and say this has been achieved through the use of corrugated metal and rough concrete.
Aviva Studios will become the permanent home of Factory International, the organization behind the biannual Manchester International Festival (MIF). To coincide with the opening, the venue premiered "Free Your Mind" a dramatic retelling of the classic sci-fi film The Matrix – directed by Danny Boyle in collaboration with hip-hop dance company Boy Blue, designer Es Devlin and writer Sabrina Mahfouz.
Take a look at Aviva Studios above, and for more design – check out the work of Lewis Kemmenoe, who is currently showing pieces at London's Max Radford Gallery.
Source: Read Full Article