Rolls-Royce is a byword for – and the epitome of – luxury. It is renowned for its "magic carpet ride," "waftability," a 6.75-liter V12 that's so gentle you can balance a coin on it, unrivaled craftsmanship, and one-of-a-kind interior experience. And for over 117 years, it has based every single hand-made creation on these mantras, coming together for a back catalog that's fit for the Royal Family, diplomats, Mayfair socialites, business owners, and now, a much younger, more dynamic, and aware audience who are keen to join the marque on its next era. But the Rolls-Royce Spectre is the car that the marque has dreamt of inventing since 1900.
123 years ago, Charles Royce said, "The electric car is perfectly noiseless and clean. There is no smell or vibration. They should become very useful when fixed charging stations can be arranged." While the latter portion of that quote still rings true today, with an increasing need for the automotive industry and local councils to implement a stronger electric infrastructure, it's the former section that makes perfect sense in Rolls-Royce's world.
The Rolls-Royce Spectre is more than just the manufacturer's first all-electric production vehicle. It is the future of luxury automobiles – not just for the greater good of the planet, but for the marque's next 123 years. It already lowered its average consumer age to 42, far less than the era of aristocrats in their 60s buying a Phantom, thanks to the release of cars like the Cullinan and performance-enhanced Black Badge variants across the product range. But to keep the younger consumer in the palm of its hand (which stoops as low as those in their 20s and 30s), Rolls-Royce knew it had to plug into today's electrified automotive atmosphere. 1 of 2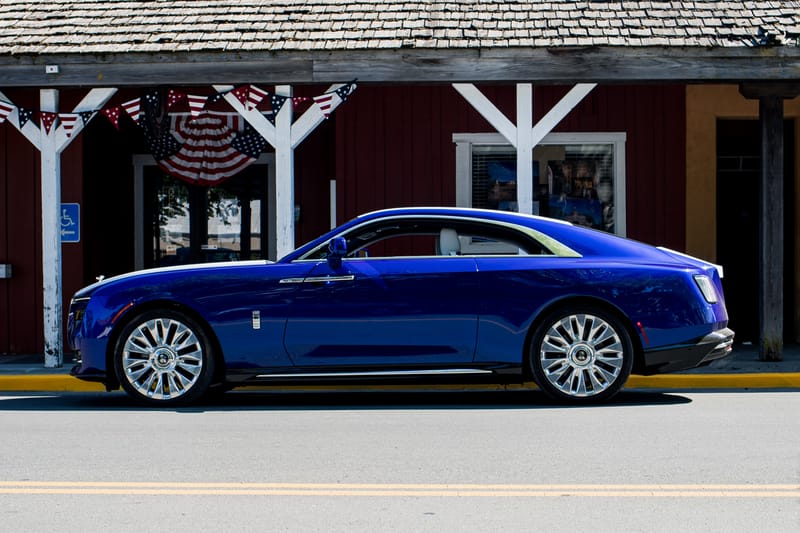 Eric Brain/Hypebeast2 of 2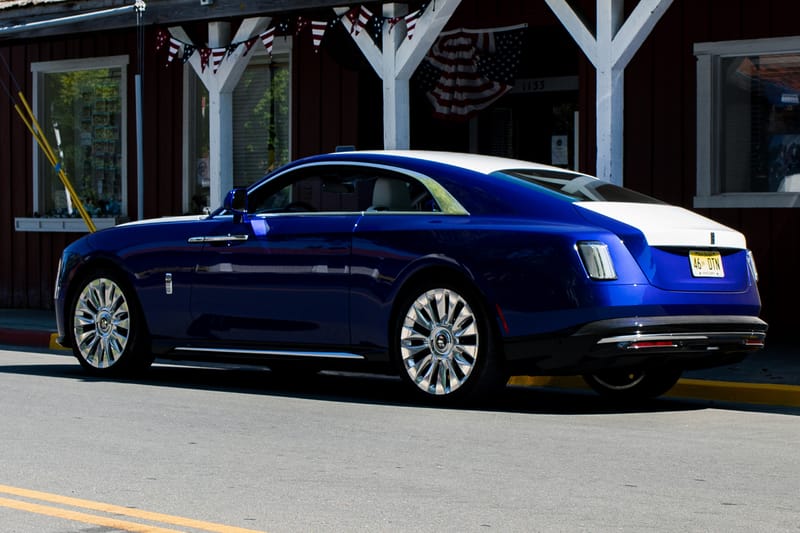 Eric Brain/Hypebeast
The Spectre speaks to a new generation. It evidentially speaks to the Hypebeast audience, accumulating the most traffic any Rolls-Royce-related post has ever achieved in the history of Hypebeast, remarkably coming in almost three times higher than the reveal of Drake's one-of-one Chrome Hearts Cullinan.
Numbers and superlatives aside, the Spectre is more than just "an electrified Rolls-Royce," as Hypebeast was lucky enough to discover when driving the new model in Napa Valley, California. The Spectre is an entirely new way to travel and enjoy a Rolls-Royce car, defined by driving it instead of being driven, all while harnessing every element that makes it feel like a natural successor to the cars that have come before it.
Exterior
If there's one word to describe the Spectre, it's imposing. From every angle, you feel its presence – all five-and-a-half by two meters of it. It also weighs 2,975 kg (or 6559 lbs), and that doesn't all come from a hefty battery. Instead, it's the exterior and interior; a palatial sculpture on wheels defined by three pen strokes.
Its muscular, yet simultaneously soft lines, are defined by three elements – the shoulder, the waist, and the "waft line." The latter two carve from the front of the car to the rear, while at the back, you can see how the car tapers into narrower proportions, accentuated by two-tone paint jobs that highlight the Spectre's aerodynamics.
Seldom do the words efficiency and Rolls-Royce find themselves in the same sentence, but everything about the Spectre is efficient. Aside from an EV powertrain, the exterior design has been penned to be as productive as possible – a wide and tapered illuminated Pantheon grille guides air around the car, while the Spirit of Ecstasy standing tall on the front hood now leans with the vehicle, pointing towards the front with an angle that cuts through the air. 1 of 5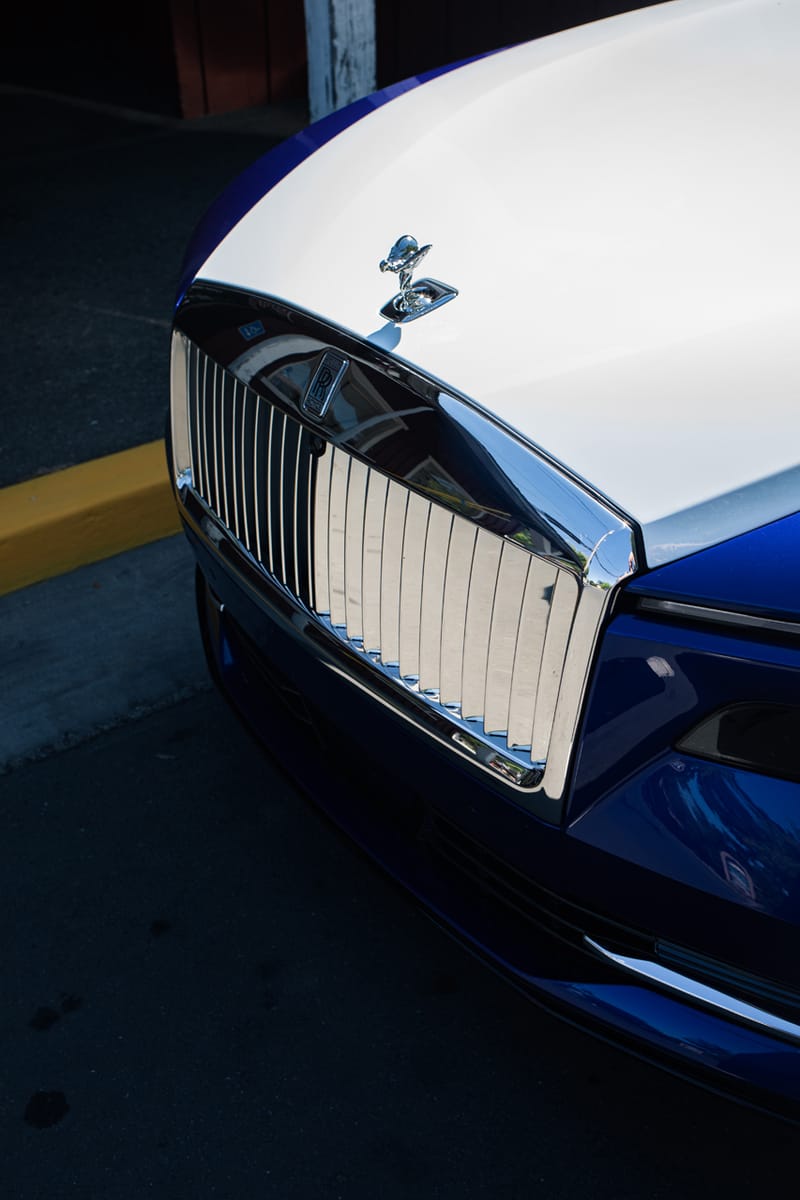 Eric Brain/Hypebeast2 of 5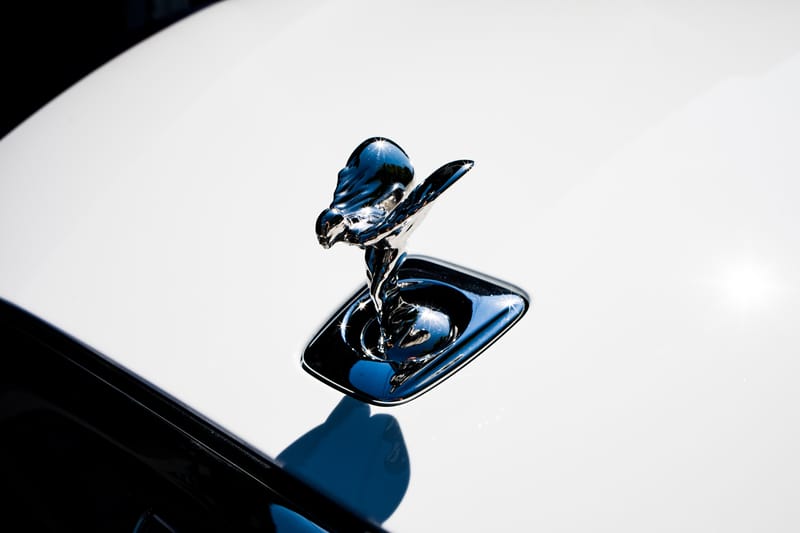 Eric Brain/Hypebeast3 of 5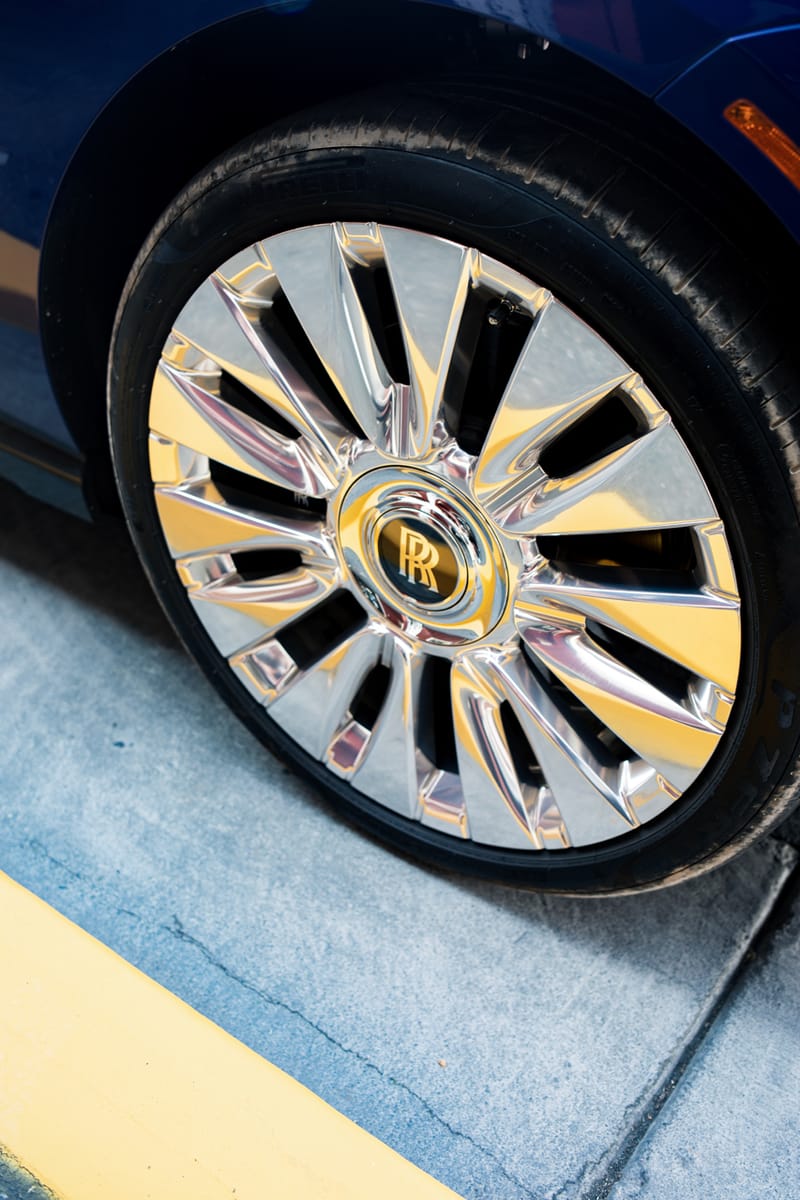 Eric Brain/Hypebeast4 of 5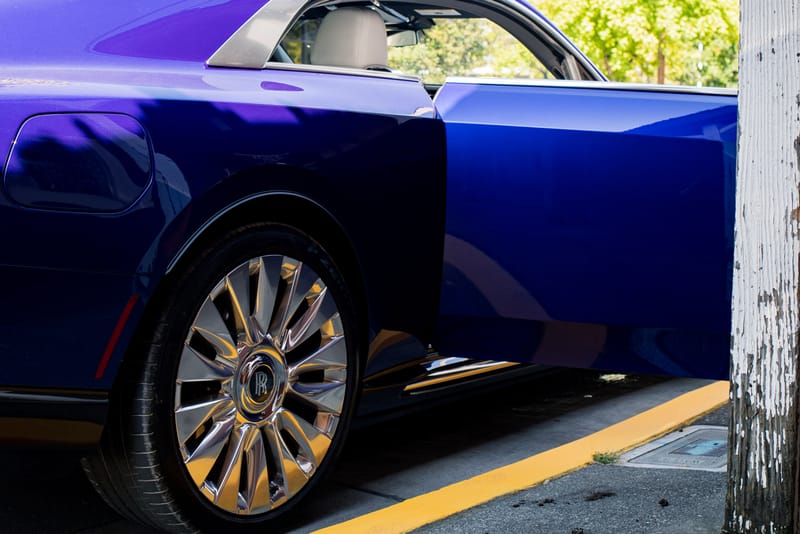 Eric Brain/Hypebeast5 of 5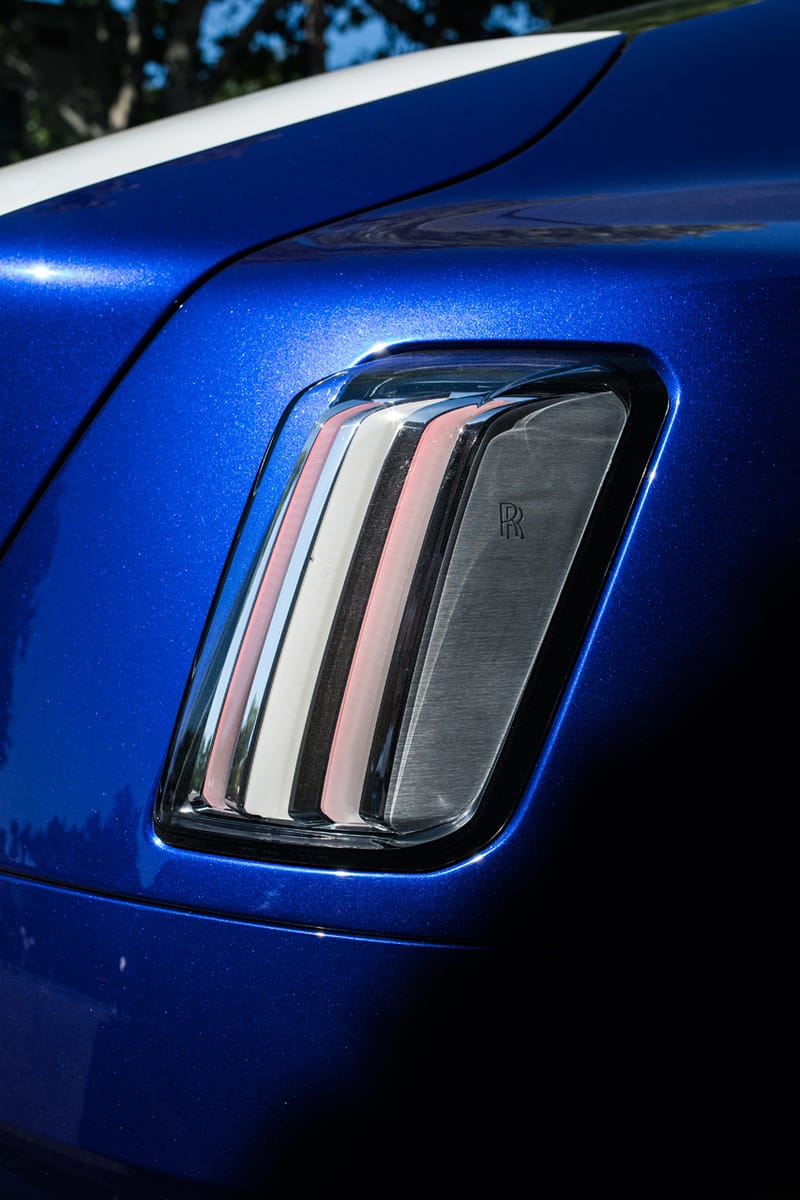 Eric Brain/Hypebeast
But above all else, the Spectre looks and feels like a Rolls-Royce. It has 23-inch rims (the largest ever fitted to a Rolls-Royce, let alone a coupé since the Bugatti Royale of the 1920s and '30s), and signature Coach Doors come on either side, wider than those on any other Rolls-Royce to allow easy in-and-out access for both driver and passengers, front or rear.
The exterior is not game-changing, but it didn't have to be. Rolls-Royce has a clientele to attract, and this is by no means a sports car. Luxury and sophistication are the goals, and the marque certainly ticked all the necessary boxes here.
Interior
The interior of the Spectre is not game-changing. Familiarity is key when it comes to a heritage brand such as this, and despite the Spectre will feel very much like part of the furniture for the seasoned RR patron. With that in mind, you get four generously comfortable leather-swathed seats, a Starlight Headliner (and doors, a new element exclusive to the Spectre, for now), and a clock in the dash. On the other hand, the driver instrument dials are digitalized and customizable to match the theme of the wildly-customizable interior, and the infotainment system is as snappy as you'd ever need it to be.
Unlike most electric cars, the Spectre is not trying to be a camera-clad, screen-centric spaceship of Star Trek-level technological advancements, too complicated for even a millennial to understand. Instead, Rolls-Royce reminds you time and time again what you are sitting in.
Familiar touches like automatic closing doors, sleekly hidden umbrellas, and the quality of audio – both what you can and cannot hear – are of the utmost importance. And it's with the latter where the Spectre comes into a league of its own. 1 of 5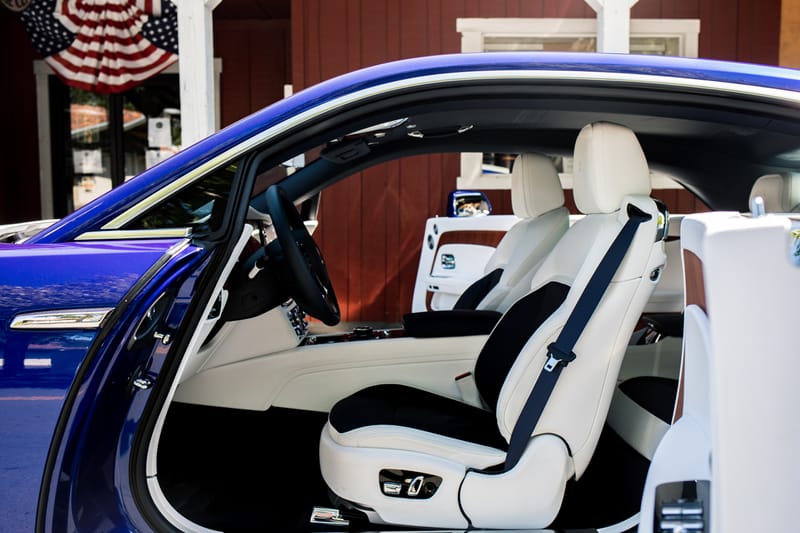 Eric Brain/Hypebeast2 of 5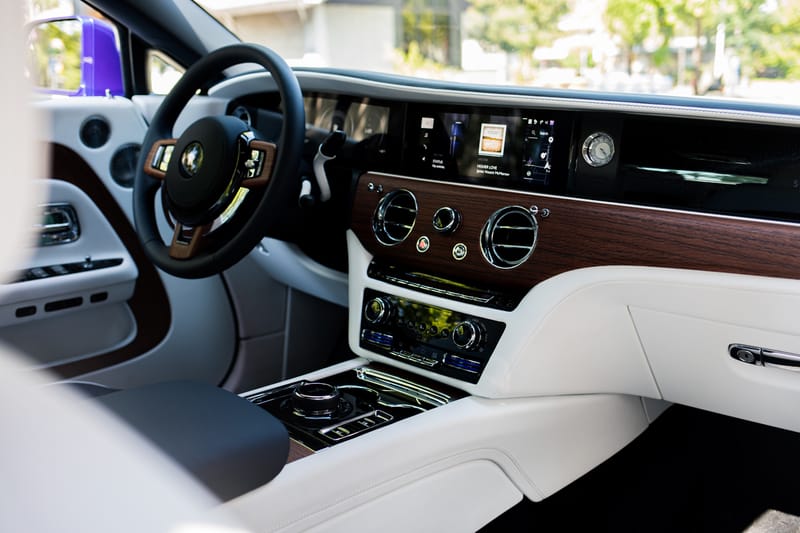 Eric Brain/Hypebeast3 of 5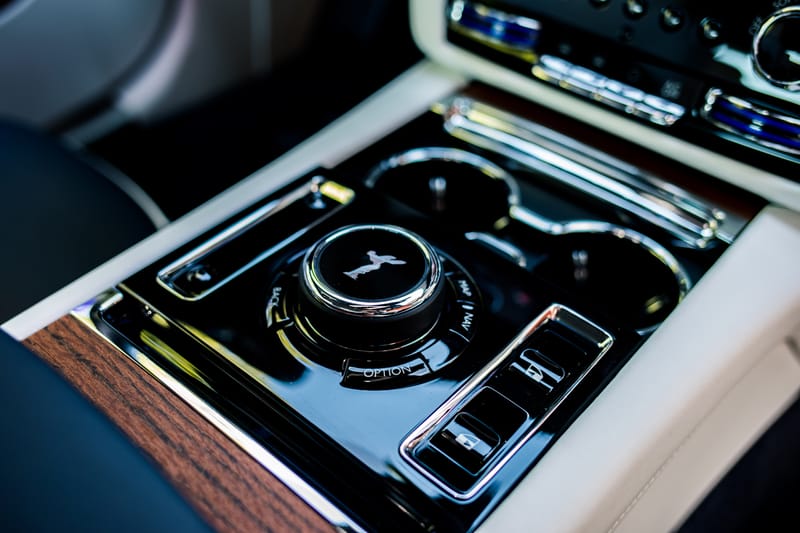 Eric Brain/Hypebeast4 of 5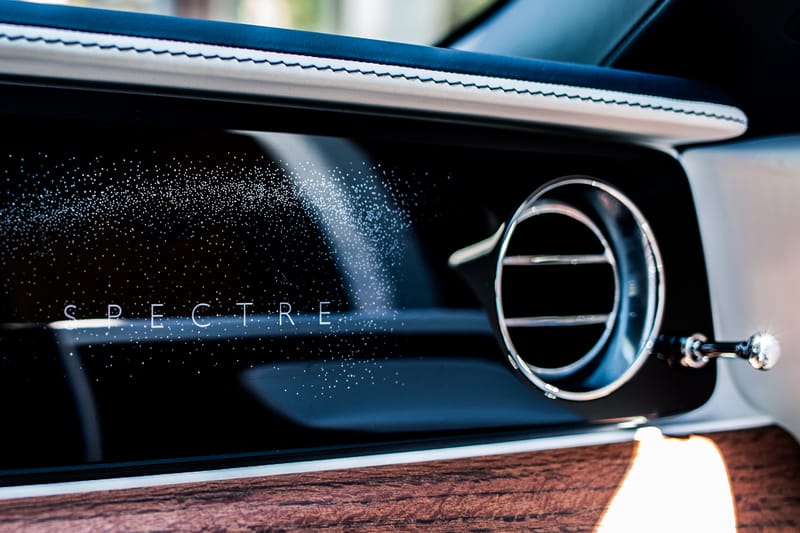 Eric Brain/Hypebeast5 of 5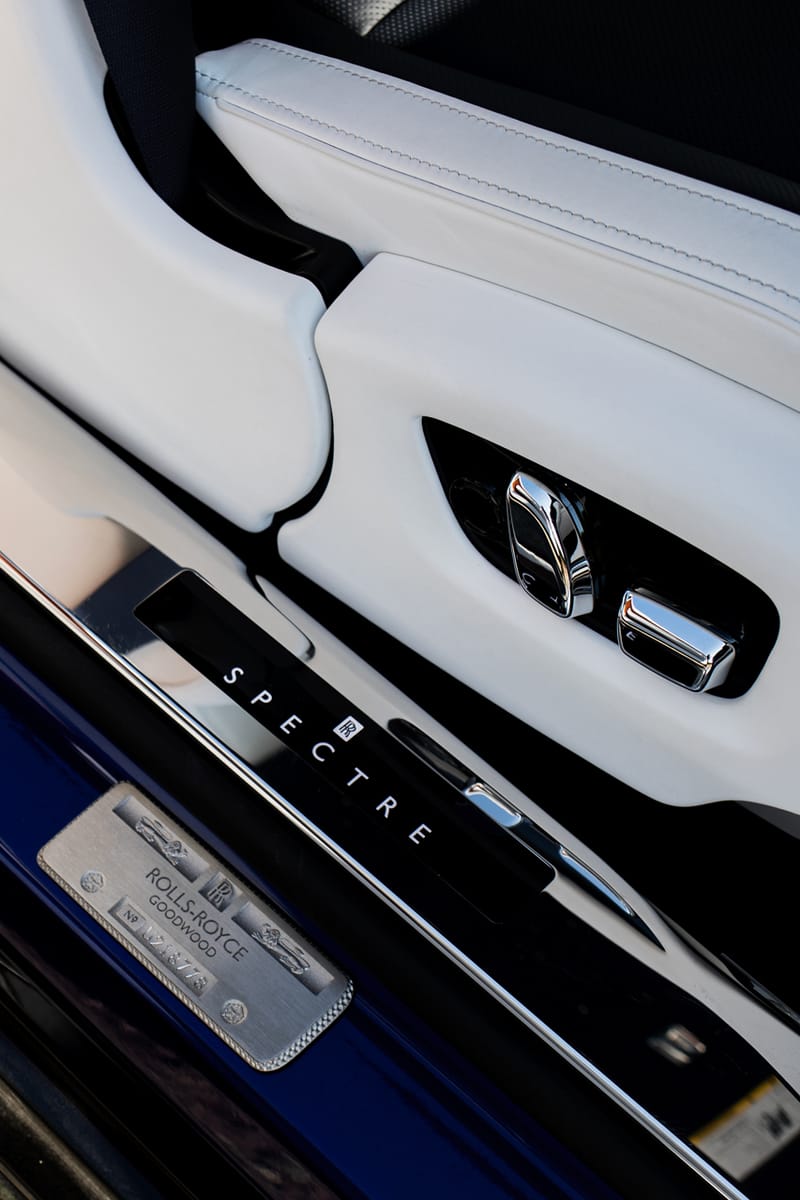 Eric Brain/Hypebeast
Rolls-Royce cars are far from brutish V12s with plexiglass windows and a roll cage. Sound-deadening materials, double-glazed glass, and the battery under the floor mean the Spectre is quieter than any of its siblings, enhanced by the EV underpinnings. When you drive the Spectre, you almost forgot that you're driving, as you're being massaged, heated, electronically guided, and altogether soothed with every corner you take.
Performance and Handling
As touched on earlier, the Spectre is one of the few Rolls-Royce models you are more likely to drive yourself, as opposed to being chauffeured in. As a result, much has been done to make this an engaging experience (even if that's not the marque's focal point). 
The electric powertrain packs 577 HP, 664 lb-ft of torque, and enough oomph to push this near-three-tonne car to 60 MPH in 4.4 seconds, all before hitting a top speed of 155 MPH. These figures aren't the electrifying numbers we've become accustomed to with EVs, but when has Rolls-Royce ever been about G-force and quarter-mile sprints? 
Instead, the power is plenty enough to allow you to waft past anything in your way. Delivered in silence or with the option to add an EV soundtrack, you quickly remember there are speed limits in force as the car drives so smoothly, adapting its suspension to every bump in the road so its precious passengers don't feel a thing. 
What you can feel, however, is how it goes around a corner. It's quite the feat to get a car this big and heavy around the windy roads of California's hillside, and the Spectre does it with some considerable ease. 
And that – "considerable ease" – is the point of this car. The car should not and does not dive under breaking; torque is manipulated to feel like that of a petrol-powered Rolls-Royce that does not jolt the cabin and spill one's champagne in the rear seats; breaking should be strong but smooth; cornering should be effortless and managed with minor inputs; accelerating should be an afterthought, as you are already charging ahead in style. The Spectre does it all. 1 of 4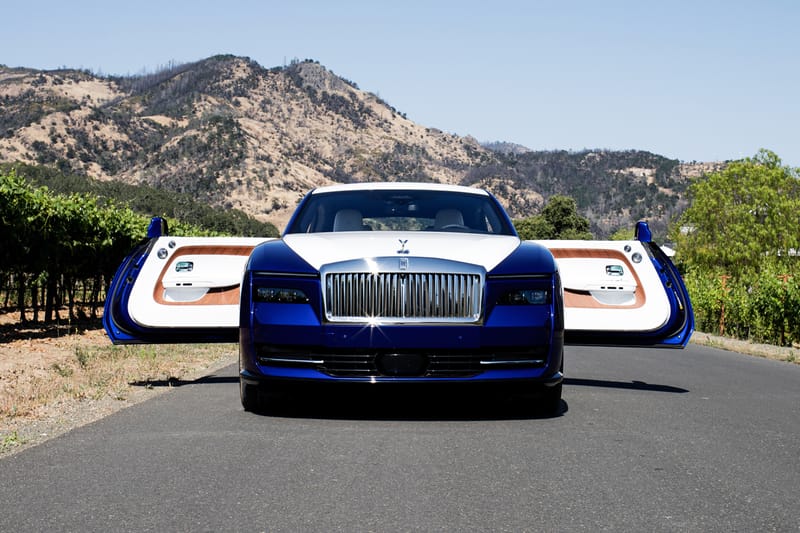 Eric Brain/Hypebeast2 of 4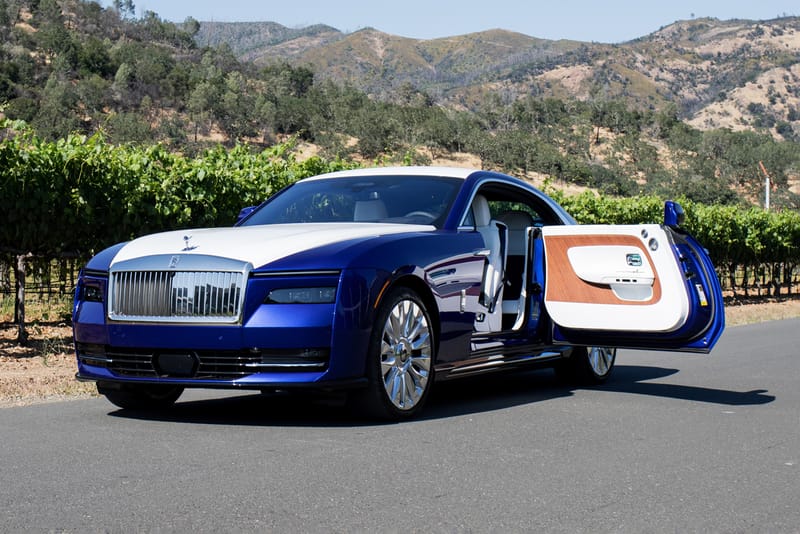 Eric Brain/Hypebeast3 of 4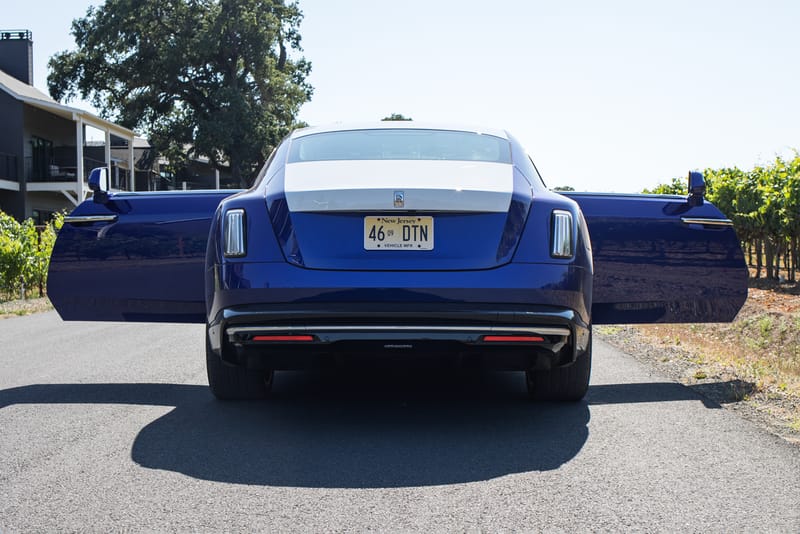 Eric Brain/Hypebeast4 of 4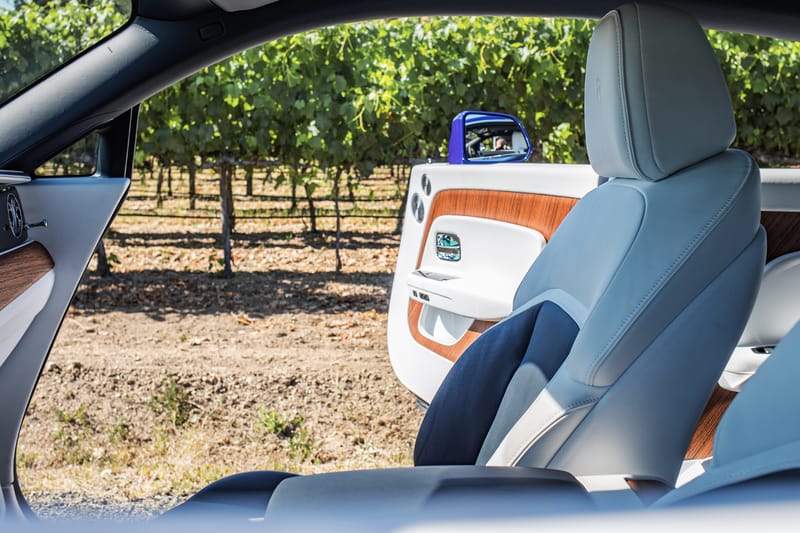 Eric Brain/Hypebeast
Verdict
Is the Rolls-Royce Spectre the best electric car money can buy? No. Because it costs from £350,000 / $400,000 USD, which is perhaps the biggest contributing factor as to why it's not a car for all people. 
But it is a truly exceptional car built for the future Rolls-Royce clientele, one that's switched on and clued up about the world. As car fans, we love the sound of an engine – but you could barely hear Rolls-Royce's V12 in the first place. This makes the all-electric Spectre perhaps the most organic, natural and seamless transition towards the future of any other marque transitioning to EV technology to date. 
To criticize the Spectre means you don't quite understand it, and it's taken us until now to reflect on our experience with the car. To put it bluntly, there's no place we'd rather be if this is where the automotive industry is inevitably heading – and the Rolls-Royce Spectre is leading the way in the luxury department.
Source: Read Full Article