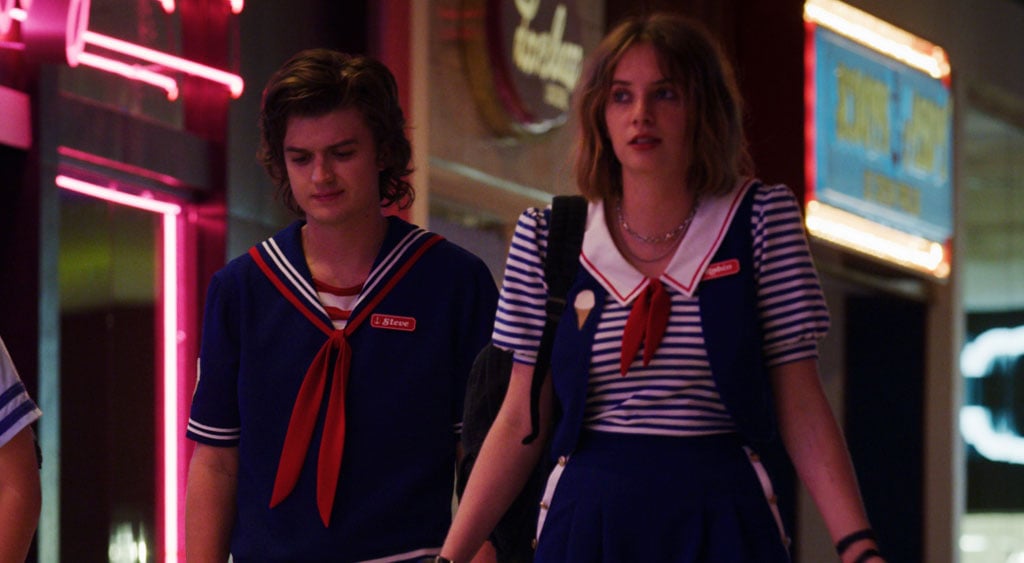 While the most thrilling moments in Stranger Things are usually the big showdowns between Eleven and the latest, murderous creepy-crawly to ooze out of the Upside Down, the core of the series is unquestionably the bonds that form between the large cast of characters. While the friendship between the four boys is a fan favorite, as well as Eleven and Max's new BFF status, season three introduces a new pair to root for: Steve and Robin.
Warning: Spoilers for Stranger Things season three ahead!
Initially, it seemed like the Scoops Ahoy coworkers were destined for romance. Robin (played by Maya Hawke) is the ridiculously smart, wisecracking foil to Steve's (Joe Keery) goofy "cool guy" facade and has no problem putting him in his place. But when Dustin returns home from science camp and reunites with his babysitter older pal, Robin quickly gets pulled into the danger that is ever present in Hawkins and ends up spending the majority of the season by Steve's side. Later, while puking their guts out after a fit of vertigo, Steve reveals that he "found his Suzie," telling Robin that she's hilarious and "unlike any other person" he's met before. But in a surprising twist, instead of falling into his arms, Robin explains that she just isn't into him — she comes out to Steve right there on the bathroom floor, and he immediately accepts her for who she is.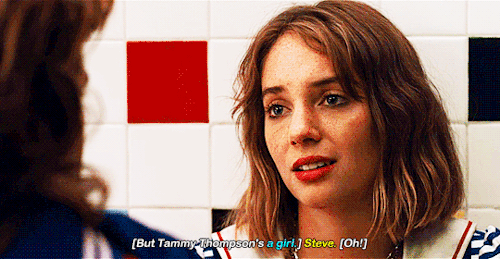 But that's not always how their friendship was going to end! In a recent interview with The Wall Street Journal, Hawke revealed that the script originally had the characters falling in love. "Throughout filming, we started to feel like she and [Steve] shouldn't get together, and that she's gay. Even when I go back and watch earlier episodes, it just seems like the most obvious decision ever," Hawke explained.
She echoed a similar sentiment in an interview with Variety in July, where she noted that she had multiple conversations with the show's creators, the Duffer brothers, and producer Shawn Levy about the nature of Robin and Steve's relationship. "It wasn't really until we were shooting episode four and five, I think, that we made the final decision," she said. "It was kind of a collaborative conversation, and I'm really, really happy with the way that it went."
With season four almost definitely on the way, we can't wait to see what else the dynamic duo get up to while working at Hawkins' version of Blockbuster.
Source: Read Full Article