When you step into a car, what's the first thing you notice? Most likely, swathes of leather, futuristic infotainment systems, and ambient lighting. It's probably not the airbags. Yet Mercedes-Benz is acknowledging the innovation behind airbag technology, which turns 40 this year. The Stuttgart-based automotive legend first introduced the airbag in a series-production car back in 1981, so it's throwing it a birthday party by the way of a collaboration with Heron Preston. 
Preston and his eponymous label are intrinsically ingrained in the "culture." The designer grew up in San Francisco in the '80s and '90s, while his label emerged within the epicenter of streetwear's mid-2010's reign alongside Virgil Abloh's Off-White™ (another notable Mercedes-Benz collaborator), Jerry Lorenzo's Fear of God, Ronnie Fieg's KITH, and Teddy Santis' Aimé Leon Dore (the latter two having worked with BMW and Porsche respectively). Something they all share in common isn't just an appreciation and understanding of culture, but how culture is defined by various microcosmic communities that come together on shared values and touchpoints, such as cars.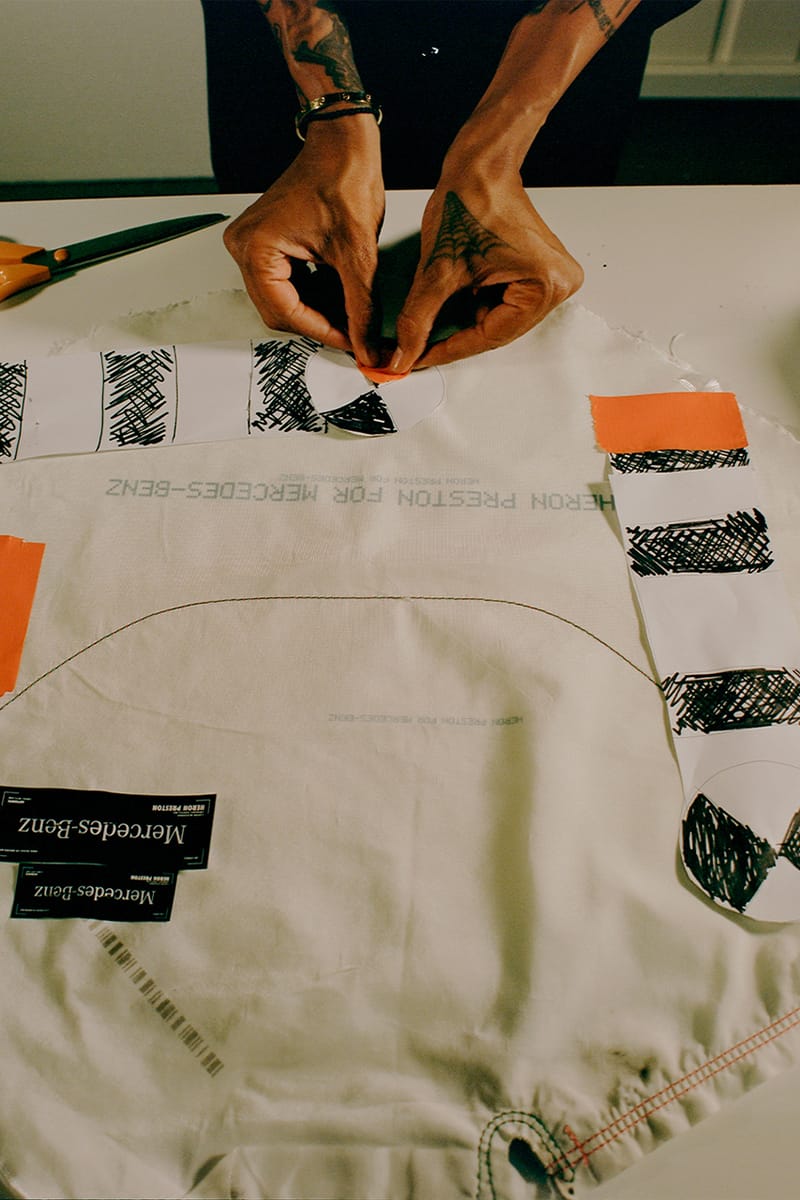 Any Okolie
"As a fan of culture, I think Mercedes-Benz has always been relevant within culture, sports, music, entertainment, Hollywood; my favorite rappers were driving them when I was young and they still drive them today. I drive one myself," explains Preston, speaking exclusively to HYPEBEAST about this collaboration with Mercedes-Benz.
But while Mercedes-Benz's vast history has catered to everyone from Sophia Loren (who owned a 1955 Mercedes-Benz 300 SL Gullwing no less) and Elvis Presley (who drove a 600 Pullman), to newer names such as Travis Scott (who owns rare Brabus and Maybach pieces from Mercedes-Benz's family), it's no longer status symbols that drive the brand, but eco-consciousness, as per its new range of EQ models. 
"When I was getting introduced to this space, it wasn't that cool, it wasn't that sexy, it wasn't speaking to us."
Likewise, while Heron Preston was lumped in with a wave of elevated streetwear brands, today the focus is on sustainability more than ever, taking what he learned from his collaboration with the New York Department of Sanitation and his "JUMP" capsule to form a new era of fashion. 
The two have come together to not only celebrate the airbag, but to utilize deployed airbags to create an upcycled one-off collection while positioning it alongside Mercedes-Benz's new eco-friendly electric and hybrid cars. 
"It felt right from the start," says Preston. "I drive a Mercedes, the brand is so iconic within culture, I do upcycling. It all made sense. So when they reached out to me I was like, 'Dude, hell yeah! Mercedes-Benz wants to do something core to my brand'." 
From there, the stars began to align, as he started to learn more about the airbag's history, sustainability in the automotive industry, and even that "the color orange [a signature of Preston's] relates to crash tests [originally, crash-test cars were orange], so there was so much synergy."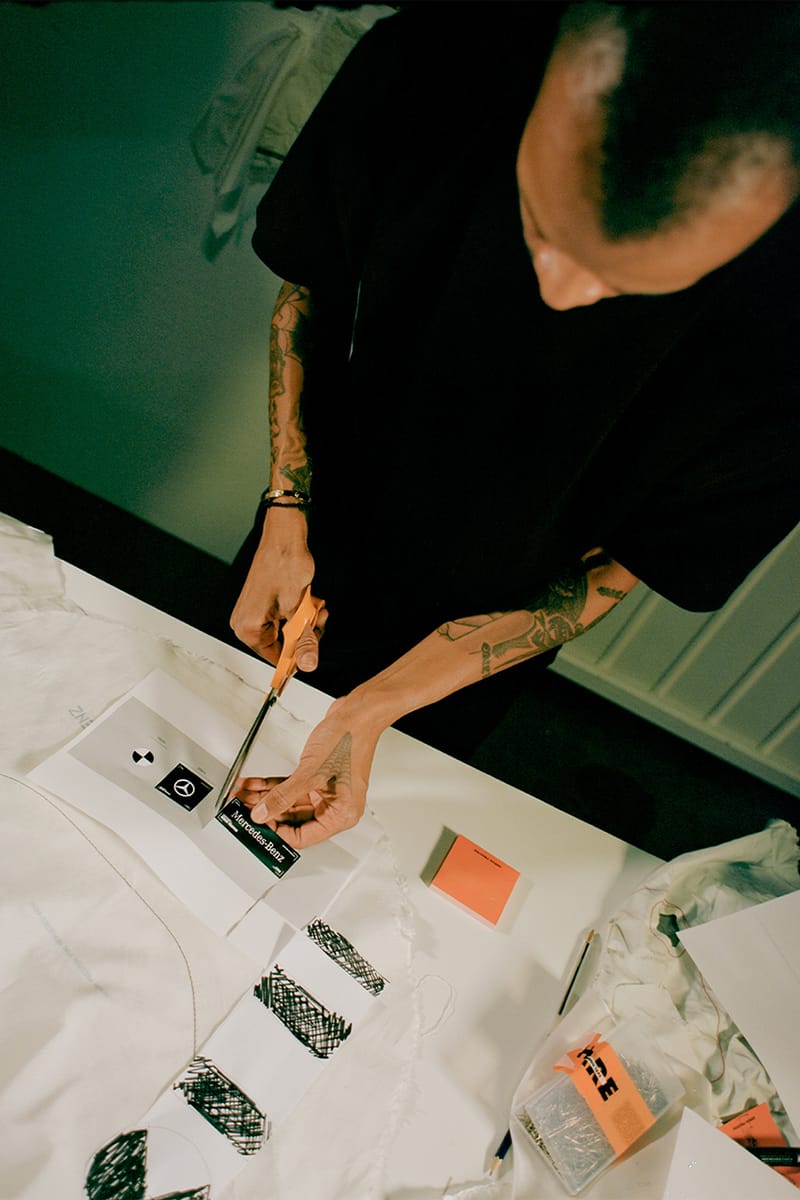 Any Okolie
The feeling is mutual. "Heron's unique take on sustainability, the way he approaches the topic through the lens of culture, is what made him an outstanding partner to work with on this outstanding project for Mercedes-Benz," says Bettina Fetzer, Vice-President of Communications and Marketing at Mercedes-Benz. "Working with co-creators that reflect the same values enables us to push sustainable luxury design into the future."
All of the sustainable efforts made by the designer in the past were picked up on by Mercedes-Benz. "I kicked off a platform at my brand called HP RE-DESIGN, so that's the arm that recovers materials that would otherwise be in a landfill. I use that as my vehicle to upcycle," says Preston. With this off-shoot label, everything from banners used for showroom events to decommissioned parachutes have been repurposed into garments and accessories, all serving to Preston's point: "What's happening to that banner? That's a perfectly great material… We're actually not doing anything with that and it's going to stay in storage and collect dust until the end of time, we should bring that back out and cut it up, it's perfectly good."
"It's about pushing boundaries, creating new relationships that can tell new stories."
Through this, Preston was able to explore his life-long love for all things utilitarian, workwear, and military-inspired — he even drives an old Mercedes-Benz G-Class that's currently being converted to Swiss military spec. "Workwear and military have always been fascinations of mine," he says. "[I look] into that world and put it through my lens of culture, Heron Preston, sustainability, [and] things that I think are cool."
Such themes also happen to be a part of the culture — giving Preston's designs a relevance that often eludes sustainable brands. "I look at myself as someone who's in a position to make this style of work sexy and interesting and can speak to a young audience. When I was getting introduced to this space, it wasn't that cool, it wasn't that sexy, it wasn't speaking to us. Sustainable people were speaking to sustainable people. I was like, 'You guys aren't speaking to us, so how can I speak to my generation and the one younger than me?'."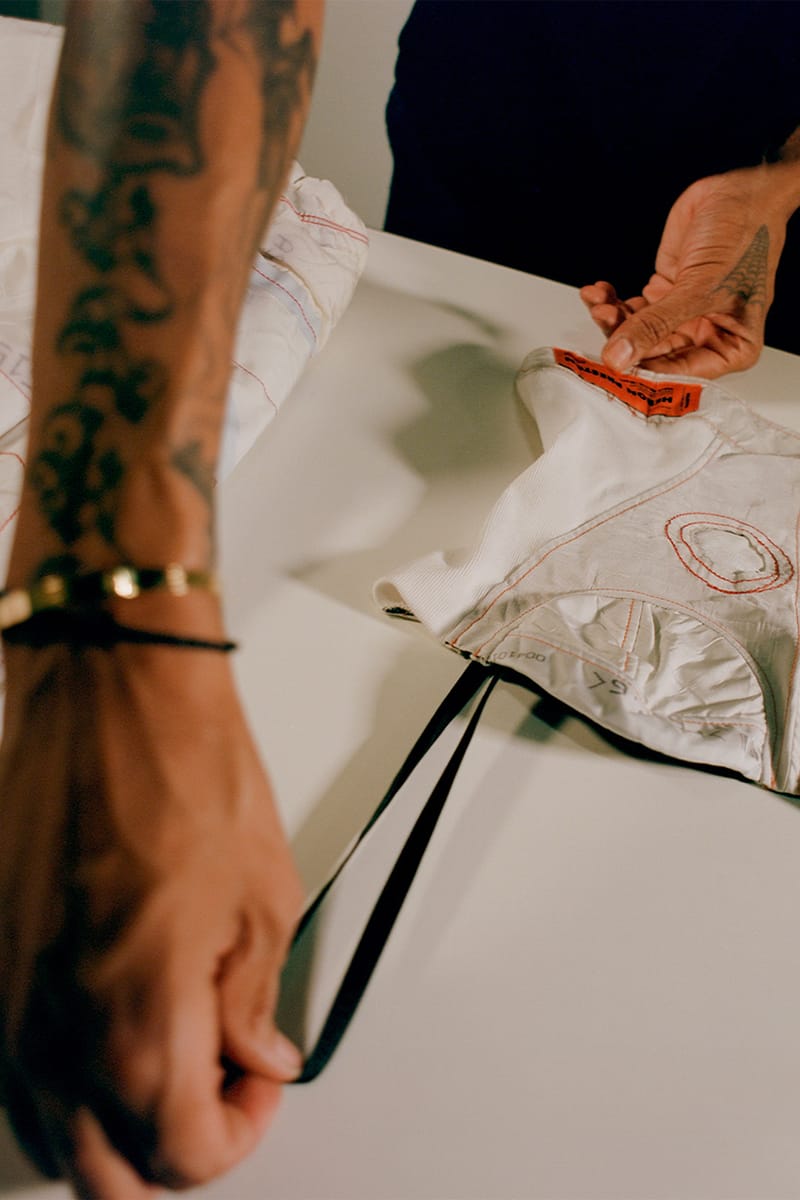 Any Okolie
As for the airbags themselves, Preston found them — surprisingly — to be the perfect material to create a collection that is not only appealing to a younger generation, but also carries a story. "If you touch airbag material it feels just like Cordura that I've used in a lot of the workwear projects that I've done," explains Preston. "There was so much crossover — the durability of it, you can stitch it, it can be sewn together."
But Heron Preston's Mercedes-Benz collaboration is much more than a material experimentation project. "It shows the relationship between sustainability and innovation, design and culture, it's those pillars that come together and it's about pushing boundaries, creating new relationships that can tell new stories. I'm really excited to share this story with the culture, and as a designer that grew up fascinated with the brand, all of a sudden working with it, that's another really cool breakthrough and is inspiring for the culture," says Preston.
"There's so much material out there that we don't need to create more because it already exists."
Beyond that, the collaboration goes to show that upcycling doesn't have to be merely a gimmick. "There's so much material out there that we don't need to create more because it already exists," says Preston. And by working with materials such as airbags, the result is much more unique. The burnouts and destructive markings that naturally occur when the airbags deploy provide the material with an organic patina, enhancing the authenticity of each unique piece and thus the collection as a whole. Surely this is what design and collaboration should all be about?
Preston agrees: "With this Mercedes-Benz project, it's real and authentic, it's not like I went off and purchased airbags myself and cut them up into a collection that I was inspired by. It's about building relationships with companies and building bridges between these worlds to find parallels to tell interesting stories. I don't think we were ever meant to work together, but culture has taken it this far that, now, we are." And that is the final point — as the likes of Abloh, Santis, Fieg, and now Heron Preston have shown, fashion and automotive are of the same kind and are coming together to not just show up for culture, but to make sure the culture has longevity before there's nothing left.
Source: Read Full Article