Since Curb Your Enthusiasm premiered 20 years ago, major stars have been all too happy to play pretty, pretty absurd versions of themselves in service of the show's signature cringe-factor.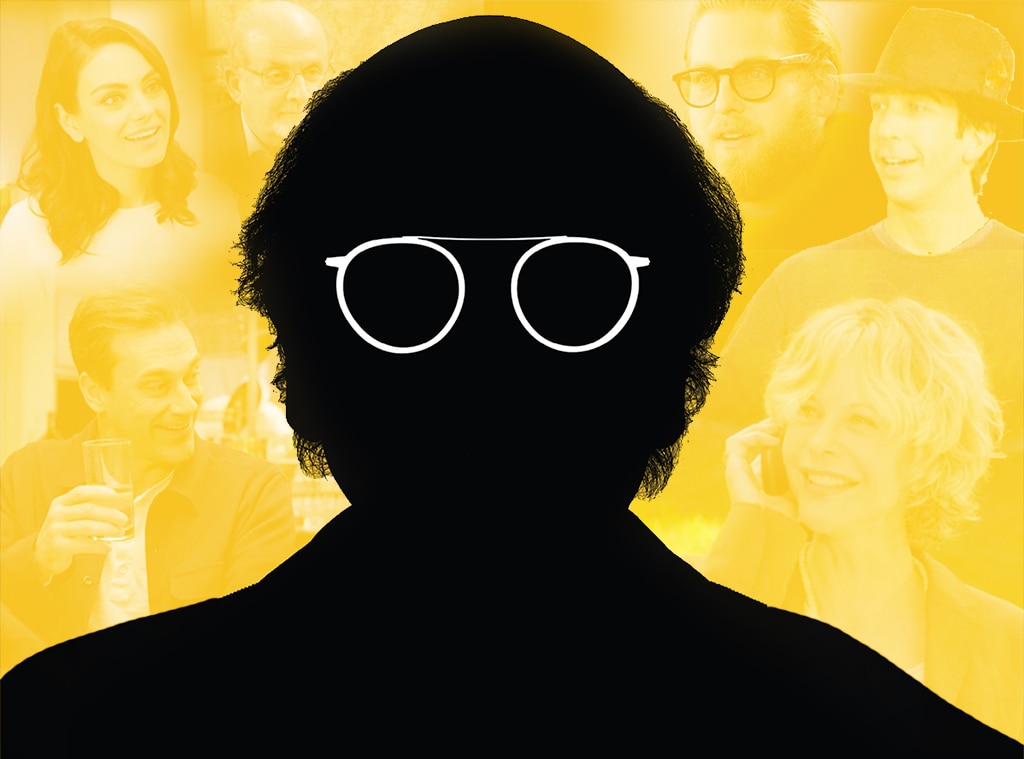 No matter how famous they are, big celebrities are usually pretty nice when they're going about their daily lives. Unless they're dealing with Larry David, of course.
Over the course of 20 years and 10 seasons of Curb Your Enthusiasm, stars have flocked to play extreme versions of themselves, from the exacting and obnoxious to the smug and fairly loathsome, on the Emmy-winning series—all in service of those cringe-worthy moments that are Curb's bread and butter.
The heavily improvised show follows "Larry David" on his adventures traversing the wilds of upscale Los Angeles (and, in season eight, New York), never failing to add another grievance to his ever-lengthening list. No matter how routine the interaction, be it with a waiter or A-list actor, a friend or complete stranger, the situation inevitably devolves into a battle of wills over something ridiculous, albeit a battle that the sporadically righteous Larry will fight tooth and nail to win.
Rarely does that happen, but since he's the extremely wealthy creator of Seinfeld, you never have to waste time wondering whether things are going to turn out all right for him, allowing for more time to luxuriate in the frequently hilarious awkwardness. 
But while Larry's own insufferable behavior tends to create the conflict, he also ends up revealing how ridiculous other people can be, too. He may have an immovable sense of what's right and appropriate, but almost no one wants to meet him halfway, even when he attempts to be reasonable.
"I know I'm often described as a nice guy [in real life]," David told NPR in 2015, "but—by the way, I think the guy on Curb is a nice guy. He's just very honest."
And he's not always wrong.
So in honor of the show's 20th anniversary and Larry's many highs and lows, we're recalling some of his most memorable run-ins with other members of that vaunted industry known as showbiz.
This doesn't even include the endless stream of famous faces who've played more affronts to his very specific behavioral code—from Steven Weber's oyster shucker and Rob Corddry's sex-offender Seder guest to Vivica A. Fox's hurricane refugee turned love interest and Lauren Graham's NBC censor—but the list of stars who've lined up to appear as their own say-anything ids on Curb is pret-tay, pret-tay good.
Cue the music.
Trending Stories
Reign Disick Has Taken His Mohawk to the Next Level: See the Pics
See Robert Pattinson, Zoe Kravitz & Colin Farrell on Batman Set
Bachelorette's Ashley & J.P. Split After 8 Years of Marriage
Larry's always been enamored of Mary and suspicious of Ted, who's a far less endearing version of his national-treasure self ("He is an arsehole," Lucy Lawless agrees with Larry at one point), and he's not too happy when—down the road—a recently separated Ted starts dating Cheryl (Cheryl Hines). So he attempts to ask Mary out and is quickly apprised of the fact that he's not on her dating level.
Meanwhile, the real Ted and Mary have been married since 1995.
"We did nothing to each other but just every week I end up writing her an apology letter," talent manager Jeff Greene (Jeff Garlin) explains why he's writing to the My Life on the D-List star. She runs into Larry and Jeff at a restaurant later, unaware that by then a tangled web has been woven around a lie about Jeff not passing on a message to Larry that she wanted him to write a pilot for her.
After Shaq is injured during a Lakers game when he trips over Larry's outstretched foot, Larry hears he's a huge Seinfeld fan—literally, really—and tries to make amends by sending him the complete series while the NBA star recuperates in the hospital.
On VHS, because 2001.
Cheryl's good friend never holds back when it comes to telling Larry what she thinks, usually of his latest misstep.
In season five Larry briefly has a dog that at first only seems to get aggressive around Black people. "Have you trained the dog to hate Black people?" Wanda asks Larry suspiciously. "Where'd you get this dog, a Klan meeting or something?"
Playing a more neurotic version of himself, the comedian recurs as one of Larry's closest friends whom he also almost always has a grievance with. But he does give Lewis a kidney at the end of season five, changing the nature of their relationship not a bit.
The late legend played her red carpet-ruling self at Curb's staging of the Emmys, where Lewis reluctantly brings the latest love of his life, who's been disfigured by a violent allergic reaction to peanuts. (An allergy that Larry never told Cheryl about, so when they had the couple over for dinner there could have been peanut oil or peanut traces in the meal.)
"Oh my god, I've seen better faces on a hemorrhoid," Joan blurts out when she glimpses his date. "When ET called home, did she pick up the phone?" Then, as they're scurrying away, "How are things in Loch Ness?!"
When Larry and Cheryl hear from Wanda that there's a 90-percent chance of an imminent terrorist attack on Los Angeles in this 2002 episode, much philosophizing ensues over who are the friends you tell in order to save them, while keeping other people in the dark so as not to cause hysteria.
But it's the same weekend of this big charity benefit for the National Resources Defense Council…
Meanwhile, Larry failed to say hello or any word at all to Reiser's wife, Mindy (Linda Bates), when he and Cheryl ran into them at a restaurant, so he tries to make up for it by telling her about the rumored terrorist threat (which turns into another slight when Mindy mentions how their invitation to the benefit must have "got lost in the mail"). 
While mid-conversation with Mindy at her upscale beauty boutique, Larry cluelessly runs outside when he sees Marty walking by. The Canadian-born entertainer is more than happy to unleash a slew of funny voices in an impromptu performance, but Mindy has had it after the additional snub.
Count Larry among the few souls who knows what man "You Oughta Know" is about after Alanis feels comfortable confiding in him. But that's before she gets whiplash when her car is bumped into by the angry host of the first, spoiled benefit that no one showed up to because everyone was scared away by Mindy blabbing about the attack.
The show does go on, but with a neck-brace-wearing, off-key Alanis.
To keep making up for his carelessness, Larry then tells Mindy the "You Oughta Know" secret. Surely a sound decision.
The comedian and talk show host shows up several times, first in season five when, after Larry has upset the gay community, she informs him that she has happily vouched for him. "Lesbians love you," she reassures him. 
In season seven she joins Larry and Jeff for lunch, telling Larry it might be a little "mean and insensitive" to deliver really bad news directly after sunshiny news. Then a vicious battle for the check between Larry and Rosie ensues, one of many tug-of-wars over a restaurant bill that has ensued over the years.
The next season she runs into him at an art gallery, where they find out they've both met and swooned over the same woman that night. Needless to say, they can't agree on who should be the one to "back away."
Larry gets cast in a mob movie being directed by the Oscar-winning filmmaker, who tries to be as patient as possible with the opinionated actor. "You know, [with] Seinfeld, we did two takes and we were done," Larry helpfully informs the director of Goodfellas and The Departed.
Ben's going to play Leo Bloom to Larry's Max Bialystock in the staging of The Producers that takes over season four, but a disastrous appearance at Ben's "no gift" birthday party (literally everybody else brings one but Larry—who can't let it go that Ben's having a party two weeks after his actual birthday, and Ben stares Larry down when he sees he's not singing "Happy Birthday") ends in Larry accidentally sticking a cocktail skewer in the actor's eye because he's too busy worrying where to put it to actually get rid of it.
"What did you do?!" Christine asks their faux-pas-amassing guest.
And so the Meet the Parents star must exit stage left.
Intense and humorless, at least around Larry, it's obvious the Friends star doesn't care for his co-star in The Producers. Now, that could have something to do with Schwimmer's onscreen father being in the raisin-cashew snack bag business—and Larry's myriad complaints that there aren't nearly enough cashews for his liking.
Freaking out before opening night, Larry seeks out his predecessor in The Producers for a pep talk in a blink-and-you-missed it sequence. Let's say, Lane is glad to see him go.
Larry's about to cash in his one-time anniversary hall pass with his alluring co-star in The Producers, but then the stalwart Democrat notices the picture of President George W. Bush in her dressing room. The look on his face puts an end to that.
In the art-reflects-art plot, it turns out that comedy icon Brooks only cast Larry in The Producers because he's tired of the damn thing and assumed the Seinfeld creator, not a song-and-dance man at all, would be terrible and the show would be a Springtime for Hitler-esque flop. Alas, just as he and his wife are celebrating their success-by-failure… Larry's a hit.
Poker night at the former Saturday Night Live star's house takes a turn when he finds out his brother-in-law—a Japanese-American artist whom Larry (spoiler alert) had offended by insisting that his father hadn't been a real Kamikaze pilot during World War II—attempted suicide.
Nealon's a little appalled to find out the guys kept playing and eating pizza while he was at the hospital.
While visiting Lewis in the hospital, Larry and Jeff run into George, who mentions his own kidney transplant (true story) and informs the two of them that it's basically up to either Lewis' friends or family to donate and save his life. At the same time, he also mentions that he's heard "the guy who's the head of the kidney consortium can be gotten to."
Attempted bribery troubles ensue.
Due to a certain sequence of events, Larry ends up behind the wheel of the limo that the chauffeur was too drunk to drive him home in the night before. When the driver calls begging him to do a pickup at the airport in order to save his job (and with it his disabled wife's health care), Larry reluctantly agrees. His passenger: the infamously volatile tennis great, who really doesn't want to chit-chat with his talkative driver.
Larry breaks a signed photo of the Xena: Warrior Princess star that was hanging on the wall of his dry cleaner's shop and he and Jeff promise to replace it, this time made out to "Zev." She even comes into the shop to sign in person, and Larry—fresh from Cheryl leaving him due to his chronic inconsiderateness—successfully asks Lucy out on a date. Even taking her to a restaurant that has decided its Team Cheryl doesn't faze her, but assuming she has invited him back to her house for more than dinner does.
The EGOT winner graced Curb with his presence in season five, singing at Sammi Greene's (Ashly Holloway) Bat Mitzvah. But John Legend doesn't have an evil twin, so he's just his normal lovely self.
Larry busts the Mr. Robot star for heaping too much caviar on his cracker during a party at Ted and Mary's house, breaking one of the myriad "unwritten laws" that Larry is the arbiter of. And he certainly didn't want Mary to think he had done it, and he has no problem pointing the finger at Slater.
(And it really was an egregious amount of caviar.)
Larry happens to catch an episode of Dr. Phil featuring a doctor (Sharon Lawrence) who talks about how she would advise a person battling cancer to leave a toxic partner. Hoping to put the idea into Loretta's (Vivica A. Fox) head that she should leave him, Larry having originally planned to break up with her before finding out that she had cancer, he arranges to bring her to that doctor.
Never does Larry and his ways make more sense than when he's reunited with kindred spirits Jerry Seinfeld, Jason Alexander (who's excited to "make up for the finale"), Julia Louis-Dreyfus and Michael Richards (who doesn't know what he's agreeing to because of all the nude art on the walls of the restaurant where they meet to discuss it) for a Seinfeld reunion special, the making of which anchors season seven.
Alas, a rift opens up when Larry leaves a watermark on JLD's obviously very expensive table and will not cop to it.
Larry basically has agreed to do the Seinfeld reunion so that Cheryl, now his ex, can get the role of George's ex-wife and fall back in love with him—but Jerry runs into Meg and offers her the part.
Larry accidentally sends a $300 bottle of wine over to The Office and Extras star in a New York restaurant—he meant to send a bottle, but the server picked out a super-expensive one. Later, at Susie's (Susie Essman) dinner party and always happy to lean into the awkward, Gervais back-handedly compliments Larry on the "broad comedy" of Seinfeld. "Love the laugh track," the single-camera specialist adds with scarf-wearing, cosmopolitan gravitas.
The Emmy winner throws political correctness to the wind in this New York-set episode from season 8. The trouble starts when he insists on chatting with his buddies while Larry's current paramour is playing ambient piano in a cocktail lounge, pointing out that they're in a bar, not Carnegie Hall. Then Larry thinks Fox—who happens to live in the apartment above him—is shaking his head in his direction, but the Family Ties star reminds him that he has Parkinson's and is "a head-shaking fool." Matters aren't helped when Larry doodles a Hitler mustache on a magazine cover in Fox's apartment—on Fox's father-in-law's picture.
Then when Larry opens a can of soda and it explodes, Fox again cites the Parkinson's for the shaken beverage. A battle of wits over the noise coming from upstairs ensues, with Larry unable to tell for sure whether it's the Parkinson's or Fox being an ass.
Larry appears on Jimmy Kimmel Live! to talk about his big musical project, Fatwa!, but first confronts Jimmy over the host having "foisted" his inept assistant onto him, which Jimmy readily admits to, saying she was first foisted onto him by Martin Short.
Meanwhile, apparently he told one too many jokes about the Ayatollah.
Though Jeff informs him it's on every channel, Larry learns that the Ayatollah has put out a fatwa against him from the MSNBC host.
David, who for the last decade has been kinda making the show when he feels like it, will be back for an 11th season.
Source: Read Full Article