Alert! The ATN-Roy family is expanding. Shiv Roy—er, Sarah Snook—just showed up to the red carpet premiere of Succession season 4 with a special guest in tow. Her brand new baby bump!
And she's only the latest in a long, looong list of Hollywood A-listers who are now expecting babies in 2023. Yup, this year is going to be absolutely *filled* with adorable little ones, fromRihanna's second pregnancy, to Lindsay Lohan's first child with Bader Shammas and Jessie J's rainbow baby. And there are already some notable births to take account of: Keke Palmer just had her first baby, a son named Leo, on Feb. 27, and Blake Lively gave birth to her fourth child recently, too. Welcome to the world, future nepo babies!
The best part of all of these celebs' pregnancies are, of course their baby bump pics. These actors, athletes and singers are showing off their baby bumps at home, on the beach, and even the red carpet.
Not to mention, this batch of soon-to-be nepo babies have had some of the most iconic pregnancy reveals of all time. Rihanna's Super Bowl stunt is certainly top of the list. Blake Lively announced her pregnancy on the red carpet at the Forbes Power Women's Summit in September 2022, and who could ever forget Keke Palmer's iconic Saturday Night Live announcement in December 2022?
With each month, the list continues to grow, so, here is a recap on every celeb who's due in 2023.
Sarah Snook: Due mid 2023
This is the 35-year-old actress' first child with her husband, Dave Lawson.
The two tied the knot in 2021, despite having known each other since 2014, Today reported. And like the badass she is, Sarah eventually proposed to Dave after a very quick COVID-quarantine romance in 2020.
"We've been friends since 2014, lived together, travelled together, always excited to see each other, but totally platonic. We've just never been single at the same time. I proposed and we got married in February in my backyard," she said.
Here's a pic of Sarah with her bump: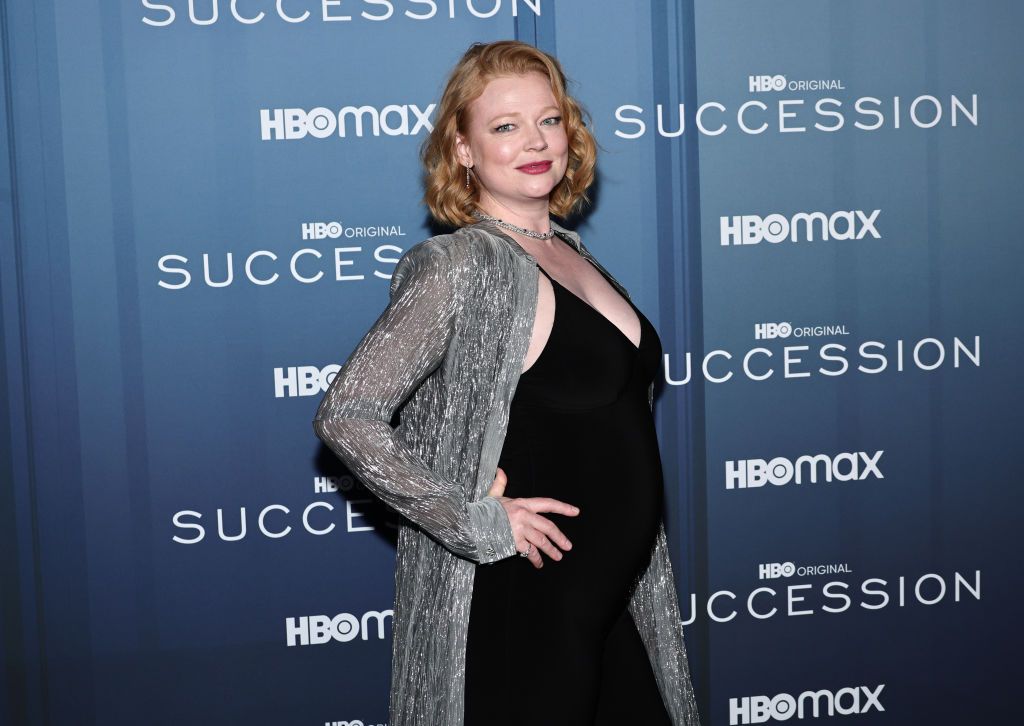 It's unclear what Sarah's due date is ATM, because she hasn't shared much info on the topic. Still, based on these pics, it's likely she's due some time in the mid to late-summer.
Lindsay Lohan: Due late 2023
Alert, alert! Lindsay is havin' a baby! The star posted the cutest IG of a little onesie with the words "Coming soon…" written over top. "We are blessed and excited! 🙏🤍👶🍼," she captioned the pic.
https://www.instagram.com/p/Cpxs02Qhs_S/
A post shared by Lindsay Lohan (@lindsaylohan)
Of course, all her famous friends were freaking out over the post. "This is WONDERFUL NEWS!!" Amanda Seyfried commented. "congratulations 😭😭😭," the MTV account added.
While it's unclear what Lindsay's official due date is, people typically don't announce their pregnancies until the end of the first trimester, which means she's likely about 12 weeks along. By my watch, this baby could come any time between end of August and September.
Everyone will have to wait for more deets from Lindsay, herself!
Rihanna: Due mid 2023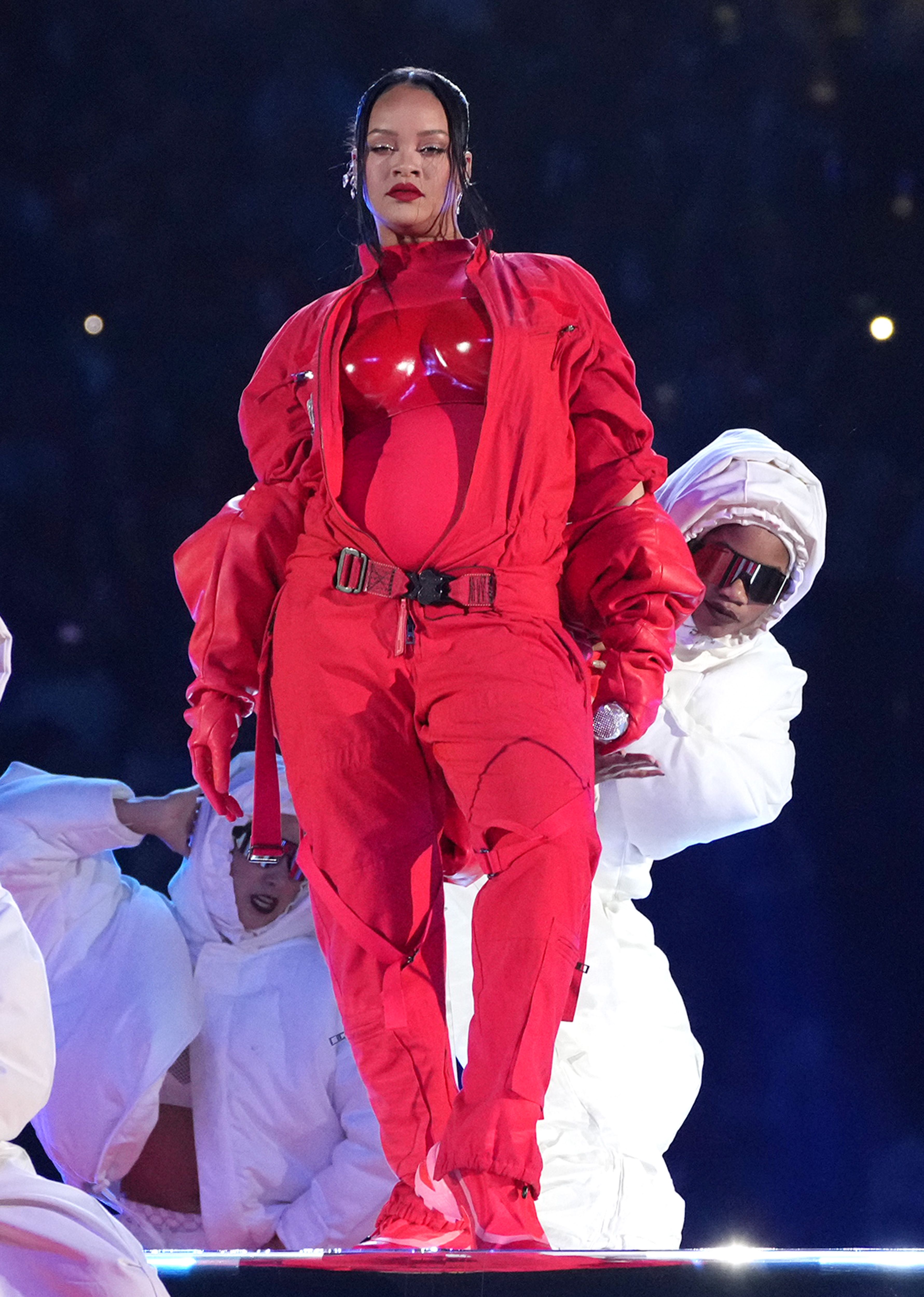 Okay, so I probably don't have to tell you this one, but Rihanna is expecting her second child. The 34-year-old billionaire announced her pregnancy mid-performance at the Super Bowl, and it was def the biggest part of the night (sorry to the football fans). She later showed up at the Oscars with the bump on full display.
She hasn't revealed any details about the child's sex, but she's said she doesn't care. "I'm open," she told British Vogue in February 2023. "Girl, boy. Whatever." There's also no word yet on when exactly RiRi is due, but since she announced it's probably going to be sometime in August/September 2023.
Constance Wu: Due early 2023
The "Fresh Off The Boat" actress is expecting her second child with her boyfriend Ryan Kattner.
Constance's clear baby bump was spotted by paparazzi in February as the actress went for a walk. It's not clear what her due date might be, but she looks like she is probably only has a few more months to go. She later confirmed the pregnancy in an IG Story post which she captioned: "Bun in the oven. Filipinese baby #2 coming soon."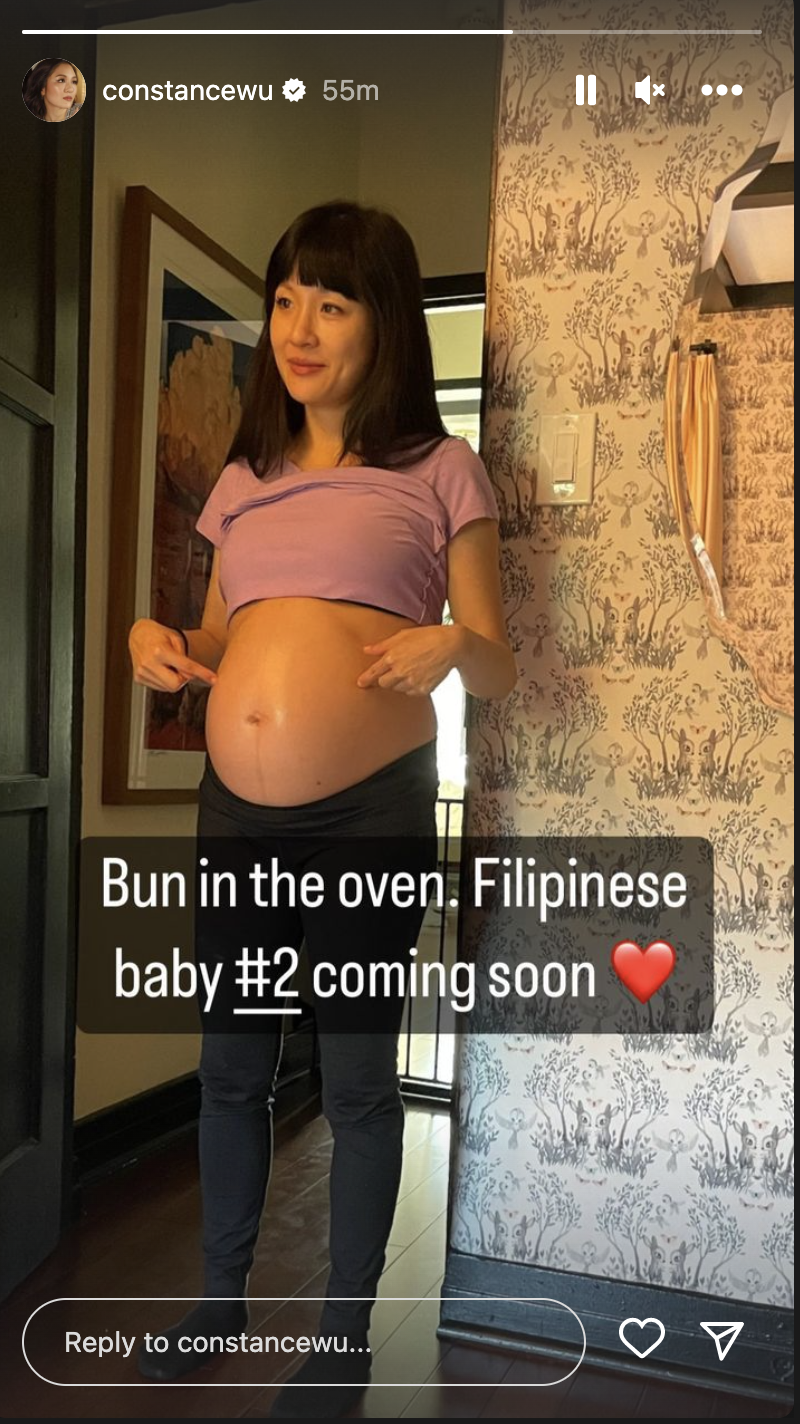 Da Brat: Due June/July of 2023
Yup, the famous rapper is pregnant with her wife, Jesseca "Judy" Harris-Dupart. The 48-year-old told People in an exclusive interview that kids were never in the cards for her…until she married Judy.
"I felt like, because I didn't get pregnant earlier on, then it just wasn't going to happen for me," she said. Then, "I was like, I want a little me with you. Something special from the both of us that we can share and raise and love unconditionally."
The couple used an anonymous sperm donor, and Da Brat is now 18 weeks along. That means she'll likely be due this summer.
Heather Rae El Moussa: Tristan Jay, born on January 31, 2023.
https://www.instagram.com/p/CosTabvPidh/
A post shared by Heather Rae El Moussa (@theheatherraeelmoussa)
Heather Rae El Moussa, 35, gave birth to her baby boy, Tristan Jay El Moussa, on January 31, 2023. His name comes from what was almost her husband Tarek's name, and her father's middle name (which is Jay). She announced his name and birth story over Instagram on February 15.
"So much excitement but also this overwhelming feeling of wanting to protect him and keep him safe," the Selling Sunset star wrote in another post on Instagram. "You always hear how special it is to bring life into this world but you never really know until the moment it happens to you."
This is the Heather and Tarek's first child together, but Heather is also the stepmom to Tarek's children, Taylor, 12, and Brayden, 7, per PEOPLE.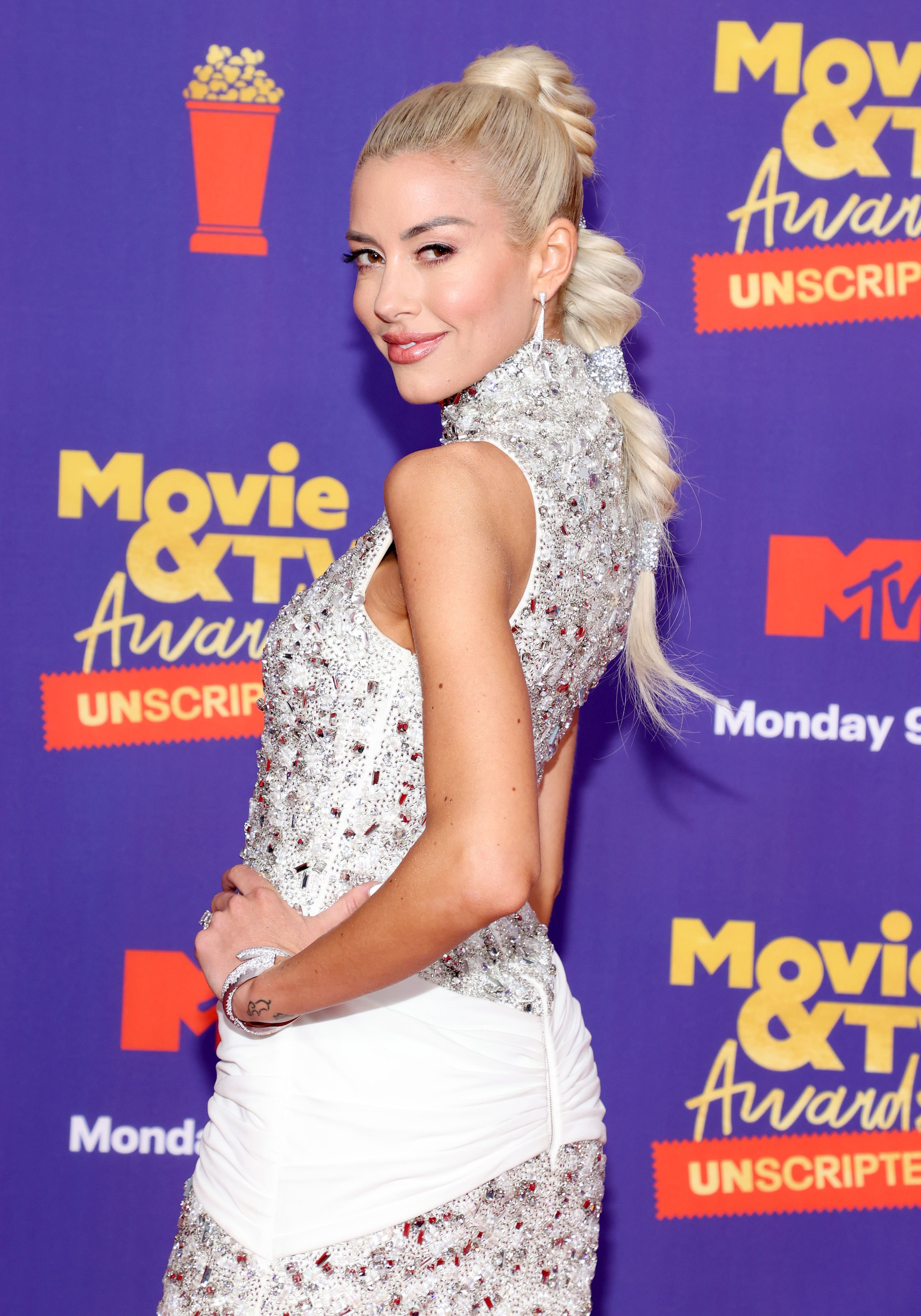 "Tarek is so supportive of all the changes," she told Women's Health back in October 2022. "He helps me keep myself on balance." She revealed that working out was a huge factor helping her throughout (hi Pilates and yoga) her pregnancy. It doesn't hurt that she's had a lot of great pregnancy products to help her along her journey! Huge congrats to this adorable fam!
Keke Palmer: Leodis Andrellton Jackson, born Feb. 27, 2023.

https://www.instagram.com/p/CnNvA9cvqX_/
A post shared by BIG BOSS 🔑🔑 (@keke)
Talk about a memorable pregnancy reveal—Keke Palmer delivered her big news while hosting SNL on Dec. 3. "I'm especially glad to be here because there's some rumors going around," she said. "People have been in my comments saying 'Keke's pregnant, Keke's having a baby,' and I want to set the record straight—I am!"
The Nope actress then ripped open her jacket to reveal her bump. Keke, 29, seems super excited to have her first baby with boyfriend Darius Jackson. Fun fact: the actress recently told her podcast listeners that Darius found out Keke was pregnant before she did.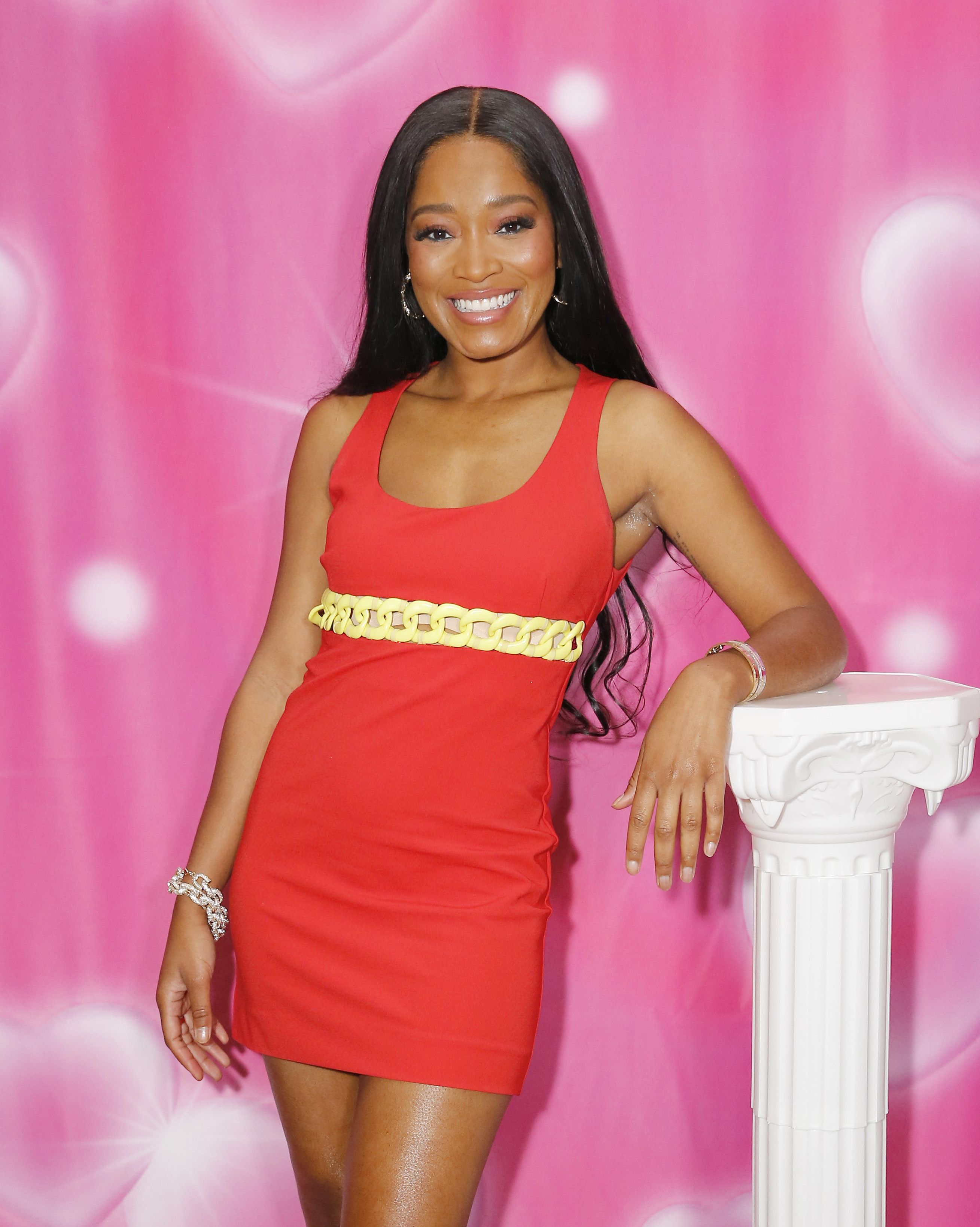 Then, a month later, Keke let slip that she knew the sex of her baby: A boy. The couple also already had a name, but didn't reveal it until their child is born. "We're not saying the name, but the name for us – it gives American," she said on her podcast. "It gives Black American storyline."
Turns out, his name is Leodis Andrellton Jackson, or "Leo." Keke announced his birth on IG:"Born during Black History Month, with a name to match! LEODIS ANDRELLTON JACKSON, welcome to the world baby Leo," she wrote.
https://www.instagram.com/p/CpLyeXgsON0/
A post shared by BIG BOSS 🔑🔑 (@keke)
You're already so loved, Leo!
Blake Lively: Baby born in February, 2023.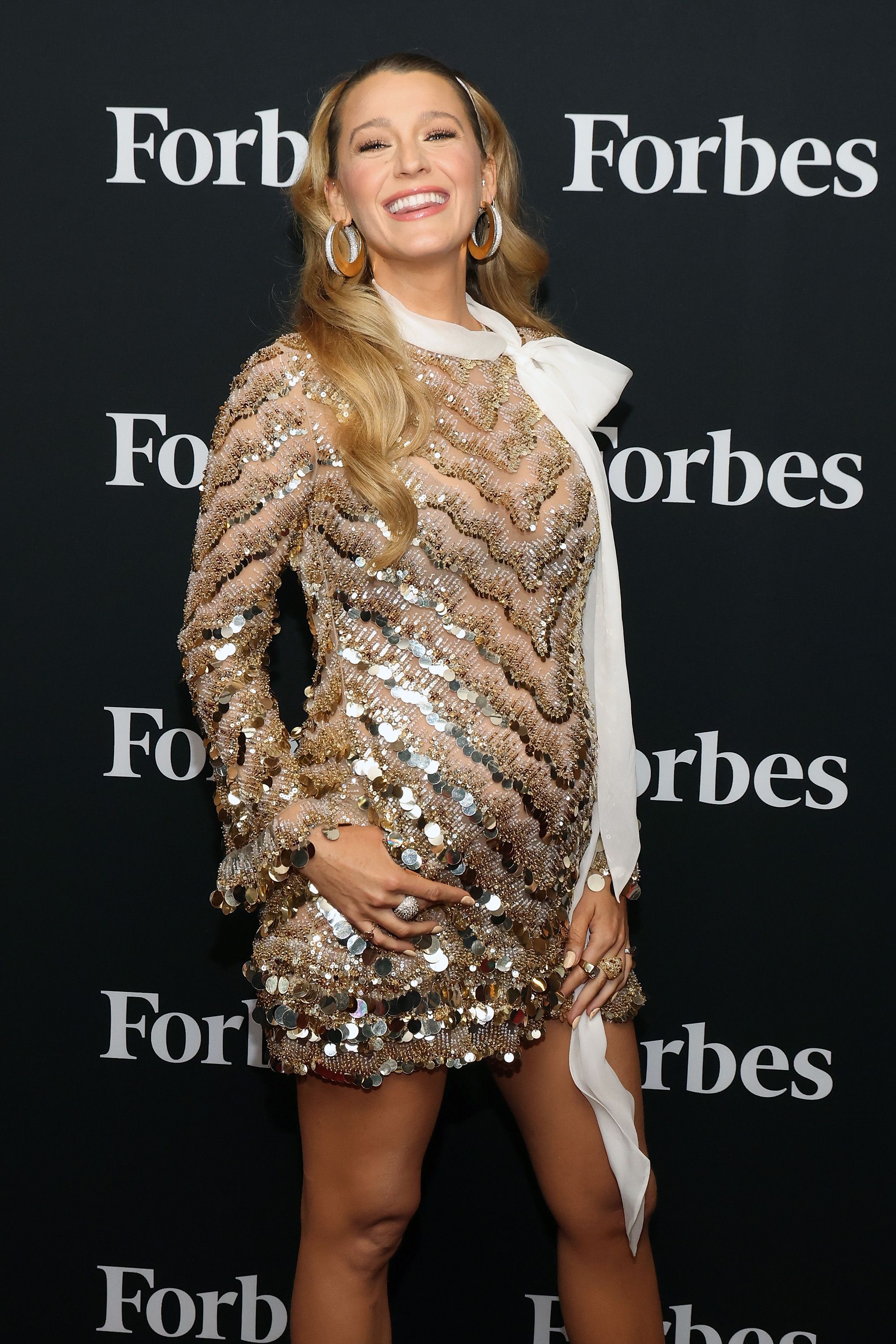 RiRi wasn't the only mom with some big baby news to drop on Super Bowl Sunday. Blake Lively posted an Instagram post showing off her post-partum body on February 12. Later, Page Six said it had independently confirmed the baby news.
https://www.instagram.com/p/ColFDTqpp8k/
A post shared by Blake Lively (@blakelively)
Fans were already wishing Blake and her husband, Ryan Reynolds, plenty of congratulations in the comments. "The baby is here 😍," one fan commented.
It was impossible to not be totally ecstatic for the couple when news dropped that Blake was pregnant with their fourth child a few months back. The actress first revealed her pregnancy at the Forbes Power Women's Summit event on September 15, 2022, when she hit the red carpet in a sparkling minidress, baby bump and all.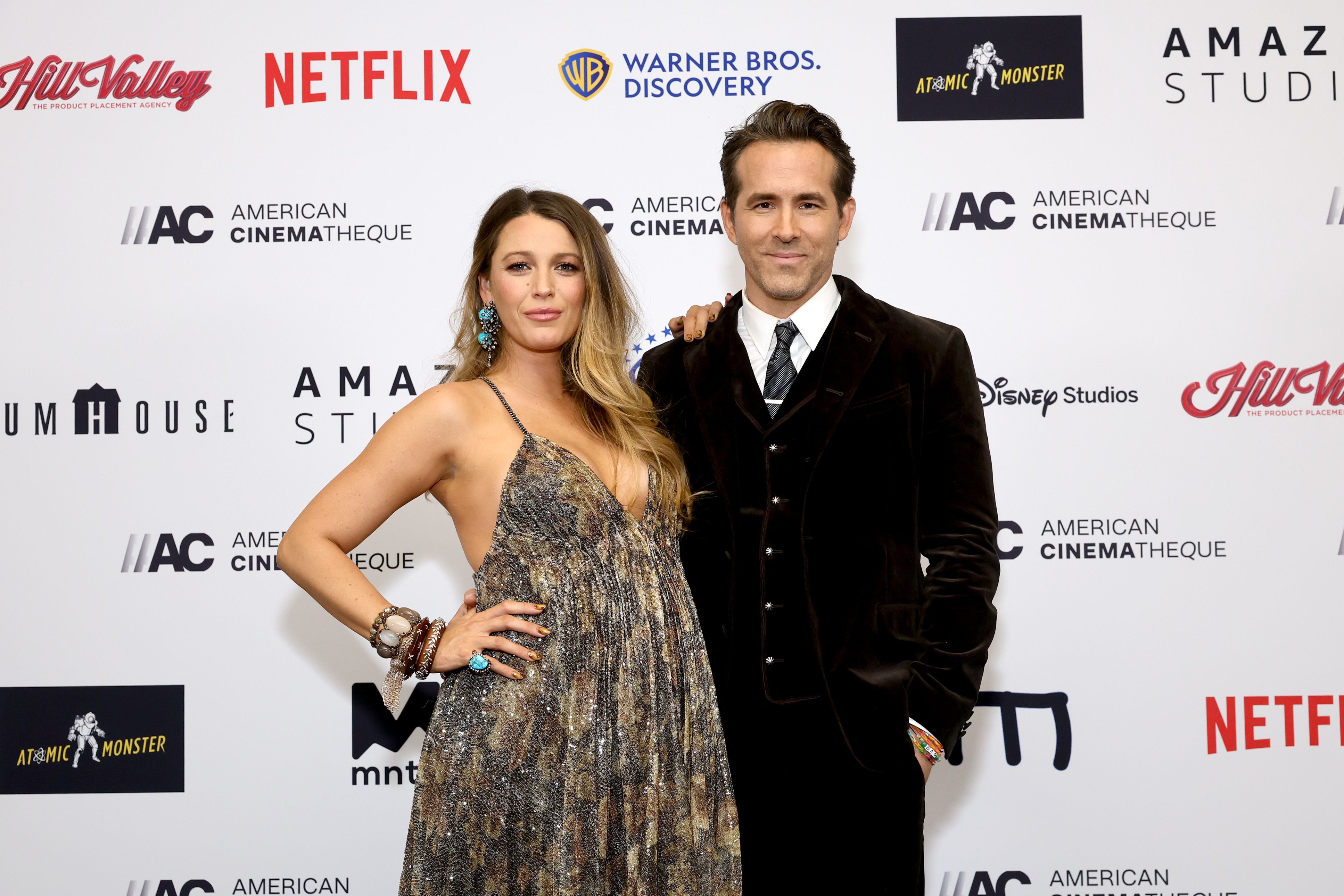 The Internet was overjoyed at the thought that Blake and Ryan were adding to their family of five, with their kids James, 7, Inez, 5, and Betty, 3. (Remember to give Taylor Swift's folklore another listen since she took inspo from her bestie's kids' names for her lyrics!).
The sex of the baby still hasn't been revealed, but Ryan recently told the TODAY Show that he does "know girls, so I'm kind of hoping that, but I'm ready for whatever happens." A source also told PEOPLE that the couple was "very excited" and that their other children have "adjusted great."
I cannot wait to hear more about this kid, and who knows, maybe Taylor Swift has already given us some hints!
Behati Prinsloo: Baby born in January, 2023.
https://www.instagram.com/p/CnCoX7crR4O/
A post shared by Behati Prinsloo Levine (@behatiprinsloo)
Behati welcomed her third child with husband Adam Levine in January, per PEOPLE. The model first announced the pregnancy with a casual baby bump reveal on her IG. The couple already have two daughters, Dusty Rose, 6, and Gio Grace, 4. The gender of their third child has not yet been announced.
In November 2021, Behati told Entertainment Tonight that she wants five kids. "You know what, never say never. We want a big family, who knows? We're leaving it up to fate and just what happens. What will happen, will happen. So there's no limits to it," she said.
The 34-year-old has yet to reveal any photos or make a formal announcement of the delivery herself, but given all the amazing baby bump photos she shared–it's likely pics are soon to come!
Chrissy Teigen: Esti Maxine, born in January, 2023.
https://www.instagram.com/p/Cnm4W4mPPVy/
A post shared by chrissy teigen (@chrissyteigen)
Chrissy Teigen, 37, gave birth to her third child with John Legend in January 2023. Esti Maxine Stephens was born around Jan. 19, the day she posted the picture of the new babe to her IG.
"The house is bustling and our family could not be happier 💕 Daddy sheds nightly tears of joy seeing Luna and Miles so full of love, and I am learning you still need diapers with a c section!? We are in bliss. Thank you for all the love and well wishes," the model wrote.
Chrissy first announced her pregnancy on Instagram on August 3, 2022, with a touching caption that talked about their tragic pregnancy loss in 2020.
https://www.instagram.com/p/Cgz_10nv_Dn/
A post shared by chrissy teigen (@chrissyteigen)
"The last few years have been a blur of emotions to say the least, but joy has filled our home and hearts again," Chrissy wrote. "Every appointment I've said to myself, 'Ok if it's healthy today I'll announce' but then I breathe a sigh of relief to hear a heartbeat and decide I'm just too nervous still. I don't think I'll ever walk out of an appointment with more excitement than nerves but so far, everything is perfect and beautiful."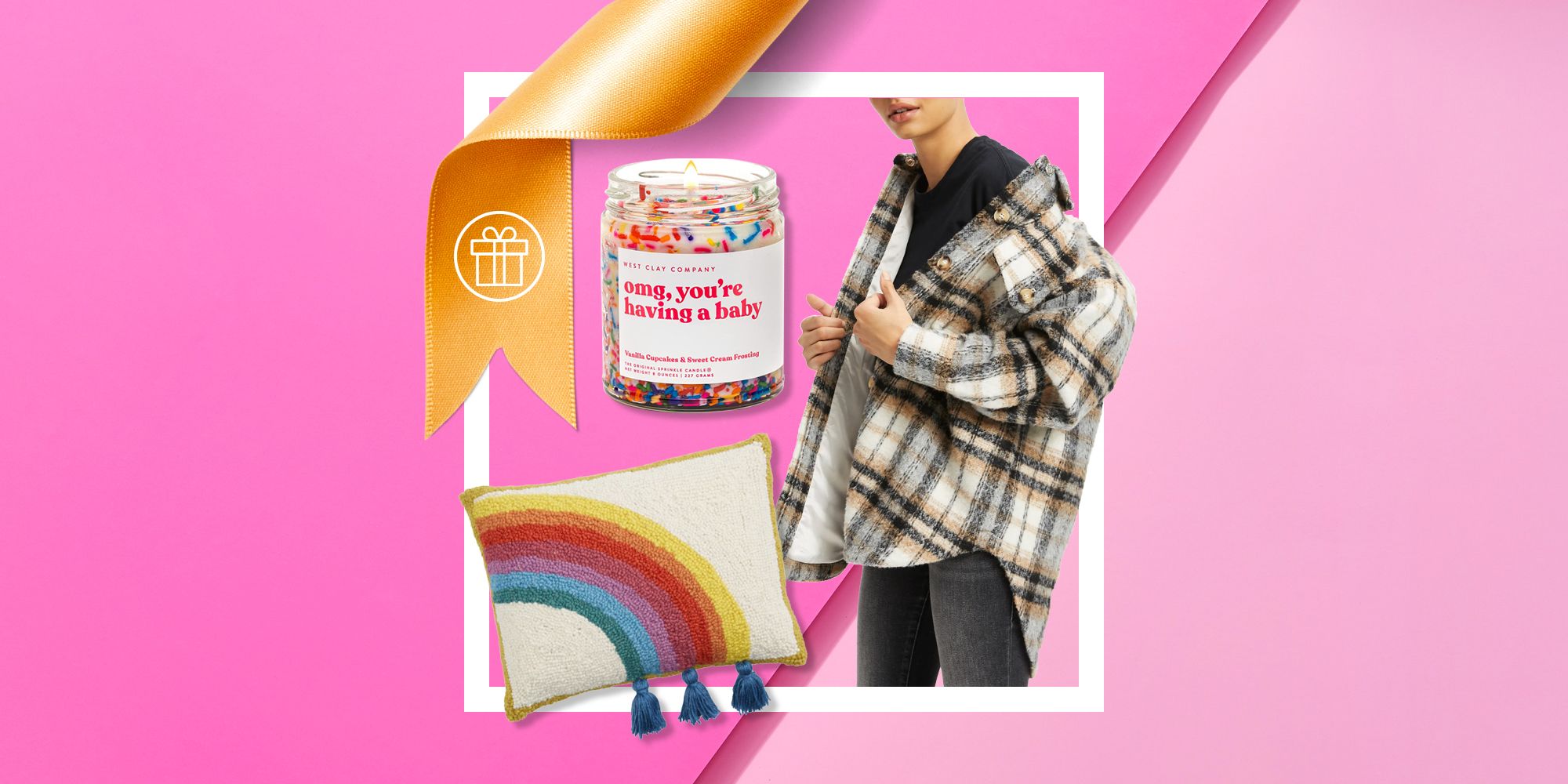 The couple affectionately called this baby their "rainbow" baby in the weeks leading up to Chrissy's due date, and she posted on IG back in February 2022 that she was doing IVF (in-vitro fertilization). Chrissy and John are overjoyed to welcome their third child, and that Luna, 6, and Miles, 4, now have a younger sibling. Congrats!
Jessie J: Due mid-2023
https://www.instagram.com/p/CnNbp6OSNry/
A post shared by Jessie J (@jessiej)
Jessie J is yet another star who announced an addition to her little fam. She revealed on Instagram on Jan. 7 that she has a rainbow baby on the way. Ahead of the BRIT awards on Feb. 11, the singer revealed she's having a boy via Instagram.
The video she posted showed her pregnancy journey in the studio and her ultrasound. The "Price Tag" singer, 34, suffered a miscarriage in November 2021, per PEOPLE. "I am so happy and terrified to finally share this…" she wrote. "Please be gentle with me. Honestly, ya girl just wants to ugly cry in public in a catsuit eating a chocolate covered pickle with no questions asked."
A post shared by Jessie J (@jessiej)
Jessie followed up the adorable montage with another Reel full of clips of her struggling through her early days of the pregnancy. "I was warned about that first trimester and it was WOOFY WOOF," she wrote, with a bunch of emojis.
A post shared by Jessie J (@jessiej)
She will be welcoming the baby with partner basketball player Chanan Safir Colman, Capital FM wrote, and there's been no news on the sex yet. From the fact that Jessie is showing (and her caption), she's probably in her second trimester, so the baby might arrive in mid-2023. SO happy for you, Jessie!
Gina Rodriguez: Due mid-2023
https://www.instagram.com/p/CkUCkW6SWvk/
A post shared by Gina Rodriguez-LoCicero (@hereisgina)
Gina, 38, casually dropped the news of her first pregnancy on her Instagram on July 30, 2022. "This birthday hits different. ❤️" she wrote to caption a Reel of videos of her and her husband, Joe Cicero, including one of her holding up a positive pregnancy test.
In 2016, she said she wanted a baby "so bad" on The Ellen Degeneres Show in 2016, via PEOPLE.
Earlier this month, the actress posted on Instagram promoting her new show, Not Dead Yet, and said she was "40 plus" weeks pregnant. She also asked for bets on whether the show or her baby would come first. The show premiered last week, so her baby could already be here!
Kaley Cuoco: Due mid-2023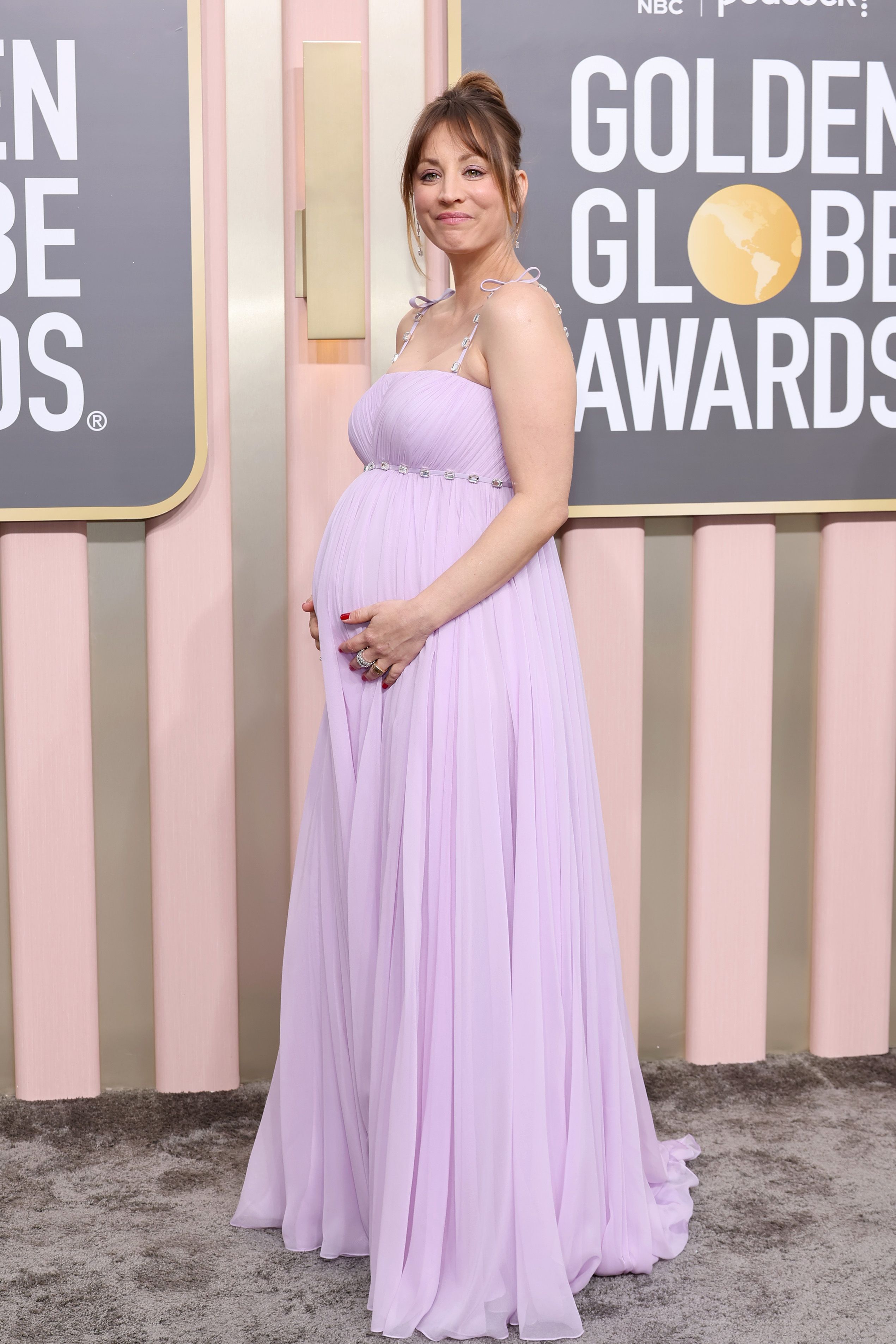 Kaley Cuoco, 37, dropped the news of her pregnancy on Instagram on October 11, 2022, and included the baby's sex.
"💕Baby girl Pelphrey coming 2023💕 beyond blessed and over the moon… I 💓you" she wrote in the caption, tagging boyfriend Tom Pelphrey.
https://www.instagram.com/p/CjlnNuMvQkV/
A post shared by Kaley Cuoco (@kaleycuoco)
This baby is The Flight Attendant actress's first, and it seems that both she and Tom are overjoyed, documenting much of their journey on Instagram, including the fact that Kaley was "horribly sick" during her first trimester, that she slept a lot on set, and had crazy Subway sandwich cravings, per Page Six. Kaley also showed off her bump on the Golden Globes red carpet in a floor-length lavender gown.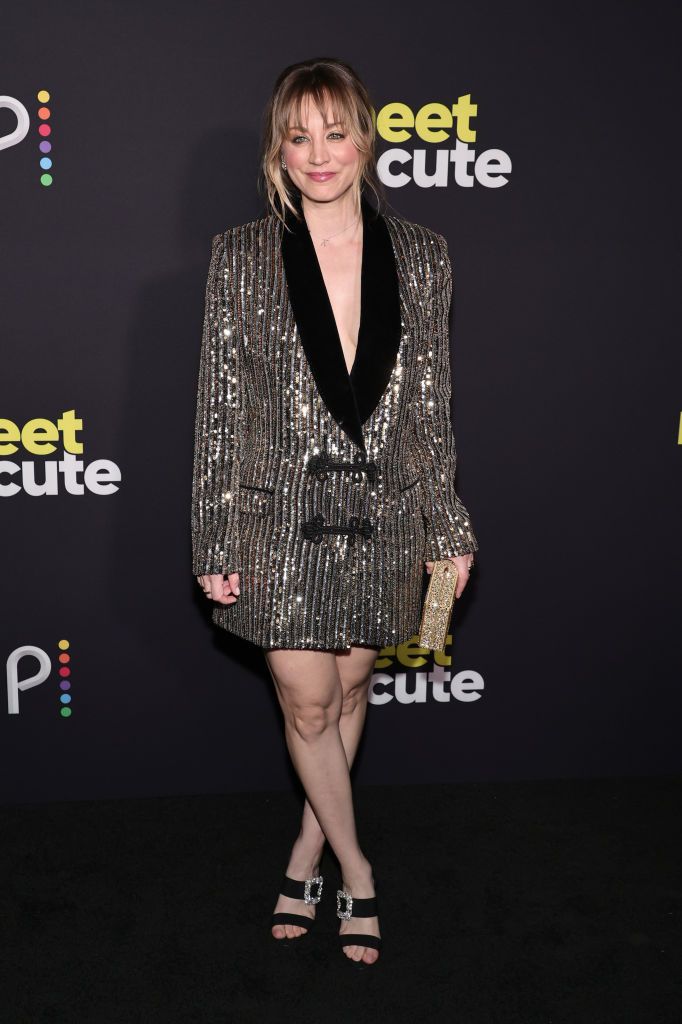 As for how she's planning for her first, she's not. "I have no plan and I've read zero books so that's the type of mom I will be,"Kaley recently told Entertainment Tonight. "It's gonna be great, I trust the process. Tom has googled enough for the both of us. He could probably deliver this baby at this point."
From her IG stories, it looks like the pair found out Kaley was pregnant towards the end of July, making her general due date around March or April of 2023. I'm so excited for these parents!
Hilary Swank: Due mid-2023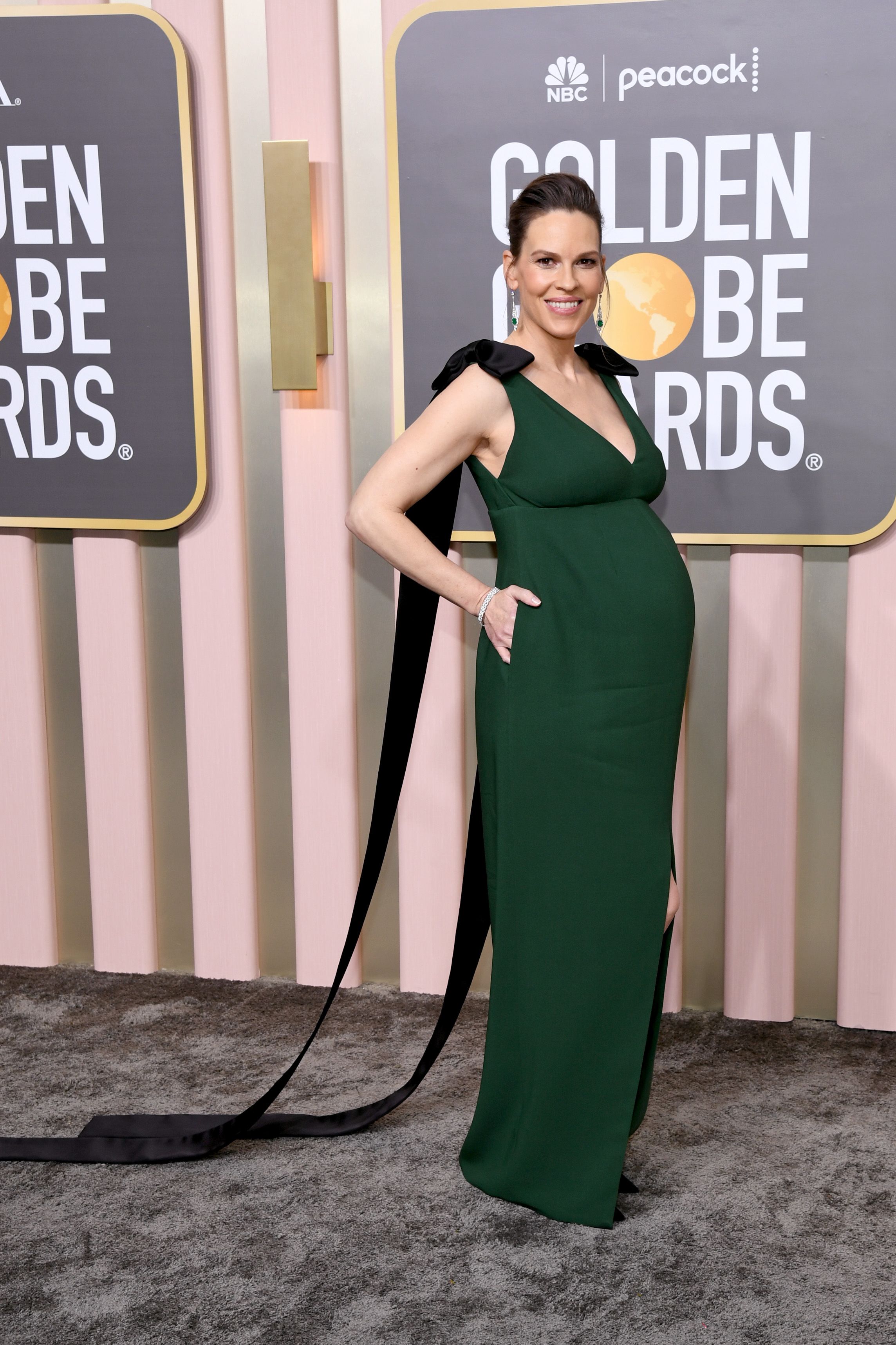 It's been a long time coming for Hilary Swank and her husband Philip Schneider, but the actress is finally pregnant! With twins! Hilary announced the good news on Good Morning America on October 5, 2022.
"This is something that I've been wanting for a long time and my next thing is I'm going to be a mom," she said. "And not just of one, but of two. I can't believe it. It's so nice to be able to talk about it and share it."
The Million Dollar Baby actress's due date of April 16 is actually super special to her, too—it's the birthday of her late father, Stephen Swank, who passed away in October 2021, she revealed on The Drew Barrymore Show, according to Page Six. However, a little over half of twin pregnancies are born before the full gestation period of a normal pregnancy (most twins are delivered around 36 weeks), per Johns Hopkins Medicine. So, it could be earlier for Hilary.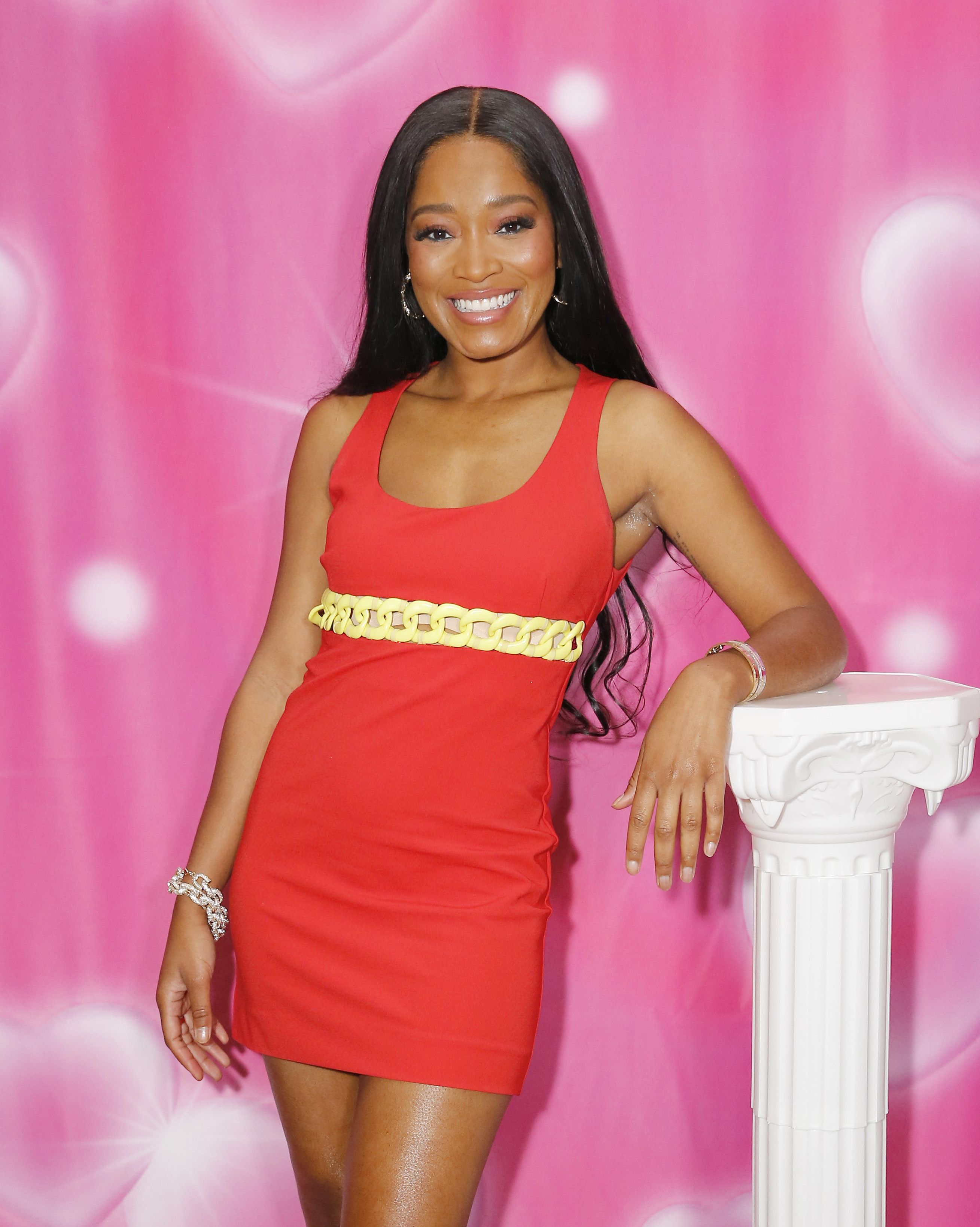 The actress has been documenting plenty of pregnancy content on her IG. She even posted a Fitness Friday post of her working out with her bump! "Me and Da Babes workin' out," she wrote in the post.
Lindsay Arnold: Due mid-2023
https://www.instagram.com/p/CmhctuwvvlP/
A post shared by Lindsay Arnold Cusick (@lindsarnold)
Dancing with the Stars pro dancer Lindsay Arnold made her big announcement during an exclusive reveal with Women's Health last October. She'll be expanding her family with her husband Sam Cusick. Their two-year-old daughter Sage is super excited: "She is obsessed with babies," Lindsay told WH. "She's so good with them."
Lindsay, 29, and Sam couldn't be more thrilled. "It's been, honestly, just so overwhelmingly awesome," she said of the pregnancy. Lindsay is due in early May, and just passed 27 weeks according to her IG. She's said she's having a baby girl. Aww!
Abby Elliott: Due mid-2023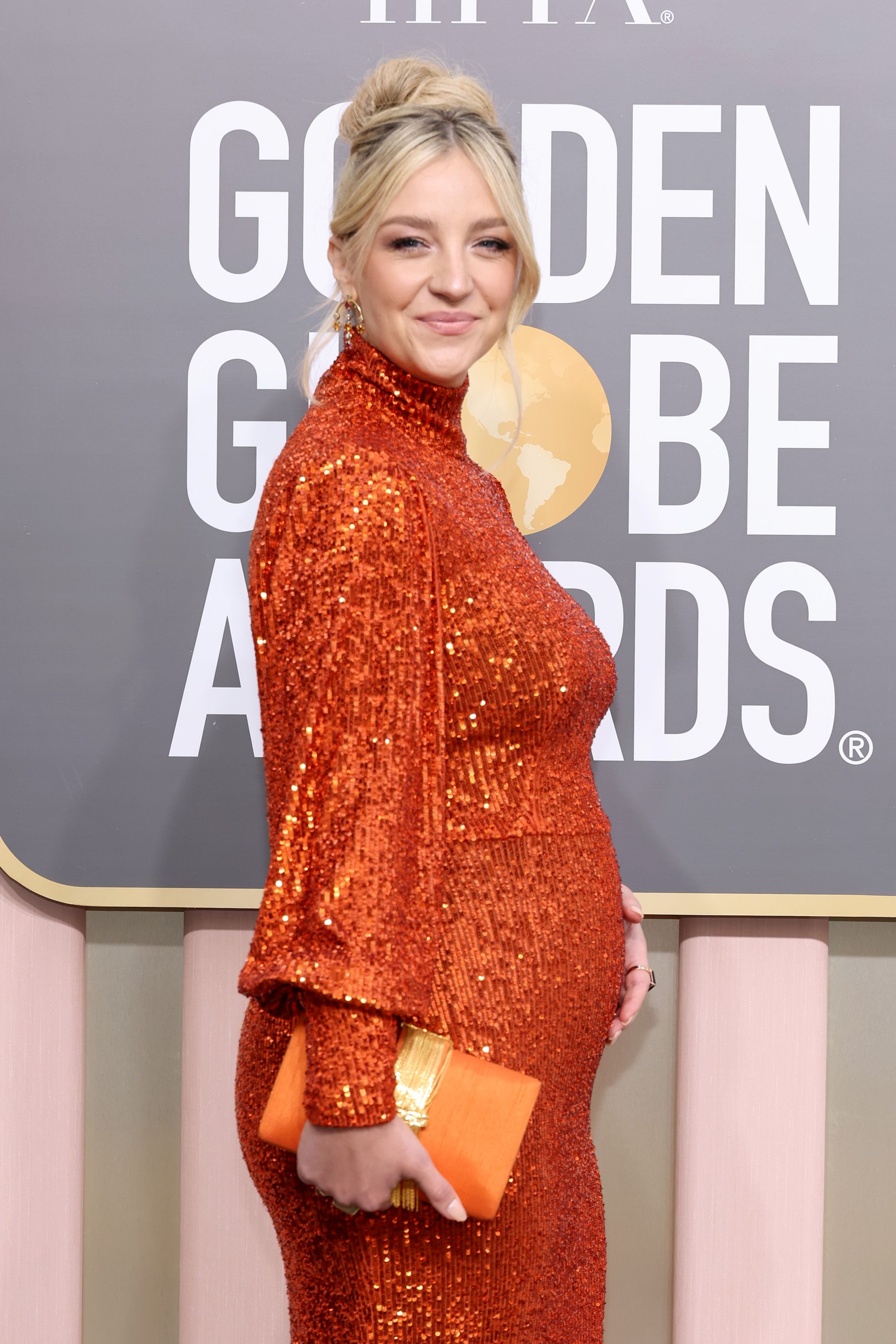 SNL alum Abby Elliott is pregnant with her second child. She posted her baby bump debut on Jan. 7 on Instagram, with a mirror selfie captioned: "Baby Boy 💙 we can't wait to meet you in June." Abby, 35, will be welcoming this baby with her husband, Billy Kennedy—the couple already shares one kid, two-year-old Edith Pepper, per PEOPLE.
https://www.instagram.com/p/CnFdm2jPNqn/
A post shared by Abby Elliott Kennedy (@lilcutieforever)
After debuting her baby bump at the Golden Globes on Jan. 10, she posted a pic of her fit (and the bump) on Instagram with the caption, "Bumps first globes🫶." It's so evident that the The Bear actress can't wait to be a boy mom.
Naomi Osaka: Due mid-2023
https://www.instagram.com/p/CnSHJx9Jw7Z/
A post shared by 大坂なおみ🇭🇹🇯🇵 (@naomiosaka)
Tennis pro Naomi Osaka recently dropped that she's pregnant with her first child. The star athlete casually shared the news via social media on January 11, 2023, and according to her ultrasound, it's possible that Naomi, 25, is already in her second trimester. She'll be welcoming this baby with her boyfriend, rapper Cordae.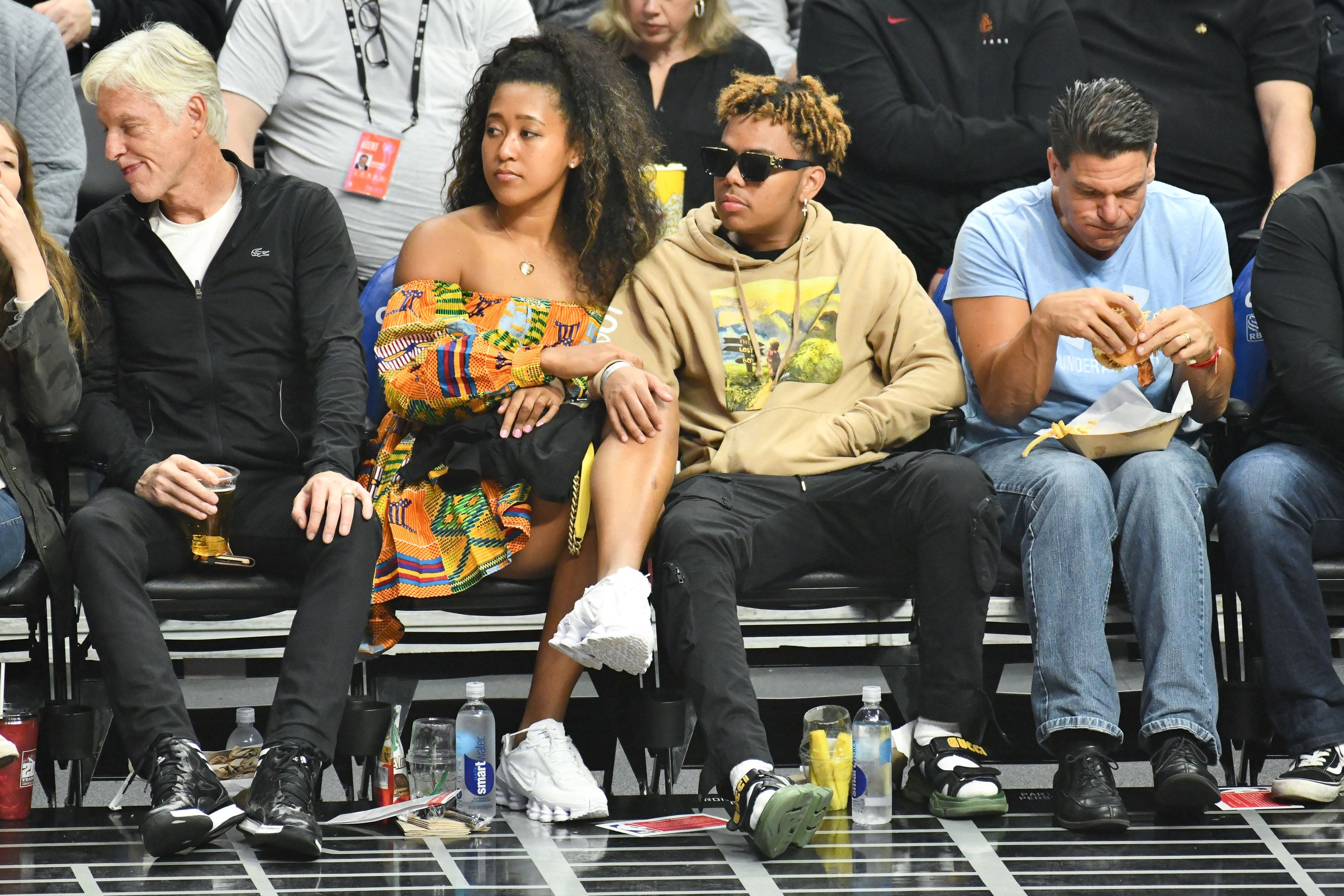 "I realize that life is so short and I don't take any moments for granted, everyday is a new blessing and adventure," she posted on Jan. 11, accompanied by an ultrasound photo. "I know that I have much to look forward to in the future, one thing I'm looking forward to is for my kid to watch one of my matches and tell someone, 'that's my mom,' haha. 2023 will be a year that'll be full of lessons for me."
https://www.instagram.com/p/CnSHJx9Jw7Z/
A post shared by 大坂なおみ🇭🇹🇯🇵 (@naomiosaka)
No word on the sex yet, but if the second trimester prediction is correct, Naomi will be due sometime mid-2023. I, for one, can't wait for their v talented child to make their debut in this world.
Carey Mulligan: Due mid-2023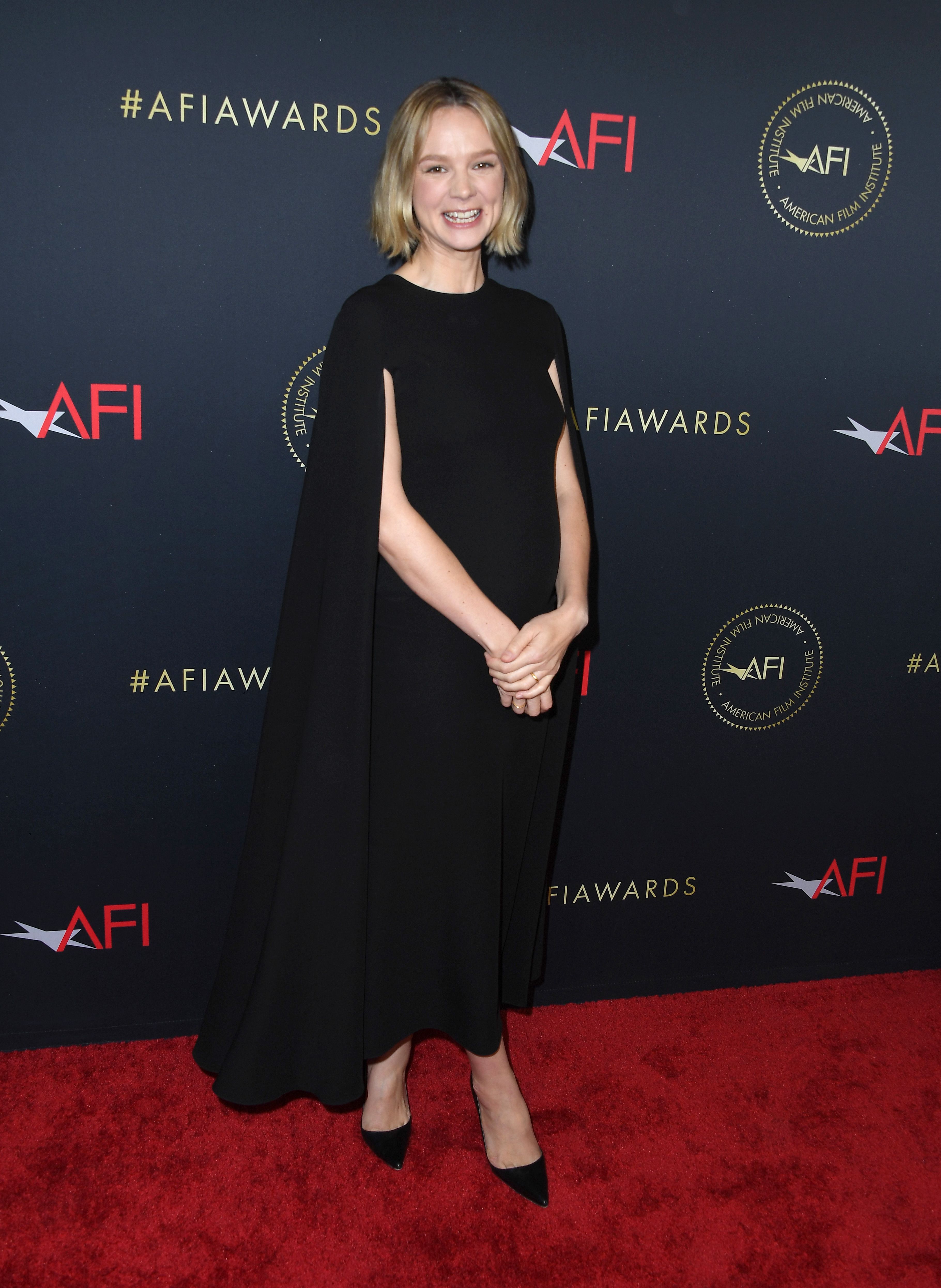 It's official! Carey Mulligan is expecting her third child with husband Marcus Mumford, her rep confirmed with People in January. The baby will be joining siblings Evelyn Grace, 7, and son Wilfred, 5.
Carey recently starred in She Said, a movie following two investigative New York Times reporters who uncovered the Harvey Weinstein abuse scandal. The actress opened up to People about her own postpartum depression after giving birth to Evelyn, which mirrored the experience of her character in the film, reporter Meghan Twohey.
No word yet on her due date or the baby's sex, but by the looks of the red carpet photos, she definitely looks like she's pretty far along. So, stay tuned!
Robin Arzon: Due mid-2023
This Peloton instructor is one strong mama, and she's about to prove it all over again after the news that she's expecting her second baby.
Robin, 41, announced her pregnancy during a segment of "Live with Kelly and Ryan" on the Today Show on Jan. 9. The little one will be joining 22-month-old sister Athena, who is already a social media star thanks to her mom's cult following.
In an Instagram post announcing the big news, Robin's husband explains to little Athena that they have "six more months" before meeting her little sibling, which means Robin is probably due some time in late June or July.
A post shared by Robin Arzón (@robinnyc)
Meghan Trainor: Due mid 2023
Surprise! Meghan is expecting baby No. 2 with her husband, Daryl Sabara, the singer announced in late January. And apparently, there will be more little Trainor-Sabara's to come.
"What a blessing," Meghan told PEOPLE. "I'm just so grateful I can get pregnant. And I'm like, 'I'm crushing it. This is amazing. This is my dreams.' I'm halfway there—I want four kids!"
The new baby, who is due during the summer of 2023, will join older brother Riley, who turns two in February. The couple already knows the gender and the name they will be giving the child, per PEOPLE, but has not yet revealed it to the public.
https://www.instagram.com/p/CoCoOjdLDue/
A post shared by Meghan Trainor (@meghantrainor)
Claire Danes: Due late 2023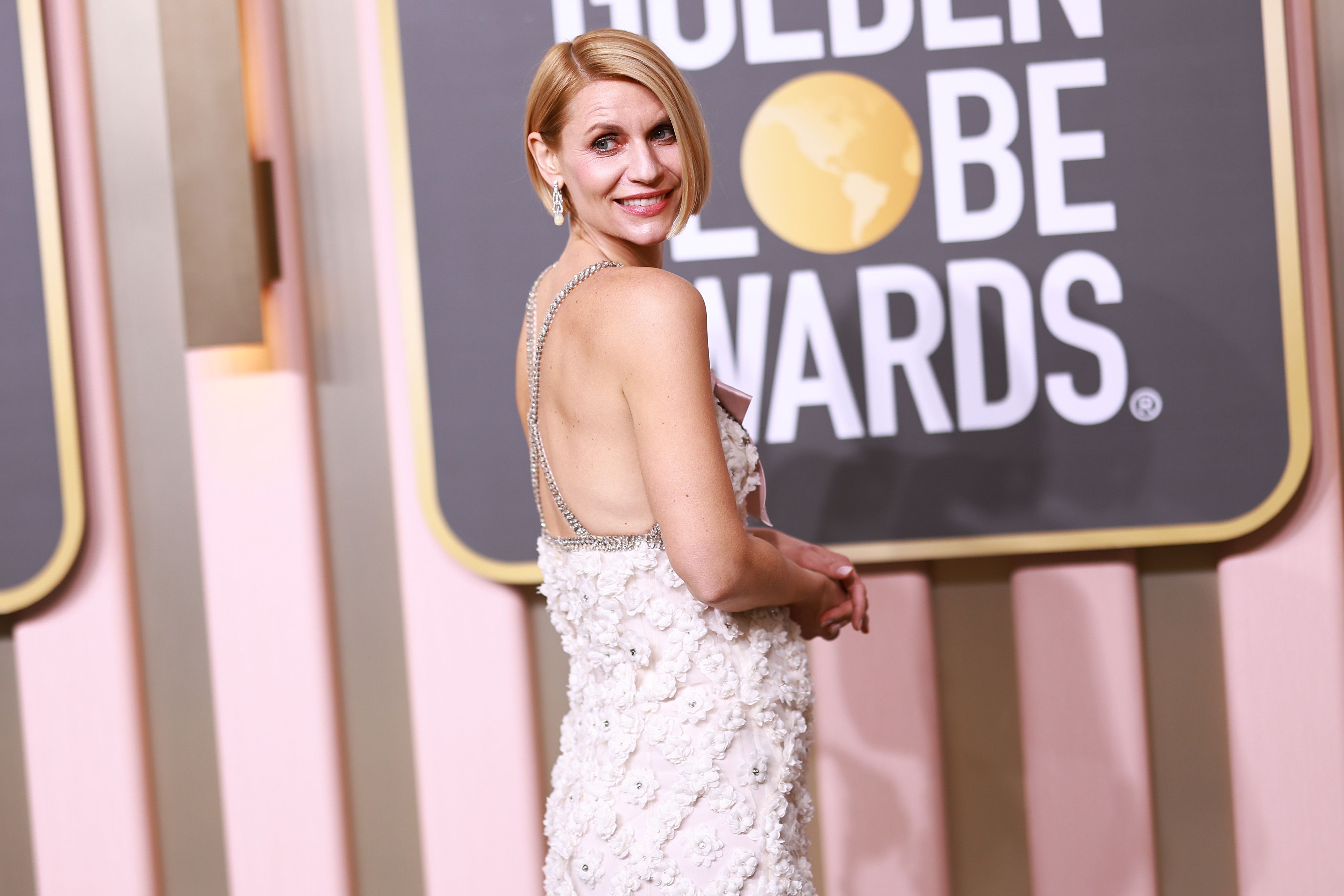 In early January, a rep for Claire Danes and hubby Hugh Dancy confirmed their pregnancy to PEOPLE. So, it looks like the family of four will soon be a fam of five!
Claire and Hugh currently have two sons, Cyrus Michael Christopher, 10, and Rowan, 4. The couple announced the news two days before Claire, 43, hit the Golden Globes red carpet in a gorgeous floor-length floral gown and debuted her little bump.
While walking, she talked about the pregnancy, saying "this one was not intentional," PEOPLE reported. But the pair is still happy about the pregnancy: "We're excited, we're thrilled," she continued. She also told the outlet that she's in her second trimester and don't know the sex of the baby yet. Congrats, Claire!
Greta Gerwig: Due late 2023
Yup, the iconic director is pregnant with her second child with Noah Baumbach. The couple already has one child together, Harold Ralph Gerwig Baumbach, who is 3, per PEOPLE. Greta went on The Tonight Show Starring Jimmy Fallon and told everyone her big news on December 2, 2022.
"I am with child," she said. "I went to an event recently, and I wore something, and I thought everyone would be so interested that I was having another child, and nobody cared." I care, Greta!
Since she was showing a *tiny* bit when she admitted she was pregnant, I can only assume that she's probably due later this year.
Source: Read Full Article