Hello, and welcome to the celebrity feud you never knew you needed. No, I'm not talking about Nicki Minaj and Cardi B—I'm talking about the beef between Eminem and Machine Gun Kelly, who are approximately two diss tracks and one public brawl away from throwing Louboutins. So, why do Eminem and MGK hate each other so much? In the words of Hilary Duff: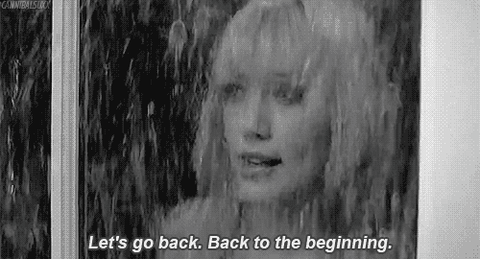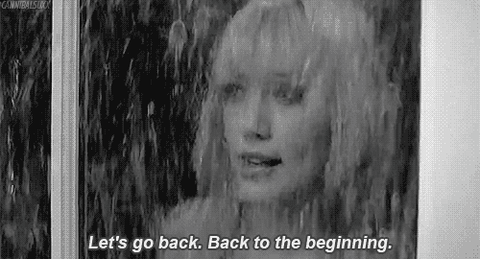 May 7, 2012
Machine Gun Kelly, then 22, tweets that Eminem's then-16-year-old daughter Hailie is "hot as fuck." Which, to be clear, is super-duper gross:
@machinegunkelly original Tweet about @Eminem's daughter back in 2012. pic.twitter.com/kwL58VlJog
October 19, 2015
MGK claims that he was banned from radio stations because of his tweet about Hailie. Here he is talking on Hot 97 FM about the affect that tweet had on his career:
Pictures of [Hailie] had came out, and I'm like, what, 20 years old, 21 at the time? I said 'she's beautiful, but all respect due. Eminem is king.' What's wrong with that? Is there a 15-year age gap where I'm a creep for that? I was 21, dawg. Certain people took it, and ran with it and hyped it up. […] Certain people won't even listen or review [my album]. Certain places, you won't even hear Machine Gun Kelly on.
March 1, 2018
Machine Gun Kelly low-key shades Eminem on Tech N9ne's song "No Reason." The following verse is apparently a direct reference to his rival's (aka Eminem) song "Rap God:"
August 21, 2018
Eminem drops his new album Kamikaze, and after six long years he finally calls out MGK for the comments he made about Hailie on the track "Not Alike."
August 31, 2018
Tech N9ne removes himself from the narrative and denies knowing MGK was dissing Eminem on his track (suuuuuure, friend):
September 3, 2018
Machine Gun Kelly releases another Eminem diss track called "Rap Devil," which is, IDK, fine I guess, and includes lyrics like:
and…
September 12, 2018
Eminem sits down for an interview with Sway Calloway and chats about the time he saw MGK's tweet about his daughter. (Yep, we're still talking about that saaaaaaame tweet.) "One day, you know, you go down a fucking wormhole on YouTube or whatever," he says. "I see 'Machine Gun Kelly Talks About Eminem's Daughter' or whatever. I'm like 'what the fuck?' I click on it…he starts doing a press run, basically, about Hailie. I'm like 'what the fuck? Yo, my man better chill.'"
He then proceeds to slam his rival, saying "The reason I dissed him is actually a lot more petty than that. The reason that I dissed him is because he got on—first he said 'I'm the greatest rapper alive since my favorite rapper banned me from Shade 45' or whatever he said, right? Like I'm trying to hinder his career. I don't give a fuck about your career. You think I actually fucking think about you? You know how many fucking rappers are better than you? You're not even in the fucking conversation."
September 14, 2018
Eminem releases "Killshot," a giant MGK diss track that's filled with burns—including this gem:
MGK responds on Twitter, mocking Eminem for taking so long to return the diss:
2 weeks and 3 interviews later…😂🤾🏼‍♂️🚽🚮 #legshot #letstalkaboutit pic.twitter.com/PwGOdgAdI2
September 17, 2018
MGK shows up to his slot at Fall Out Boy's concert wearing Eminem's "Killshot" art on a shirt. Wow. ~edgy~
(Psst: He was booed during his performance of "Rap Devil," which, well, yikes.)
September 19, 2018
Fans on Twitter whip out a bunch of receipts and attempt to prove that this entire beef has been staged, including allegations that MGK and Eminem are on the same record label and share a producer:
Eminem and MGK are both signed to Interscope and both used Ronny J as a producer on their diss tracks.#AlbumPromo
Emiem/MGK beef is a scam to promote their albums. (Kamikaze and Binge). Ronny J and Ronald Spence Jr. are the same person. He co-wrote and produced "Rap Devil" for MGK and did production on "Not Alike" (Eminem's diss to MGK on Kamikaze) and "The Ringer" for Eminem. pic.twitter.com/Fum4RWQ0GW
Some fans even speculate that "Rap Devil" was actually uploaded months ago, but was set to private. Freaky.
September 20, 2018
Eminem drags Rihanna into his feud with MGK by name-dropping her in his latest diss track. The lyrics are as follows: "Rihanna just hit me on a text / Last night I left hickeys on her neck." Wha??
In case you're like "truly WTF is going on right now," Eminem's lyrics are in direct response to a verse in Machine Gun Kelly's diss track "Rap Devil," where he shades Eminem by rapping, "The type to be scared to ask Rihanna for her number." Safe to say that fans are not happy about RiRi's mention.
September 21, 2018
This is the song that neverrrrrr ends. Your boy MGK just trashed his nemesis Eminem once again, this time in an interview with The Breakfast Club. You see, MGK is deeply offended that Eminem refuses to talk to him. "He doesn't want to have a conversation," the rapper complained explained maturely. "Fuck you. You blew it. You blew it. It's cool 'til it ain't. I wish he would shut the fuck up." Yikes. Tell us how you really feel, MGK!
October 3, 2018
TMZ got their hands on a video of MGK's "crew" allegedly beating up Gabriel "G-Rod" Rodriguez, who's an actor and called MGK a "pussy" because of his tweet about Hailie. The incident seems to begin with Gabriel putting a camera in MGK's face and confronting him even though MGK tells him to get out of his face and that he's "not cool with that sh*t." And a few hours later, MGK's "crew" allegedly confronted Gabriel at a hotel and beat him up.
January 17, 2020
And here we thought 2020 would be different. Eminem surprise dropped a new album called Music to Be Murdered By and couldn't resist comparing himself to God and talking about MGK on his "Unaccommodating" song. He rapped:
Annnnd that brings us up to date! I'm going to go eat some chocolate and listen to anything but these two men.
Source: Read Full Article