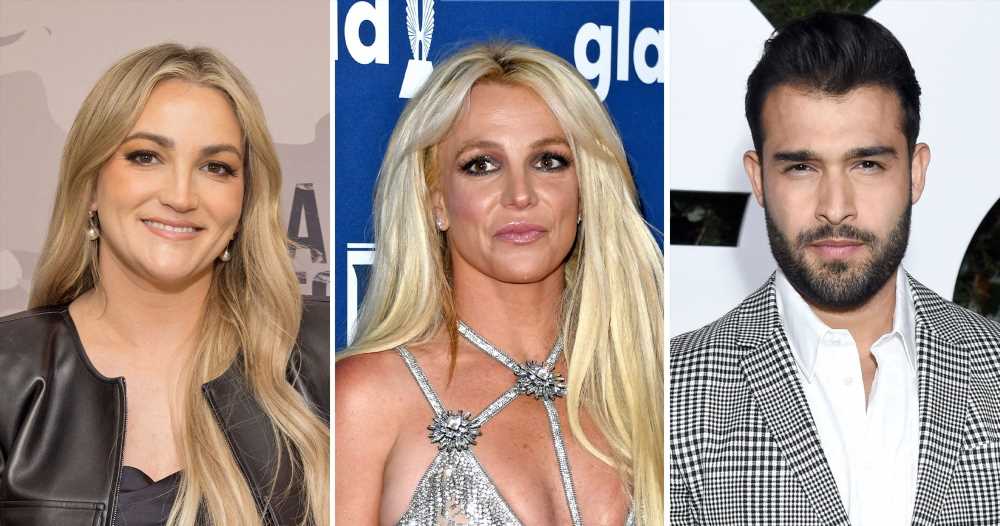 Jamie Lynn Spears has entered the chat — and is subtly weighing in on her older sister Britney Spears' recent breakup.
Jamie Lynn, 32, dropped a "like" on People's Wednesday, August 16, Instagram post confirming that Britney, 41, and Asghari, 29, had split.
News broke earlier on Wednesday that the pop star and Asghari separated after 14 months of marriage. While neither Britney nor Asghari has publicly commented on the breakup, TMZ reports Asghari already filed for divorce. According to his legal petition, the personal trainer cited "irreconcilable differences" as the cause of their split and is asking Britney to pay spousal support and his attorneys' fees.
Britney, meanwhile, has reportedly hired high-powered attorney Laura Wasser to protect her assets and the ironclad prenup that she and Asghari have in place. A source previously told Us Weekly that the executed agreement states that Asghari will receive "$1 million per every two years" of the marriage, capping at $10 million after 15 years. Asghari also waived any claims to Britney's music catalog and his name isn't listed on the deed of their shared home. The pair had agreed to put the house in a limited liability company or LLC.
Britney Spears and Sister Jamie Lynn Spears' Ups and Downs
Amid the breakup news, Britney returned to social media to gush over her equestrian interests.
"Buying a horse soon!!! So many options it's kinda hard!!! A horse called Sophie and another called Roar??? I can't make up my mind!!!" she wrote on Wednesday. " Should I join the camaraderie and put a pink cowboy hat on??? Either way, I think I found my sweet spot with Roar!!!"
Us previously reported in June that Britney and Asghari have "their ups and downs" as a couple. "Nobody can deny they love each other very much," a source exclusively told Us, noting at the time that they were "determined to make their marriage work."
Britney and the Hacks alum met on the set of her "Slumber Party" music video in 2016 before they started dating. Asghari proposed in September 2021 nearly one year before they wed at Britney's home. Britney's family — including sister Jamie Lynn, whom she's had a rocky relationship with over the years — were not present for the nuptials.
While Britney and Jamie Lynn went toe-to-toe over the bombshell allegations about their relationship in Jamie Lynn's Things I Should Have Said memoir, they have since turned a corner in their relationship.
Britney Spears' Family Members: A Comprehensive Guide
"Britney will always love her sister," a second source told Us in December 2022. "[Britney] goes back and forth about whether or not she wants to speak to her, but the bottom line is that there's still a lot of love between them that will never go away. Jamie is heartened that Britney seems to be softening towards her, it's a step in the right direction as she sees it."
Britney later revealed via her Instagram in June that she recently reunited with Jamie Lynn. Weeks later, Jamie Lynn discussed their dynamic during an interview with Variety.
"I have nothing but absolute love for every single one of my family members. If I learned anything from last year, being so open and feeling like I had to defend myself at times, I don't feel like there's anything else that I need to say," Jamie Lynn told the magazine in a July profile. "I just have to leave it where it is because those conversations are meant to be personal."
Sign up for Us Weekly's free, daily newsletter and never miss breaking news or exclusive stories about your favorite celebrities, TV shows and more!
Jamie Lynn also explained at the time that she tells her eldest daughter, Maddie, to be "so proud" of her aunt Britney for all of her accomplishments. (Jamie Lynn shares Maddie with ex Casey Aldridge and daughter Ivey with husband Jamie Watson.)
For access to all our exclusive celebrity videos and interviews – Subscribe on YouTube!
Related Stories
Britney Spears Returns to IG, Reportedly Hires High Power Divorce Attorney
'90s Pop Stars: Then and Now
Britney Spears' Ups and Downs Over the Years
Source: Read Full Article