These Star Wars superfans had hard hitting but adorable questions for the 47-year-old Mandalorian actor
Pedro Pascal is answering big questions from some of his smallest fans!
In a segment for BBC Newsround, The 47-year-old actor took the time to take questions from children about his role on "The Mandalorian" ahead of the hit Disney+ series' third season.
Though his inquisitors were children, the Star Wars superfans had some hard hitting questions.
For example, 10-year-old Benjamin asked, "How often are you in this suit or do you have a stunt double?"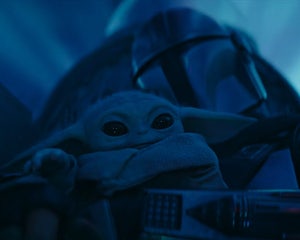 The Mandalorian Takes on New Quest, Grogu Shows Force Growth in Season 3 Trailer
Pascal smiled and answered, "Hi Benjamin, I have a stunt double. I have multiple stunt doubles that do most of the heavy lifting at this point and when you see someone flying and doing spin kicks and landing perfectly on the ground it is a team effort."
When the "Last of Us" star was asked how long he intends to portray the titular protagonist, Pascal revealed to Nathaniel, 10, that he considered it a lifetime role.
"I think I will be playing the Mandalorian for the rest of my life," he replied.
Appearing with her class dog, Buddy, nine-year-old Eloghosa asked where the actor would take Grogu — or more affectionately known as Baby Yoda — on a walk if he could and why.
Pedro replied after greeting them both, "Oh Gosh… I would take him to the heath on a beautiful fall day or spring or maybe in the snow — any time of year just not rain."
Watch the complete adorable Q&A below!
Unable to render YouTube Video.

Source: Read Full Article