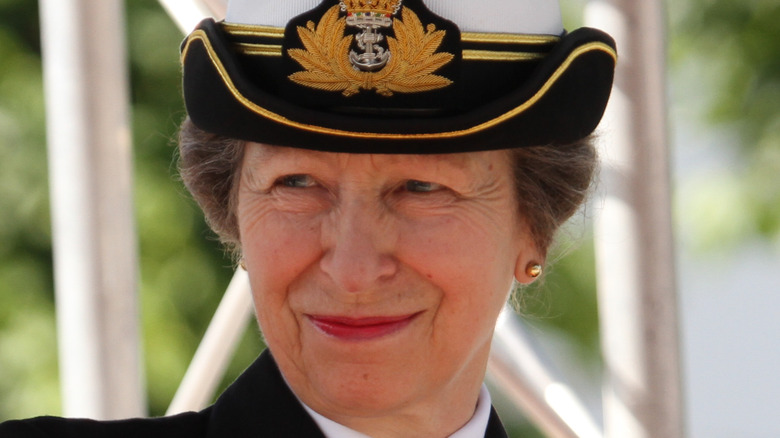 When most of us think of Princess Anne, we probably imagine her as a somewhat forgettable, dowdy woman known more for her work ethic than her sense of style. However, since "The Crown," many royal fans have begun to rethink their first impressions of the princess. The show has demonstrated that there's a lot more to Anne than meets the eye. Not only has Anne always been one of the most laid-back royals, she has also tended to be pretty subversive when it comes to fashion. In her youth, she was often seen wearing trousers, cardigans, and sneakers, which we can only imagine raised a few eyebrows at the time.
Since then, Anne has continued to forge her own path both in life and in fashion. She's famous for breaking with royal tradition and rewearing numerous outfits in her classic low-maintenance style. She's also known for sporting extremely casual clothing, such as her famous sporty sunglasses and her flat shoes. While Anne may not be the best-dressed royal, she certainly knows how to prioritize comfort and practicality.
Even though we totally love Anne's style, we have to admit — some of her looks over the years have been just a little inappropriate. Keep reading as we explore the most inappropriate outfits Princess Anne has ever worn.
Princess Anne likes to wear a military uniform even though she never officially served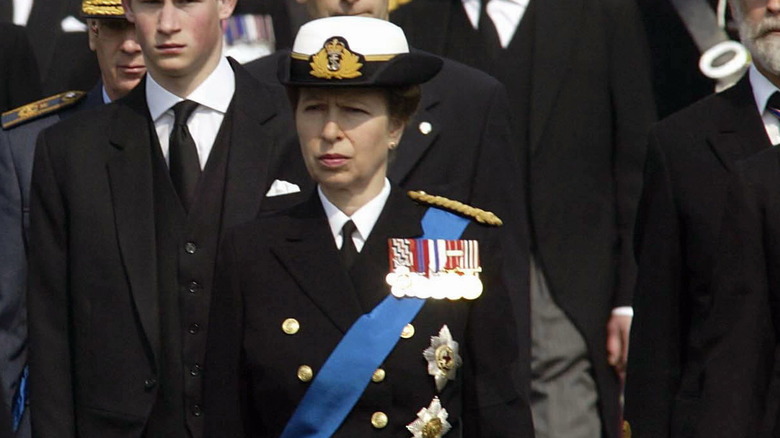 As eagle-eyed royal fans may know, Princess Anne has a very unconventional fashion habit when it comes to funeral attire. It is traditional for royals to wear military uniforms to state events — as Hello! reported, they've been doing it since the 19th century. While it may be normal for men to don their uniforms, Anne is the only female royal in recent history to ever wear a military uniform — before Anne appeared on the scene, the last woman to wear military attire was in 1588 during the reign of Queen Elizabeth I.
Anne first got people talking when she wore Rear Admiral trousers to the funeral of her grandmother, the Queen Mother, in 2002. Many traditionalists found it a little bizarre, especially since Anne has never actually served in the military. However, her funeral outfit wasn't just a strange fashion choice. Anne, according to Hello!, is an honorary Rear Admiral.
When Anne's father, Prince Philip, died in 2021, the Daily Mail reported a controversy surrounding her outfit for the funeral. Apparently, her brothers weren't too keen on her wearing a uniform, as it may have distracted from their own uniforms. In the end, the Queen decided that none of the royals would wear uniforms.
Princess Anne has recycled her outfits, a major royal faux pas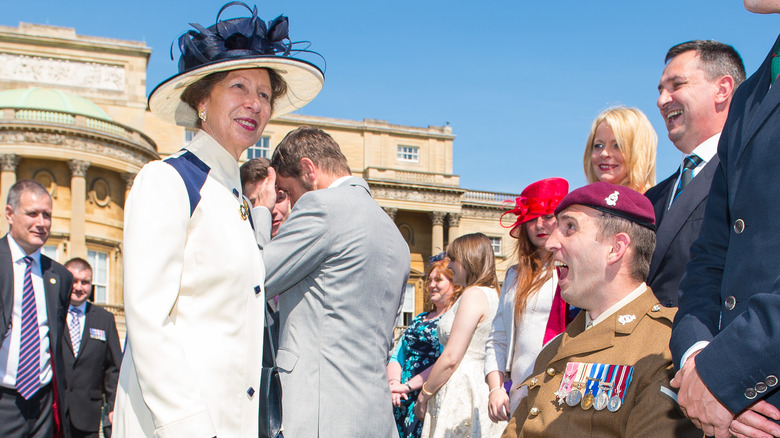 Princess Anne certainly doesn't mind breaking with tradition. One royal tradition that Anne has broken numerous times is that of rewearing her outfits. Most royals follow the rules and wear their outfits only once. In fact, according to The Telegraph, the Queen even has measures in place to avoid this practice.
It's probably safe to say that Anne has reworn her outfits more than any other royal. And, not only does she recycle her outfits, she sometimes pulls out clothes from decades ago. Depending on who you ask, it's either retro or a double fashion faux pas.
As the Daily Mail reported, Anne once wore the exact same outfit eight times over the course of 35 years — first, she wore the "mannish" outfit at Ascot in 1980. Since then, she's worn it at other events — and at Ascot again. It's clear that Anne has no qualms about breaking with royal tradition and getting good use out of her clothes.
Princess Anne wore this mismatching face mask to Ascot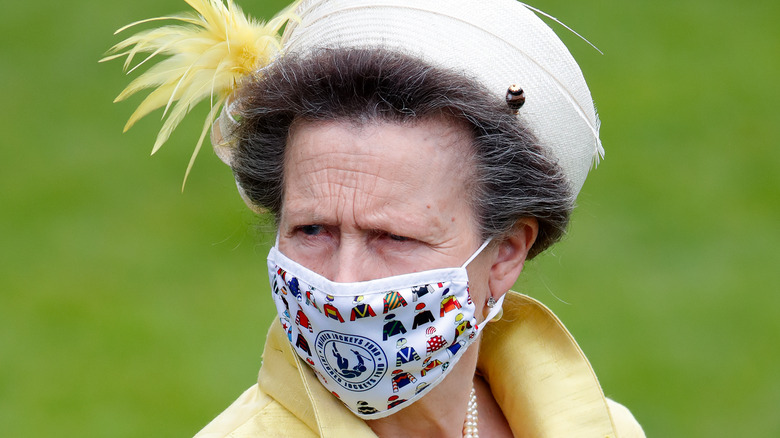 As any fashionista knows, 2021 has been the year of the matching face mask. For instance, when President Biden's granddaughters arrived at his inauguration, they all sported matching face masks, which Elle called a "major fashion moment."
It seems like Princess Anne could take a page from their book. In 2021, she arrived at Ascot with the complete opposite of a matching face mask — instead, she paired her stunning purple outfit with a multicolored face mask, featuring the logos of various jockeys in support of The Injured Jockeys Fund, as noted by GloucestershireLive.
While we definitely love that Anne was supporting an important cause, it's safe to say that the mismatched mask was a low fashion point for the royal. As GloucestershireLive noted, the mask "jarred with her large hat and feminine outfit." And, apparently, Anne was one of the only guests at the event to wear a mask that didn't match her outfit. As always, Anne forged ahead with her own sense of style!
Princess Anne wore these sporty shades with a formal outfit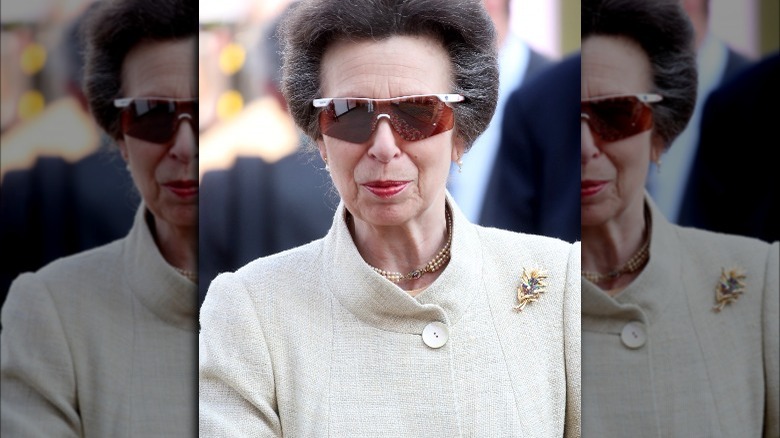 In 2021, Princess Anne showed up at Ascot in a stunning formal emerald dress — along with a pair of futuristic sporty sunglasses. As GloucestershireLive reported, the look was certainly unusual for a royal. In fact, one royal fan even tweeted, "Princess Anne at Royal Ascot today. Love her, hardest working royal but… what is with those sunglasses? Looks like Robocop." We're pretty sure that Robocop is not exactly part of the royal dress code.
Of course, Anne has been breaking tradition and wearing her sporty shades for years. According to Hello!, her Adidas sunglasses are one of her favorite accessories for outdoor events. And, while they're definitely bizarre with formalwear, Vogue has given her glasses their stamp of approval, calling Anne a "ray of light" for her bold, modern eyewear choices, even if they are "unorthodox." While Anne's sunglasses may be intended for a casual walk to the gym or a hike in the woods, we have to admit, she's pretty brave to wear them to formal events.
Princess Anne wore a pantsuit to the theater in 1973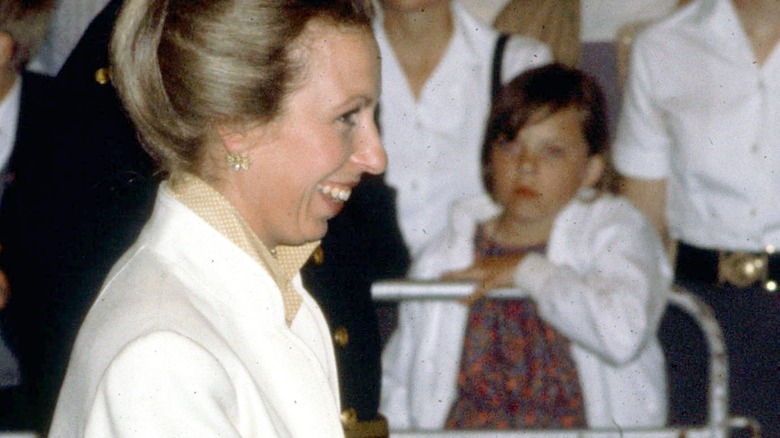 Princess Anne's penchant for bold fashion dates all the way back to her youth. As Marie Claire reported, Anne wore one of the "most controversial" royal outfits ever in 1973, when she sported a pale blue pantsuit to the theater. At the time, royal women were expected to wear modest dresses and skirts. Instead, for the theater outing, Anne rocked a masculine suit with a long gold chain as her only accessory. She also donned light blue eyeshadow, another royal faux pas.
While the look definitely raised eyebrows at the time, it has gone down in history as one of the princess's most daring. In 2020, The Guardian included the outfit in their compilation of Anne's best looks, comparing her to John Travolta and Connell from "Normal People" — fashion icons, certainly, but probably not by royal standards! Grazia also gave the look a nod in 2020, writing, "So sharp, so unabashedly 'groovy', it would have looked more at home in Studio 54 than Buckingham Palace."
Some thought Princess Anne looked like Hugh Hefner in this outfit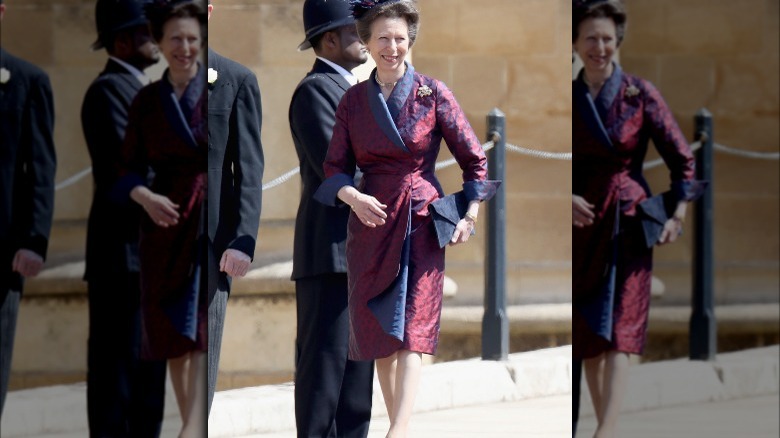 Even though Princess Anne usually looks pretty sharp (and a little daring), she sometimes completely misses the mark with her outfits. The royal wedding in 2018 was one of those times. For the high-profile event, she chose a knee-length burgundy coat-dress and matching clutch. The problem? Her dress looked more like a dressing gown than something a royal princess would want to wear to a wedding. As The Sun reported, many royal fans took to Twitter to mock her inappropriate outfit. Several users compared her to Playboy founder Hugh Hefner, who famously wore a red dressing gown. Another Twitter user even compared her to the 1920s playwright Noel Coward.
It's pretty clear that Anne's outfit for the wedding wasn't quite right. After all, no royal — even a daring one — wants to be mocked for their fashion on Twitter!
Princess Anne wore short skirts when she was young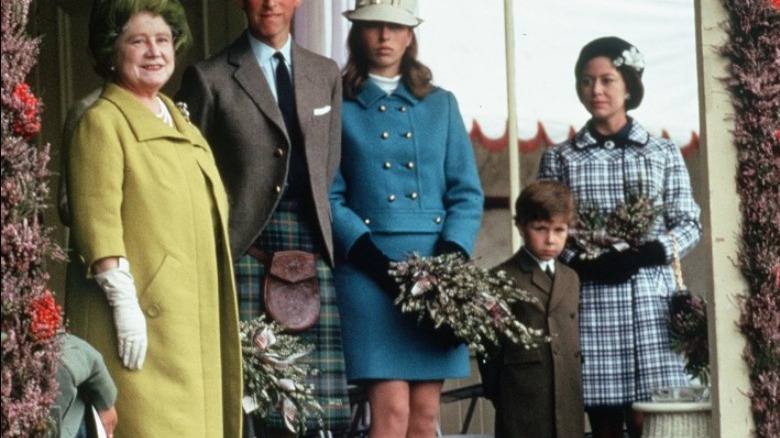 One of Princess Anne's most inappropriate outfits came early in her life. When she was young, her grandmother, the Queen Mother, was reportedly appalled by her penchant for mini dresses. Of course, mini skirts and dresses were the height of fashion in the 1970s when Anne was growing up. However, as a royal, she was expected to wear more modest hemlines.
As royal expert Ingrid Seward wrote in an article for the Daily Mail, Anne "enjoyed dressing daringly, choosing to wear very short skirts, much to the chagrin of her Grand Mother," who thought knees were "so ugly" (via Express). Yikes, being a young royal can't be easy!
It's pretty clear that Anne has been blazing the way forward for new fashion rules at Buckingham Palace. Even though some of her outfits were deemed inappropriate at the time, she's definitely paved the way for bolder royal fashion in the future.
Source: Read Full Article