By Lenny Ann Low
More than 20 New Zealand comedians walk into an Australian comedy festival. No joke. They're everywhere. A new wave of Kiwi comics is storming Australian shores, their chilly bins chocka with jokes, ready to infiltrate the Melbourne International Comedy Festival and Sydney Comedy Festival.
In the wake of globally successful NZ comedy stars Taika Waititi, Rhys Darby, Rose Matafeo and Flight of the Conchords' Bret McKenzie and Jermaine Clement, a record number of emerging Kiwi comics – spearheaded by acts such as Melanie Bracewell, Guy Montgomery and Ray O'Leary, and encouraged by established favourite Urzila Carlson – are hitting Australian stand-up mics in 2023.
Many are familiar from TV shows Have You Been Paying Attention?, The Cheap Seats, The Project, Patriot Brains and Matafeo's sitcom Starstruck, but is there something about live New Zealand comedy that is tickling Australian audiences in different ways? Why are so many NZ comics travelling across the Tasman to our comedy festivals?
Guy Montgomery, an affable, linguistic lover of life's more off-kilter obscurities, says Kiwi acts have found a warm and welcoming audience in Australia.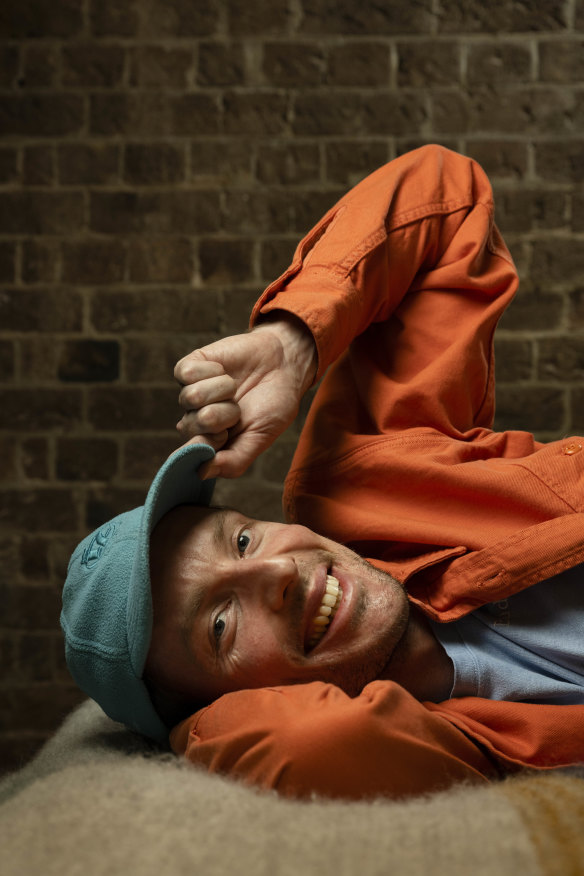 Guy Montgomery is one of many New Zealand comedians building a bigger profile in Australia.Credit:Janie Barrett
"From New Zealand, it makes a lot of sense that Australia is a place where you can do a lot of comedy over a [festival] month," Montgomery says. "You can meet a lot of other comics and you've got access to a much bigger market. And, I've got a New Zealand accent, which Australians can find funny."
Montgomery, a regular on Ten's Have You Been Paying Attention?, along with Taskmaster NZ, Just For Laughs comedy festival and his own TV shows Guy Mont's Spelling Bee and Guy Montgomery By Name, Guy Montgomery By Nature, says Australia is also more accessible for Kiwi comics beginning their career.
"Especially in the aftermath of the pandemic," Montgomery says. "The value of the Edinburgh Fringe, normally an important part of a comedic journey of pilgrimage, has decreased because it's just become exorbitantly expensive.
"Unless you have a clear strategy or really deep pockets or a desire to live and work in the United Kingdom, it doesn't really make sense to spend all that money and time and energy and getting over there to, ideally, break even.
"The population of Melbourne is the same as our entire country, so its comedy festival is a really big and incredible experience."
Ray O'Leary, a charmingly deadpan comic whose trademark large hair and ill-fitting suit have inspired fans to dress as him at gigs, says Montgomery is right. "I am happy to echo Guy Montgomery, although – despite us being good friends – I don't respect anything he thinks," he says.
Ray O'Leary's fans dress up as him at gigs.
O'Leary, another regular on HYBPA, who is making his debut at the Melbourne International Comedy Festival and Sydney Comedy Festival in 2023 with the show Everything Funny All the Time Always, says rising venue, accommodation and travel costs for faraway festivals make Australia's comedy opportunities a no-brainer.
"But, also, I do feel very welcomed by the Australian comedy scene and Australian audiences," he says. "It's a cliche, but there's definitely something in the air at Melbourne comedy festival time. It's incredibly exciting. You and all your fellow comics are going through the same thing, there's a real baptism of fire and, every week, you gather for drinks to celebrate the successes and lick your wounds.
"For a certain time of the year, a comedian is the cool, hot thing in town. From my perspective, Australia has a real love for comedy."
O'Leary isn't sure if Australians recognise a particularly New Zealand-style of humour in his comedy, but he has received unusual interest. "I have been walking down the street in Melbourne and a guy saw me and just said, 'Kiwi'," he says. "I don't know if I walked in a particularly New Zealand way, or had a smell about me that he could detect."
New Zealand and South African comic Urzila Carlson – whose fearless, tell-it-like-it-is comedy has sparked fame on Australian stages and screens – has watched a steady blossoming of new Kiwi comedy acts across the ditch.
Urzila Carlson has been urging younger Kiwi comics to head for Australia.
"I've not only noticed it, I've encouraged it," she says. "I've worked tirelessly over the years to get more of them coming across."
When Carlson first performed at the Melbourne International Comedy Festival in 2012, her venue was a foyer with 20 seats, a makeshift stage and lift doors. Her 2023 MICF show, Just No!, will play to thousands of punters at Melbourne Town Hall before a Sydney season at the 6000-seat Aware Super Theatre.
"I have never missed a comedy festival here," she says. "Well, except when it was two weeks' quarantine and you had to be able to do a back-flip on a trampoline and kiss Pauline Hanson's ring finger."
Carlson, who has appeared on HYBPA, The Masked Singer Australia, The Project and Spicks and Specks, says the new generation of NZ comics are unafraid of hard work. "They're not scared of anything," she says. "The first four years I went to Melbourne I had to couch-surf with friends.
"I was out flyering all day, then I'd do the show followed by as many other shows as I could until two o'clock in the morning. Then, next morning, 10 o'clock, I was back in the CBD flyering again.
Melanie Bracewell chose to broaden her career in Australia, as it provided more opportunity than the US or the UK.
"But it makes you a better comedian. The more you perform, the stronger you are, and the younger comics are not scared of rejection. They're not scared of playing in a tiny room to a mostly empty audience. It's amazing and it warms my heart."
The bumper crop of touring New Zealand comedians is also a bounce-back after COVID-19 lockdowns and border restrictions. International acts, often drawing the spotlight at Antipodean comedy festivals, were absent, allowing homegrown line-ups to fill stages.
Wait, there's more! New Zealand comics touring Australia in April and May
James Roque – Badong; Two Hearts (Laura Daniel and Joseph Moore) – We're Pregnant And The Baby Is Music; Lord of the Zings: A Kiwi Comedy Showcase; Guy Williams – Comedy Plus Time Equals Tragedy; James Nokise – God Damn Fancy Man; Becky Umbers & Courtney Dawson – Becky and Courtney Do Business; Bec Sandys – Happy Cabbage; Barnie Duncan – Just Jolks; Dan Brader – Death Metal Boomer; Tim Batt – Is Climate Change Funny Yet?; Chris Parker – Lots of Love; Jess Karamjeet – Redundant Neighbours Writer Does Stand-Up; Tony Lyall – What A Time To Be A Lyall; Paul Williams – In The Moonlight; Anna Beros – Creampie Curious.
"We had no comedy festival in 2020 but, in 2021, we did, with the borders closed," Montgomery says. "It was a real celebration of local comedy, a really great festival and a big success. A lot of people came out and supported and discovered a whole lot of new New Zealand comedians."
Melanie Bracewell, known for writing for TV series Wellington Paranormal, co-hosting The Cheap Seats and appearing on HYBPA, Just For Laughs and The Project, moved to Australia after winning New Zealand's biggest comedy prize, the Billy T Award, in 2018. She agrees border restrictions have bolstered interest and support for new New Zealand acts.
"The reason I moved to Australia was I had plans to maybe go to LA or try the UK circuit but then it reached a point where the only country you could go to was Australia," she says. "I thought, actually, this is probably the best place to make a big step. It's a massive jump from New Zealand because we're a tiny little island and, really, to come to Australia is quite a huge deal.
"If you were to do a New Zealand tour, there's about three places you could go to. But, in Australia, there's so many places, places I haven't been to yet where people are saying, 'Come and perform here.' Australia is the bigger population. It's more people watching TV, more people coming to live shows. Everything is bigger and, therefore, there's more opportunity."
It is also possible to make a living as a touring comedian in Australia rather than overseas. "Edinburgh is seen as a rite of passage for lots of comedians here but I don't think it's quite the same now," Bracewell says. "I know someone who did Edinburgh and sold every single ticket and then, at the end, they got a bill.
"The great thing about Edinburgh is it's a place where people get discovered but the cost of accommodation and venues and publicity has gone through the roof. It's not a festival for everyone any more."
At the heart of things, Montgomery, Bracewell, Carlson and O'Leary feel a strong connection with Australian audiences.
"There is a genuine wealth of talent in New Zealand," says Montgomery. "And it's awesome that Australians are discovering New Zealand comedians. You see what it's done for Urzila and Mel and it's inspiring and motivating.
"Now there's no risk of being locked out of going home because of restrictions, a lot of comics are excited to come on over and just have a crack."
Guy Montgomery is at the Victoria Hotel Banquet Room, Melbourne, until April 23; and the Comedy Store, Sydney, May 12-14; Ray O'Leary is at the Chinese Museum Silk Room, Melbourne, until April 23; and the Enmore Theatre May 11-14; Melanie Bracewell is at the Athenaeum Theatre, Melbourne, April 11-16; and Urzila Carlson is at Melbourne Town Hall until April 23; and the Aware Super Theatre, Sydney, on May 13.
A cultural guide to going out and loving your city. Sign up to our Culture Fix newsletter here.
Most Viewed in Culture
Source: Read Full Article