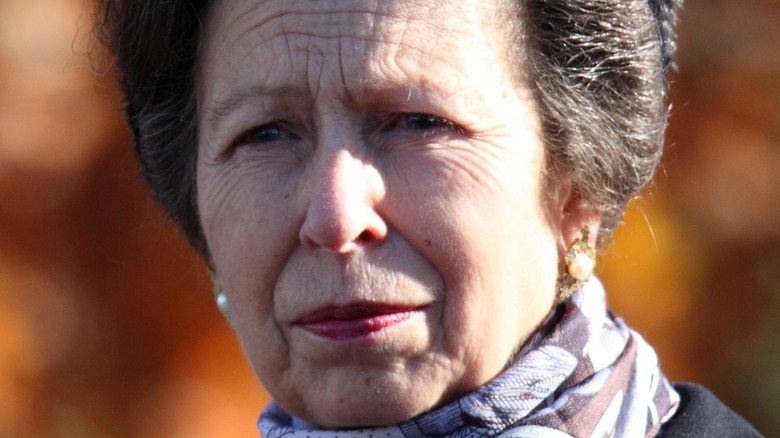 Being a princess, as Princess Anne is, might seem like a wonderful existence to many, but is royal living as charming as it sounds? Royals, after all, are people just like everyone else. While they may have more privilege than most of us, there are a lot of drawbacks to being royal. This is especially true for members of the British royal family who are constantly in the public eye.
The difficult life of a royal is something that Princess Anne, the Princess Royal, knows all too well. Born on August 15, 1950 (per Biography), Anne is the only daughter of Queen Elizabeth II. Her life hasn't exactly been a fairy tale, though. Aside from the burden of growing up as a member of the world's most famous royal family, Anne has also been through a number of painful events throughout her life including a rather lonely childhood, a highly-publicized divorce, and some major disappointments.
She may be a princess and have grown up in the lap of luxury, but the truth about Princess Anne is more tragic than you may think.
Princess Anne didn't spend much time with her parents as a child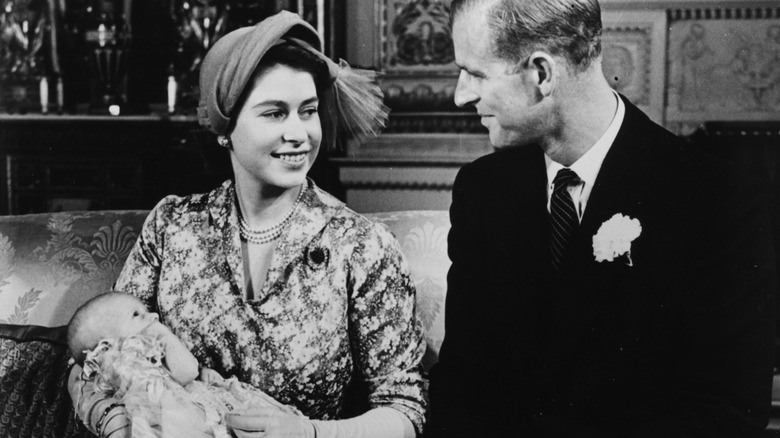 While Queen Elizabeth had not yet been coronated when Princess Anne was born, she was still quite busy as the heir to the throne. There were even more constraints on her time after she inherited the crown 1952, when Anne was just shy of 2 years old. As noted by CheatSheet, the young royal didn't have much time for her young children, often leaving Prince Charles and Princess Anne with a nanny for months at a time as she traveled the globe for her royal obligations.
This isn't to say that Queen Elizabeth neglected her children. On the contrary, she believed she was doing the right thing by allowing her children to stay in a stable environment rather than constantly uprooting them. "She had been brought up in that style herself, after all, with her parents leaving her at home and entrusting her entire schooling to a governess and home tutors," royal biographer Robert Lacey told Town & Country.
Per Express, the young princess went off to boarding school at the age of 13. While Anne enjoyed her time at Benenden School, it meant that she was even further separated from her family.
Princess Anne was displaced by her younger brothers in the line of succession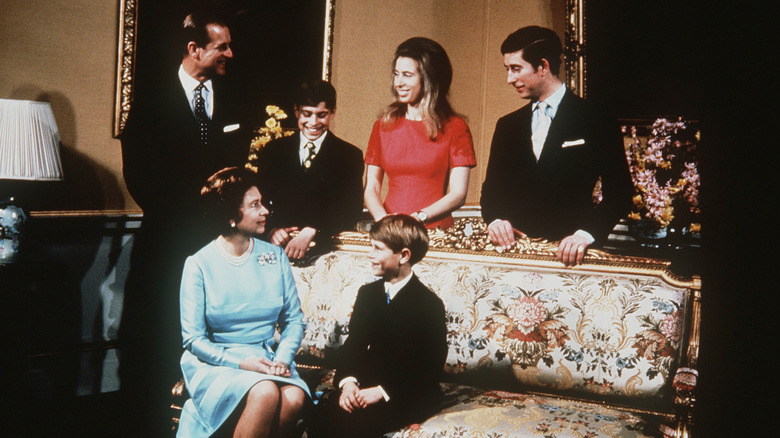 The BBC noted that, at the time of Princess Anne's birth, she was third in line to the throne. Only her mother, the then-Princess Elizabeth, and her older brother, Prince Charles, were ahead of her. As her younger brothers were born, though, she was displaced in the line of succession, growing ever-further from the throne as they themselves went on to have children.
This is because of an archaic and patriarchal rule which stated that male heirs to the throne take precedence over female heirs. While the Succession to the Crown Act (2013) ended this practice, it only did so for heirs to the throne born after October 28, 2011. This means that Prince William's heirs are decided by birth order rather than their sex, but it doesn't bring Anne any closer to the throne as her younger brothers, Prince Andrew and Prince Edward, still rank ahead of her — as do their children and their grandchildren. Anne is now 16th in line to the throne but would have been ninth — right after Prince Harry and Meghan Markle's daughter, Lilibet — if the act had been changed sooner.
Princess Anne hated growing up in the public eye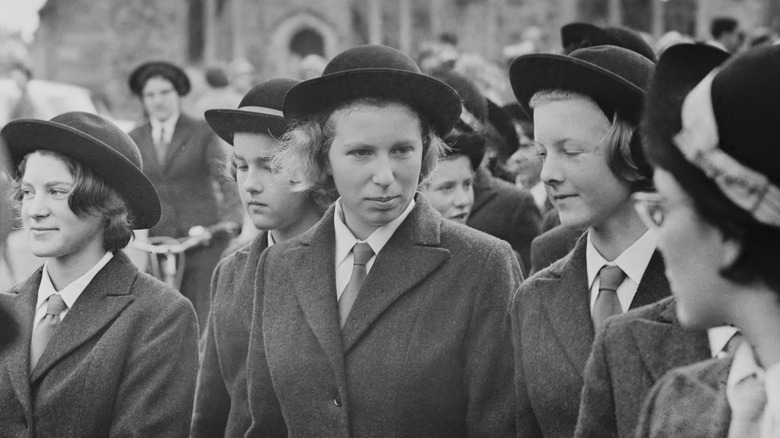 While some royals might enjoy their celebrity status and growing up in the public eye, Princess Anne is not one of them. "I didn't ask to be born a princess!" she snapped at an interviewer once, as noted by Great British Life.
While Anne, fortunately, grew up before social media, public scrutiny was still intense enough without Instagram and Twitter. One aspect of royal life she especially loathed was the expectation of participating in royal walkabouts to greet the public. "We hated them, can you imagine as teenagers?" she said in the BBC documentary "The Queen: Her Commonwealth Story" (via Hello!). "Hardly the sort of thing you would volunteer to do. … How many people enjoy walking into a room full of people you've never met before and then try a street."
It's no wonder, then, that Anne enjoyed her time at school so much. While there, she was able to simply be a teenage girl. While everyone knew, of course, who she was, she was treated just like everyone else. "I enjoyed the informality of it all," she's shared.
The press painted Princess Anne as rude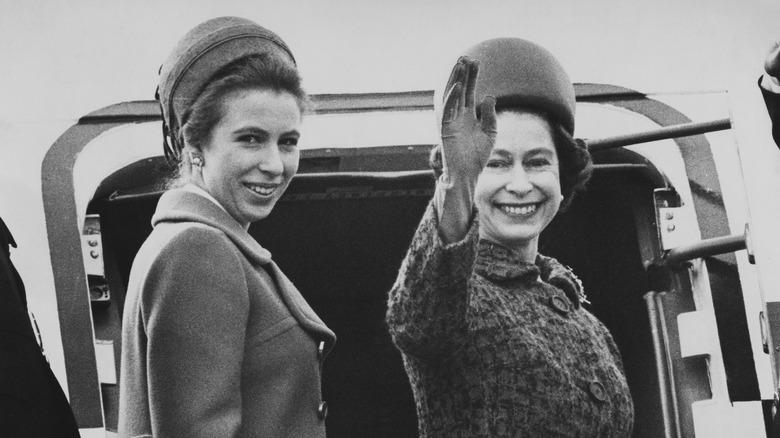 It's hard not to sympathize with the young Princess Anne. While she was born into a life of privilege and wealth, there were many downsides to being a royal. The media didn't see it this way, though. When her distaste for public life became apparent, the press lambasted her instead of sympathizing with her. The young princess had a reputation for being difficult because of her impatience with the press. Royal biographer Sally Bedell Smith wrote in "Elizabeth the Queen: The Life of a Modern Monarch" that she even earned herself the nickname "Her Royal Rudeness" in her 20s after infamously yelling, "Naff off!" at reporters.
Even American reporters were quick to criticize the young princess, not only for her avoidance of the press but also for her perceived demeanor during royal engagements. Journalist Joy Billington observed Anne on a 1970 trip to the U.S., later saying in the documentary "The Real Princess Anne" (via Express) that she "was very bad-tempered [and] very sulky."
Royal biographer Kitty Kelley wrote in "The Royals" that Anne served as a sharp contrast to Prince Charles who was more willing to cooperate with the press. Kelley said that the princess "seemed selfish and arrogant," notably telling photographers to "Bugger off."
An accident nearly derailed Princess Anne's Olympic dreams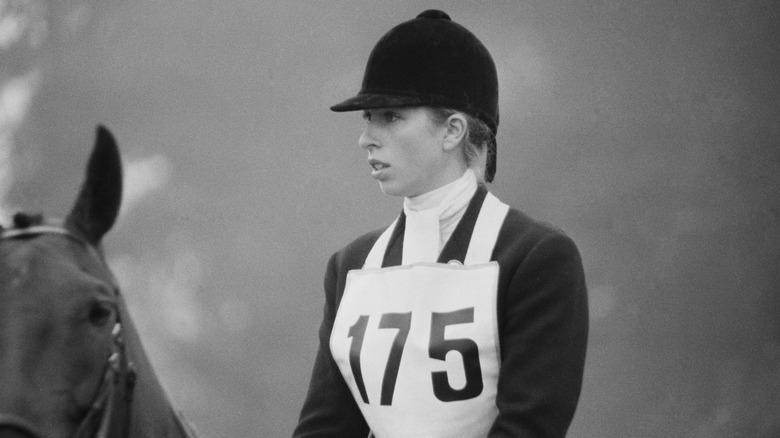 While Princess Anne wasn't comfortable with her public life as a royal, she was much more at home garnering attention as a talented equestrian. Riding horses was a passion she shared with her mother, Queen Elizabeth; royal historian Robert Lacey told Town & Country that the shared hobby helped the teenage princess bond with her mother.
Anne's talent for riding soon proved to be formidable. Per Biography, she competed while in school and, after graduation, studied competitive riding with a professional trainer. Anne's talent was largely kept out of the public eye for a few years, but by 1971, she was making big waves on the riding circuit and it was impossible to keep quiet. That year, she performed well at several competitions, including the Rushall Horse Trials and the European Eventing Championships, where she won the European gold medal and was named BBC's Sports Personality of the Year.
Anne set her eyes on riding in the Olympics, but a series of unfortunate accidents nearly ruined her hopes. In 1972, her horse Doublet strained his tendon, leaving her unable to try out for the Olympic team. Four years later, Anne again hoped to make it to the Olympics but suffered a nasty fall that left her hospitalized for several days with a concussion and a fractured vertebra. Thankfully, it was only a hairline fracture and, per The New York Times, her doctor said she'd be able to return to riding in time for the Olympic Trials.
This is why Princess Anne doesn't remember competing in the Olympics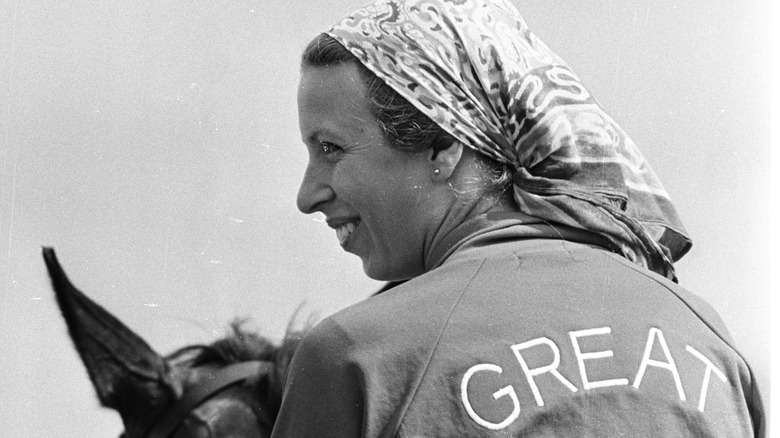 Princess Anne made it to the Olympics in 1976 in spite of her injury, becoming the first British royal to compete in the Games. Tragically, the experience was not exactly a glorious one. Not only did Anne not win a medal, but she also has no memory of the momentous occasion.
Anne's memory loss is due to a fall she took in the eventing competition at the Montreal Olympics. While she wasn't seriously injured and she remounted her horse, finishing the event, she had to rely on observers to tell her what happened after her fall. "I was going very well and then I don't remember anything else," she said in an interview (via Express). "Nothing at all." Jane Holderness-Roddam, Anne's lady-in-waiting, said in the documentary "Anne: The Princess Royal at 70" (via Express) that the royal never recovered her memories of the big day.
The 1976 Olympics were Princess Anne's first and only time on the Olympic team. Per PopSugar, she finished 24th.
Princess Anne was nearly kidnapped at gunpoint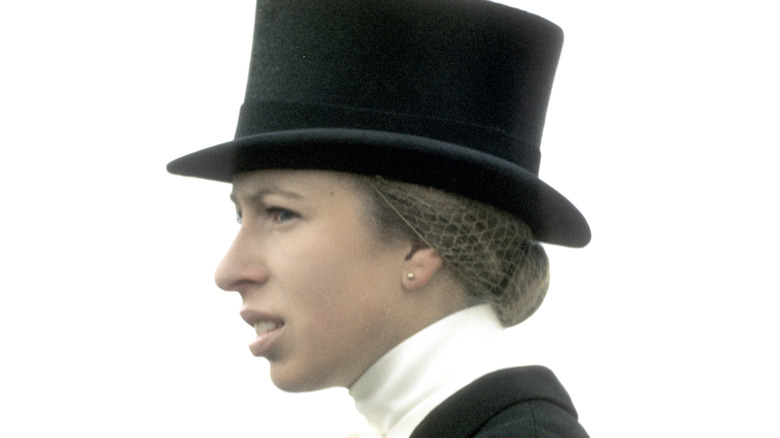 Far from being a damsel in distress, Princess Anne is a fierce royal and even bravely thwarted a kidnapping attempt that could have ended in tragedy. Per Smithsonian Magazine, the near-kidnapping occurred in 1974 as Anne was on the way home from a charity event. An armed man approached her limo, shooting her bodyguard in the shoulder. The would-be kidnapper tried to get Anne out of the car, but she refused to cooperate. "It was all so infuriating; I kept saying I didn't want to get out of the car, and I was not going to get out of the car," she said of the attempted kidnapping (via BBC News).
Princess Anne admitted that she wanted to hit the man, who had been planning on holding her for ransom, but refrained as he was carrying a gun. The man was finally apprehended by the police and was committed to a mental health facility.
Princess Anne's experience as a royal might be why she didn't want her children to have titles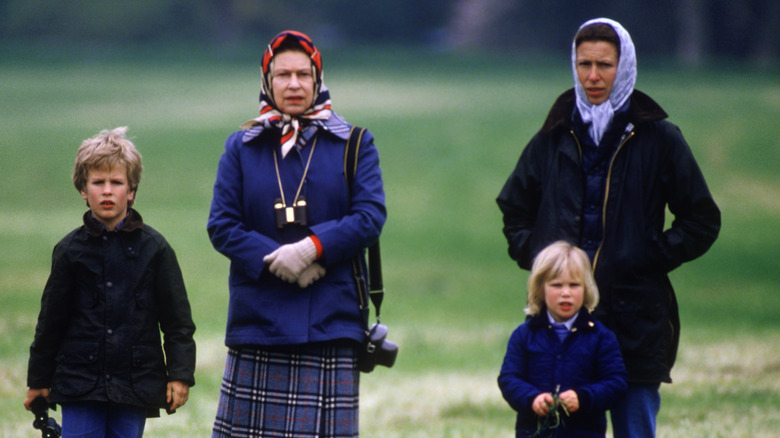 Princess Anne's life doesn't seem to have been an unhappy one, although it has been difficult at times. Though she's not one to complain about her life, she seems to have sent a message by not wanting her children, Peter Phillips and Zara Tindall, to have royal titles. While her kids didn't receive titles at birth as the children of a female heir aren't automatically princes or princesses, Metro noted that Queen Elizabeth did offer to style them as such.
Anne and her husband Mark Phillips declined. While she didn't say anything negative about royal life, her 2020 statement to Vanity Fair about her children not having titles is quite telling. "I think it was probably easier for them, and I think most people would argue that there are downsides to having titles," she said. "So I think that was probably the right thing to do."
Her children seem to agree. "I'm very lucky that both my parents decided to not use the title and we grew up and did all the things that gave us the opportunity to do," Tindall told The Times in 2015 (via The U.S. Sun).
Princess Anne's first marriage ended in scandal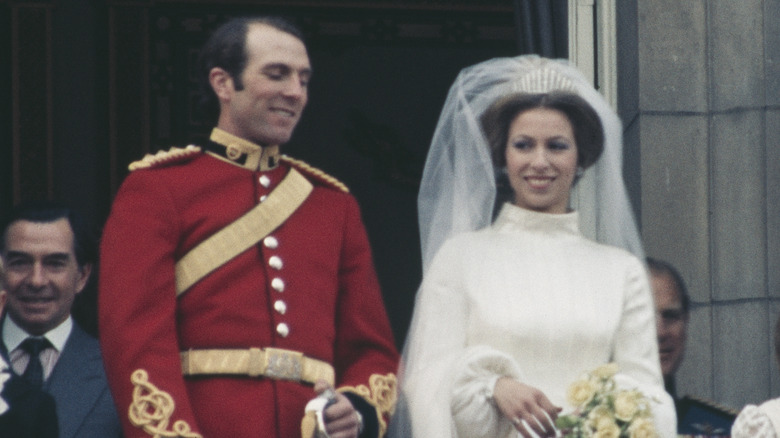 Princess Anne's love life has been rather tumultuous. Harper's Bazaar noted that she had at least a couple relationships — including one with Andrew Parker Bowles, who would go on to marry and divorce her future sister-in-law Camilla — before marrying Captain Mark Phillips in 1973. Like Anne, Phillips was a talented equestrian, and he won team gold at the 1972 Olympics. The couple had two children, Zara Tindall and Peter Phillips, but the marriage was a rocky one and cheating rumors regularly circulated about the pair, the most notable of which was Anne's rumored relationship with her bodyguard Peter Cross. While she never confirmed the relationship, Bustle reported that Cross sold details about their alleged relationship to the press for £600,000 in 1984.
Anne and Phillips ended their 18-year marriage in 1992, a year that went down as Queen Elizabeth's "annus horribilis" as it was filled with scandal for the royal family, as noted by the Independent. Aside from  Anne's divorce, there was the separation of Prince Andrew and Sarah Ferguson as well as the separation of Prince Charles and Princess Diana. Anne eloped with Sir Timothy Laurence later that year.
Princess Anne holds the dubious honor of being the only royal with a criminal conviction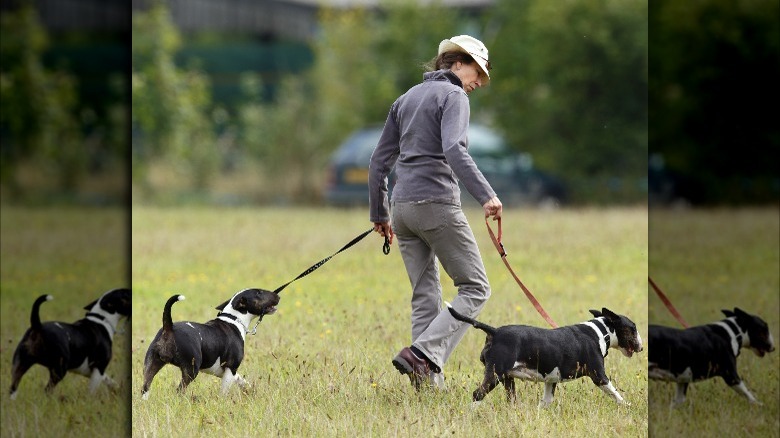 While Princess Anne has, for the most part, carried out all of the royal expectations placed upon her — albeit reluctantly at times — there are some notable examples of her not toeing the line. For example, she's the only member of the British royal family to have a criminal conviction. Per Vanity Fair, Anne was convicted in 2002 after failing to control her dog in a public park. The dog ended up attacking two children.
One could argue that this unfortunate incident wasn't entirely Anne's fault. Per The Guardian, a dog psychologist evaluated the royal's pet and declared her to be "an utterly placid, playful dog," so Anne likely never thought her pet posed a threat. In the end, the dog was made to undergo training and Anne had to pay fines.
That's not the only time Anne has been in trouble with the law, though. It turns out that she's a bit of a speedster behind the wheel and has been fined several times over the decades for speeding, as noted by The Guardian. In 1990, she was fined in addition to having her driver's license suspended for a month.
Princess Anne has been overlooked for most of her life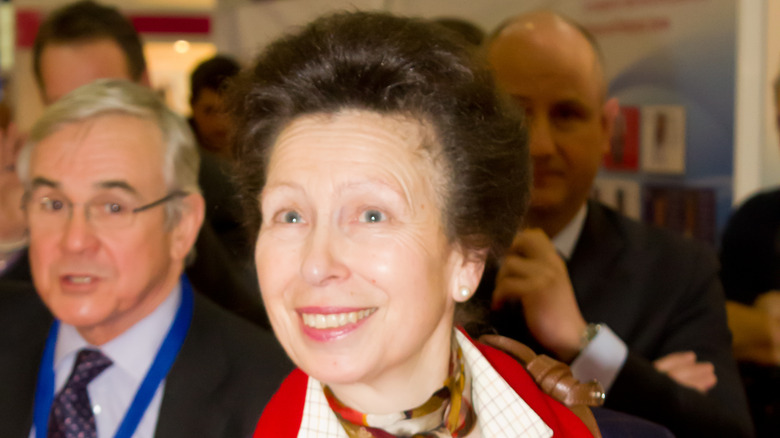 Princess Anne is a formidable force. Even though her royal career got off to a rocky start, she eventually became known as one of the hardest-working royals in the family. Even without her sterling reputation, she'd still be quite an impressive figure, but that hasn't prevented her from being overlooked for most of her life.
Born as the "spare," Anne grew up overshadowed by her older brother, Prince Charles. The births of her younger brothers, Prince Andrew and Prince Edward, made her even more redundant in terms of the line of succession. To top it off, Anne was born in a time when sexism ran rampant — the Women's Liberation Movement didn't kick off in the U.K. until 1970, per the British Library.
Even in modern times, though, she's often overlooked. PopSugar pointed out that Anne's fascinating life has not been explored in the detail it deserves in "The Crown," the Netflix drama about Queen Elizabeth's reign. Her attempted kidnapping isn't so much as mentioned, and her character serves primarily as "a prop for other characters."
Princess Anne shouldn't be so easily dismissed, though. As royal expert Clive Irving told Express, the royal "is one of the most quietly effective and influential members of the royal family" and "has a great deal of influence on" Queen Elizabeth. Irving added, "She is very underrated … she has done a lot of good work."
The death of Prince Philip hit Princess Anne hard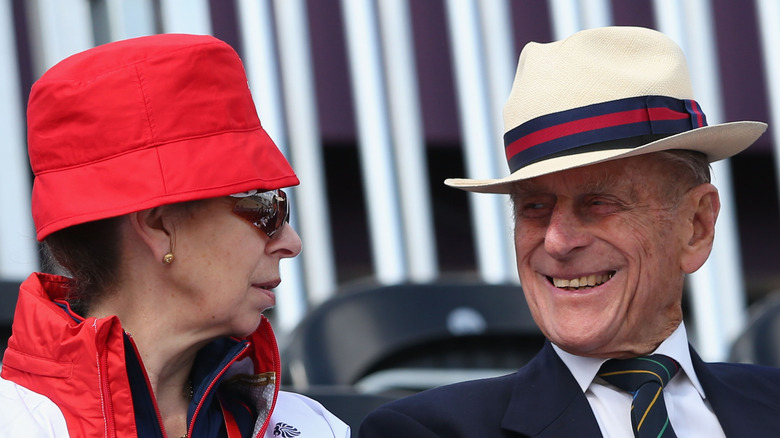 The death of Prince Philip in 2021 wasn't unexpected, but that didn't make it any less tragic. Princess Anne was devastated by the death of her father, as was the rest of the royal family. "You know it's going to happen but you are never really ready," she said in a statement posted on the royal family's Instagram account. "My father has been my teacher, my supporter and my critic, but mostly it is his example of a life well lived and service freely given that I most wanted to emulate."
Anne notably walked behind her father's casket during his funeral procession — a break from tradition as the somber task is typically restricted to men, per CBS News. After the funeral, she further honored her father by sending personalized notes to those who had offered their condolences. As noted by PureWow, the cards carried her monogram and a message reading, "The Princess Royal thanks you for your kind thoughts and sends you best wishes for the future."
Source: Read Full Article