Sandoval and Ariana come to Raquel's defense after Katie Maloney called her a "f—ing whore" for making out with Schwartz, while James Kennedy's girlfriend shares that she saw Sandoval and Leviss dancing together at The Abbey late at night.
Several months before Tom Sandoval's affair with Raquel Leviss came to light, Ariana Madix defended her after Katie Maloney slammed Raquel for making out with her ex-husband, Tom Schwartz.
During Wednesday's new episode of "Vanderpump Rules," Katie came over to Ariana and then-boyfriend Sandoval's house to make sandwiches, and continued to express her anger over Schwartz kissing Leviss at Scheana Shay's wedding.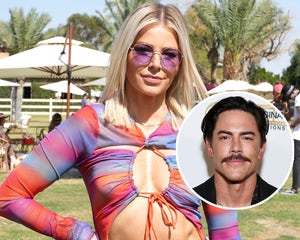 Ariana Madix Says She's Feeling 'Amazing' at Coachella After Tom Sandoval Split & Cheating Scandal
"Are you guys not friends anymore because of him and Raquel making out?" Sandoval asked Maloney, who simply replied, "Yeah."
Tom said he doesn't think Schwartz kissing Leviss was "a big deal," adding, "They were just two single people that are decent looking in, like, Mexico that just decided to make out."
In response, Katie told Sandoval, "We've had 900 conversations about it, and he's told me a hundred times, 'I'm not interested in her. Nothing's ever gonna happen.'"
"It's too close to home," she said, pointing out she's concerned about the "aftermath" of Schwartz and Raquel's makeout.
"What aftermath are you gonna have to deal with?" Sandoval asked, to which Ariana explained, "Well, they're not friends anymore so there's an aftermath, and now it's going to make it really difficult for her and Raquel to be friends."
Maloney chimed in, calling out Leviss. "She's a f—ing whore," she said as Sandoval and Madix came to Raquel's defense.
"She's not a f–ing whore," Tom said, while Ariana added, "She's not a whore. … She does not get paid by anyone to do anything.
"Well, then she should, because she's acting like one," Katie snapped.
Later on, Sandoval and Schwartz went to SUR, and ran into Lisa Vanderpump and Raquel, who was working and came up to them. When she sat down for a moment to chat, Sandoval thought it would be a good idea to tell Raquel that Katie called her a "whore." Understandably, Leviss was upset.
Sandoval attempted to console her, before he then shared kind words about Raquel in a confessional.
"I feel like Raquel doesn't have a lot of people in her corner," he said, "and she's a really sweet girl. She doesn't have a bad bone in her body."
However, Leviss, for her part, broke down in front of the cameras as Maloney's comment seemingly hit home.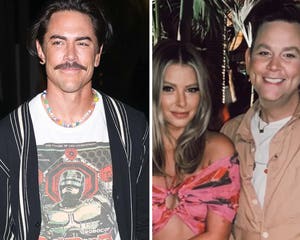 Ariana Madix's Best Friend Slams Tom Sandoval For Cancer Joke: 'You Are Scum'
"Katie is so rude, and so bitchy. I'm always trying to grow and be a better version of who I was," she said, before she became emotional. "I think a big thing that has been a roadblock for me is trying to be liked by other people. You know, there's people that you surrounded yourself [with] that either charge your battery or drain it. [A lot] of girls drain my battery, and I don't want to have that in my life."
Meanwhile, later in the episode, there was a hint that Raquel and Sandoval's affair had already begun as James Kennedy's girlfriend Ally Lewber said she saw the two dancing together at The Abbey in West Hollywood at 1 a.m. … without Ariana.
She told James she was "scared" because she felt like she "kinda started something" when she recalled to Lala Kent, Katie and Kristina Kelly about seeing Sandoval and Leviss together.
"Last night at Lala's apartment and I was grabbing my stuff, and we were leaving, and we were just chatting, that's when I mentioned, 'Oh yeah, I saw Sandoval and Raquel dancing together at The Abbey after See You Next Tuesday,'" she said in a confessional.
"I thought it was kind of weird," Ally told James. "It was, like, 1 a.m, and we were, like, 'Where's Ariana?'"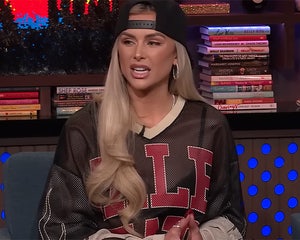 Lala Kent Thinks Tom Sandoval Isn't Capable of Love, Is 'Grossed Out' by Schwartz Not Telling of Affair
She added in a confessional that she "wouldn't be comfortable" knowing her boyfriend was out at 1 a.m. with girls.
Kennedy said to Ally that he's "noticed how much Raquel's been hanging out" with both Toms — Sandoval and Schwartz. However, he said he "wouldn't put too much to it."
The conversation ended there, but Katie later confronted Sandoval about it at Lala's birthday dinner.
Raquel showed up uninvited to apologize to Lala for calling her a mistress following her discovery that Oliver was, in fact, still married when they made out in Vegas. Katie — who was sitting next to Sandoval — called Leviss a "dumb bitch," to which Sandoval told Maloney it seemed that she "get[s] a lot of joy out of that."
"You get a lot of joy out of Raquel as well, I think," Katie told Tom, who replied, "Yeah, cool person."
"You go to The Abbey together at 1 o'clock in the morning …," she added, as Sandoval fired back, "What the f— are you saying, dude? Get the f— outta here man."
However, Tom didn't elaborate any further, nor did he confirm or deny that he was with Raquel at the club.
"Vanderpump Rules" airs Wednesdays on Bravo.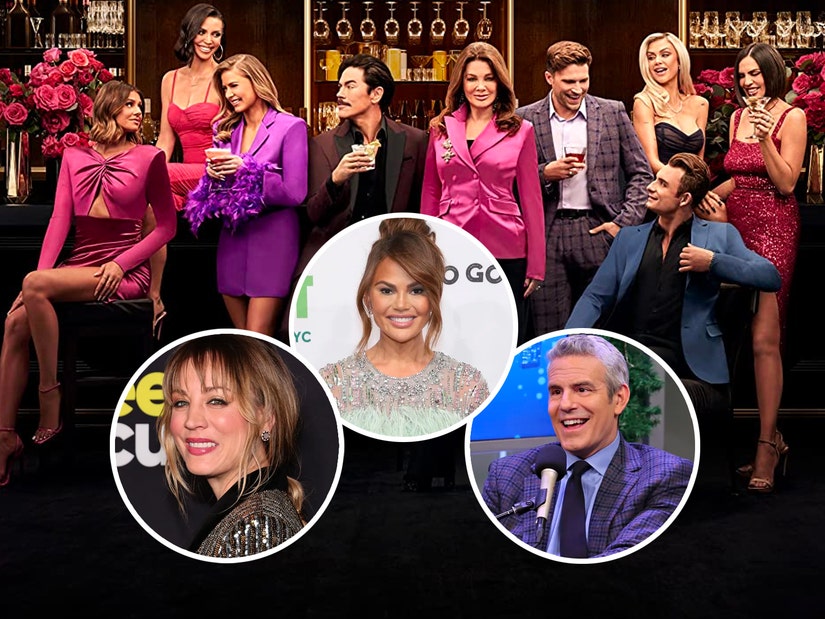 Source: Read Full Article