Mindy Kaling has been known to balance multiple things at once. Though she was introduced to most people as Kelly Kapoor on The Office, Kaling has done much more than just act. She's also a writer, producer, and, as of 2017, a mother as well.
Kaling just announced that she gave birth to her second child, a son named Spencer, which has raised questions about who the father of both her children is.
Mindy Kaling and B.J. Novak's offscreen relationship mirrored their onscreen one
On The Office, Kaling played Kelly Kapoor, the Dunder-Mifflin company's customer service representative. Throughout Kaling's eight seasons on The Office, Kapoor often found herself in an on-again-off-again relationship with coworker Ryan Howard. Howard was played by B.J. Novak, who also worked as a writer, executive producer, and director on The Office.
Kaling and Novak's relationship offscreen resembles their tumultuous onscreen relationship, though it was never as formally defined as Kelly and Ryan's. Novak admitted as much in a 2012 interview with Vulture, saying he didn't even know if they were officially dating despite them spending so much time together.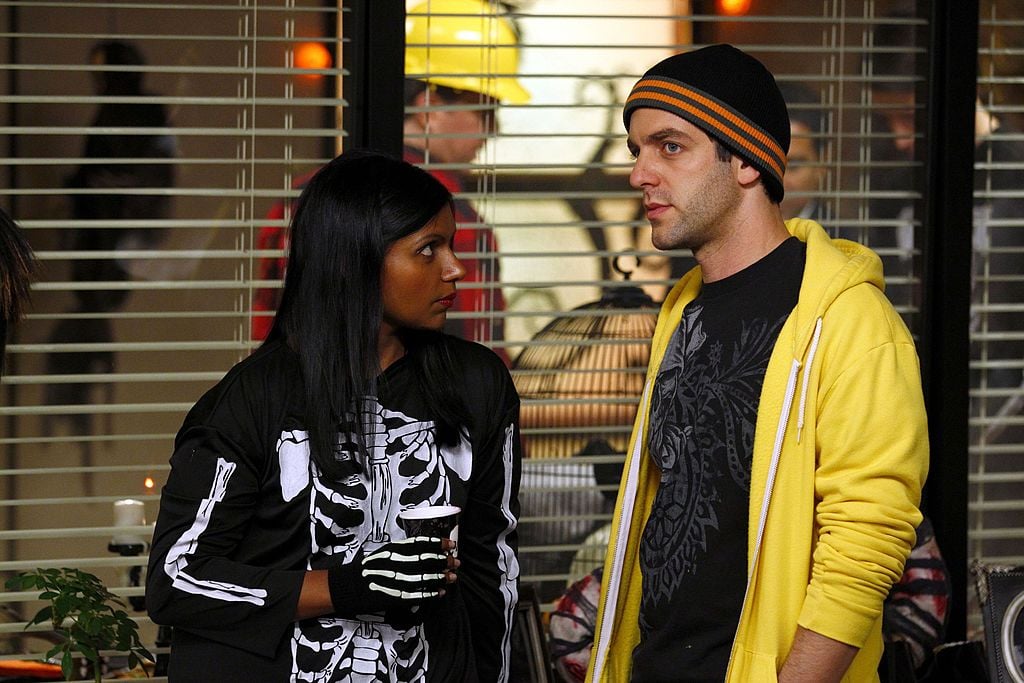 Mindy Kaling is a single mother
As a result of their long history, many people have speculated that BJ Novak is the father of at least one of Kaling's children. However, Kaling has repeatedly clarified that Novak is the godfather of her daughter and newborn son.
Since giving birth to her daughter Katherine Swati (her middle name derived from Kaling's Mother) in 2017, Kaling has prided herself on being a hardworking single mother raising her kids on her own.
Mindy Kaling values her privacy
Despite living a life in the public eye, Kaling has surprisingly kept much of her personal life under wraps. That includes the identity (or identities) or her children — and her children themselves.
Kaling has frequently posted photos of her daughter Kit, but in every photo, her face isn't visible. Kaling has been silent about who Kit's father is, even to Kit herself.
Kaling discussed this parenting approach in an interview with The New York Times in 2019: "My feeling is that until I speak to my daughter about [her father], I'm not going to talk to anyone else about it."
Unsurprisingly, Kaling is doing the same when it comes to her son.
Mindy Kaling's pregnancy was a total secret
Kaling recently appeared on The Late Show with Stephen Colbert and announced the birth of her son, Spencer. She acknowledged in the interview that it was "news to a lot of people" as she kept her pregnancy entirely secret, including her baby bump.
Kaling discussed the relationship between Kit and Spencer, saying her daughter at first "was really worried about her toys getting taken," but became "a huge fan" after meeting her brother.
When asked by Colbert how she kept the secret, she had a simple answer. "No one saw me!" she said, having spent most of 2020 in lockdown at home. The paparazzi did catch her one day when she was eight months pregnant, but no one put together that Kaling was pregnant in the photo. Kaling even joked that she felt insulted no one speculated about her pregnancy after the photo surfaced.
Source: Read Full Article