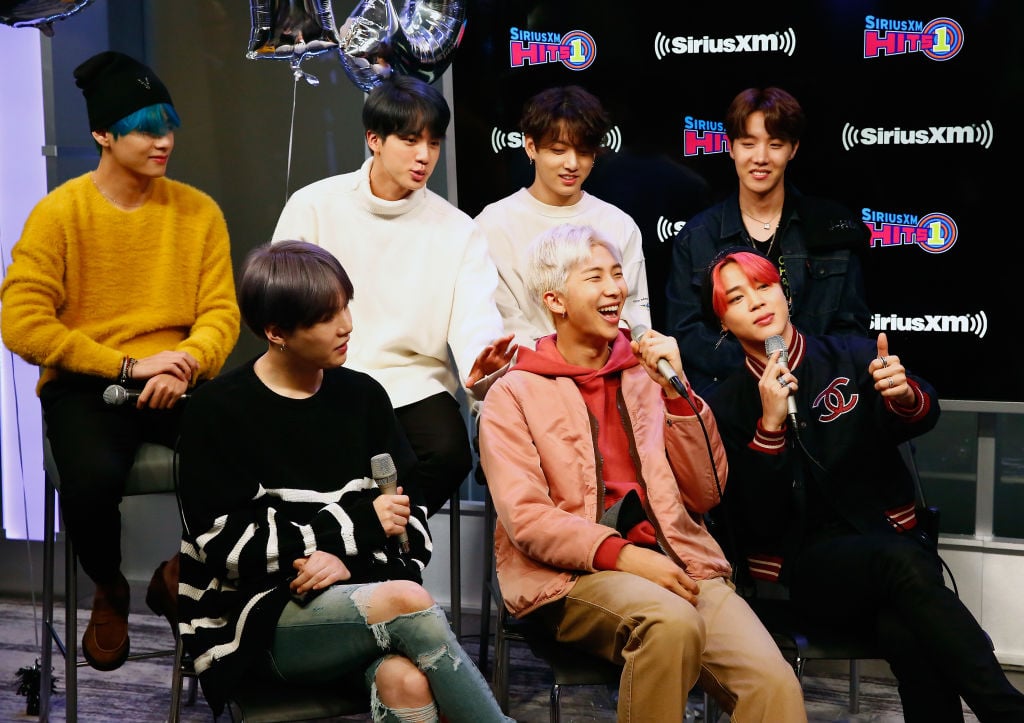 The K-pop group BTS is one of the most well-known music groups in the world, but their fans still get excited whenever they see other artists supporting the group. BTS has collaborated with several artists including Halsey, Lil Nas X, Steve Aoki, The Chainsmokers, and Nicki Minaj. A collaboration with Khalid is rumored to drop any day and countless other artists have vocalized they want to collaborate with BTS. When fans saw Lana Del Rey leaving a BT21 store in Los Angeles, they expressed their enthusiasm across social media.
What is BT21?
BT21 are animated characters created by BTS and LINE FRIENDS CREATORS. In 2017, the group took part in sketching, designing, and naming the characters. Each band member created his own character and helped decide his character's main personality traits. BTS designed KOYA, RJ, SHOOKY, MANG, CHIMMY, TATA, and COOKY. LINE FRIENDS designed the final BT21 character, VAN. In an effort to be inclusive, BTS decided each character is gender neutral.
The first episode of BT21 UNIVERSE was released by LINE FRIENDS in April 2019. The episode reached over 1 million views in less than a day on YouTube. BT21 merchandise is also popular among BTS fans, with merchandise ranging from character headbands to plush pillows.
Lana Del Rey has praised BTS before
This is not the first time Lana Del Rey has supported BTS. In May 2019, Lana Del Rey was interviewed in Vogue Korea. When she was asked if there were any Korean artists she supported, she mentioned BTS.
"Today, Korean singers are very popular in LA. I heard an interesting story about BTS and listened to their songs," she said. "There was a special difference between this and American music. I was impressed with the energy."
Members of BTS have also shown their support for Lana Del Rey. In 2017, RM answered a fan's question during a VLIVE broadcast that he loved Lana Del Rey. During another VLIVE broadcast, Jungkook could be heard listening to Lana Del Rey's song "Body Electric." 
BTS fans spot Lana Del Rey at the BT21 store
Lana Del Rey was in Los Angeles to present Guillermo Del Toro with his star on the Hollywood Walk of Fame. When she was spotted exiting the BT21 store nearby, news quickly spread on Twitter.
"AT THE BT21 STORE AND LANA DEL REY CAME IN WTFHSHSJSHSJDHJAHDJSHD IM CRYING," wrote a Twitter user.
Once Lana Del Rey's visit to the store was confirmed, fans on Twitter marveled over the fact the famed singer chose to enter the store. "lana del rey in a bt21 store is so iconic," a fan wrote.
"imagine first being able to go to a bt21 store and second seeing THE lana del rey walk in," wrote another.
Fans then wondered if the store visit occurred out of curiosity or because Lana Del Rey considers herself to be a BTS fan, also known as A.R.M.Y. "lana is an army & u cant change my mind," said one Twitter user.
Other fans took the visit as a sign BTS and Lana Del Rey will collaborate in the future. "It's coming Bts x lana omg," wrote a fan. 
BTS is currently on hiatus from touring and Lana Del Rey has a new album dropping at the end of August, so it's unlikely a collaboration will happen anytime soon. While the artists have different sounds, it's clear they share a mutual appreciation for each other's talent. Perhaps one day they will meet and decide to collaborate on a song. Until then, fans can enjoy the fact the artists support each other's content.
Source: Read Full Article