After what seemed like an endless on-again, off-again relationship after their Las Vegas wedding in 2018, Ashley Martson and Jay Smith of TLC's 90 Day Fiancé finally divorced in the fall of 2019. 
From Ashley's much younger Jamaican ex-husband Jay being taken into ICE custody to multiple cheating accusations (including Jay's encounter with a random girl in the bathroom of a barber shop), plenty of Tinder infidelity, and a few break-up-to-make-up moments, the couple's brief marriage was nothing short of chaotic.
The pair's most dramatic peaks and valleys included several passionate reconciliations, at least two different divorce filings, and a violated order of protection that led to Jay's arrest.
Now, it looks like 33-year-old Ashley might be getting ready to date again. But the 90 Day Fiancé star from Pennsylvania says she'll be a lot more careful next time.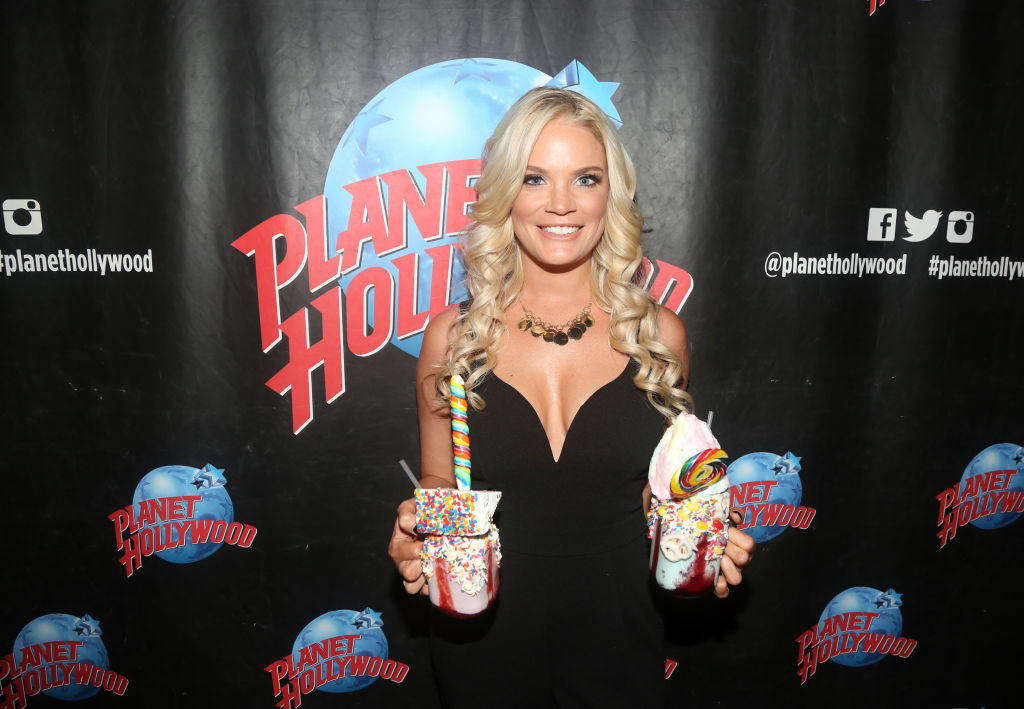 Ashley joked that her next boyfriend would need a 'background check'
Ashley has been linked to various men in the media, like former Bachelorette contestant Christian Estrada, since her divorce, but the mom of two doesn't seem to have anything serious going on at the moment. On Jan. 5, Us Weekly reports, the 90 Day Fiancé star took to her Instagram stories to joke about her complicated dating life.
Jay's ex-wife started the post, "Me: I think I'm ready to date again."
She continued, "Agent: when you meet someone we immediately need to run a background check and have them sign an NDA," meaning a nondisclosure agreement.
"Good riddance to who dates me next," the 90 Day Fiancé star wrote sarcastically with laughing-crying emojis and one of a man running away.
The '90 Day Fiancé' star recently shared an emotional post about her ex-husband
The chaos between Jay and Ashley has often seemed so over-the-top as to be comical. But on New Year's 2020, Ashley reminded her followers that everything from the legal troubles and police encounters to Jay's many affairs had been very real for her. 
In an emotional Instagram selfie, Ashley's face was soaked with mascara and tears. (The 90 Day Fiancé star claimed she "accidentally" took the photo, which many fans mocked as a Kim Kardashian-esque move.) 
Ashley captioned the selfie in part, "This is as raw and real as I can be. I'm fighting the tears just typing this. This year has been tough…We had just split and I filed for divorce for the second time. The tabloids attacked me at my events all week about my failed marriage. He showed up to my [birthday] party, unannounced. We were civil and had an appearance the next day so it was okay." 
The single mom wrote that that night was one of the worst ones of her life. Explaining that she "lost it" and broke down emotionally the second she got into her Uber after saying goodbye to Jay, Ashley wrote, "It was the moment I knew… I knew I failed. I failed my marriage, myself, my children. My heart was broken into a million pieces and the walls completely caved in around me."
Jay's ex admitted she was still in love with him
Shockingly, Ashley even admitted in her New Year's post that, despite all their issues, she still loved Jay. 
"To this day I still hurt. I still love him," the 90 Day Fiancé star wrote. "I just have come to terms with the fact it's over and I'm gonna be okay…There is no more Ashley and Jay. I'm leaving this post with the final time I speak on us or our marriage. It's about to be a new year and I'm ready to start a new chapter and not look back."
Despite her remaining feelings for her much younger ex, the now-divorced Ashley seems to be trying to move on. She spent Christmas with her children in a new home, which could help her get over some of the memories of the past few years with Jay. 
She has also been sharing uplifting messages for her newest transition in life. The 90 Day Fiancé star captioned one Instagram photo around the time of her divorce, "You can be the whole package but still be delivered to the wrong address. You will find your place in the world, be patient."
Source: Read Full Article