Attention, attention. The full trailer for J.Lo and Cardi B's stripper movie Hustlers just dropped, and the internet is high-key freaking out about it.
In case you forgot or it hasn't been on your radar until now, the film shows how a group of New York City strippers schemed Wall Street Chads out of hundreds of thousands of dollars by drugging them and running up charges on their credit cards. It stars Constance Wu, Jennifer Lopez, Julia Stiles, Keke Palmer, Lili Reinhart, Lizzo, and Cardi B. It's going to be lit.
The trailer opens with a scene of J.Lo's character teaching Constance's how to work a pole, which is iconic in and of itself. Feel free to take notes for your own future use. Then, it shows why they all wanted to get in on this con in the first place. "The game is rigged, and it does not reward people who play by the rules," J.Lo's character says at one point. "It's like robbing a bank, except you get the keys." A BALLER.
Add in some bottle popping, some shot taking, a hospital trip, fake tears, a police station, nipple tassels, a Cardi B song playing throughout, and that's basically the entire trailer.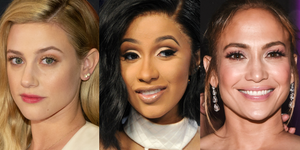 Here's what the internet is saying about it. Mostly, they want more Cardi B, and like… same.
The trailer was cool. Definitely has a dope cast. I wanted to see more of cardi tho. Its her first movie… But anyways can't wait til Sept. 13Th 😍 #HustlersMovie pic.twitter.com/qL6om1JFpF
Needs more Cardi… anyways can't wait!! 😁 #HustlersMovie
I've watched this easily 20 times. Is it insulting to toss money at my computer screen? Not enough Cardi in the trailer tho… #hustlers https://t.co/ag0YVC68p3
ok. i dont know if saw the Hustlers Movie Trailer, but did you see Cardi?🤨🧐😕🤔🤔 pic.twitter.com/CAIjradp1Y
People in the comments on YouTube have some thoughts about this, as well.
"Why didn't they show Cardi Talking that's all I came for 😂🤦🏻‍♂️… but the movie looks fire 🔥," one commenter wrote. "UMMM WHY DIDN'T WE SEE MORE OF CARDI B SCENES?😭" another added. "Where tf is Cardi?!" someone else asked.
FYI, there's a reason Cardi isn't in much of the trailer. She was only able to film for one day due to her insane schedule, so she'll probably only be in a scene or two. Seriously though, this movie looks amazing and we'll take all the Cardi we can get.
Source: Read Full Article