Eddie Redmayne has been playing Newt Scamander for three movies within the Fantastic Beasts franchise. As many actors do, Redmayne has found ways to relate to his Wizarding World character. The actor shares that he not only finds attributes of Newt relatable but portraying the character has also taught him life lessons he continues to embrace. 
'Fantastic Beasts 3' continues Newt's story within the Wizarding World
The Fantastic Beasts movies take place within the Wizarding World, about 65 years before the events of the Harry Potter films. Redmayne plays Newt, a shy magizoologist with extensive knowledge of fantastic beasts. The series began with Newt searching for his magical creatures that broke loose. The sequel, The Crimes of Grindelwald, made Grindelwald (Johnny Depp, now Mads Mikkelsen) the central antagonist. 
Fantastic Beasts: The Secrets of Dumbledore continues the story from the first two films. A younger Albus Dumbledore (Jude Law) is recruiting a team to stop Grindelwald from taking over the Wizarding World and declaring war on non-magical humans. Redmayne's role as Newt has become smaller than it was in the first movie, but he continues to be a central part of this franchise.
Eddie Redmayne has learned valuable lessons from his role in 'Fantastic Beasts'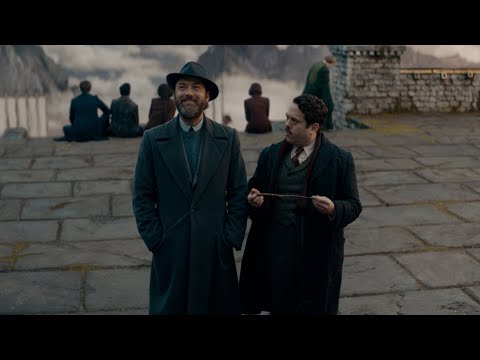 The Secrets of Dumbledore marks Redmayne's third appearance as Newt. In that time, the Academy Award-winning actor has had time to reflect and learn from his Fantastic Beasts role. In an interview with Digital Spy, Redmayne spoke about the qualities that Newt has that he tries to emulate in his own life. 
"One is that worrying means you suffer twice, which was in the first movie," Redmayne explained. "I am a great worrier and I always tell myself that if the horrendous thing is going to happen, there's no point worrying about it as it's going to happen anyway and then you're just going to have doubled your pain."
The actor recalls a specific moment where Newt speaks to Dumbledore. Redmayne highlights some words of wisdom that Newt utters in this scene.
"There's something that he says to Dumbledore in this movie which I adore which is that, I'm butchering it here, but we all make mistakes in life, but you can try and make things better," Redmayne continued. "It's the trying that counts. It's the aspiring to make things better that counts."
Eddie Redmayne finds similarities between himself and his 'Fantastic Beasts' character
It is only beneficial when an actor is able to see themselves in their characters. Redmayne says that he not only loves Newt as a character but that he contains many attributes that the actor also exhibits. 
"I adore Newt, and there are many things that I love about him," Redmayne told Digital Spy. "I love that he's an incredibly empathetic person. He looks for the good in people. He's also very happy in his own company, and in the company of creatures. He is someone that enjoys silence. I'm someone that, in my anxiety, tends to feel too many words."
Fantastic Beasts: The Secrets of Dumbledore apparetes into theaters on April 15. 
Source: Read Full Article