Nathan Fillion is known and loved for his portrayal of John Nolan in ABC drama, The Rookie, but did you know the actor has been on screen for 30 years?
The 51-year-old landed his first role in the 1993 TV film, Ordeal in the Arctic, playing the part of Master Warrant Officer Tom Jardine.
The movie, which was directed by Mark Sobel, tells the true story of a Canadian military flight that crashed in the frozen Atlantic in 1991 while traveling from Greenland to Canada. The story follows pilot Captain John Couch and his desperate attempt to keep his crew and passengers alive while awaiting rescue. Watch Nathan in action in the clip below…
WATCH: Nathan Fillion is incredible in first on-screen role in Ordeal in the Arctic
Soon after his on-screen debut, Nathan landed his first major role in the long-running soap opera One Life to Live. He played the part of Joey Buchanan and gained recognition for his role, receiving a Daytime Emmy Award for Outstanding Younger Actor in a Drama Series.
The actor went on to appear in several films and TV series, including Saving Private Ryan, Dracula 2000 and Buffy the Vampire Slayer.
MORE: The Rookie star Nathan Fillion's secret struggle with ongoing condition revealed
MORE: See the cast of The Rookie and their real-life families
He also landed leading roles in major TV shows, including the sitcom Two Guys, a Girl and a Pizza Place, in which he played Johnny Donnelly from seasons two to four, and the fantasy series Firefly, portraying Captain Mal Reynolds.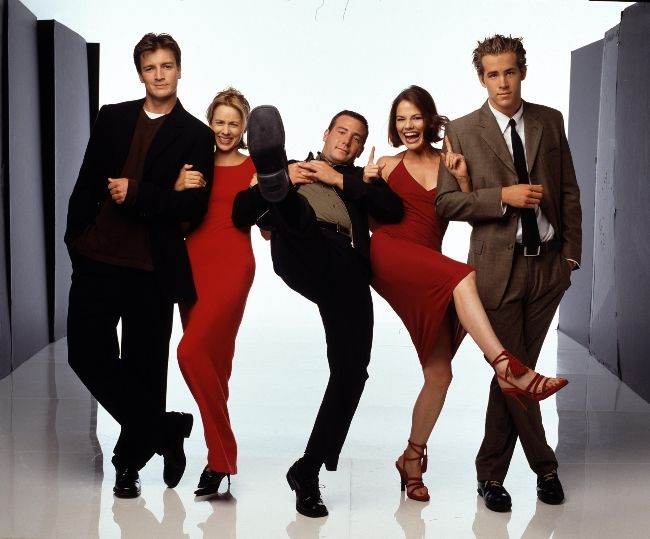 Nathan with his co-stars Ryan Reynolds, Traylor Howard, Suzanne Cryer and Richard Ruccolo in Two Guys
In 2009, he began starring in the crime comedy-drama Castle. The series ran for an impressive eight seasons until its cancelation in 2016, with much speculation surrounding the tense off-screen relationship between Nathan and his co-star Stana Katic.
In 2018, Nathan landed his role on The Rookie, and while he has been keeping fans entertained for five seasons, he's also appeared in other projects away from the show, including Netflix's Santa Clarita Diet, The Suicide Squad and The Recruit.
Source: Read Full Article