Vicki Gunvalson is the OG of "The Real Housewives" series, having starred in the first installment of the Bravo trainwrecktastic franchise. She's credited by fans on Reddit for having "created the mean girl formula that is the housewife show." Some viewers even speculated that without the melodrama, shade, and catfights that comprise "The Real Housewives of Orange County," future spin-off shows wouldn't have followed.
Throughout her tenure on the show, Vicki never ceased to bring the theater, continually at the center of the histrionic, shocking, and sometimes downright absurd drama — and we loved every minute of it. But in January 2020, she revealed she was quitting "RHOC" after being demoted to a "friend" role the previous season. "I will always be the OG of the OC, but it's time to say goodbye to 'The Real Housewives of Orange County.' It's been an incredible ride for 14 years, and I want to thank all of you for your support, for your love, and for 'whooping it up' with me along the way," the reality star posted on Instagram. 
It looks like Vicki's preparing herself up for a whole new kind of drama, though — of the political kind. Gunvalson's fiancé, Steve Lodge, is running against Governor Gavin Newsom in the September 2021 California recall election. Meanwhile, her TV exit was fittingly controversial and sensational, and it's safe to say she went out in a blaze of fire and fury. Grab the Chardonnay, folks, as we take a look back at the shady side of Vicki Gunvalson.
Vicki Gunvalson played the blame game when it came to her divorce
When Vicki Gunvalson made her reality TV debut in 2006, she was married to her second husband, Donn. It was apparent from the start that there were issues between them, as Vicki was vocal about the couple's woes during multiple dirty martini-fueled get-togethers on "The Real Housewives of Orange County."
However, the Gunvalsons appeared to be back on track after saying "I do" again in 2009. "Donn and I renewed our vows after 15 years of marriage because we almost got divorced last year," Vicki wrote in her Bravo blog. But sadly, it wasn't to be, and just one year later, they split. "My love tank has truly been empty for many, many years," the Bravolebrity told Us Weekly after she filed for divorce. "We stopped communicating. My happiness came from my work and my children."
She later appeared to search for an outside factor to blame the divorce on — eventually settling on the very show that brought her fame and fortune. "I did everything right, except falling prey to divorce," Vicki claimed in a 2021 appearance on the "Behind the Velvet Rope" podcast. "I mean, I think that in hindsight, I know for a fact that if I wasn't on a reality show, I wouldn't have been divorced." But, later in the interview, Vicki admitted to cheating on Donn. "[Full] disclosure, I had an affair with Brooks [Ayers]," she said of her now ex-boyfriend, before claiming, "At that time, Donn and I were disconnected."
She flip-flop-flipped on Meghan King's marriage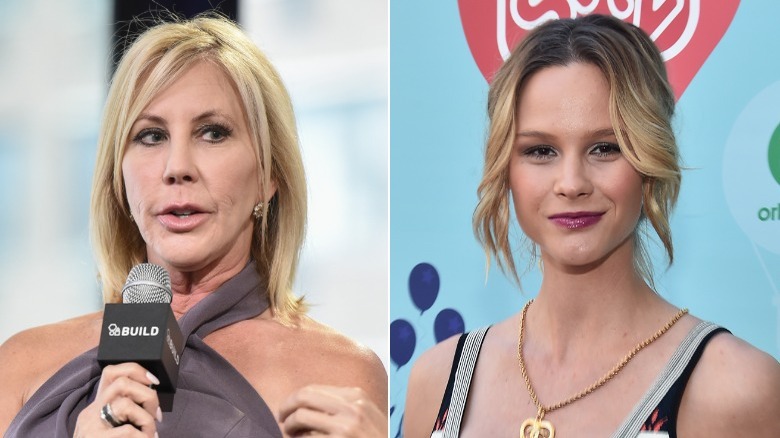 Vicki Gunvalson and Meghan King butted heads from the moment the model sashayed onto "RHOC." A ferocious feud kicked off after Meghan challenged Vicki's then-boyfriend, Brooks Ayers', cancer diagnosis. "Don't you ever question if he has cancer again. I'll take you down," Vicki threatened during a heated brunch battle. The duo clashed again at Tamra Judge's "sex party," with Vicki calling her nemesis "evil," "classless," and "crazy."
Meghan had married ex-baseball star Jim Edmonds just before joining "The Real Housewives" franchise, so Vicki appeared to strike for maximum impact. "I'm sorry for you, I feel for you. … She's really nasty," she told Jim, before claiming their marriage would never last. She added (via US Weekly), "Jim, talk to me in five years when you're divorced."
Bizarrely, Vicki's split prediction was bang on the money. Meghan and Jim announced they were divorcing one day after their fifth wedding anniversary in 2019. Perhaps equally bizarrely, considering their history, Vicki was quick to tell Life & Style, "[My] heart truly goes out to Meghan during this tough time. I hope that, with time, she will find peace and happiness again." However, she was later back to throwing shade. "They were so mismatched, he had no love in his eyes for her, and she was coming after me, and like, bye-bye b**ch. You know?" Vicki said on the "Behind the Velvet Rope" podcast. "… Everything I was telling her was because I lived through it."
The RHOC star chose her boyfriend's side over her pregnant daughter's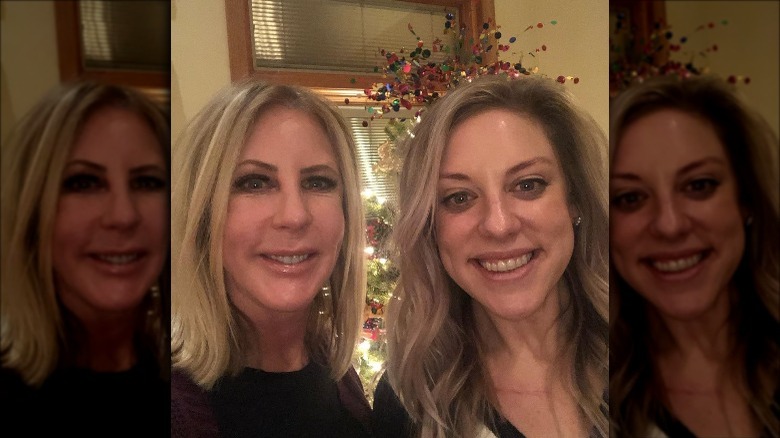 Vicki Gunvalson was still married to second hubby Donn Gunvalson when Brooks Ayers started filling her "love tank." The latter couple ended up dating for five years before splitting in 2015 — and it was a drama-packed pairing. Per E!, Brooks' arrival in Season 7 of "RHOC" was an immediate source of friction, even causing Vicki to fall out with her BFF, Tamra Judge. Despite scandalous stories in the tabloids documenting Brooks' allegedly shady past — including deadbeat dad allegations, a stint in jail for non-payment of child support, and reported IRS debts (via SheKnows) — Vicki continued to stand by her man, at one point even choosing his side over daughter Briana's.
Briana and Brooks got into it during the Season 8 reunion show. "You told my husband, 'You need to start hitting Briana to get her to fall in line,'" Briana said, to which Brooks admitted, "I was drunk and angry and, yes, I'm sorry I said that." Things took a decidedly creepy turn, however, during the Season 10 reunion. "[Brooks] hit on me while I was pregnant at [my mom's] birthday party," Briana shared. "And she called me a liar and said that he would never want me." Briana also claimed that Ayers boasted his "nickname was Girth Brooks" because of the size of his appendage.
Andy Cohen pointed out that all of this should have been "reason enough to dump" Ayers. "It does, doesn't it?" Vicki admitted, adding, "I didn't want to believe it was even true."
Vicki Gunvalson and that 'Cancer Gate' scandal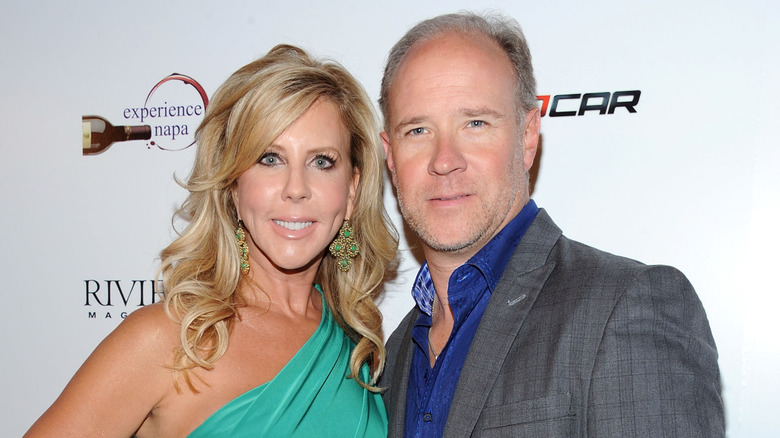 As far as deceptions go, most would probably say that faking cancer is right up there with the worst. But that's what Brooks Ayers allegedly did — on national television, no less. Brooks revealed he'd been diagnosed with stage III non-Hodgkin's lymphoma. The tear-jerker storyline featured heavily throughout "RHOC" Season 10. But Vicki Gunvalson's co-stars were suspicious of her then-boyfriend's claims, so they did what every other regular person would do — consult a psychic over lunch. "The cancer issue. It's just wishy-washy to me. I just don't see it," the psychic said, unwittingly unleashing a beef-busting tsunami.
Per Entertainment Weekly, it didn't take long for the accusations to fly. "If Brooks is ill, show his labs and say eff you to everyone," Heather Dubrow suggested. "What does Brooks need to do? Die to prove everyone wrong?" Vicki demanded. Brooks did eventually produce his medical records from the City of Hope hospital. The problem is, they were apparently fake, as a spokesperson for the facility told E! that "David Brooks Ayers" had never undergone treatment with them.
"We're done; he doesn't deserve me," a tearful Vicki told Tamra Judge on "RHOC" after the news broke. Both Brooks and Vicki claimed she wasn't in on the supposed con — and he insisted to ET that he did actually have cancer. But Vicki copped to having lied one on occasion. "I fabricated because I really was looking for compassion from somebody," she admitted during the Season 10 reunion show. However, E! compiled a list of eight possible Vicki Gunvalson "Cancer Gate" fibs.
That time she compared herself to Jesus Christ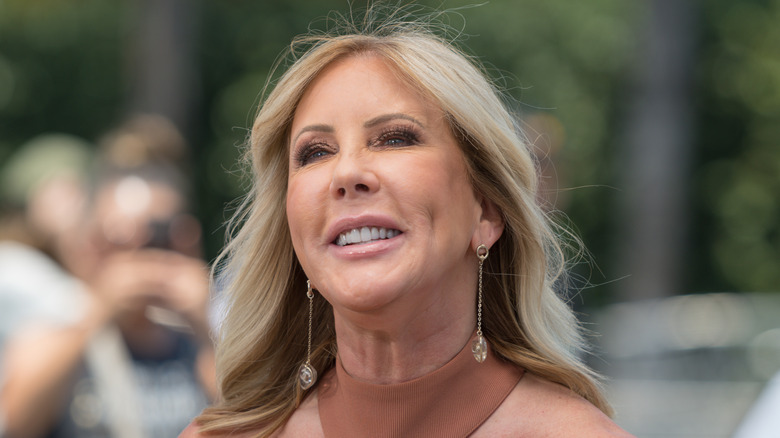 Vicki Gunvalson has made some pretty "ridiculous" comments over the years, as Women.com once put it, between declaring "I'm the OG of the OC, everyone else is just a copy," and, "The fun bus is leaving, and this time I'm in the driver's seat." But it's hard to top the time she compared herself to Jesus.
Fittingly, Vicki's divine revelation came to pass at Tamra Judge's baptism. Vicki's mother had just died, so she was, quite understandably, feeling emotional. In addition, the "Cancer Gate" scandal was raging, leaving Vicki feeling under assault as her "Real Housewives" co-stars attacked Brooks Ayers' health claims. Eventually, she cracked. "I'm not doing good. I miss my mom more than anything. I want to go to heaven to be with her," Vicki tearfully declared on the show. "… I know Jesus, and I know the truth, and … I'm good with it. These women don't deserve me."
Vicki went on to insist she hadn't done anything wrong — just like her Lord and Savior. "So I'm being nailed to the cross like Jesus was, and He did nothing wrong," she said. "He's Jesus Christ, and He did nothing wrong, and He was nailed to the cross. That's how I feel." However, Tamra had just been dunked in Holy water, so her religion radar was set to full alert. "Well, you're not Jesus, and you're not being nailed to any cross," Tamra said to the camera. "But you could be going to hell if you're lying."
Vicki Gunvalson gossiped about Shannon Beador's marital woes on TV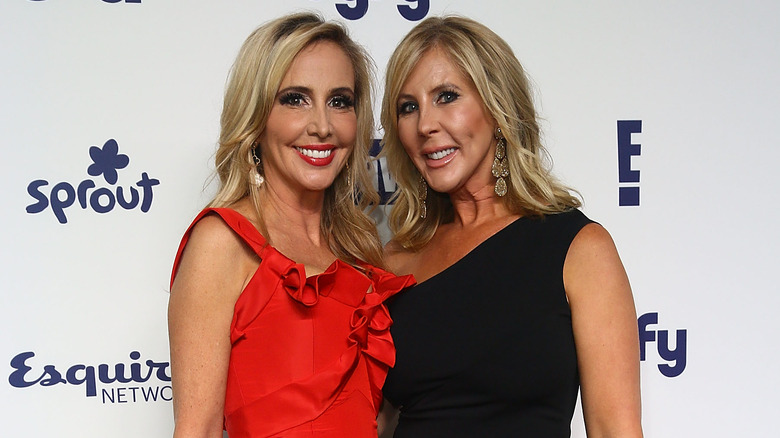 When Shannon Beador joined the "RHOC" cast in Season 9, she became fast friends with Vicki Gunvalson, confiding in her about her troubled marriage. According to People, Vicki even attempted to step in and fix Shannon and husband David's relationship woes with a couples' Mexican getaway. However, just months later, during the reunion show (via Radar), Vicki confessed to "flirting" with her friend's "sexy and hot" hubby.
In the Season 10 premiere, Shannon revealed that David had been having an eight-month-long affair and that they'd started therapy in a bid to save their marriage. "Some moments can be difficult, but I am focusing on the positive," she wrote in her Bravo blog. It soon transpired that Shannon's marriage wouldn't be the only battle on her hands, though. Shannon was furious to learn that Vicki had been gossiping about the intimate details of David's affair that she'd shared with her. Cue an explosive showdown.
"Thank you so much for being the true friend and not telling anybody my secrets, because your friend just said a lot of stuff about my past," Shannon sarcastically told Vicki. "… Thank you. Thank you. You're such a great friend." Vicki maintained her innocence, later insisting to the camera, "It wasn't like I was telling a secret. Shannon had already told Tamra [Judge] and Heather [Dubrow], and I was just telling [my brother, Billy, and his girlfriend, Rhonda] what they were going through, because Billy knows David and Shannon."
She also claimed Shannon Beador was 'hard to work with' on RHOC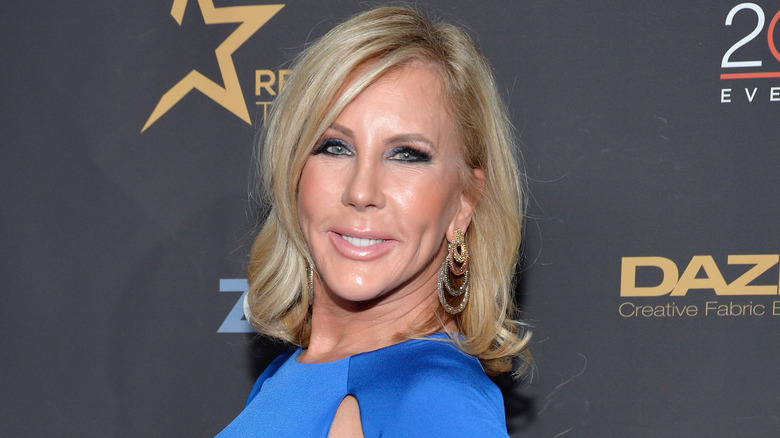 Vicki Gunvalson, Tamra Judge, and Shannon Beador were the "tres amigas" of "RHOC." However, their womance was tested by on-air flirting, fights, and backstabbing. The trio really "whooped it up" during a wild tequila-fueled girls' trip to Puerto Vallarta during Season 13, but their friendship ended after Vicki and Tamra were axed from the show.
Vicki shared her feelings about her ex-amiga, Shannon, during an interview with Yahoo! Entertainment's "Housewives Nightcap." She may have insisted she has "a huge heart," but Vicki admittedly went on to throw some serious shade, saying with a laugh: "I got Shannon coming in up my a**, but you know, she stays on [the show for] so long. [I don't understand why], she's tough to work with." Vicki then gave her opinion on why Shannon's no longer friends with her and Tamra, claiming, "Shannon stopped talking to us right away. Right when she got asked back [on the show], she never would return a call, she never would call me back, she never would text me back, nothing. Nothing, nothing, nothing. … I think Shannon … easily discards her friends."
Shannon, however, told a different story. "It's interesting when people say, 'You can pick up the phone.' What moron would pick up the phone when someone's been bashing them for months on end?" she explained to ET. "I mean, it almost got to a point where it was weekly, where yet another untruth [would come out] and, you know — I take the high road in those situations."
The 'OG of the OC' thinks other Real Housewives 'wouldn't have a job' without her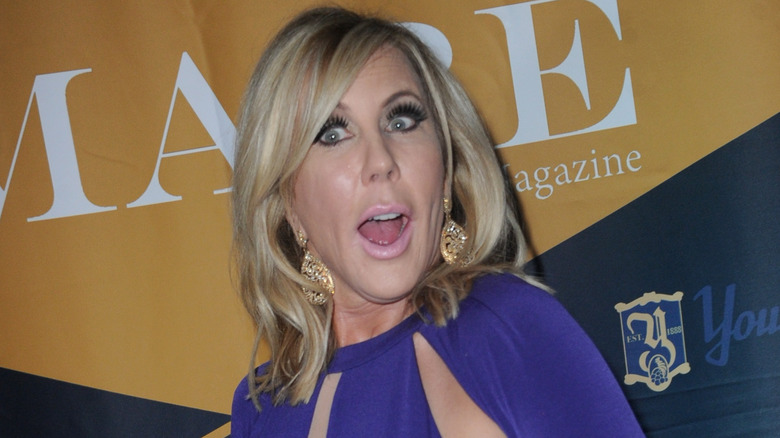 When Vicki Gunvalson announced she was leaving "RHOC," she was gracious. "I want to thank Bravo and Evolution for this incredible experience which my family and I have [sic] will never forget," she wrote on Instagram. But it soon became apparent that Vicki wasn't totally okay with being axed from the show. During an interview with Yahoo! Entertainment's "Housewives Nightcap," she admitted how disappointed she was not to be cast in the show's spin-off, lamenting, "I hope one day they bring me back on something."
Shedding more light on the situation in her "Behind the Velvet Rope" interview, Vicki claimed that her lack of "whooping it up as much" was behind her firing. "I was like, 'I whoop it up every day. I whoop it up. I'm a whoop-it-upper,'" she insisted, before blaming ageism: "People, unfortunately, want to cut you down because you're old." Vicki also claimed that a producer had held a grudge against her, opining, "I'm sure he probably said, 'She's a problem; let's get rid of her.'" Finally, Vicki blamed "insecurity and jealousy," and suggested Bravo would prefer to "bring in cheap labor."
However, Vicki saved her best post-"RHOC" shade for the Beverly Hills Housewives, claiming, "I don't think they give me the time of day. They wouldn't have a job if it wasn't for me starting this d**n thing."
Let's talk about Vicki Gunvalson's accusations about RHOC co-star Kelly Dodd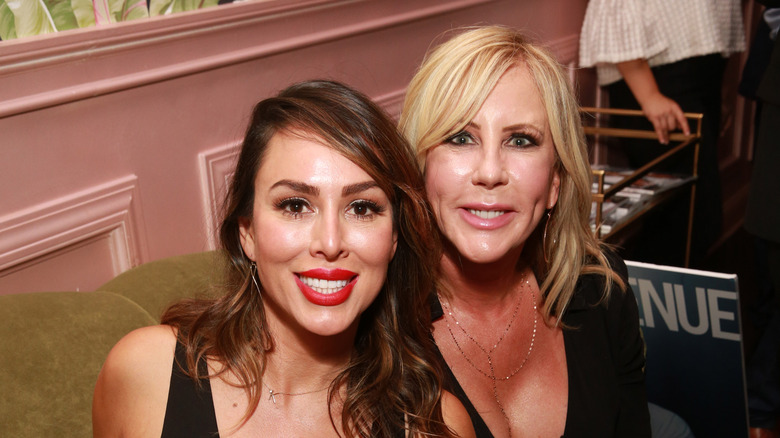 Vicki Gunvalson is a pro when it comes to throwing shade — and it makes for great TV. But she manages to outdo even herself when the shade slips into allegations territory … particularly when it comes to her fiery frenemy, Kelly Dodd. After insisting to her daughter, Briana, that she'd be fighting with "hopefully nobody" during the Season 13 reunion, Vicki appeared to do a complete 180. Vicki went at it with Kelly, calling her a "loudmouth." Kelly shot back, "You know what? You should turn around and take a look at yourself in the mirror." Vicki retaliated with, "I don't do cocaine, sorry." Kelly insisted, "I don't do cocaine either."
However, Vicki wasn't done with firing her barbs, and things came to a head in Season 14. This time, she allegedly started rumors that Kelly had been involved in a sex "train," and Kelly discussed the allegations with her then-boyfriend, Dr. Brian Reagan. "Braunwyn [Windham-Burke] called me to tell me that Vicki is spreading this vicious rumor about me," she said. "That I did a train of, like, dudes or something." Dr. Brian looked suitably shocked. "I've been married since I was 25 years old," Kelly continued. "… I've never had a threesome. I've never even had sex on a choo choo train."
Kelly also insisted to People that she's never done drugs, claiming that Vicki's accusations had negatively affected her 12-year-old. "My daughter's been crying," she said. "Vicki's a mother; she should know better."
Her beauty priorities were slammed during the COVID-19 lockdown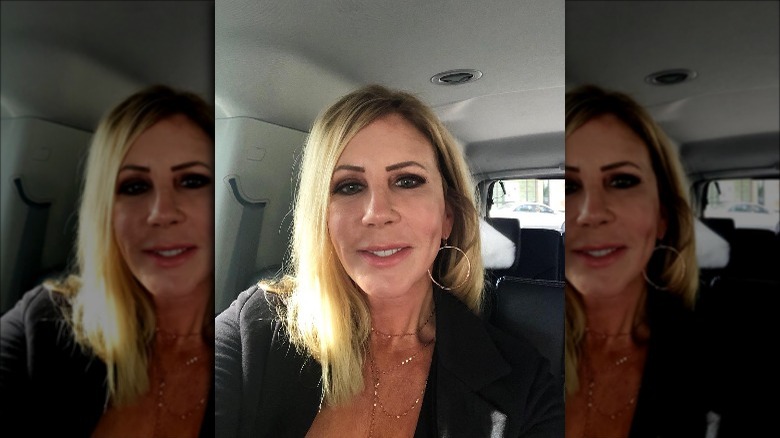 Vicki Gunvalson unwittingly created a Twitter storm in April 2020. Just months after the reality star announced she was leaving "RHOC," California had been placed on lockdown as the COVID-19 pandemic grew. So, the former reality star had a lot of time on her hands — and she was apparently concerned about them: Vicki needed a manicure. STAT!
"@GavinNewsom Let's get America who is healthy back to work," Vicki tweeted to her 684,000 plus followers. "We need hairdressers, nail techs, small businesses, and restaurants to start reopening May 1st. Please?" There was no response to Vicki's plea from Governor Newsom, but the tweet didn't go unnoticed. A few of Vicki's followers agreed with her. "You're absolutely correct! Scared people can stay home; let the rest go back to work!" one fan replied, while another wrote, "I agree; thank you for supporting small businesses."
However, the vast majority of comments were far from supportive — or even positive. Vicki was accused of, well, not reading the room (or, at least the CDC's guidelines). "So you want others to risk their health so you can get your roots done? Or your tips filled in? Lack of adequate national testing + your tone-deafness = the next wave of sickness," one person opined. "You are entitled and ridiculous," another Twitter user commented. "I think you just found the rock bottom of shallow and selfish," someone tweeted, while another person declared, "No one wants to die so you can get your nails done, Karen."
Vicki Gunvalson has been accused to making homophobic comments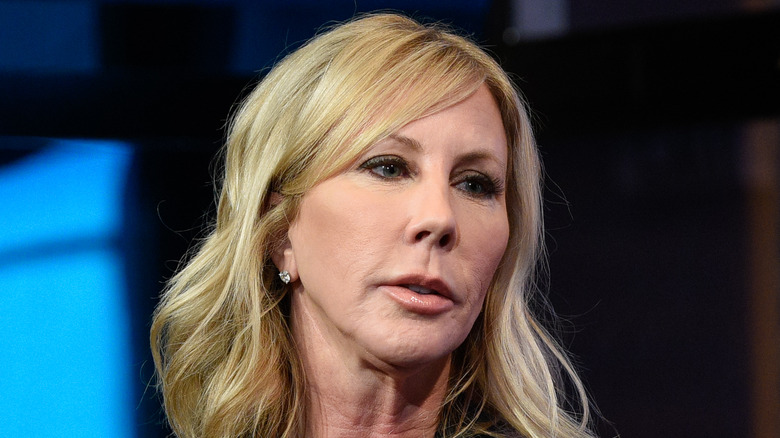 Vicki Gunvalson was accused of homophobia and sex-shaming during her stint on "RHOC." She was called out for gossiping about Tamra Judge's "gay" husband. And she once explained what being gay supposedly looks like, telling Andy Cohen (via E!), "Usually, they're very, very, very fit. They're usually very GQ looking. They're very poised." She also told Cohen he didn't look gay, explaining, "You're all boy to me." Whatever that means.
But Vicki really caught heat over her comments about Braunwyn Windham-Burke (who later came out as lesbian) and Tamra's steamy make-out session at Shannon Beador's birthday dinner. Vicki ranted about the same-sex smooch during the Season 14 reunion show: "We have got to be women that people want to emulate to be. Do you think people want to emulate to be this trash? Kissing each other … We are all supposed to be role models for our children, for our grandchildren." She finished by declaring, "I think it's disgusting. … Choose your lane."
Amid backlash, Vicki denied she's homophobic. "I have got family members that are gay and lesbian," she insisted on Instagram. However, as per The U.S. Sun, after one online commenter called her behavior "shameful," Vicki took responsibility for her actions — well, kind of. "Yes you are right," she replied. "Unfortunately there is a lot you didn't see or know why I was so upset. Good news is life goes on, and I'm happy and that's not an indication of who I am. They just pushed me to my limit."
She waged a bitter legal battle over Vicki's Vodka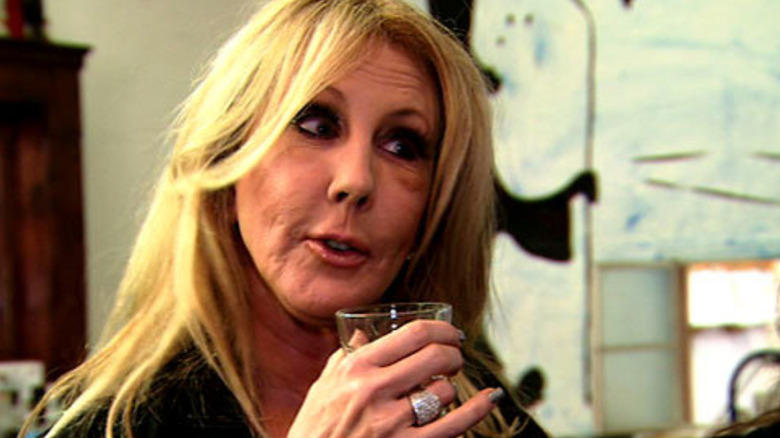 Vicki Gunvalson became embroiled in a long and bitter legal battle back in 2013. According to Radar, she was sued by her ex-business partner, Robert Williamson III, for alleged "fraud, civil conspiracy, breach of contract, breach of covenant of good faith dealings, misrepresentation and unjustly enriching herself, and intentionally inflicting emotional distress." The lawsuit centered around "Vicki's Vodka" — a drinks brand the duo launched together. But, Williamson claimed Vicki failed to promote it as agreed. Vicki's then-boyfriend, Brooks Ayers, was also named as a defendant in the case. The lawsuit was packed full of other explosive accusations, including allegations of embezzlement, extortion, and blackmail.
However, as per Radar, the case went from explosive to nuclear after it was claimed Williamson had been spreading rumors about Brooks trying to hire a hitman to kill him. The lawsuit against Brooks was tossed out in 2015. The judge ordered Williamson to cough up $132,641 to cover Brooks' legal fees, prompting him to immediately file for bankruptcy, and Brooks transferred the awarded sum over to Vicki. However, due to Williamson's bankruptcy status, she reportedly has yet to receive a penny of the money. 
After five long years of mud-flinging and legal wrangling, Vicki finally agreed to settle the suit in 2018. She went on to claim the lawsuit had been "a publicity stunt" by Williamson.
The RHOC alum dissed Oklahoma for being flat, humid, and boring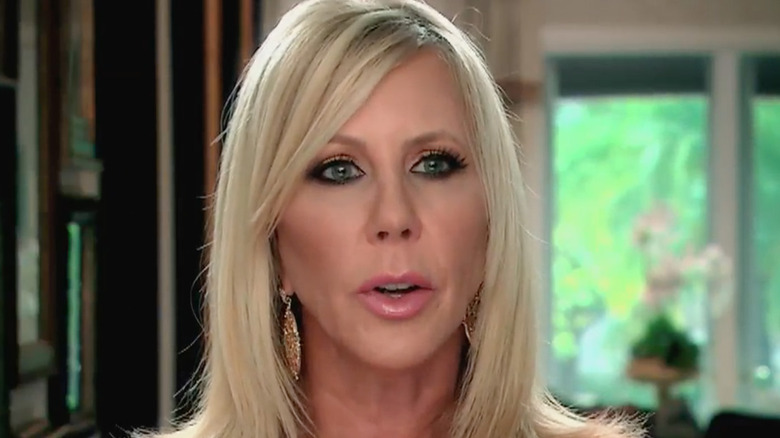 Vicki Gunvalson managed to insult an entire section of the USA in Season 9 of "RHOC." Her Marine Corps son-in-law had been relocated to Oklahoma, as per military orders, so the family was forced to relocate — and Vicki was not happy about it. She accompanied daughter Briana to The Sooner State on a house-hunting trip and made her feelings about her choice of new home crystal clear.
Due to Oklahoma being located in the USA's "Tornado Alley," the majority of homes there have a secure underground bunker installed in place of a basement, in case of a storm hitting. "It scares me we're totally in Tornado Alley. You don't just build a shelter for the hell of it," Vicki said (via People). "Run! Oklahoma is a fine place to visit. Do I want to live there? No! Do I want my grandchildren living there? No! The answer is No!" Briana had another opinion, however. "The move to Oklahoma is hard on everyone, but it's time for me to make my own decisions without having [my mom's] approval," she said. "I don't like California. I don't want to raise my kids there."
Vicki continued to bash her daughter's new home state during the Season 9 reunion show. "Flat. Tornadoes. Not good food. Humid, humid frizzy hair. Boring. Boring," she said, per Bustle, when asked to describe Oklahoma, before conceding, "Positive? You have an amazing home for what you pay for."
Vicki Gunvalson threw major shade during her final RHOC reunion show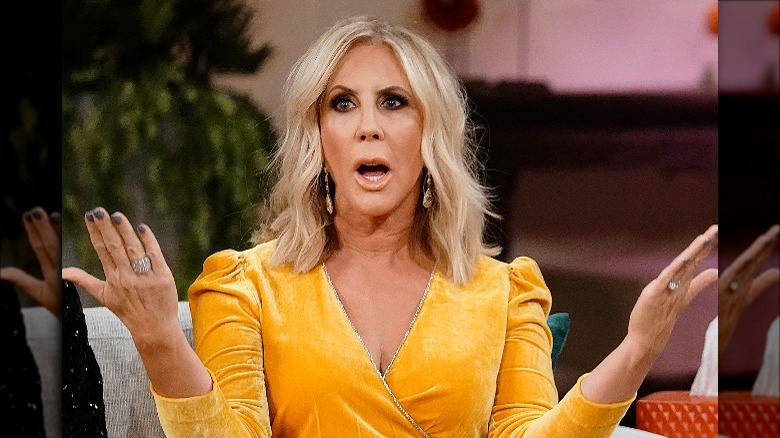 Vicki Gunvalson hung up her "Real Housewives" Louboutins after 14 years of controversy, scandals, fights, backstabbing — and seriously, amazing reality TV. So, perhaps keeping true to form, she went out in a pretty dramatic manner. The "RHOC" Season 14 reunion show was packed with heated confrontations, name-calling, and vicious verbal altercations — and Vicki was at the heart and center of most of it.
Vicki already seemed pumped up before even setting foot on stage. Because she had been demoted to a "friend" role during her final season, she was allocated less camera time than other cast members. She was also forced to wait backstage until it was her moment to enter. "You know what? They made me wait. And every hour I waited while they're out there filming makes me feel like a has-been," she told her fiancé, Steve Lodge. Basically, it's not surprising that Vicki appeared locked, loaded, and ready to go from the second she sat down. "I'm waiting back there. My temperature's at like 150. Don't f**king do this to me," the "OG of the OC" immediately told Andy Cohen. She then launched into a screaming match with Kelly Dodd over her Bravo lawsuit. Braunwyn Windham-Burke was next to find herself in Vicki's crosshairs. But it was the arrival of Emily Simpson's husband, Shane, that led to Vicki storming off stage, before yelling at a cameraman to "f**k off!" 
Was this a fitting finale for Vicki Gunvalson's time on "RHOC"? We'll leave it to you to decide.
Source: Read Full Article