In a brand new episode of "What the F*ck Is Going On, 2020," Amazon released Borat Subsequent Moviefilm, the sequel to Sacha Baron Cohen's 2006 comedic satire Borat. Like pretty much everything else that has happened this year, Borat's return to America was a complete curveball.
My initial reaction when I learned that Baron Cohen secretly filmed Borat 2 while the world as we know it fell apart was "claaaassic 2020." Being constantly shocked and surprised are literally the only constants of this godforsaken time. But obviously I had to watch, I mean…what else am I supposed to do while social distancing? Another effing Zoom?
As you probably already know, the ingenuity of the first Borat movie was that in most scenes, Baron Cohen interacted with real people (not actors) who were totally unaware that they were participating in a gag. And as a viewer, part of the thrill and hilarity was trying to figure out whether the folks on screen were in on the joke or completely clueless. Lucky for all of us stuck at home with plenty of time to ponder, the same dynamic applies to Borat 2. It's very unclear how much of the film is real, so let's break down which of the wildest scenes 1,000% happened IRL.
Watch Borat
WARNING: Spoilers. Ahead.
The Rudy Giuliani Scene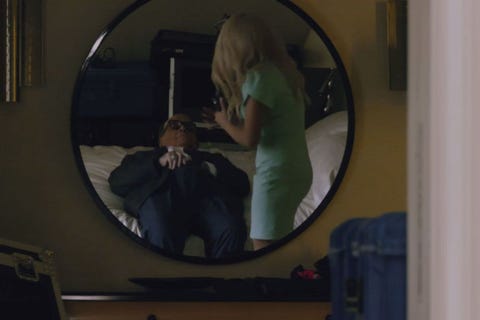 Yeah, this scene was……really, really, really bad. Borat caught former New York City Mayor (and President Trump's personal attorney) Rudy Giuliani in an extremely awkward situation. Like…there's video evidence of Giuliani sticking his hands down his pants alone in a hotel room with Tatur (the actress Maria Bakalova) who is posing as a journalist. The catch is that she's…15.
During the interview, Giuliani is shown drinking scotch and talking about how the Chinese manufactured COVID-19. For reasons unknown, they wind up in a bedroom, where he says, "You can give me your phone number and your address." Then, as he removes his microphone, he reclines on the bed and sticks his hand FAR down his pants for WAY TOO LONG.
When this scene hit Twitter a few days before the film dropped, Giuliani tried to defend himself by calling the video "a complete fabrication. I was tucking in my shirt after taking off the recording equipment. At no time before, during, or after the interview was I ever inappropriate. If Sacha Baron Cohen implies otherwise he is a stone-cold liar."
Source: Read Full Article