A legal representative for the disgraced actor sets things straight after an image of a flyer goes viral, portraying the 'Call Me by Your Name' as a concierge at Morritt's Resort in Grand Cayman.
AceShowbiz –Armie Hammer has not found a new profession in the hotel industry just yet after he was hit with sexual abuse allegations last year. A lawyer for the actor has been forced to set the record straight after rumor spread that the 35-year-old is now working as a hotel concierge in the Cayman Islands.
An image of a flyer portraying the "J. Edgar" star as a concierge employed at Morritt's Resort in Grand Cayman started to go viral earlier this week. The advertisement in question features information for guests to receive discount vouchers for local restaurants, excursions and deep-sea fishing. The flyer read, "I am your personal concierge and am here to help you get the very best from your vacation."
Muna Mire, a producer on Showtime's Desus & Mero, tweeted, "My friend's parents went on vacation in the Cayman Islands and armie hammer was their concierge," along with a photo of the flyer. She added, "I'm still not over it."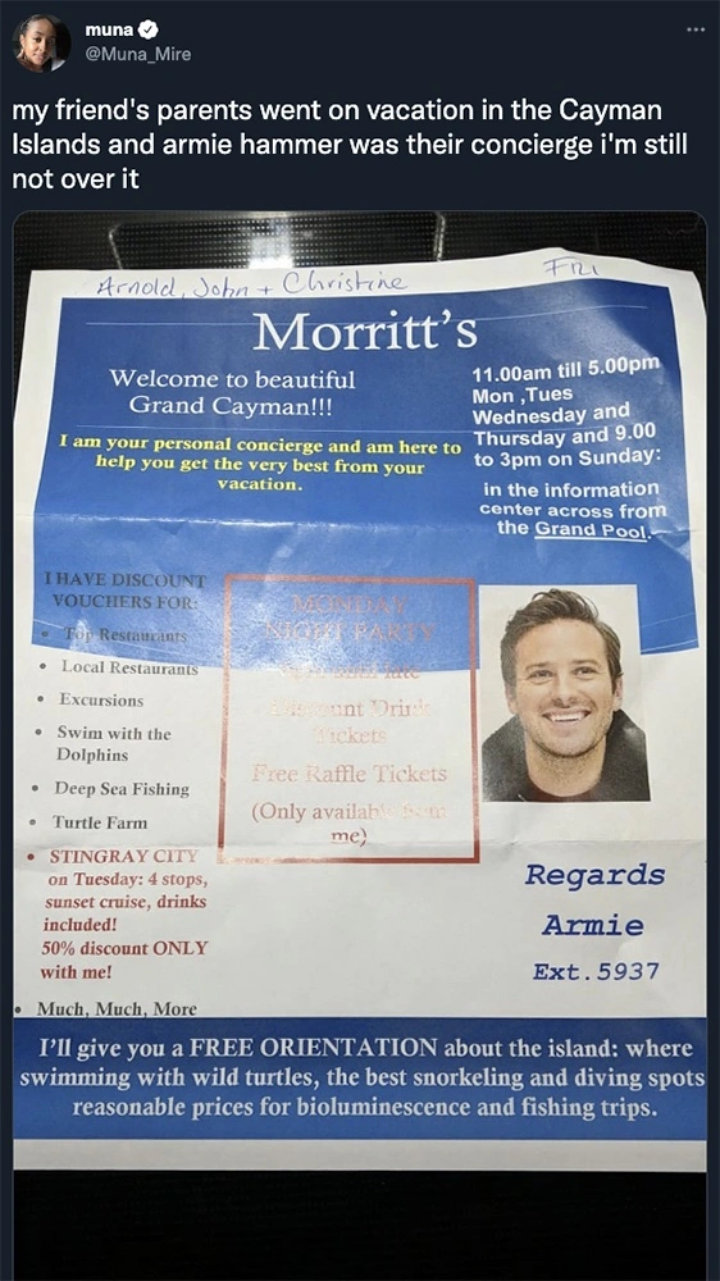 A flyer portrayed Armie Hammer as a concierge at a resort in the Cayman Islands.
Muna later clarified that Armie was "giving tours and just hanging out in the offices for hours at a time but definitely not working there." Meanwhile, TMZ shared a photo of the actor sporting a light blue polo and blue pants, looking much like a staffer as he walked into one of the resort offices.
Backing up the rumor, a source told the site that Armie has been spending a lot of time at the resort and even giving tours. He reportedly would be in the office several hours a day and is often seen going outside for smoking breaks.
However, Armie's lawyer has denied that he professionally works at the resort. According to the legal rep, the flyer is fake and Armie is not working as a hotel concierge in the Caymans. A rep for Armie also told TMZ that he does hang out at the resort and has a friend who works at the resort, so it's possible that he's just helping out his buddy or doing something to fill his time.
An employee of Morritt's Resort additionally confirmed to Variety that the flyer was created as a prank. The worker said that Armie, who has been living in the Caymans throughout the COVID-19 pandemic, is a guest of the hotel but does not work there. He does have friends who work at the hotel and would play golf with them though.
Source: Read Full Article