We know you're still processing the fact that Grimes and Elon Musk secretly welcomed a daughter and broke up (again), but brace yourself for the next whiplash-inducing twist in the unpredictable life of Grimes. According to Page Six, the singer is dating whistleblower Chelsea Manning—and they've apparently already moved in together.
"They're getting serious. They U-Hauled it," a source told Page Six of Grimes and Chelsea's fast-paced romance. "They've been living together in Austin."
Diehard Grimes fans probably aren't too taken aback by reports of her and Chelsea's budding romance, since the pair have apparently been engaging in some Grade A Twitter banter for a while now, like this exchange from December: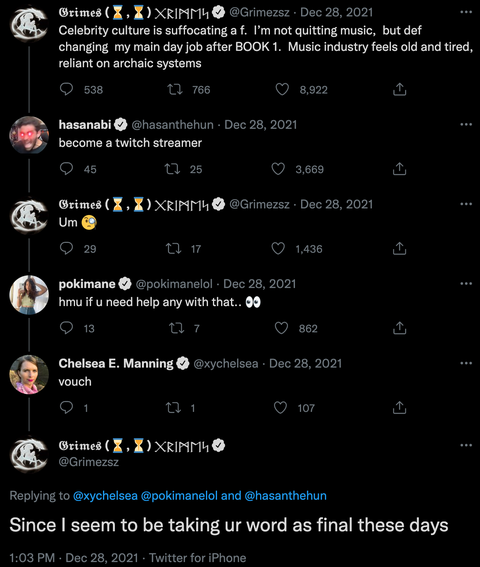 If you're not familiar with Chelsea, she's an activist, whistleblowers, and former U.S. Army soldier who was sentenced to 35 years in prison in 2013 for leaking thousands of classified documents to WikiLeaks in 2010. The majority of her sentence was commuted in 2017 (although she spent most of the year between March 2019 and March 2020 in jail again for refusing to testify to two different grand juries investigating WikiLeaks).
U-Hauling and Twitter banter aside, the Page Six source also said that Chelsea is keeping her apartment in Brooklyn (at least for the time being). And, FWIW, reps on all sides of the situation stayed silent when the outlet asked for comments.
Grimes did recently comment on the status of her relationship with Musk, however, tweeting on March 10, "Me and E have broken up *again* since the writing of this article haha, but he's my best friend and the love of my life, and my life and art are forever dedicated to The Mission now, I think Devin wrote that part of the story rly well. Sique – peace out."
Source: Read Full Article