Things between Jordyn Woods and the Kardashians haven't exactly been smooth since the news broke that Woods had gotten involved with Khloe Kardashian's then-boyfriend, Tristan Thompson. The Kardashians and Jenners essentially cut off all contact with Woods, and she was harassed by fans for months — in fact, she still is. But Woods' fans have emerged from the mess that was the cheating scandal, and they still stand with Woods today. And they recently compared her body to the Kardashians' bodies, throwing major shade at one of America's most famous families.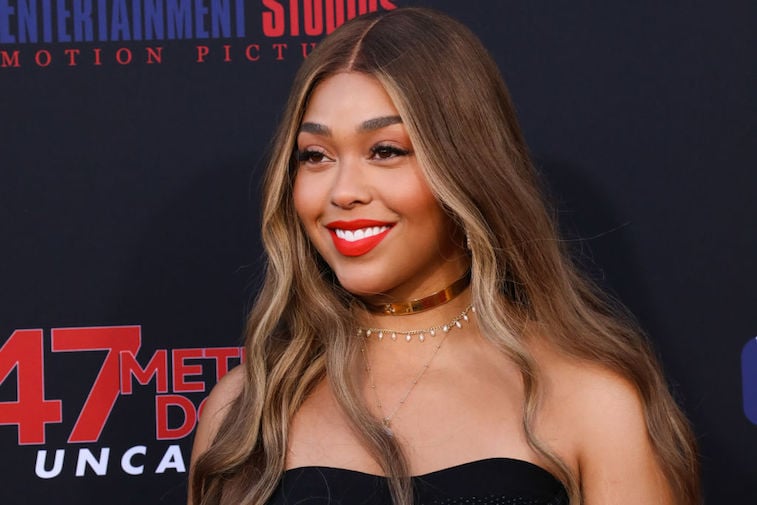 Woods and Kylie Jenner were best friends before the cheating scandal
Kylie Jenner was Woods' best friend prior to the scandal; the two women did everything together, and when Jenner had her brief reality show, Woods was by her side for almost all of it. The two have been through a lot, since they remained close during pivotal years of their lives, including when Jenner first launched Kylie Cosmetics in 2015. However, Woods was spotted getting a little too cozy with Tristan Thompson at a house party earlier this year, and everything spiraled from there. 
Woods' fans have stood by her side through the whole ordeal
Needless to say, once the scandal broke, Jenner essentially cut Woods out of her life. Woods took a lot of heat from Kardashian-Jenner fans for the whole ordeal, and things also got pretty bad between Woods and Jenner's sisters. However, Woods, who had built up quite a fan base herself, had some true fans who stood by her through the whole thing. While everyone seemed in agreement that the cheating should never have happened, people thought Khloe was in the wrong for trying to blame it on Woods.  
Her fans recently suggested the Kardashian-Jenners could never look as natural as Woods
Woods' fans have had her back since the news broke, and they've continued to hype her up on social media while she learns a new normal without Jenner in her life. In a recent photo, Woods was standing on what appeared to be a red carpet, and the photo showed off her legs and calves. Fans threw shade at the Kardashian-Jenner sisters' bodies, suggesting they were all unnatural and complimented Woods for having a real figure. "This is alll [sic] natural, the Kardashians should take note," one user wrote. "You look goof tf [sic] a Kar/Jen could never," another user commented in all caps. Another person wrote, "I can see why the Kardashians doesn't [sic] want you around you are hotter then [sic] any of them."
Woods and Jenner have both made it clear they don't need each other
Though fans of Jenner's thought Woods would have a hard timebouncing back from the scandal, she appears to be doing just fine. And Jenner,who is busy running a billion-dollar business while being amother to her daughter, Stormi, clearly hasn't skipped a beat since losingWoods as a friend. Though the two women have gone their separate ways and willlikely never rekindle their friendship, they both seem to be happy in the pathsthey chose and don't need the other to enjoy life.
Source: Read Full Article