The 'Resume' rapper was reportedly headed for a music video filming with Ice Spice in New York when he was busted by cops for alleged weapons violation during a traffic stop.
AceShowbiz –Lil Tjay seemingly can't live without a gun, despite having had a bad episode with a firearm last year. The Bronx rapper has been arrested for gun possession in New York, six months after he survived a near-fatal shooting.
According to multiple reports, Tjay, whose real name is Tione Jayden Merritt, was pulled over by cops on East 183rd Street in the Fordham Heights section on Monday afternoon, January 16. He was inside a car with four other people during the traffic stop.
Upon searching the vehicle, law enforcement officials found two loaded guns. It is unclear why police pulled him over and searched the vehicle in the first place. Tjay and one of his friends were subsequently taken into custody and are facing charges for alleged weapons violation.
A video taken by a bystander shows the 21-year-old rap star being escorted by an officer to a police vehicle with his hands cuffed behind his back. The person who filmed the clip asked if he's okay, but he only briefly looked at the camera and didn't say anything.
Words are Tjay was headed for the shooting of Ice Spice's music video when he was pulled over. Earlier that day, he confirmed his schedule as he posted on his Instagram Story, "Video shooot today lol it's litt."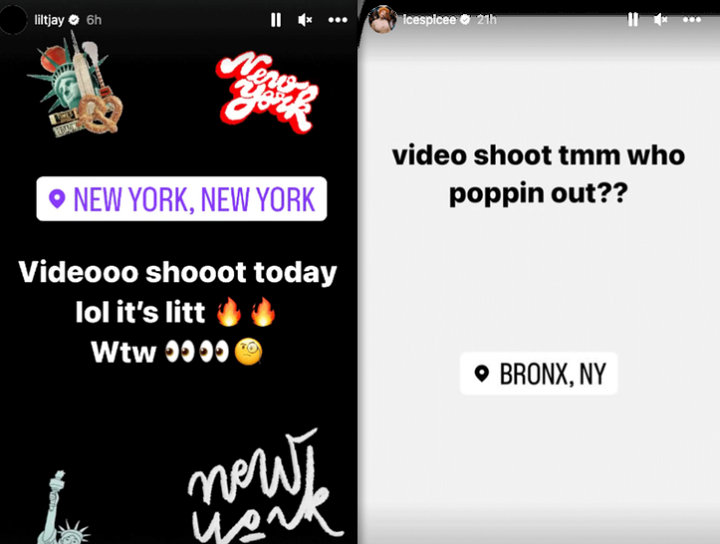 Lil Tjay and Ice Spice teased about a music video shooting before his arrest.
Ice Spice also teased the music video shooting, writing on her own Story, "video shoot tmm who poppin out??" She tagged Bronx, NY as the location. She has not addressed Tjay's arrest, but a video shows her proceeding with the filming without Tjay. She was seen being joined by Cleopatra during the filming.
Tjay's arrest comes just six months after he was shot seven times during an attempted robbery in Edgewater, New Jersey. The incident took place in the early hours of June 22. He was flown to Hackensack University Medical Center and underwent emergency surgery, while a second victim, 22-year-old Antoine Boyd, who is friends with the rapper, was also shot once and was in stable condition. Meanwhile, the shooter was also hit by gunfire, but managed to escape with help from an unidentified co-conspirator.
After spending months in the hospital, in September, a video surfaced of the "Resume" spitter walking out of a hospital room with the help of a nurse. At the top of the clip, he wrote, "The blogs said I was paralyzed and couldn't walk. But I started walking in a week after surgery. I beat the odds."
Earlier this month, he took to Instagram to share pictures of him showing his gunshot wounds during a performance in New Jersey.
You can share this post!
Source: Read Full Article