Simone Biles, the absolute GOAT of women's gymnastics, just closed out her second Olympics with a bronze medal on the balance beam. The Tokyo Olympics might not have turned out the way she thought it would, but she sure taught the world a lesson about putting your mental health needs before a competition and medals. As Biles explained in an interview, per the New York Post, "My mental and physical health is above all medals that I could ever win."
She also brought up an important discussion on the "twisties" — which is when gymnasts lose control of their bodies and get lost in the air. The phenomenon is not only jarring to the gymnast, but it can also lead to catastrophic injury, according to Live Science. Biles, who struggled with the twisties at points during the Olympics, proved how strong of an athlete she is by landing without injuring herself. 
Now that the Olympics are over, Biles can turn her attention to her family, which is important as they have experienced a tragedy. Keep reading to find out what happened.
Simone Biles lost a family member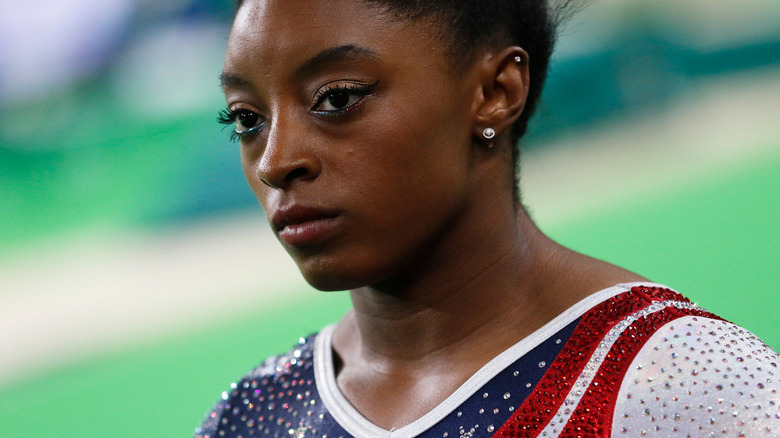 After Simone Biles performed in her last competition on Aug. 3, her coach, Cecile Canqueteau-Landi, told reporters that an aunt on the gymnast's father's side of the family had unexpectedly died. She shared, per Us Weekly, "That was another one, I was like, 'Oh my God. This week needs to be over.'"
Canqueteau-Landi continued, "I asked her what do you need. And she said, 'I just need some time.' I said, 'You call me, text me if you need anything I'll be here. Whatever that is.' She called her parents. She said, 'There's nothing I can do from over here. So I'm just going to finish my week and when I get home we'll deal with it.'"
Biles hasn't addressed the death publicly as of this writing, but she did have a message for Canqueteau-Landi and others. "Forever thankful to have such an amazing support system by my side," she captioned a sweet pic with her coach. 
Support for Simone Biles pours in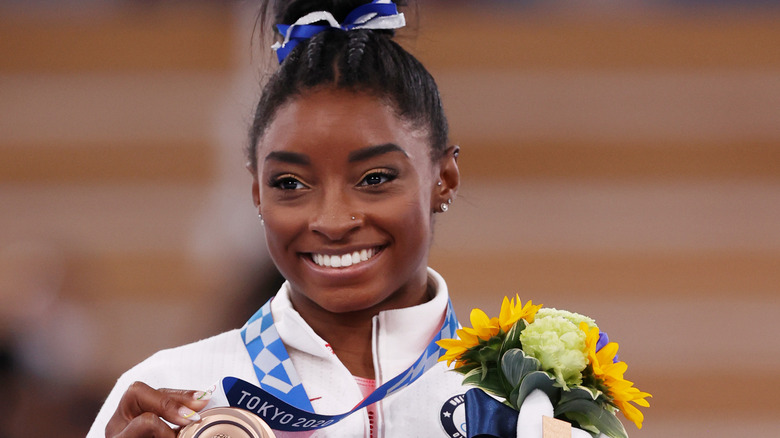 Simone Biles was dealing with an unexpected case of the twisties and social media criticism when she received some bad news from back home. But she persevered, and no one is more impressed than her coach, Cecile Canqueteau-Landi, who was a member of France's gymnastics team at the 1996 Games in Atlanta. The coach also gave Biles a prop for being honest about her well-being, stating, per People, "I don't think I would have had the guts to say I'm not okay. I think I would have probably just crashed somewhere, and probably injured myself. I think for me, she's the first one at a meet at the biggest stage, to say 'I'm not okay.'"
Biles' boyfriend, Jonathan Owens, also gave the star a shoutout after she won the Olympic bronze medal. "Imma ride with you through whatever baby," he captioned a series of photos. "Your strength and courage is unmatched and you inspire me more and more everyday SB." He also told Biles how much he loved her, and expressed excitement that she would soon return home.
Clearly, whether it's dealing with a family death or an athletic hurdle, Biles has the support to keep her spirits lifted. 
Simone Biles has been in touch with her family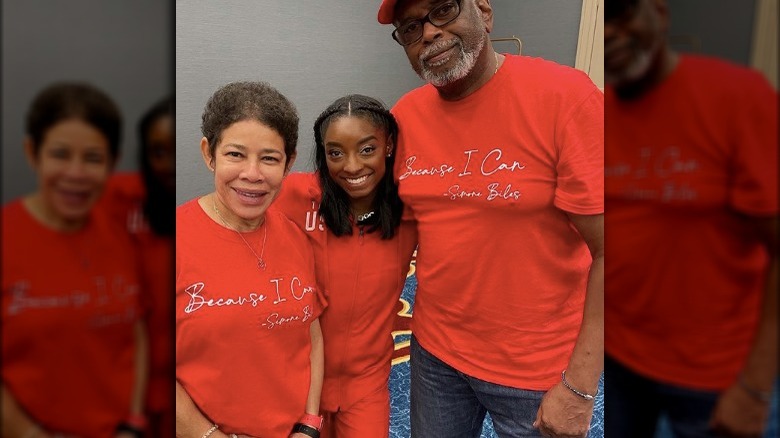 Throughout the entire ordeal of losing her aunt, Simone Biles has been in constant communication with her family. After her balance beam routine on Tuesday, she FaceTimed with her loved ones back in Texas, telling People, "They had a little watch party at the house. It was my mom, my dad, my brother, my sister-in-law, my godparents." She added, "They just wanted to say hi and stuff like that … Almost every day I've gotten to talk to them." It's safe to assume that connection to her family across the world helped Biles deal with the unexpected death of her aunt.
Of course, there's a good chance Biles would have preferred to avoid all of those tough moments at the Olympics, but she isn't letting the setbacks get her down. At a post-competition press interview, Biles told reporters she wouldn't change a thing about the experience, saying, "We have to focus on ourselves as humans. We lost touch of our human feelings sometimes. … I did this for me and me only."
So what's next for Biles? That remains unclear as of this writing, but whatever she does, it's safe to say she'll give it her all. 
Source: Read Full Article