Being the child of Hollywood hotshots is sometimes a gateway to teenage mischief. Some might even say status and popularity make it easier to organize more extravagant parties than the average teen who doesn't have the same money or connections. This concept definitely held true for Kate Hudson and her older brother Oliver Hudson, who are the children of actor Goldie Hawn and musician Bill Hudson.
In a 2017 interview with Jimmy Kimmel, the "Almost Famous" star revealed that she grew up in an "open door type of family" and had parents who liked to party. Naturally, this passion transferred to her and Oliver. The Hudson siblings' parties grew in size and stature, and she revealed back in 2020 that her loud gatherings even attracted the attention of Tom Cruise.
So, how did Cruise manage to crash the party, and how did Hudson react to his sudden entrance? Keep scrolling to see what happened!
Kate Hudson spotted Tom Cruise scaling her gate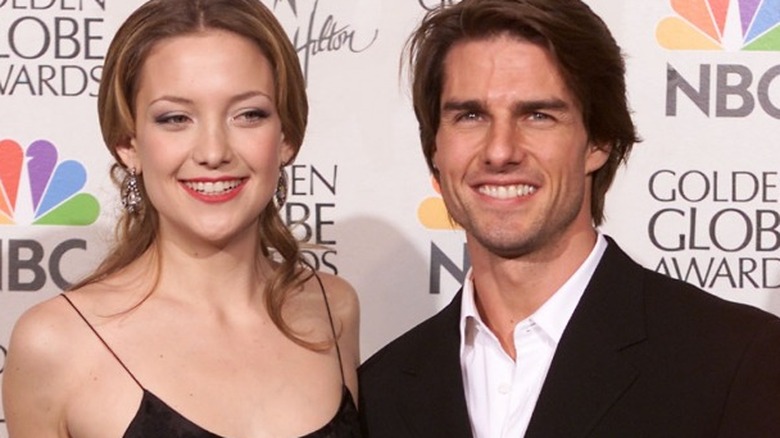 During a 2020 interview on "The Ellen DeGeneres Show," the "How To Lose A Guy in 10 Days" starlet and her brother shared tidbits about the secret parties they started throwing as tweens. On a heartwarming note, their ragers were a testament to how their sibling bond evolved. Only when the duo reached their late teens and became "old enough to like each other's friends," things became "real good" between them, according to Kate.
During a particular evening, the duo started throwing things together for a night of fun. However, the situation got a little out of hand as more and more people poured in. "I'm standing at the door, making sure people who aren't supposed to be at the party aren't coming in," Hudson told DeGeneres. "There's like, 400 hundred people at my parents' house. I'm kind of freaking out a little bit. The control freak in me is like, 'this is not okay.'"
Suddenly, Hudson spotted an uninvited guest who was determined to join the crowds at her house. "And I see someone scaling, just literally scaling an eight-foot gate at my parents' house," Hudson said. "I'm freaking out. And they come off, they do a back handspring thing and pose down. I'm about to yell at this guy, and it's Tom Cruise!" Say what!
Kate Hudson was smitten with Tom Cruise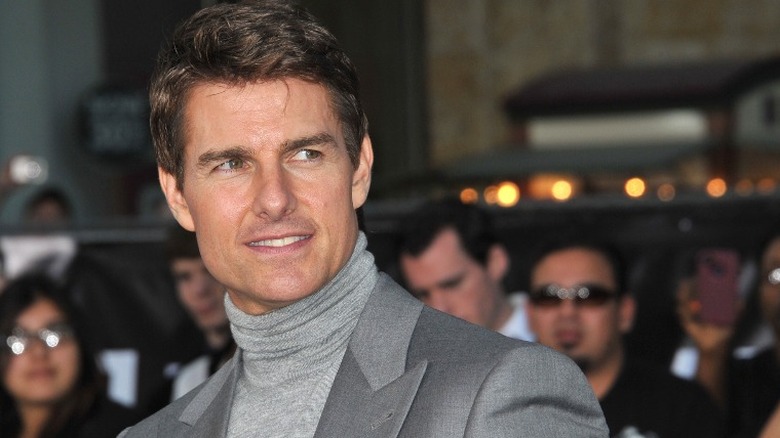 Tom Cruise apparently did not feel sheepish about his unconventional measures of party crashing and simply told Kate Hudson that he heard there was a party going on, hinting that he wanted to attend despite having no invitation. "I'm like, 'Yeah, Tom, come on in. He is 'Mission: Impossible.' It was wild!" Hudson couldn't help but gush to Ellen DeGeneres, referring to Cruise's action-packed saga that often features the actor in some suspenseful yet eye-catching stunts — the same type of excitement she must have felt when she watched him land!
According to Oliver Hudson, Cruise seemed to enjoy himself afterward at the party and was having "the greatest conversation" with Jose Hernandez as the night came to a draw. The incident must have dazzled and charmed the actor in particular since she once revealed on "The Graham Norton Show" in 2011 that she had a childhood crush on Cruise and watched "All the Right Moves" when she was a young girl. Talk about a dream come true!
It's now easier to believe that Cruise has performed some of the extreme stunts in his own movies by himself. After all, his climbing abilities have been useful in the most unconventional circumstances!
Source: Read Full Article