EA SPORTS FC 24 is out today, marking the gaming giant's first football title in the post-FIFA era. The two organization's once went together like peas and carrots, but that partnership came to an end with the last edition of the game — giving way to a promo-filled summer for the rebranded franchise to start things anew.
We spent the past week playing the Playstation 5 version of the new title, and – while it felt familiar – the improvements and updates are undeniably noticeable and fun. We also caught up with English and Arsenal footballing legend Ian Wright earlier this week at the EA SPORTS FC 24 Clubhouse event in London to discuss his dream 5-a-side squad, what his player rating would be in his prime, and who the best sofa baller is at home.
So, what's new in FC 24 and was losing the FIFA license an own goal for EA? In short: absolutely not. The game continues to boast the most packed lineup of any football title on the market, featuring over 30 leagues, 100 stadiums, 700 clubs and 19,000 players. Any worries fans may have had about their favorite players and teams not being included are allayed as all of the beautiful game's biggest and best are accounted for, both women's and men's.
Rosters aside, players have longed for a significant update to gameplay for years and FC 24 delivers. EA Sports has introduced some new features that impact in-game mechanics and make the refresh feel like more than just a name change. One of these is HyperMotion V, a technology that literally brings players' on pitch movements into the game. This is the first time that players' actual in-match actions have been captured and used to inform their gameplay mechanics; while previous generations of the game filmed players performing movements against a green screen in a studio setting, the HyperMotion V engine uses volumetric data from over 16,000 hours of high-definition video footage filmed at 180 real football matches to recreate these player movements. Perhaps unsurprisingly, however, Hypermotion V technology is only available on next-gen consoles and PC – PS4 and Switch users won't see the full benefit from this.
Another new feature in FC 24 is PlayStyles, a merits system that compliments ratings and is different between players. It means no two individuals in a game of 22 will act exactly the same, as each will have PlayStyles that match their real life skill sets – for example, Leo Messi's dribbling acumen awards him the "technical ball control" PlayStyle. There are a total of 32 PlayStyles available across the six categories of goalkeeping, defending, ball control, physicality, passing and shooting. Some players even have a PlayStyle Plus, a special super-move of sorts, but this is limited to a few world-class players. PlayStyles, like Hypermotion V, uses information pulled from the real world and utilizes data from sports analytics company Opta.
Ultimate Team has also seen an update with the introduction of Evolutions, and the introduction (finally) of women into the game mode. Aside from this, one of the key features of Evolutions is the ability for players to level up their teams by completing in-game challenges, and not being reliant on buying (or earning) skills and upgrades via packs. While micro-transactions do still exist – and are probably not going anywhere – this is a welcomed addition and somewhat levels the Ultimate Team playing field.
As well as the best ever visuals in a football game, FC 24 is also expanding online cross-play into all multiplayer modes. PS5, Xbox S/X, and PC players are still grouped into the same cross-play pools, as are PS4 and Xbox One players. Unfortunately yet unsurprisingly, Switch players will have to stick to playing against other Switch players, owing to the Switch's considerably lesser power in comparison to next-gen consoles and PCs.
Last week at the EA SPORTS FC 24 Clubhouse event in London, Hypebeast caught up with Wrighty himself to chat about the new game. Read the full interview below.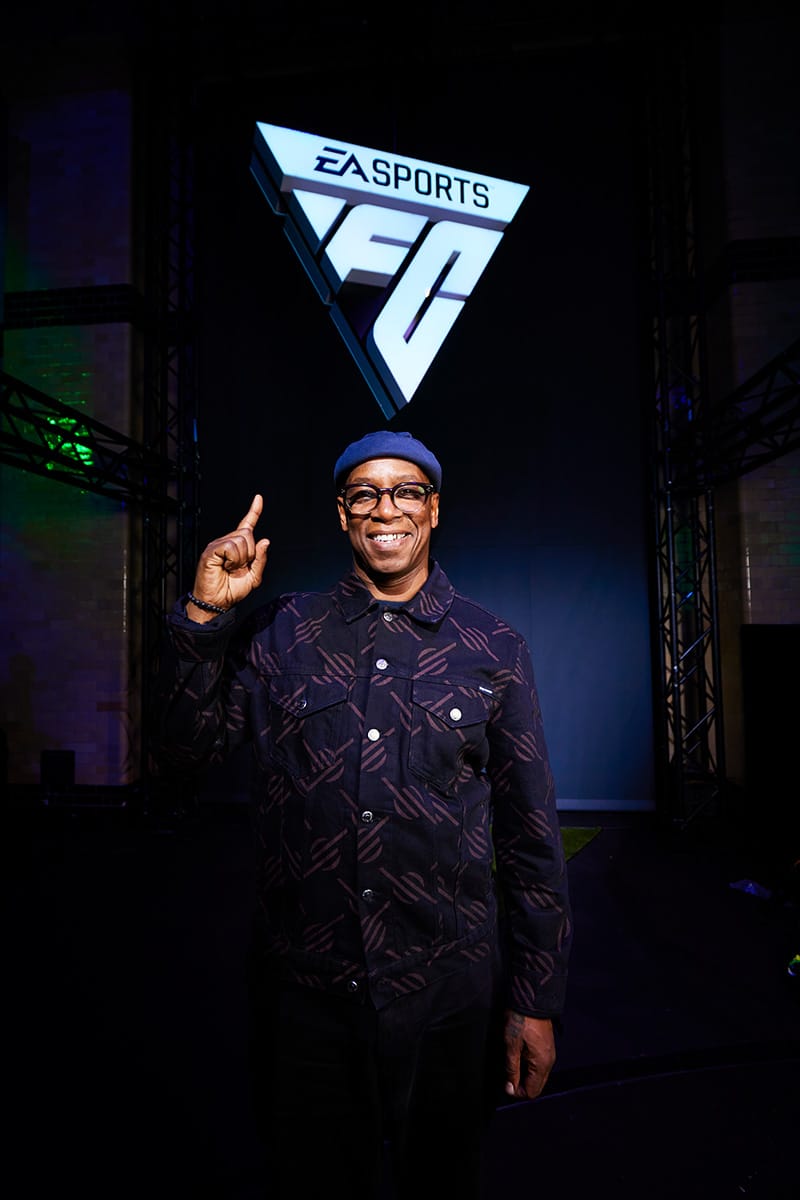 So, first off, we're going to put you on the spot! What would your player rating be in FC 24? Ian Wright in his prime?!
If I'm not somewhere between the 88s, 90s, 91s… I'd probably be a bit disappointed, because man's a shotta, bro! Man's a shotta! When it comes to all the rest of the stuff like the passes, the pace, as well as dribbling… I thought I was quite good at dribbling, but towards the end I wasn't doing too much dribbling. I did more at [Crystal] Palace. But you know me, the passing I can understand [if it wasn't a high rating] because I wasn't involved in that side of it, but the finishing? I need high marks, man!
What's your favorite in-game dream match and why?
In-game dream match would probably be Arsenal and prime Real Madrid. I think that Real Madrid are the standard bearers of the Champions League, you know? If we go back to the '50s and '60s, they're the ones one who won – what was it, five on the spin or something like that? Crazy. So you look at Real Madrid's affinity with the with the Champions League, and you look at Arsenal and the players we can pick for our team – that would be the teams for me. Real Madrid must get their credit and respect for the way that they've dealt with the stranglehold that they've had on the Champions League. And you look at their team now with Camavinga, Bellingham, Tchouaméni, Valverde – that's a ceiling-and-a-half. All of those players got another 10 years of unbelievable football in them. People are talking about Mbappé at some stage going there… good night! Good night, man, they're back! It's the Galácticos again.
You come from a family of tekkers. Your granddaughter plays football, obviously Shaun, too. But who's the best at the game in the family?
I'd probably say my sons Stacey and Shaun. Stacey plays, he's very good, very competitive. Man gets prepared for a match like how Arsenal were getting warmed up to play PSV last night! It's deep! You can feel it. You can feel the tension. You can feel the nerves booting up, because once you're in the game, you're in the game. Shaun's good, though. My grandson D'Margio plays as well. I'd probably go with my sons Stacey and Shaun. Bradley plays as well.
Can you name your dream 5-a-side team in the game?
You know what, I'd probably put Mary Earps in goal. I'd probably have Cafu in right back. I'm gonna have to put Marta in my team. Brazilian Marta. I love her. I'm gonna put Mbappé as well. And I want Sergio Ramos in centre-half.
I notice you're wearing Daily Paper, and we saw you walk in the Labrum show at London Fashion Week recently. How've you seen the relationship between football and fashion change?
There's so many vibrant, colorful, and great designers out there and the players have no compunction to wear whatever they want to wear. Whereas back in the day, you had to be quite – you know – we had to be quite civil. Anybody who bought anything that was a little bit outside [the norm], you know, like John Barnes who used to wear some outlandish stuff and people would go crazy about it. So you kind of felt a little bit insecure about what you wore. But now, the way that fashion and football interlink, it's [a match] made in heaven. You've got guys who are football crazy, and footballers who are fashion crazy, and they're just together. Even at the Labrum show the other day, Trevoh Chalobah was there, and man looked unbelievable. They all look unbelievable in what they wear. Fashion and football were meant to be. It's so nice to see how expressive they are. People aren't taking the piss like when we we were younger. If you wore something different, even a f*cking hat or something, you know, people would come down on you. I'm so pleased that's gone.
EA SPORTS FC 24 is available to buy today on all platforms.
While you're here, check out our case study that takes a deep dive into the rebranding that resulted in the new game.
Source: Read Full Article