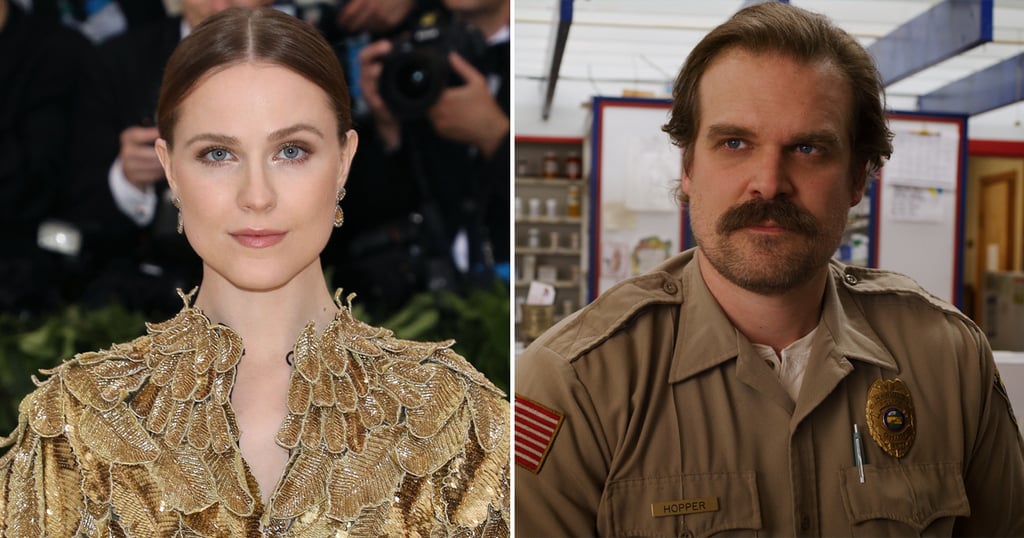 Evan Rachel Wood Has a Message For Stranger Things Fans About Hopper's "Unacceptable" Behavior

Jim Hopper may have captured the hearts of Stranger Things fans during the first two seasons of the sci-fi hit, but we see a whole new side of the Hawkins Police Chief in the Netflix show's newest installment — and Evan Rachel Wood is not here for it.
To refresh your memory on Hopper's past portrayals, season one paints the character (played by David Harbour) as a stand-up guy, as he works tirelessly to solve the mystery of Will Byers's disappearance and even enters the Upside Down to save him. In season two, he's seen as a doting father figure to Eleven while they live together in an off-the-grid cabin and he does whatever he can to protect her. This protective nature, however, becomes uncomfortably palpable in the third season, as he's overly territorial of Eleven (Millie Bobby Brown) while she navigates her relationship with Mike Wheeler (Finn Wolfhard). Plus, he gets extremely jealous when Joyce Byers (Winona Ryder) so much as talks to another man.
On July 5, just one day after the eight newest episodes hit Netflix, Wood took to Twitter to express a poignant message about Hop's "unacceptable" behavior throughout the season. "You should never date a guy like the cop from #strangerthings. Extreme jealousy and violent rages are not flattering or sexy like TV would have you believe," the Westworld actress wrote. After receiving a few virtual eye rolls and responses that Hopper is "just a fictional character," Wood followed up by tweeting, "Yes I am aware it's 'just a show' and it's set 'in the 80s' even though this stuff was unacceptable then too, but that's exactly my point. It's just a show and this is a gentle reminder not to fall for this crap in real life. Red flags galore."
We must admit, Wood makes a solid point, and her tweets have since sparked an impassioned debate among Stranger Things fans. Ahead, read through the varied responses to Wood's comments about Hopper before deciding whether you're ready to bid your Hopper-stanning days adieu.

Source: Read Full Article