Sportswear brand Oakley calls on parkour enthusiast Sam Sutherland to show what he gets up to in the brand's outdoor footwear piece, the Oakley Coyote Boot. Relaunched earlier last month, the Oakley Coyote Boot made a splash with its multifaceted silhouette and sneaker-like sole. Throughout the years, this iconic combat-inspired Boot has proven its adaptability, becoming multi-functional, for a variation of lifestyles and needs.
Given parkour's daring nature, the 'active-yet-urban' design of the Oakley Coyote Boot – with its EVA midsole and slip-resistant rubber outsole – is a perfect fit for Sutherland. We touched base with him to find out what he's learnt from his free-running and film-making antics across London. Read on to discover his tips on what it takes to excel in the sport and how Oakley's "Be Who You Are" message rings true every day in his athletic and creative pursuits.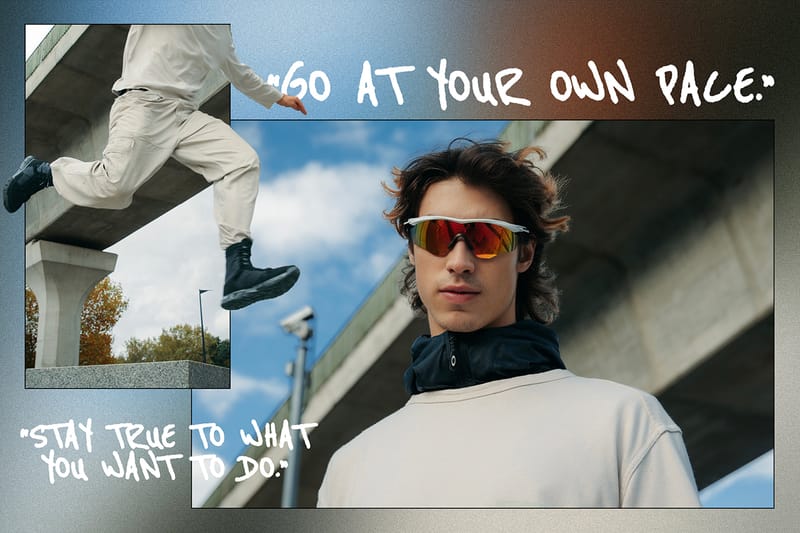 Go at your own pace
In a sport like parkour, it goes without saying that operating within the limits of your abilities and growing from there is wise. "Everyone's got their own time schedule. Just because that guy on Instagram is doing something mad doesn't mean that you need to be doing it." says Sutherland. It's all about being conscious of your abilities. "Don't stress yourself out trying to get somewhere in two minutes cause it's not how it works."
Stay true to what you want to do
"People worry about what their passion is", Sutherland says as he reflects on his interests in video-making and parkour. "I think even if you're interested in something obscure, just go with that!" This is an outlook amplified by Oakley's Coyote Boot campaign, that is all about following your passion and being who you are.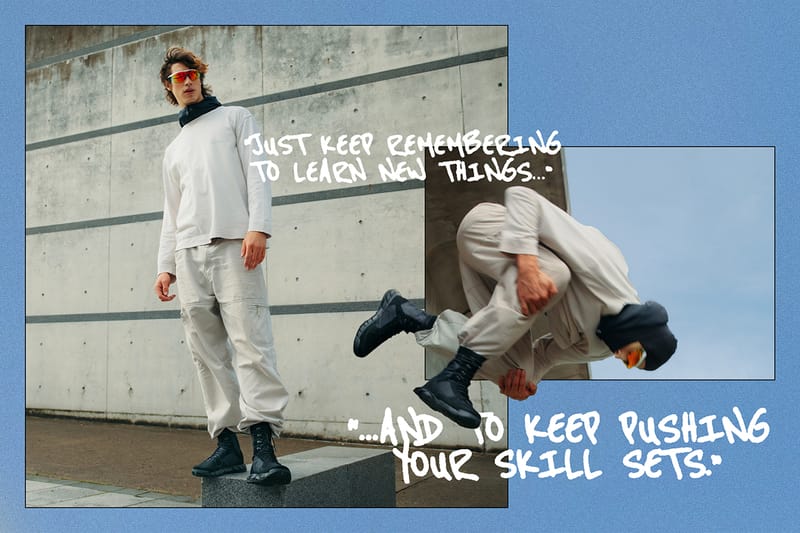 Keep pushing your skill sets
Staying still is definitely not part of freerunning, and for Sutherland, it's all about learning new things to keep pushing forward. "Just keep remembering to learn new things, even if it's completely different." Sutherland says, "go hang out with somebody who does something in a completely different field. Learn about what they do and it might spark a new idea."
Why not?
Thanks to the combination of lightweight materials and both wet and dry slip resistant outsole, the Oakley Coyote Boot allows Sam to continue pushing boundaries. Sam believes that sometimes you have to just go for it, be it art, sport or another new venture you are trying your hand at. "If you want to make things, if you just want to create, then find something you think is sick and just take that, do what you want with it and make something more – emulating that I think is really important." This drive to keep pushing himself, in both his role as a freerunner and a filmmaker, has allowed Sutherland to fully discover who he is and where exactly he wants to go. 
With the Coyote Boots, Oakley has tapped into its vast experience of creating uncompromising, stylish products to empower wearers to truly be who they are.
Shop the Oakley Coyote Boot on Oakley's webstore.
Source: Read Full Article