In his 20 years in the NBA, Hall-of-Famer Kobe Bryant racked up a series of accolades to rival that of any player ever to set foot in the game of basketball. In the span of his career, until his death last January, it was evident that he was a crucial role model for the sport, and more than just an exceptional athlete. In light of Bryant's posthumous induction into the Basketball Hall of Fame, HYPEBEAST is commemorating the Black Mamba with a trip down memory lane, spotlighting some of the greatest highlights of Bryant's success both on and off the court.
Bryant's hard work, dubbed the "Mamba Mentality," was recognized globally, solidifying his stature as an international celebrity and a brilliant businessman expanding his empire with both the NBA and Nike. From the moment he stepped into the league, Bryant set the record as the youngest player ever to start an NBA game and quickly became the youngest player selected to play in an All-Star game. He was soon a prominent fixture at the All-Stars, appearing a total of 18 times, and winning a record four MVP awards as a Los Angeles Laker. One of the most memorable feats of his career was an 81 point game against the Toronto Raptors in 2006; to this day, Bryant still holds the record for the most points scored in a single game. He has also scored more points, made more free throws and turnovers than any other guard in NBA history.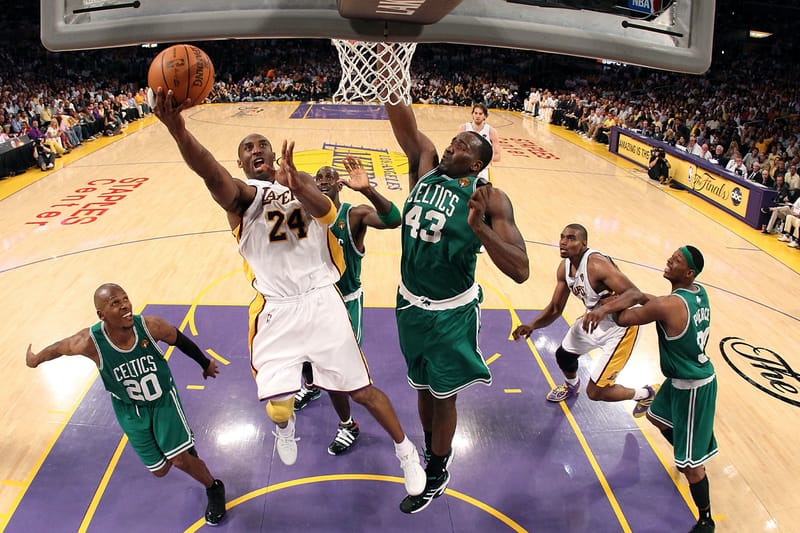 Christian Petersen/Getty Images
But beyond the numbers, Kobe proved that it was possible for a player to consistently have a dominant career through 20 years in the league. When critics called him out for refusing to pass the ball, Bryant challenged his teammates to be better. He was clear that his way of play was not selfish, but in fact, pushed everyone around him to be better. In doing so, he set a new template for players and alongside that, Bryant showed that older players can continue to be just as dominant as younger players, if not more. At the core of his work ethic was unwavering self-belief, forcing himself to fend off any fear, worry or self-doubt. In the subtle art of relentlessness, dedication and self-confidence, it allowed him to bend a defense or control a game at his will.
In Mamba fashion, Bryant put on a show in his final game as a Laker, becoming the oldest player to ever drop 60 points in a single game. When the Lakers retired his jerseys, Bryant also became the only player in NBA history with two numbers retired on the same team. At the time of retirement, the Black Mamba had won five NBA championships and won two Olympic gold medals.
Off the court, Bryant's impact was prevalent, not just in the West, but the East as one of Nike's top personalities. Bryant signed with Nike in 2003, routinely having one of the top selling shoes and jerseys sales for the brand. Though his personal accolades were immense, his dominant play and international presence gave the NBA an opportunity to grow its reach in other global markets. Bryant's coming of age in the league was almost at the exact moment the league went digital. In an interview with the New York Times discussing Bryant's legacy, Adam Silver, the Commissioner of the NBA said, "Kobe embraced all things digital. In China, he realized he could be virtually present around the world by providing content to websites. He saw an opportunity to make himself universal."
Silver added, "Kobe saw how big the N.B.A. was becoming in China. I think Kobe recognized that he was a product of his time." Bryant's presence also helped Nike to accelerate its expansion into important Asian markets including China and other parts of Southeast Asia. Silver added that with Bryant, there was always "something very universal" about the athlete and his willingness to embrace newness and challenges.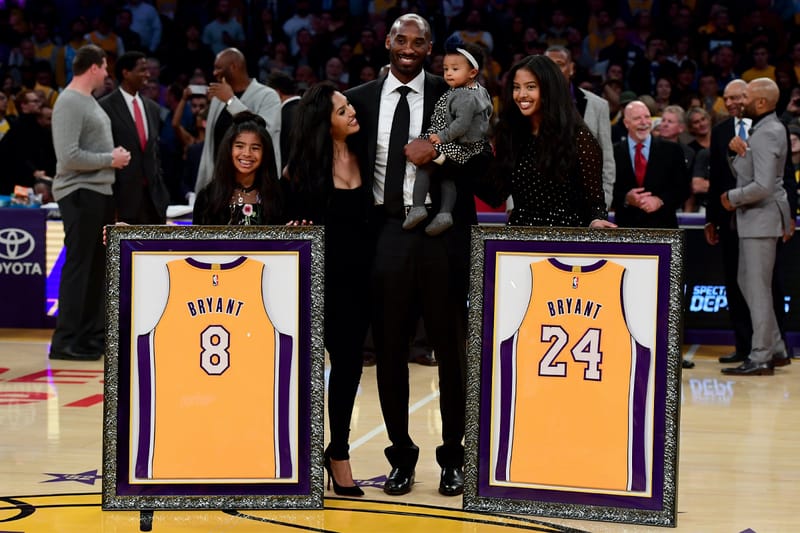 Harry How/Getty Images
Post-NBA, Bryant began coaching his late-daughter Gianna (GiGi) Bryant and mentoring young female athletes at his Mamba Sports Foundation (now Mamba & Mambacita Foundation). Much of his work focused on raising awareness for women's athletics across all levels of play. Prior to his death, he was adamant in growing media attention for the WNBA, becoming one of the first high-profile athletes to fully commit to putting the league on notice. Though subtle, his words of support transcended across the industry. When speaking about the NBA and WNBA, Bryant once told CNN, "I think there are a couple of players who could play in the NBA right now, honestly. Diana Taurasi, Maya Moore, Elena Della Donne. There's a lot of great players out there so they could certainly keep up with them."
He also ventured into unchartered waters, winning an Academy Award for Best Animated Short Film in 2018 with Dear Basketball. He continued to explore additional avenues, creating a series of children's books that teaches the youth important life lessons through sports and expanding his business portfolio with sports drink company, BodyArmor. Bryant proved that players can succeed outside the court, affirming that success was not just in championship rings. With his Mamba Mentality, he has shown his peers that there is no limit to just being a basketball player as long as each concept is properly visualized and each skill is crafted to perfection.
It is without a doubt that Bryant showed the world that basketball players do not just have to "shut up and dribble". With every achievement, Bryant knew that it had to be legendary. He applied his Mamba Mentality to all facets of his life, be it in basketball gameplay, helping the NBA go global, championing women in sports, or creative and business ventures. As he began to explore avenues post-basketball, he continued to remain a forever legend in every aspect of his accomplishments.
Source: Read Full Article