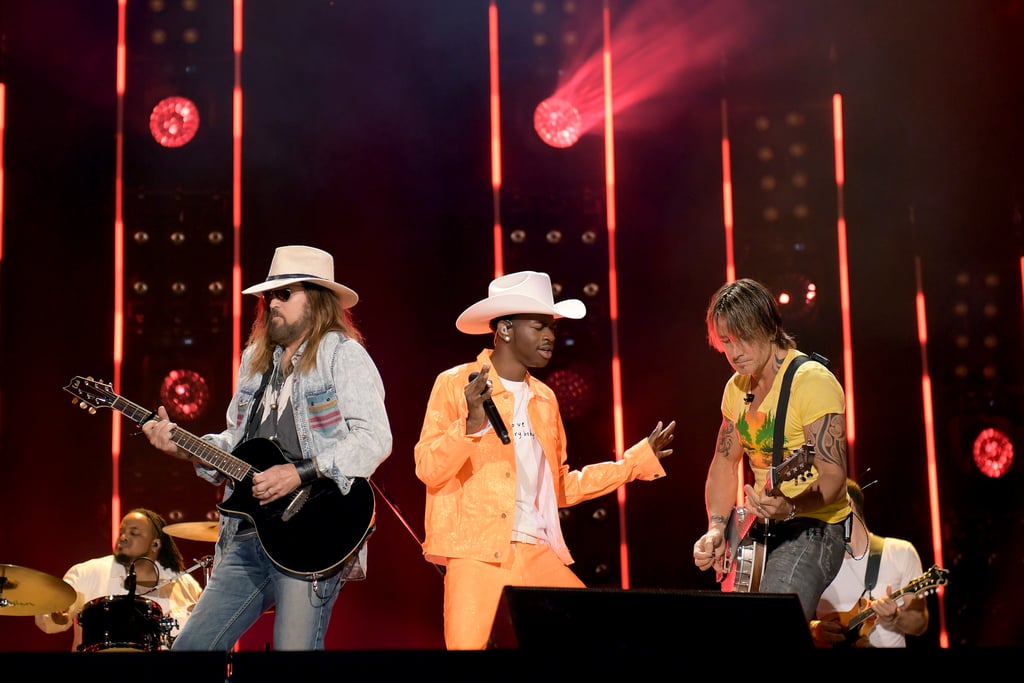 Lil Nas X, Billy Ray Cyrus, and Keith Urban are taking their horses to the CMA Fest TV special on Sunday! The trio initially united at the country festival in Nashville on June 8 and delivered a power-packed live rendition of Lil Nas X and Cyrus's remixed hit "Old Town Road." But thanks to ABC's airing of the performance, fans can to relive the experience on the small screen.
During the show, Lil Nas X was clad in a bright orange ensemble with a white cowboy hat, while Cyrus rocked a denim outfit and Urban wore a t-shirt with jeans. As soon as the song's first few chords began to play, the crowd went wild — which is understandable considering "Old Town Road" is a bona fide bop. After the show, Lil Nas X shared a clip from their set, adding, "Thank u billy & keith !!!" Keith also expressed his gratitude for getting to play with Lil Nas X and Cyrus on Instagram, writing, "Nas's t shirt says LOVE EVERYBODY …… I can't think of a better caption than that right there!!! @lilnasx and @billyraycyrus – thank u for the invite- I loved playing with u both and hope we get to do it again!!!!"
Can we get a Lil Nas X, Cyrus, and Urban collab album next? Please and thank you.
Source: Read Full Article