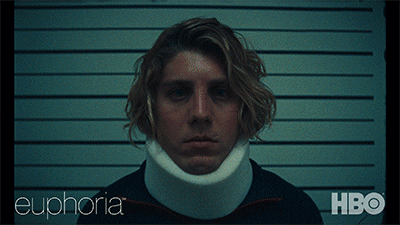 For a character we barely know anything about, Euphoria's Tyler Clarkson sure has had a major impact on the plot. He has, essentially, become the unwilling face of Nate's reign of terror and control, forced to take the fall for a crime he didn't commit because of one he did. Let's rewind to the very beginning to see how Tyler became so pivotal.
Tyler first appears in the very first episode, where he's the guy Maddy drunkenly hooks up with in the pool in an act of defiance. It might have just been a one-off thing, but that's without taking Maddy and Nate's toxic relationship into account. Maddy claims she was blackout drunk during the hookup to try to get Nate off her back, but it backfires: Nate goes on a violent rampage, breaking into Tyler's house, beating him up, and stealing his clothes. That's when he discovers something that gives him power over Tyler: Tyler isn't a teenager, but a 22-year-old, which means that his hookup with Maddy, drunk or not, counts as statutory rape.
Nate continues to use Tyler as his cover, posing using Tyler's name on the hookup app where he catfishes Jules. And when the discovery of Maddy's bruises comes out, it's all too easy to use Tyler as a fall guy and claim that he, not Nate, is the one who hurt Maddy. Rue figures out that Tyler probably agreed to keep his mouth shut and take the fall because Nate holds the statutory rape charge over his head as well. Jules also sides with Nate, claiming to have witnessed Tyler choking Maddy, presumably because of the blackmail Nate is holding over her too (although Rue believes it's because she's fallen in love with Nate via their online relationship).
The last we see of Tyler is him taking the fall and falsely confessing to attacking Maddy. Will the truth come out? Who knows, at this point. It's unclear if he'll pop back up again, but he's already had a huge impact on the plot, all because he crossed paths with Maddy and Nate.
Source: Read Full Article