On Sister Wives, Meri also reflects on her catfighting controversy and claims "so much crap was made-up about it."
The more Sister Wives star Meri Brown reflects on her strained relationship with husband Kody Brown, the more upset she gets.
The two married in 1990 but divorced in 2014 so Kody could legally marry Robyn. While they remained spiritually married, they drifted apart in recent years — something made worst when, in 2015, Meri admitted to entertain a catfishing relationship with someone she thought was a man but turned out to be a woman. Her marriage with Kody has been pretty platonic ever since.
Last week, she claimed that on their anniversary, he made it clear that anything romantic between them again was "never going to happen" and that their marriage was "done." Sunday's new episode was filmed a couple moths after that dinner and it doesn't seem like Kody's changed his mind much in the time since.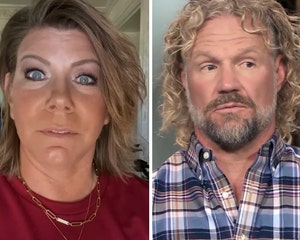 Meri Brown Told 'Our Marriage Is Done' By Kody After Brutal Anniversary Date
"So the last couple of months has just been me doing a lot of processing and thinking and trying to figure things out," Meri explained. "Kody basically told me that he was never going to have a relationship with me and to basically don't have any hope for it because it's never going to happen."
She felt it was "just sad" Kody saw no "value" to the "three decades of history" they shared as a couple, adding that she didn't know "what the future looks like" for the pair as they go forward. Meri was still unsure whether she still wanted to stick around in a platonic role with Kody, Robyn and their children, despite there being "no point to hope" things could once again turn romantic.
"Screw him, he's not worth it," said Meri in a confessional. "It's scary to think about [splitting for good]. It really is. Because it's not what I wanted. I didn't want him to come to me [and say], 'I really just don't want to ever have a relationship with you again' … and yet, here we are."
Kody and Meri announced in a joint statement back in January that they had "permanently terminated" their "marriage relationship." These episodes were filmed in the spring and Summer of 2022, so it seems we've got a ways to go until Meri makes that decision.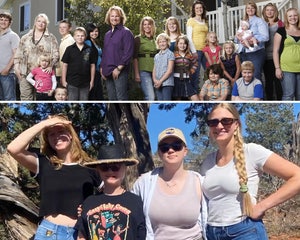 Kody Brown's Estrangement from More of His Kids Revealed: 'I Don't Know Who This Guy Is'
Elsewhere in the episode, Meri also reflected on her catfishing scandal while talking about how she met a gay interior designer named Blair online to help her with her business. "We did meet online initially, but eventually in person," she shared, adding that they were "cautiously talking" at first due to her past.
"There's so many people, obviously, who put themselves out there as being somebody other than they really are," she said with a laugh. "So you have to be very careful with people that you meet online."
"So I was catfished quite a few years ago by a big fat liar. That whole story was so completely blown out of proportion and so much crap was made-up about it," she added of her past situation, without getting into specifics. "And I still kind of have a hard time talking about it just because everybody has their opinions about it. But, like, I know my truth. Even with our family, some of our own family has their own opinion about it."
She did learn something from the experience, however, saying that while she speaks with people online about business "all the time," one of Meri's prerequisites for continued contact is a video chat — to "make sure they are a legit person."
Sister Wives airs Sundays on TLC.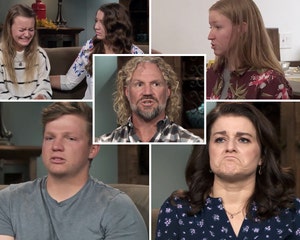 Kody Brown Calls Estranged Kids 'Jerks' as They Say They 'Don't Need a Father,' Are 'Done' with Robyn
Source: Read Full Article