When first listening to Ariana Grande's "Positions," it sounds like the new single is all about making a romantic partner a top priority. But Miss Ariana didn't just release the song on Oct. 23. No, she also dropped the "Positions" music video, and the video's narrative gives the "Positions" lyrics all new meaning.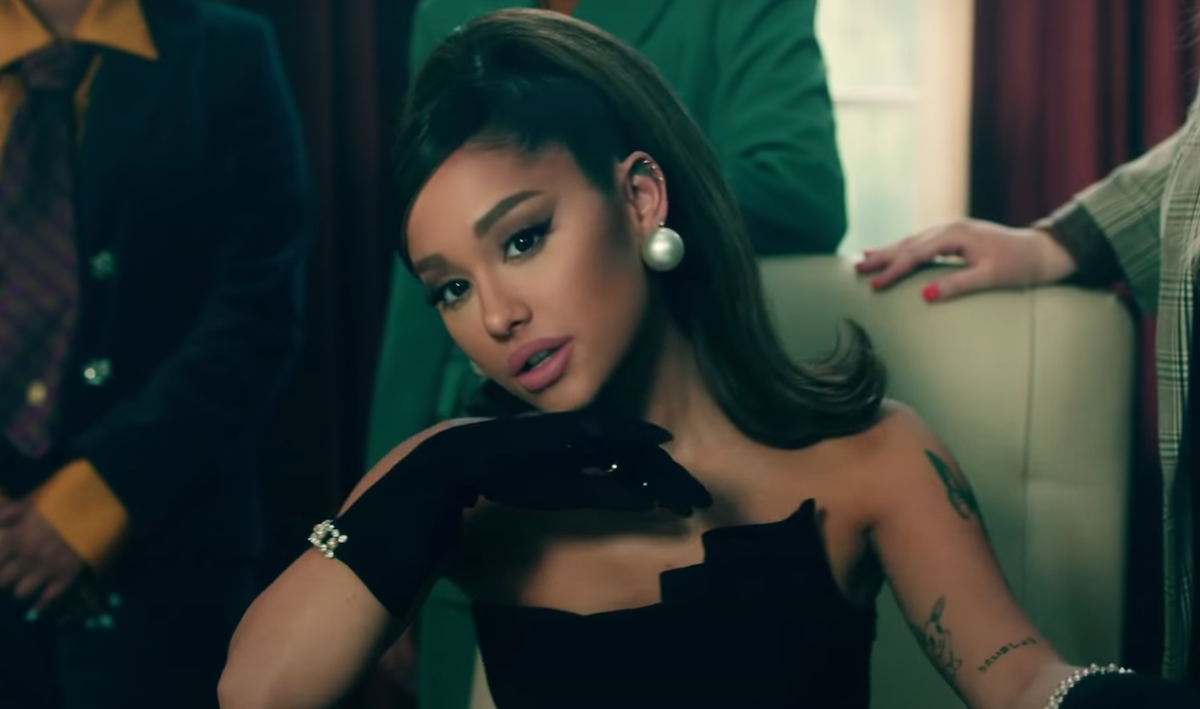 Ariana Grande is the President of the United States in the 'Positions' video
The video features the "Thank U, Next" singer as the President of the United States. (The fact that she released the video right after the last presidential debate was sumptuous timing.) Grande's presidency is, first and foremost, high fashion. But she also has employed a diverse cabinet and spends her time in the White House rewarding U.S. Postal Service workers. A mood.
Grande being busy running the country juxtaposed with the lyrics about being in a loving, committed relationship take the song from being just about romance to a whole other level.
This combination puts forth the narrative that women can run the world while also having no issue making room for romance in their lives. It's basically Grande saying, "my life is complete and full without you, but I'm happy to add you to it." We stan a healthy work/life balance!
The 'Positions' video shows women in power who have healthy relationships
In the "7 Rings" singer's video, she goes against the idea that women have a hard time balancing their professional and personal commitments. In fact, she argues it's second nature and something she does with joy.
As she sings in the song, "Heaven sent you to me / I'm just hopin' I don't repeat history. Boy, I'm tryna meet your mama on a Sunday / Then make a lotta love on a Monday (Ah, ah) / Never need no (No), no one else, babe / 'Cause I'll be / Switchin' the positions for you / Cookin' in the kitchen and I'm in the bedroom / I'm in the Olympics, way I'm jumpin' through hoops / Know my love infinite, nothin' I wouldn't do / That I won't do, switchin' for you."
In the song's bridge, Grande admits she usually wouldn't be willing to prioritize romance over her other commitments, but this relationship makes her want to create that balance because she knows he wants to do the same. And it's that reciprocity that drives her.
"This some sh*t that I usually don't do (Yeah)," she sings. "But for you, I kinda, kinda want to (Mmm) / 'Cause you're down for me and I'm down too (And I'm down too) / Yeah, I'm down too."
'Positions' could be about Ariana Grande's boyfriend, Dalton Gomez
While this song has universal applications for any listener, its creation was likely inspired by Grande's current boyfriend, Dalton Gomez. The pair quarantined together during the coronavirus (COVID-19) pandemic, and Grande recently purchased property in California, where she met Gomez. Based on "Positions," the 27-year-old star seems to be very happy in this relationship.
And it's no secret that Grande is a hard worker, given that she's releasing her third album in three years on Oct. 30, so the "Positions" video could be a metaphor for her own life. She's one of the most successful women in music and isn't slowing down her production adrenaline anytime soon. And on top of that, she's seemingly maintaining a happy and successful relationship. A true renaissance woman!
Source: Read Full Article