The 'Her Loss' collaborators appear to have the last laugh after settling a trademark infringement lawsuit over a fake Vogue cover by featuring unflattering hologram of the magazine's editor-in-chief at their shows.
AceShowbiz –Drake and 21 Savage have had some payback moment with Anna Wintour following Vogue's $4 million lawsuit. The two rap stars have trolled the New York-based media executive with an ugly clone during their "It's All a Blur Tour".
Over on TikTok, fans posted a video of an intriguing piece of set design from the duo's Boston shows on July 11 and 12. Concertgoers noticed that a giant, unflattering hologram of Anna's head showed up multiple times during the concert.
The visuals featured a woman with short bob cut similar to the fashion giant's hairstyle. She wore a pair of sunglasses and opened her mouth, revealing her some pretty gnarly teeth.
Neither Drake nor 21 Savage has confirmed that the image is supposed to represent Anna, but it's hard to see anything otherwise. Furthermore, the Canadian superstar posted the image on his Instagram Story earlier this week.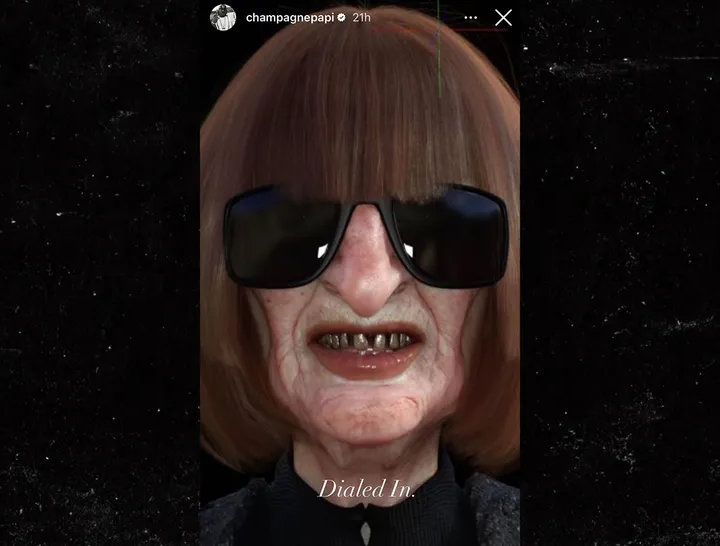 Drake posted an image of ugly Anna Wintour clone.
Drake and 21 Savage were sued by Vogue for $4 million after promoting their joint album "Her Loss" in November 2022 with a collection of fake Vogue covers. A trademark infringement lawsuit was then filed by Conde Nast, which owns Vogue.
The company alleged that the pair's promotional campaign for "Her Loss" was "built entirely on the use of the Vogue marks and the premise that Drake and 21 Savage would be featured on the cover of Vogue's next issue." The statement further stressed, "All of this is false. And none of it has been authorized by Conde Nast."
The amount of the settlement remains unclear, but Conde Nast general counsel William Bowes said in February that the company was "glad to put this matter behind us." He stated in an internal memo, "As a creative company, we of course understand our brands may from time to time be referenced in other creative works."
He added, "In this instance, however, it was clear to us that Drake and 21 Savage leveraged Vogue"s reputation for their own commercial purposes and, in the process, confused audiences who trust Vogue as the authoritative voice on fashion and culture."
You can share this post!
Source: Read Full Article