Axe is a famous grooming brand, known for making engaging commercials that feature some really cool songs. The brand's popularity sky-rocketed when the popular London-based agency Bartle Bogle Hegarty took over their global image. Besides the iconic commercials, millennials remember the brand for its pungent legacy — one that portrayed the idea of masculinity in various forms, fragrances, and ranges for its users.
Much like several of their ads in the past, Axe's new ad commercial has also found much popularity with people due to its choice of song, leaving viewers to wonder where they have heard it before. The advertisement shows a man stepping out of his apartment after wearing Axe. As he walks around, he paints his surroundings with blooms, and everyone's excited after smelling him. The video uses many colors and creative transitions throughout. This is all held together by a song that goes with the flow of the ad.
So what is that song in the new Axe Effect commercial? It's pretty catchy and familiar, right? The Axe "Irresistible" commercial track is a Melbourne-based artist. Here's more!
This is the catchy song in Axe's ad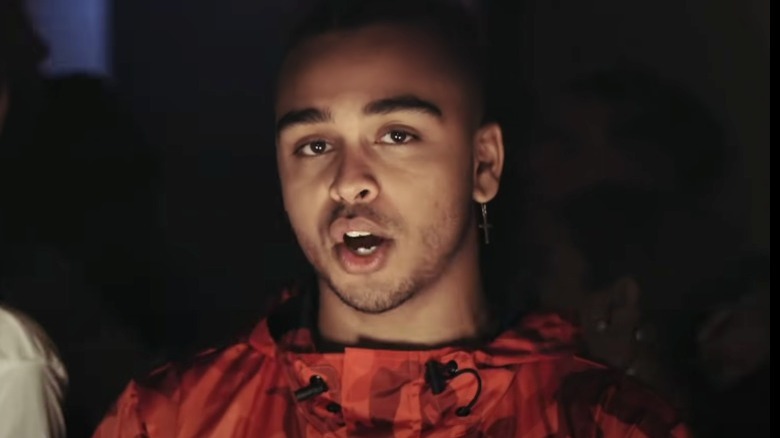 The song in the new Axe ad is titled "Crumbs" by Jordan Dennis. It was released in 2018 and made Dennis (pictured above) a popular figure in Melbourne's rap scene (per Purple Sneakers). It also aided him in growing his career as a musician and rapper, as he went on to release several singles as well as albums after.
What's so great about the song is that its music fits so well with the lyrics — the two complement each other, and what emerges is a work of engaging creativity. The "Axe" ad looks much like an "attraction playground," something which its makers — The Martin Agency — believe in as well. "When you smell good, you open up to the world, and the world opens up right back," said Mik Manulik, Martin's VP creative director (per Adweek). "We thought that was an interesting way to help Gen Z really take part in this attraction playground that they built."
The new Axe ad might be another big break for Dennis, whose main influences have been J Cole, MF DOOM, Kendrick, JID, Smino, and Mick Jenkins, among others (per Worldplay). The journey's been great so far for the rapper, who's managed to find quite a bit of fame. He even has an interesting suggestion for others, telling Wordplay, "My advice is to just start. If you're thinking about it don't waste time wondering how you're gonna build or how long it's gonna take. Find people you love/share love in any given craft and go forward with your tribe."
Source: Read Full Article