Michelle Carter is the subject of a new HBO documentary, I Love You, Now Die. The doc, which aired this week, told the story of Michelle's boyfriend's suicide and the string of texts she sent encouraging him to take his own life in the moments leading up to his death. If you haven't watched the doc yet, you definitely should, and you should read this beforehand so you know what happened with Michelle's sentencing and her current court battle.
What was Michelle charged with?
Michelle was charged with involuntary manslaughter at 17 years old in 2014, just months after her boyfriend, Conrad Roy III, was found dead of suicide after filling his pickup truck with poisonous fumes.
Michelle had sent disturbing texts to Conrad in the moments leading up to his death, saying things like, "You keep pushing it off and say you'll do it, but u never do. It's always gonna be that way if u don't take action," and even listing potential methods of suicide.
Michelle was given 15 months in jail
Although she didn't actually begin serving her sentence until this past February.
Michelle was sentenced in 2017, but she appealed her sentencing. The judge allowed her to stay out of jail while she waited on the appeal after her lawyer argued that Michelle had no criminal record and she was getting mental-health treatment while out of jail.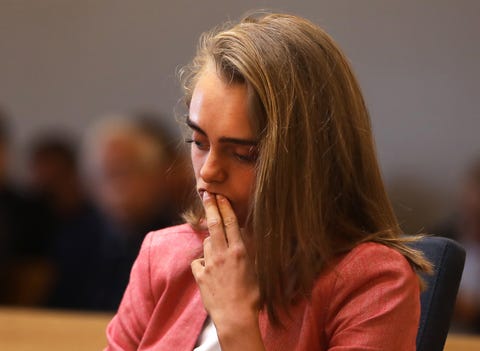 In February, her conviction was upheld by the highest court in Massachusetts
"After she convinced him to get back into the carbon-monoxide-filled truck, she did absolutely nothing to help him: She did not call for help or tell him to get out of the truck as she listened to him choke and die," wrote Supreme Judicial Court Justice Scott Kafker.
She then filed an appeal to the Supreme Court this past Monday. Michelle and her lawyers are arguing that her First Amendment rights have been violated, adding that no person in the past has been convicted of involuntary manslaughter without assisting physically or participating.
The doc wasn't supposed to tell you exactly how to feel
While the director, Erin Lee Carr, doesn't tell the audience how they should feel about the court's decision in the case, she wants to make an argument for both sides and cause a conversation about mental health, technology, and social media.
"At the end, I want you to argue with whoever you watched it with or the internet about what should be done," she told Marie Claire. "Yes, she's in jail, but the case will set precedent, so it's important to look at it very closely."
I Love You, Now Die is available to stream on HBO.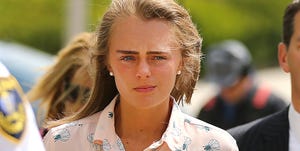 Source: Read Full Article