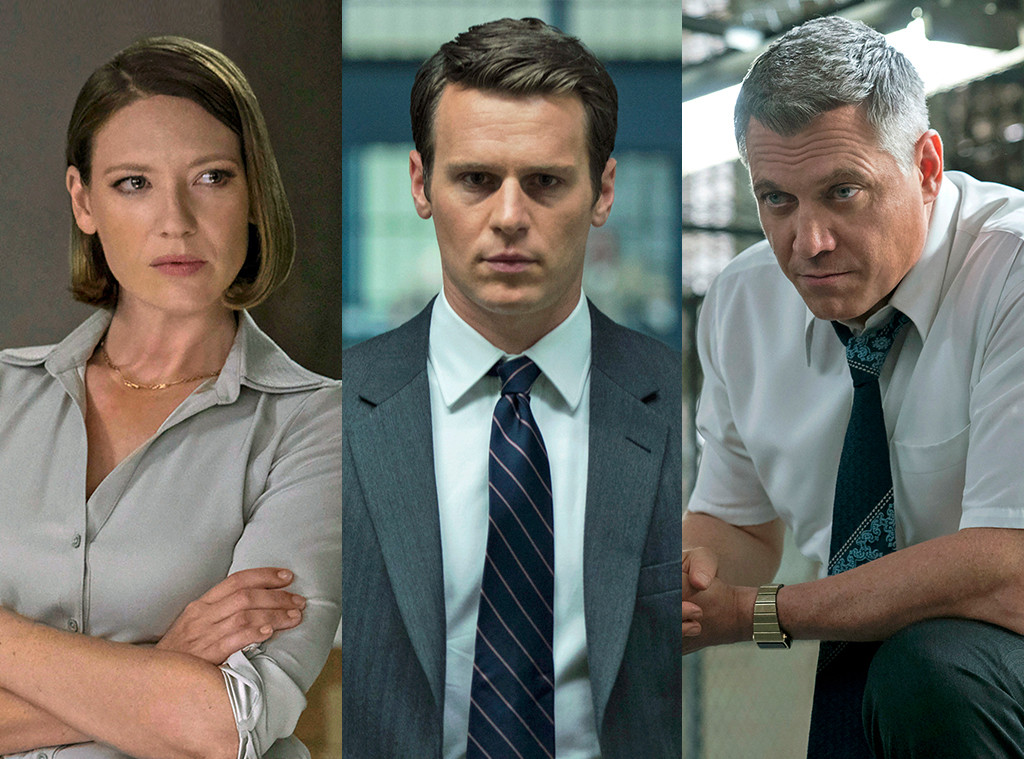 Patrick Harbron/Netflix
"You know, there's a lot more like me," Edmund Kemper warned FBI Special Agent Holden Ford in the Netflix series Mindhunter.
Back for a second season, the haunting, rooted-in-reality psychological drama continues to prove the endlessly creepy Kemper right: There are more out there like him, and it's up to the Bureau's fledgling Behavioral Sciences Unit to figure out what makes them tick to prevent more time bombs from going off.
So, Holden, Bill Tench and Dr. Wendy Carr—Jonathan Groff, Holt McCallany and Anna Torv—are going to be faced with new unspeakable crimes to investigate and a host of new tortured minds to explore.
Well, new to them, that is.
Once again, the show weaves in real-life serial killers, such as Kemper, who were caught by the late 1970s, but this season the team also joins the hunt for the person responsible for the deaths of 19-and-counting black children in Atlanta—another real case long since referred to as the Atlanta child murders.
A the time it was hard to believe that one man was responsible for what authorities would later say was at least 28 killings overall between 1979 and 1981, but that's where the profilers—whether they're right or not—come in.
As you get ready to be hooked once again on the inner workings of the criminal mind, here are the true-crime ghosts, many of whom are still living, that are haunting season two: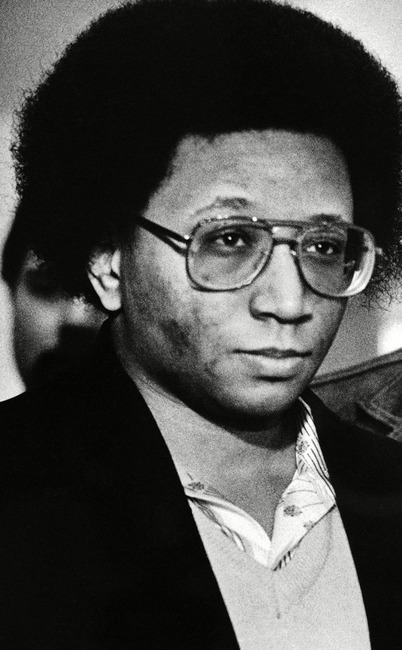 AP/Shutterstock
Wayne Williams
The man who authorities have linked to 18 of the Atlanta child murders has insisted for the past 38 years that he's innocent—of any murder. He's been in prison since 1981 after being convicted of the murders of Jimmy Ray Payne, 21, and Nathaniel Cater, 27, the only killings he's been charged with. The killings of four other adults have been attributed to him as well.
Meanwhile, in 2005 the cases of five murdered boys were reopened because DeKalb County Police Chief Louis Graham, one of the original investigators on the murders, suspected they may not have been committed by Williams. The re-investigation was dropped in 2006 not long after Graham resigned.
After the 2018 podcast Atlanta Monster took a deep dive into the case, Atlanta Mayor Keisha Lance Bottoms and Atlanta Police Chief Erika Shields announced in March 2019 that evidence would be re-tested in hopes that advances in technology since the murders can provide some definitive answers.
In the book Mindhunter: Inside the FBI's Elite Serial Crime Unit, which inspired the series, John E. Douglas and Mark Olshaker wrote, "I believe the forensic and behavioral evidence points conclusively to Wayne Williams as the killer of eleven young men in Atlanta." Meaning, they thought there were quite a few murders pinned on him that he probably did not commit.
Bettmann/Getty Images
William Pierce
Staff psychiatrists advised he "may be dangerous to himself and others," but Pierce was paroled anyway from a Georgia prison in 1970—and then killed at least nine people (seven women, including the daughter of a South Carolina state senator, and two men) before he was arrested again on March 8, 1971.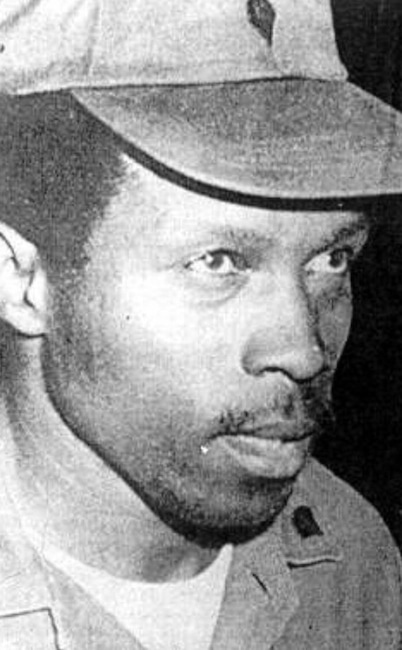 William Henry Hance
The only serial killer featured in Mindhunter so far who was actually put to death for his crimes, Hance was convicted of murdering three women in and around military bases in Georgia and executed in 1994 at the age of 42. Another murder in Indiana was later attributed to him, but he was cleared in a string of killings dubbed the "Stocking Strangler murders."
Holden is in Atlanta to interview Hance and Pierce when he's swept up into the Atlanta child murders investigation.
Article continues below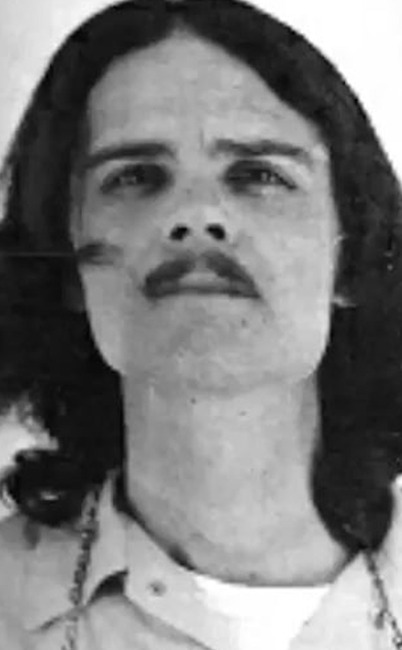 Montie Rissell
Between 1976 and 1977, he raped and murdered five women in Alexandria, Va., when he was roughly 17 years old.
Sent to prison for life-times-5, he penned a 461-page book about his crimes within months.
"Drugs were the main factor in it, but it wasn't the cause of it. It was an enticement that increased my sexual fantasies and really made my mind not in thinking order," he wrote in a chapter called "Reasoning," according to the Washington Post in 1978.
The 60-year-old is at the Pocahontas State Correctional Center, a medium-security facility, in Virginia's Tazewell County.
Netflix
British actor Sam Strike, best known for the BBC soap East Enders, popped up as the awkward Rissell in the fourth episode of season one and is back for the season two premiere. Strike was also in the smash HBO limited series Chernobyl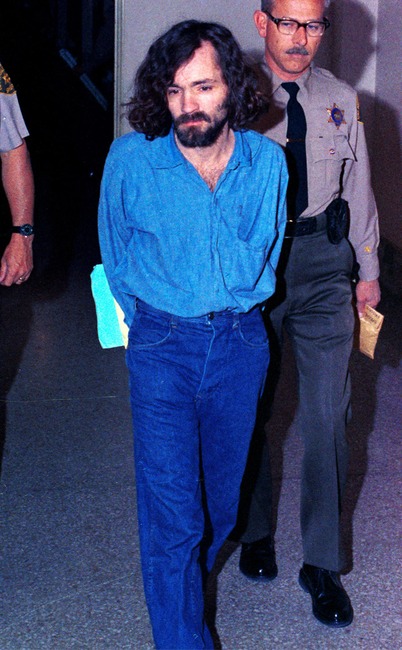 AP Photo
Charles Manson
The killer Ford most wants to sit down with in season two is the notorious cult leader, who died in 2017 at 83.
Kemper, who's full of psychotically pragmatic advice, tells Ford and Tench not to stare at Manson's small stature. The two killers did indeed share a cell block for a time when Manson was locked up at California Medical Facility before being transferred in the 1980s.
Manson was convicted of seven counts of first-degree murder for the 1969 slayings over two nights of Sharon Tate, Jay Sebring, Abigail Folger, Voytek Frykowski, Steven Parent, Leno LaBianca and Rosemary LaBianca—none of whom Manson killed with his own hands, but prosecutors convinced a jury that his "Helter Skelter" ideology compelled four of his followers (all convicted as well) to kill. After that trial, Manson was also convicted of murder in the killings of Gary Hinman and Donald "Shorty" Shea.
Sentenced to death for the Tate-LaBianca murders, his sentence was converted to life in prison during the California moratorium.
Article continues below
Netflix
He's played by Damon Herriman—who also is briefly glimpsed as Manson in Quentin Tarantino's Once Upon a Time…in Hollywood.
So…creepy.
"He's a superb actor, that kid," Holt McCallany told The Hollywood Reporter about Herriman, who spent about five hours in makeup every day to better resemble the iconic madman. "When he steps onto the set, he looks exactly like Manson, it's extraordinary. I saw Once Upon a Time in Hollywood, and I liked it very much, but I was just a little disappointed that Damon didn't have more to do. He really does get an opportunity to shine on our show."
AP Photo/Court TV, Pool
Dennis Rader
The serial killer who would come to be known as "BTK" is known in Mindhunter so far only as "ADT Serviceman," a so-far anonymous repairman with a family, a job and homicidal tendencies.
He ultimately killed at least 10 people in the Wichita, Ks., area between 1974 and 1991. The case may have remained on ice if Rader hadn't started contacting the media in 2004, first with a letter identifying himself as "Bill Thomas Killman," responsible for the 1986 murder of Vicki Wegerle.
He was arrested in 2005, having obtained a warrant to test DNA from a gynecological exam performed on his daughter at the Kansas State University medical clinic against samples taken from underneath Wegerle's fingernails. The familial match led to Rader.
He was sentenced to 10 consecutive life sentences, Kansas having no death penalty at the time. Now 75, he's at the El Dorado Correctional Facility.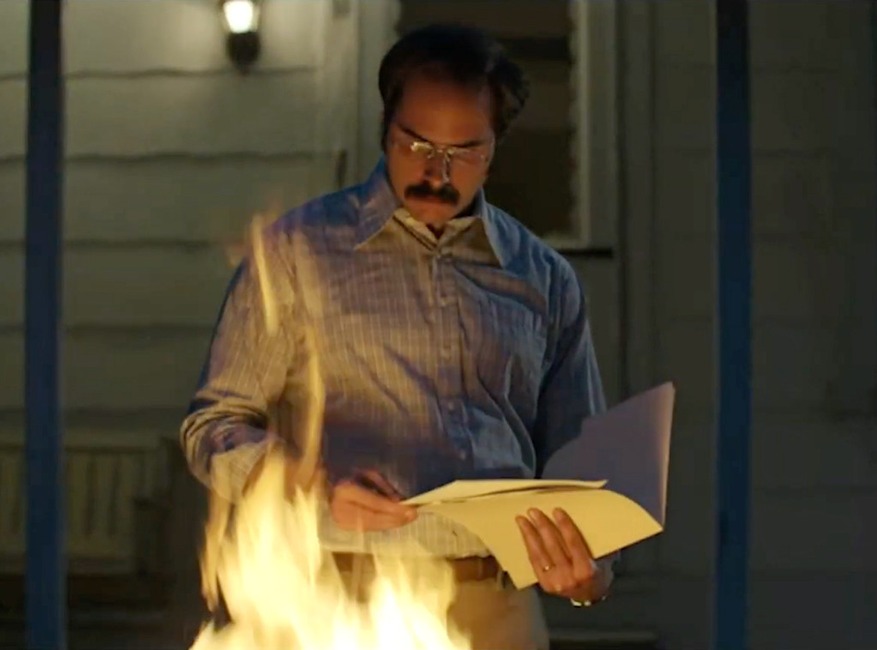 Netflix
Sonny Valicenti, glimpsed in season one but with even more of an unsettling presence in season two, started following people home in L.A. to get in the BTK mindset.
"One thing I did, a couple of nights, was I would walk the residential streets in my neighborhood, and I would pick like a young couple to follow home," Valicenti—who was only told when he first got the role in 2017 that he was playing "ADT Serviceman"—told Indiewire. "The main goal was for them, of course, not to know that I was doing that, but it felt important to feel that experience; to have it be night, have this very strange secret that I'm following these people, and really start to feel my heart race, start to feel kind of utterly alone while also being 15 feet away from people I don't know.
"I could only really stand it for a minute or two," he added. "But that was enough information for me to kind of take away from it, in the event that there was going to be a scene waiting in someone's house for them to come home…You take the information and run."
Though he was only a peripheral character in season one, he started getting recognized, of the "I just saw the ADT Serviceman at the coffee shop" tweet variety.
And Valicenti didn't mind the ambiguity of not knowing 100 percent who he was playing. "There's plenty of research to do," he told Indiewire, "but I feel like the focus was mainly on the desire as opposed to a specific person. My character being referred to as the ADT serviceman is really a great metaphor for what the work was about: It was less about trying to make it be Dennis Rader, or whatever serial killer, and more about just being a human being."
Article continues below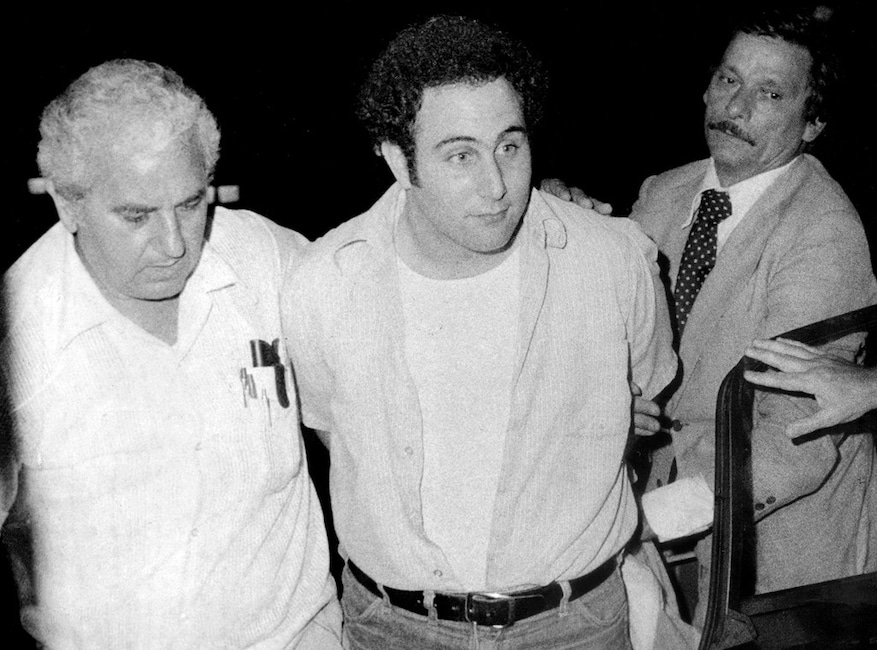 Al Aaronson/NY Daily News via Getty Images
David Berkowitz
The infamous "Son of Sam" murders took place between July 1976 (the Summer of Sam, as dramatized in the Spike Lee film) and July 1977. Overall Berkowitz killed six people and wounded seven in shooting attacks, and he told police he had been hearing orders to kill from his neighbor Sam's dog, who was named Harvey.
He pleaded guilty to second-degree murder and was sentenced to six life sentences.
In the mid-'90s, he tried to amend his confession, saying at the time of the murders he had been a member of a violent Satanic cult that orchestrated the killings as rituals, but no concrete evidence ever backed up his claims.
The 66-year-old is at the maximum-security Shawangunk Correctional Facility in Ulster County, New York. Holt McCallany tried to go visit him, and had a meeting scheduled, but when the actor got to the prison, Berkowitz refused to come out.
"I wanted to understand what my guy was feeling when he went into these places and had these interactions," McCallany told The Hollywood Reporter. "What's wonderful about this job is that you get to go to places and meet people and have experiences that you would never have otherwise had. But not every actor is gonna want to do that type of research."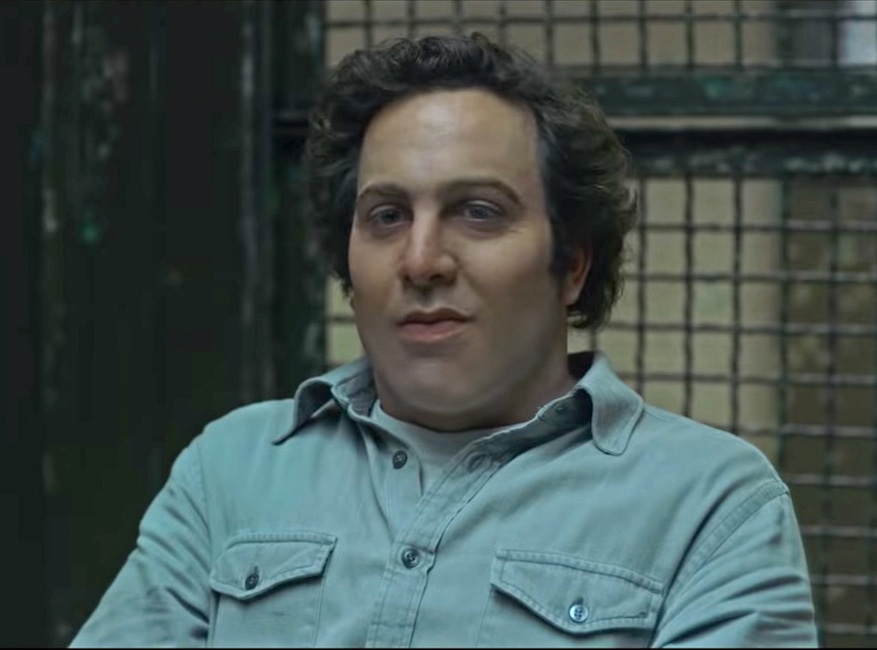 Netflix
Oliver Cooper, who recently played tech visionary Todd Krizelman in Valley of the Boom, pops up as the disturbed Son of Sam.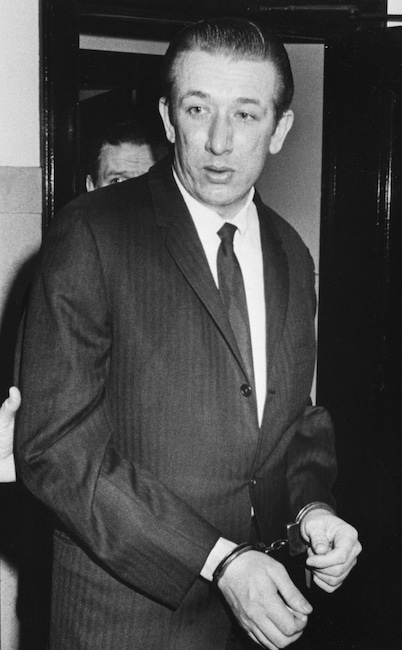 Bettmann / Contributor
Richard Speck
Another creepy face from season one, he raped and murdered eight student nurses from South Chicago Community Hospital between the night of July 13 and morning of July 14, 1966.
For a few years in the '60s Speck was speculated to have XYY syndrome, a chromosomal disorder that had been erroneously linked to violent behavior and deviancy.
Found fit for trial, Speck was sentenced to death in Illinois, but the decision was reversed in 1971 over a problem with jury selection and he was ultimately re-sentenced to 400-to-1,200 years in prison. He died of a heart attack at 50 in 1991.
In a video shot of him in prison that was made public in 1996, Speck was asked what it's like to strangle someone, and he said, "It's not like TV…it takes over three minutes and you have to have a lot of strength."
Article continues below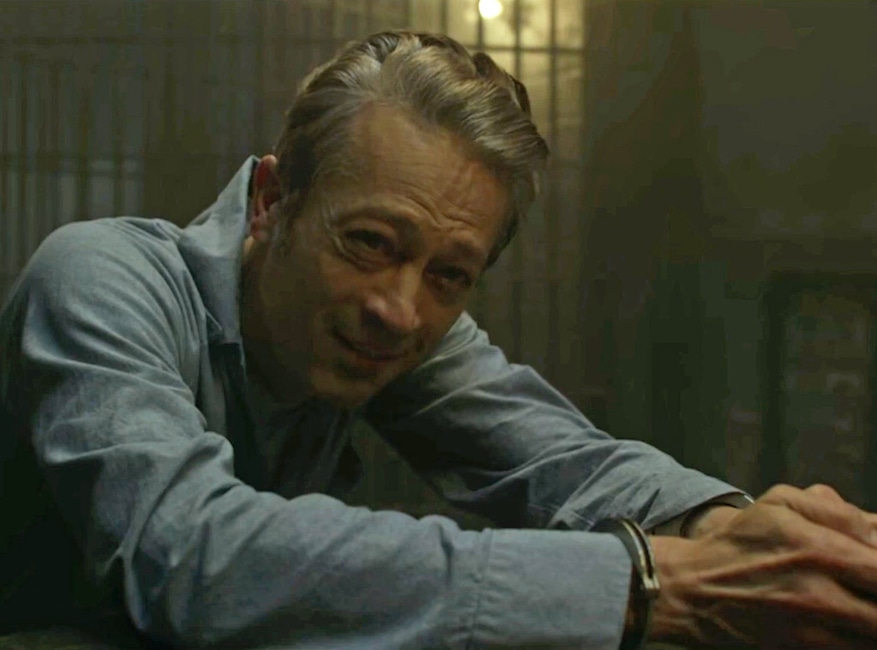 Netflix
West Virginia native Jack Erdie plays the endlessly disturbing Speck, source of some of season one's most grotesque lines.
After sending in a tape, then reading in person, he reached step three, an audition in front of casting director Laray Mayfield.
"I went in and I did it the way I had done it, which was with a certain bravura and swagger," Erdie told Absolute Music Chat, "and then she said, 'Let's have one, in the way that you get with a sociopath: take away all the affect, do it almost monotone.' And I knew right away it was a brilliant redirect and we did it, and as it was going on I could see physical changes in her, as she was watching and interacting until, by the end of it, her shoulders had come up a bit, her chin had receded a bit. At the end she just looked up from the script and from behind the camera and she had got this kind of smile that seems both chilled and ecstatic."
He first heard of Speck when he saw the character on American Horror Story, and he soon realized "what an irredeemable character he was, just from that: just a black hole really, of self-pity and rage."
Erdie, who was fitted with a dental prosthetic to play Speck, watched as much footage as was available of the man, but said he had already read the John E. Douglas and Mark Olshaker's Mindhunter: Inside the FBI's Elite Serial Crime Unit "ages ago" and "done way too much study of the criminal mind and the sociopath, the zero empathy mind, so that groundwork had already been laid."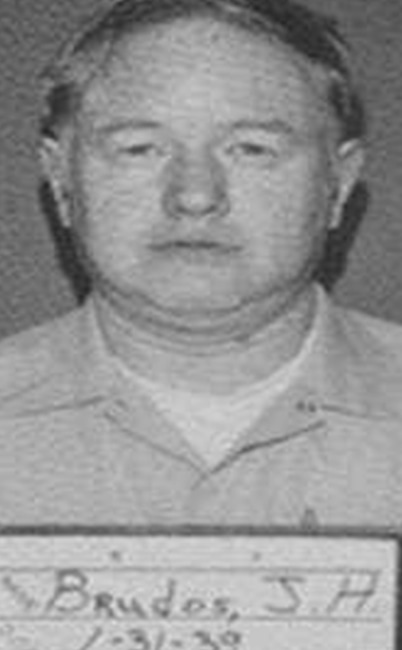 Jerry Brudos
Holden's encounters in season one with the serial killer, necrophiliac and shoe fetishist are about as uncomfortable as it gets.
Brudos murdered at least four women in Oregon between 1968 and 1969 and then amassed a pile of women's shoes in his prison cell. He died of cancer in 2006.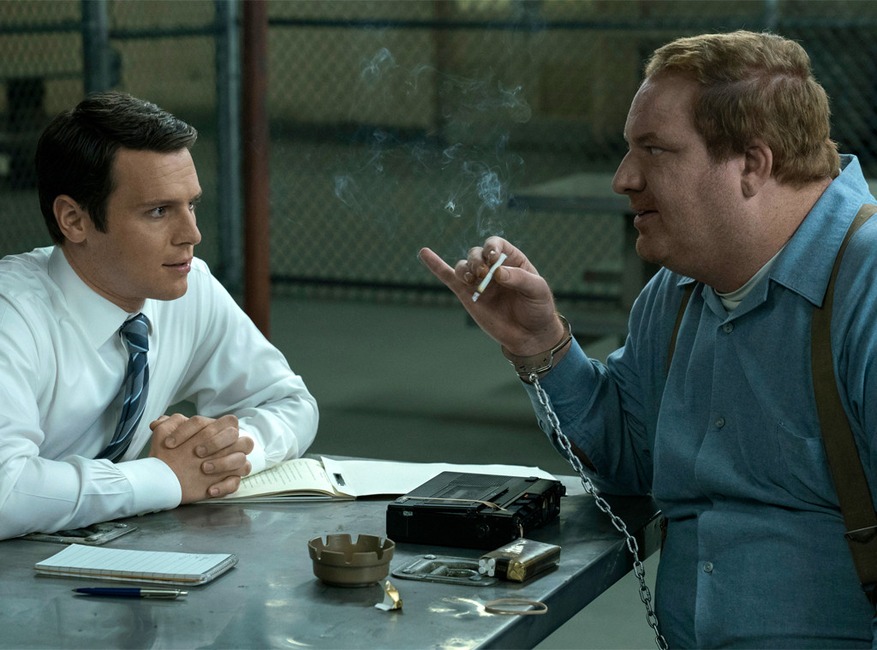 Patrick Harbron/Netflix
David Fincher, who directed six of Mindhunter's 10 first-season episodes, revealed at an FYC event in June 2018 that he shot 75 takes of an ultimately nine-and-a-half-minute scene between Groff's Holden and Happy Anderson's Brudos. At least they all broke for lunch part of the way through!
"The scene with Happy was 11 pages," Fincher recalled, per IndieWire. "We had three cameras outside the cage, and we'd do a nine-and-a-half-minute take. Then I'd walk in with a yellow pad with single-spaced notes: [to Groff] 'OK, that's a joke, you can't toss that off. And this? This is a statement. Make sure that's a statement.' And Jonathan would be there going, 'OK, OK'…Then we'd do another nine-minute take and he'd do all that stuff [I asked], and I'd go to Holt and go over four pages of notes with him. And Happy was like, 'What? We're really going to do this [every time]?'"
The main characters got used to him, Fincher said, but some of the guest stars were admittedly a little fazed.
Article continues below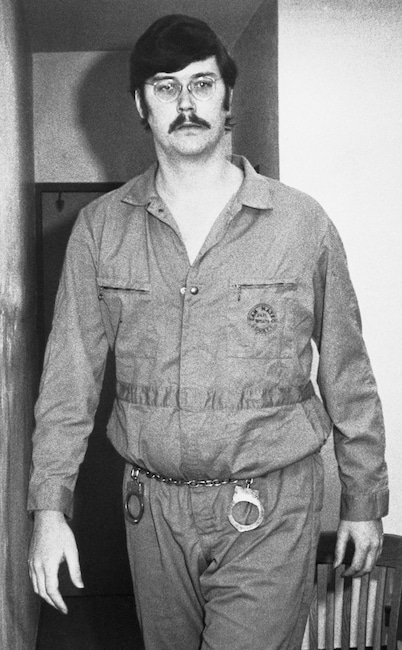 Bettmann / Contributor
Edmund Kemper
The largest presence, literally and figuratively, in Holden's increasingly rattled mind in season one, the mass murderer as played by Cameron Britton is back for season two.
Nicknamed "the Co-Ed Killer," the 6'9″ Kemper killed six female hitchhikers, his abusive mother (whose head he cut off and proceeded to scream at for an hour) and then her best friend, whom he strangled after inviting her over for dinner once his mother was dead. He also later said that he cooked and ate some his victims' flesh in a casserole, as well as performed sex acts using severed body parts.
This Patrick Bateman line in American Pyscho is from Kemper, but he claims to be quoting Ed Gein, the "Butcher of Plainfield": "When I see a pretty girl walking down the street, I think two things. One part wants me to take her out, talk to her, be real nice and sweet and treat her right." And the other? "What her head would look like on a stick!"
When asked about 'what the other part thinks?' he replied: 'What her head would look like on a stick!'
He was found fit to stand trial and asked for the death penalty, but California had a moratorium on capital punishment at the time, so he was sentenced to eight consecutive life sentences. He's repeatedly been denied parole and one of his attorneys said in 2016, "He's just as happy going about his life in prison."
As of Mindhunter's season two premiere, Kemper is 70 years old and imprisoned at the California Medical Facility."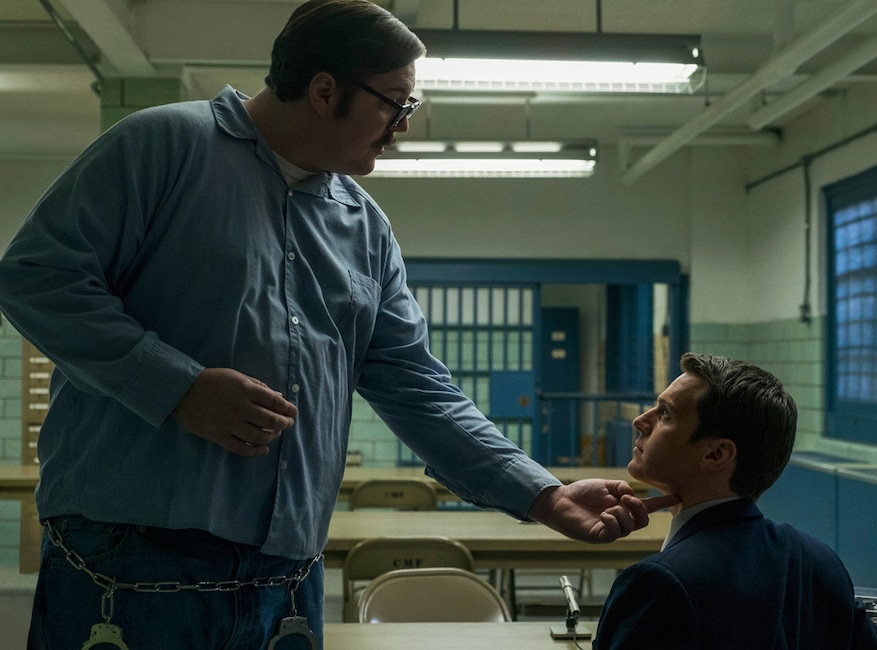 Netflix
Britton is, frankly, terrifying as the perversely helpful Kemper, who describes his crimes and what it's like to kill people with calm, dead-eyed precision.
"We saw several talented people for that role, but Cameron was just perfect," casting director Laray Mayfield told Newsweek in 2017. "You could tell early on that he was going to be very dedicated, prepared and thoughtful."
All the better to cause your nervous breakdown, my dear…
All told, Laray Mayfield cast this series with a watchful eye, exacting ears and an experienced gut.
"These big personalities, be them good or bad, and a lot of times they're villains, have to feel realistic," she told Newsweek. "It's not to say we have sympathy for the killers on Mindhunter, or want to glamorize them, but they are three-dimensional human beings and they have to appear that way onscreen."
Mindhunter season two is now streaming on Netflix.
Source: Read Full Article