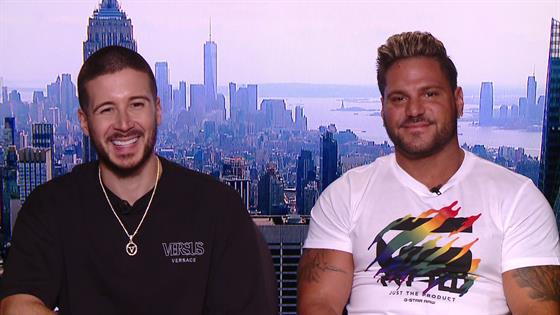 It's not all fist pumps and Ron Ron juice anymore.
With Jersey Shore Family Vacation back for its first new batch of episodes in 2019—marking a continuation of season two rather than a third season of the revived reality hit, according to MTV—the series will see its core cast of guidos and guidettes with hearts of gold not only embark on yet another vacation, but face down some of the most intense, life-altering situations (no pun intended) to come their way yet.
We've already watched as Mike "The Situation" Sorrentino was sentenced for tax fraud in federal court—a prison sentence he's currently serving—and as Jenni "JWoww" Farley spoke of the problems in her marriage to now ex-husband Roger Mathews that would eventually lead to her filing for divorce in last night's two-part premiere. And it's only going to get more intense from there.
"I mean, you guys got to see us grow up and be a bunch of drunk 20-year-olds fighting and fist-pumping and all that. And 10 years later, we're still fighting and fist-pumping, but at the same time, people are getting married, people are getting divorced," Vinny Guadagnino told E! News about these new episodes. "Who's having their first kid? Their third kid? Who's going to jail. It's all these real-life experiences of those 20-year-old kids that you grew up watching."
As Ronnie Ortiz-Magro, who's seen his fair share of intense moments play out in front of the cameras during the initial seasons of the hit revival, explained, these intense real-life experiences are exactly what have endeared him and his co-stars to fans even further this time around. "And I feel like that's why the fanbase likes us more now," he told us. "Because now it's like they can really relate to us."
The truth is that, since cameras were last rolling on the group—which also includes Pauly D, Nicole "Snooki" Polizzi, Deena Cortese, and Angelina Pivarnick—they've all faced down some major life changes. Here's what we can look forward to playing out this season.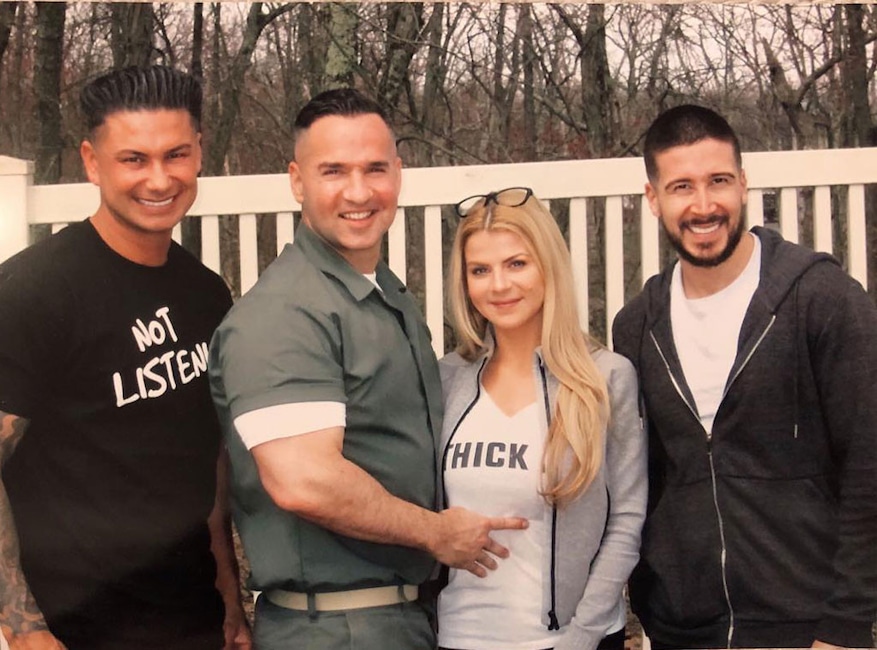 Instagram
Mike "The Situation" Sorrentino
No one has seen their life change more during the break in production on season two than Big Daddy Sitch. As we watched in seasons one and two, he'd both pleaded guilty to one count of tax evasion, as part of a plea bargain with prosecutors, and gotten engaged to college sweetheart Lauren Pesce all while he was maintaining his newfound sobriety. With an October 5, 2018 date for sentencing looming over his head, Mike moved forward with planning his wedding, all while preparing for jail time. A week after celebrating at his engagement party, he showed up at federal court in Newark, N.J., with his fiancee and his co-stars in tow, to learn that he'd been sentenced to 8 months in federal prison, followed by two years of supervised release, 500 hours of community service, a $10,000 fine and $123,000 in restitution, which had already been paid.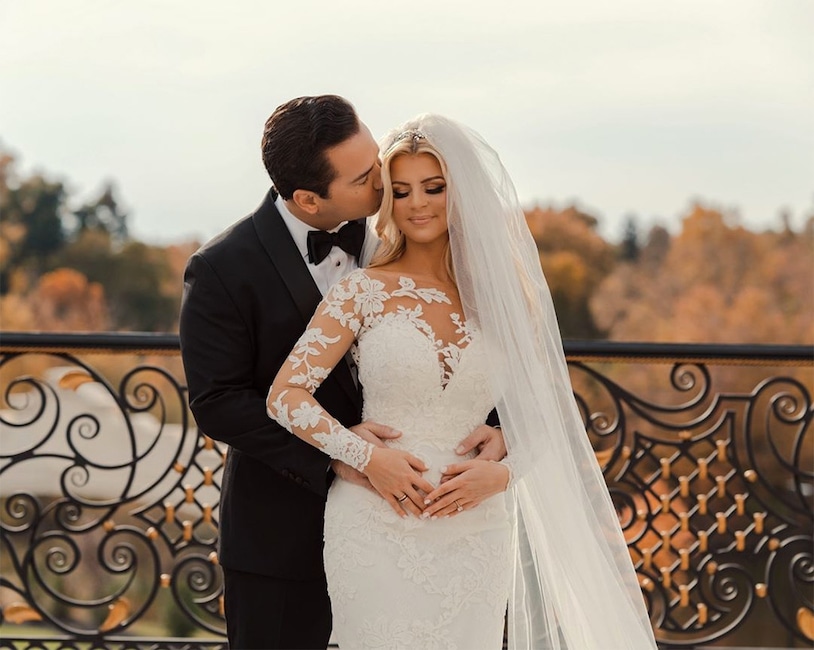 Anthony Serrantonio
"Michael accepts the Court's judgment. He is looking forward to marrying his college sweetheart, Lauren Pesce, next month, and moving forward together after he serves his sentence," Mike's attorney Henry E. Klingeman said in a statement to E! News at the time.
"We are very happy to put this behind us," he captioned a series of Instagram photos from the sentencing hearing. "Thank you so much for all the love [and] support."
With 30 to 60 days to surrender, all focus turned to the wedding, held at The Legacy Castle in Pompton Plains, New Jersey on November 1, 2018. "Today I marry my best friend , My College Sweetheart, My everything," Sorrentino wrote on Instagram hours before the wedding, alongside a photo of him and Pesce kissing. "Together as a team we can accomplish anything. I am so grateful that you are by my side. I promise to be my best self everyday & make you proud to call yourself Mrs. Sorrentino. Love you with all my heart. Here's to our big day."
After heading out for a desert honeymoon at the Miraval resort and spa in Tuscon, Arizona in early December, celebrating three years of sobriety a few weeks later and Christmas right after that, his the time came for The Situation to begin his prison sentence. As he headed to the Federal Correctional Institution in Otisville, New York on January 15, Mike gave his followers a final farewell via an Instagram Live video.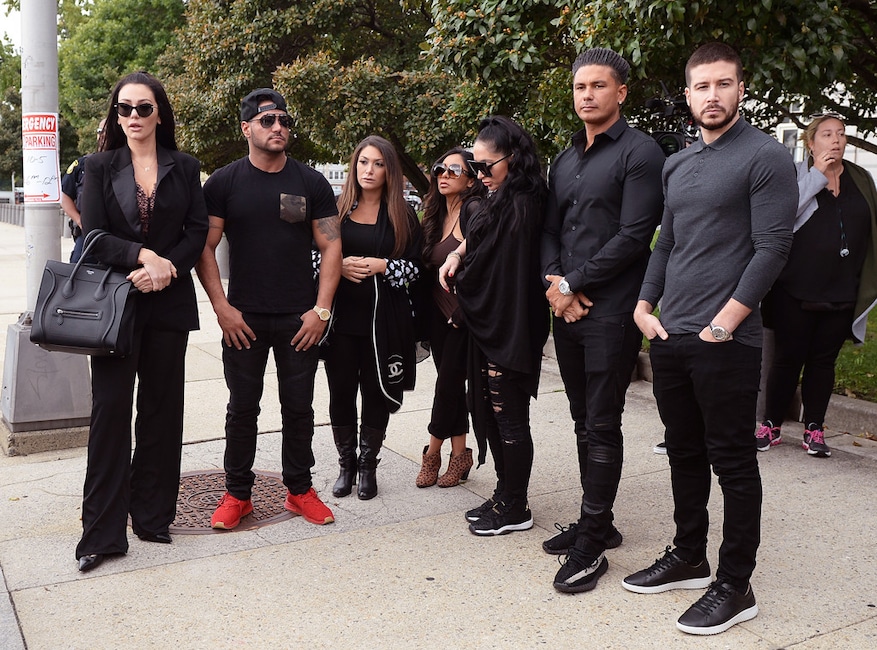 Elder Ordonez / SplashNews.com
"The comeback is always greater than the setback," he said as he rode in the car alongside his new wife. "The Situation will reveal himself in 2019. He is currently under construction…He's under new management right now."
Since beginning his stay, his co-stars have shared several visits with their friend, with Snooki telling E! News in April that he was "having the time of his life."
"It's like his in a senior home, he's playing Bingo, he's helping people recover in jail," she shared. "We all talk to him through an email, so I talk to him like once a week. He's in the gym a lot, so he's probably gonna come out ripped. You know, he's not gonna be BDS anymore–Big Daddy Sitch–he's gonna have his, probably, six-pack again. But he's doing…he's doing good in there."
He's scheduled to be released on September 12, 2019—and you can all but guarantee MTV cameras will be there to capture the emotional moment.
Article continues below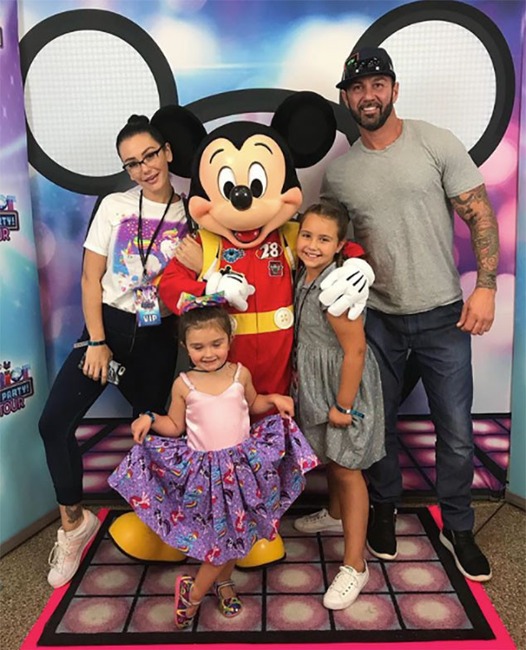 Instagram
Jenni "JWoww" Farley
When last we saw JWoww, she was dealing with son Greyson, 2 at the time, and his then-undiagnosed developmental struggle, which was delaying his speech, but she was doing it with husband of two years, Roger Mathews, by her side. But as season two was airing weekly episodes, life was shifting rapidly for the reality star, beginning with her mid-September decision to initiate divorce proceedings in Ocean County, New Jersey, citing "irreconcilable differences." According to reports, she'd claimed in her filing that their relationship had been on the rocks for the past six months.
While Roger publicly vowed to win his wife back, a source told E! News that the couple had "deep-rooted issues that have been doing on for a long time," while a second insider said the two "argue a lot and Jenni was just tired of it."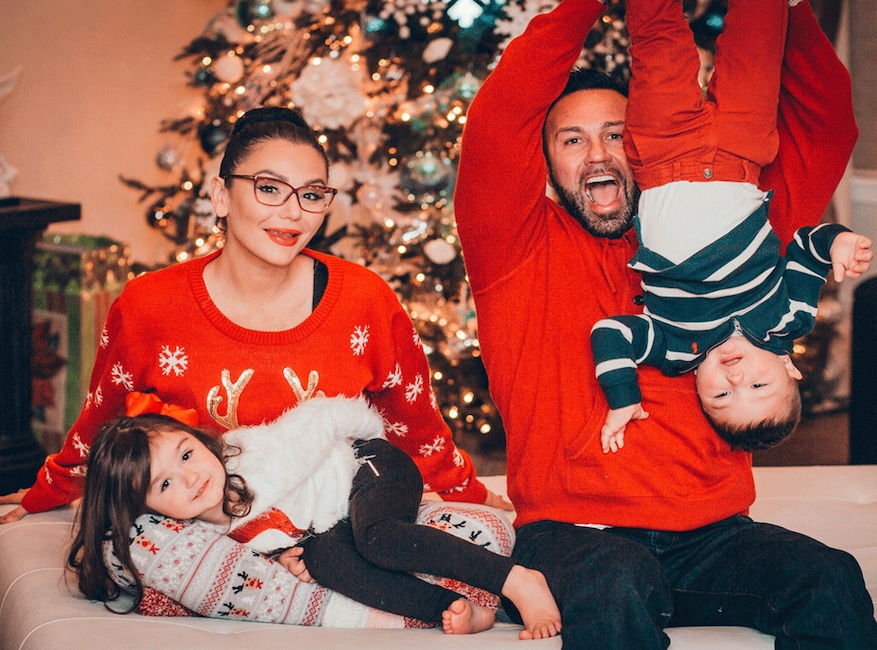 Anthony Serrantonio
Though they spent their third anniversary together in October, with Roger pulling out all the stops, including a ride on a flower-adorned horse-drawn carriage," and watched as Greyson was diagnosed with autism in November, by December, she'd hit him with a restraining order. With the papers giving Jenni temporary custody of their kids, which also includes four-year-old daughter Meilani, he went into a tailspin that was documented for his 1.7 million Instagram followers to see over a series of 10 videos in which he claimed Jenni had become "completely uncontrollably emotional, as she always does," allegedly "screaming" in their daughter's face "Your father's a piece of s–t, he's out of here, he's out of here, I'm sorry I ever had children with him."
While a he-said-she-said began to play out in the media over who was the wronged party in the divorce, Jenni's ex Thomas Lippolis, who'd appeared in early seasons of Jersey Shore, was arrested and charged with third degree extortion in mid-December, following the reality star's report to police that he'd allegedly attempted to extort $25,000 from her in exchange for not sharing secrets about her to the media.
By February, after a particularly ugly few months going back and forth peppered with allegations of abuse both verbal and physical, Roger called for a truce, writing on Instagram, "Peace. let it begin here. For two amazing children. They deserve it." And, for all intents and purposes, it's appeared to have stuck.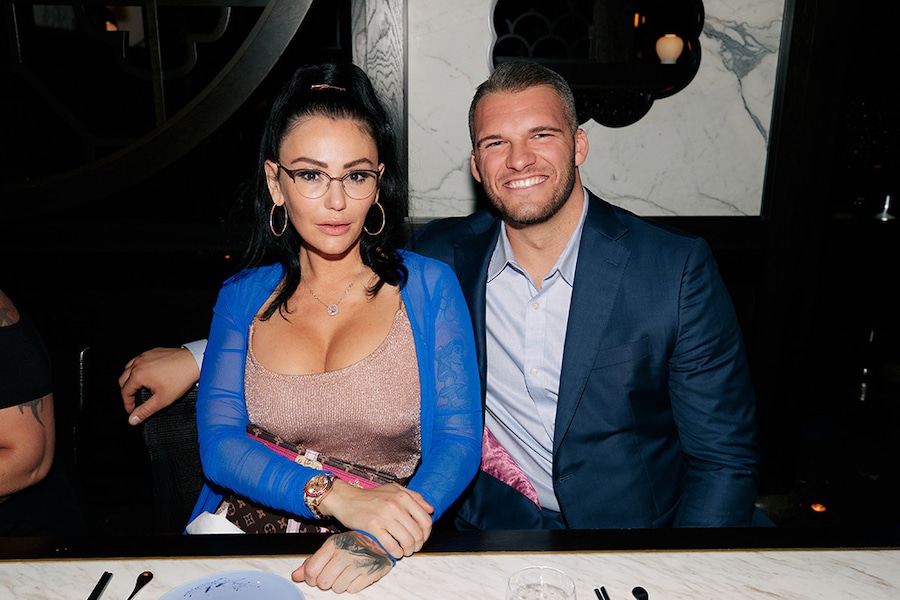 Wolf Productions
After announcing she was in a new relationship with a 24-year-old, but before she revealed him to be Zack Clayton Carpinello, Roger told E! News, "I'm extremely happy for her…He seems like a really nice guy and she seems happy. They've been seeing each other for a few months."
By May, Jenni and Zack made their red carpet debut and revealed to E! News that they'd met at her wedding to Roger, he's the younger brother of her friend Erica and, as he said, "It's been great so far. All is fantastic."
The new couple attended the 2019 CMT Music Awards together in June, where Jenni presented the CMT Performance of the Year. She revealed to E! News shortly after taking the stage that Zack helped her get through the nerves. "He was cheering me on right before," she told us. "Saying, 'You're here, this is your moment, enjoy it. Everyone's here to see you and all the other presenters and performers, enjoy it.' As I'm screaming and crying in the background."
Article continues below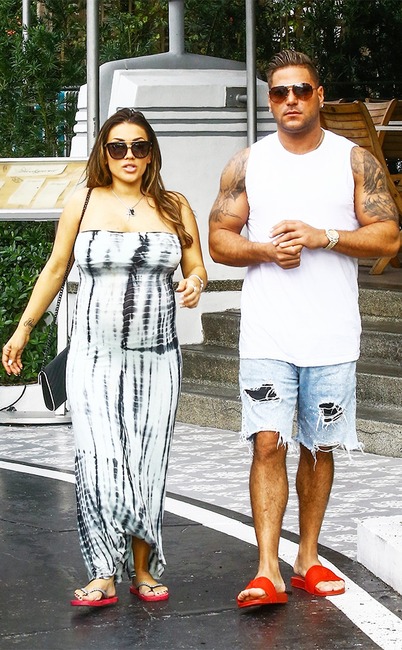 VAEM / BACKGRID
Ronnie Ortiz-Magro
Oh, Ronnie. While viewers are no stranger to his relationship troubles, as his domestic drama with girlfriend Jen Harley practically dominated both seasons, since cameras stopped rolling on season two, things have only managed to intensify for the parents of young Ariana Sky. The couple spent the summer "back together," with a source telling E! News, "They want peace and they want things to work out for the baby's sake."
But by October, they were once again accusing the other of violent and vicious behavior, with Ronnie filing a battery report against Jen as he shared a photo of himself with a black eye on social media. Responding to a comment about the accusation on her own Instagram, Jen wrote:"I don't post my s–t on IG lol. He's lying. I'll prove it again with the car thing I can't deal with a drug addict anymore it's getting so out of control [sic]."
Despite the tension, the couple was photographed spending the day together in Miami mere days later. "Friends are unsure as to what the status of Jen and Ronnie's relationship is at the moment," an insider told E! News at the time. "They have always been on-and-off with each other because things are so volatile between the two of them, but they're ultimately brought back to each other because of their daughter."
Things were quiet through the turn of the year, until a fight on New Year's Eve led to another split. "They got into a huge fight and she threw something at his head," an insider told us. "They are a mess. At this point, they even laugh about it."
After the two accused the other of burglary (Ronnie was a person of interest in an incident at Jen's home) and domestic battery (Ron's charge against Jen), Ron revealed in mid-February that he'd sought out treatment to battle his demons. "I decided to go to treatment because…I was just making the wrong decisions and I was very depressed," he told Us Weekly.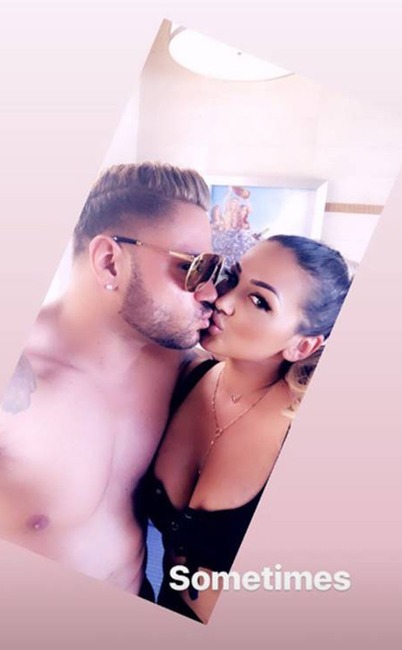 Instagram
While he recognized he needed to make a change for himself, he admitted that he wasn't only thinking about himself when he made the decision. "I decided to go to treatment because I wanted to be a better person, a better father for my daughter," he told the magazine.
After completing treatment, Ronnie and Jen both seemed committed to maintaining a healthier relationship, as a source told E! News in late March. "They are co-parents and trying to work on their relationship. They see each other all the time and still get together as a family for the sake of Ariana," the insider explained. "He is committed to maintaining a healthy lifestyle and his number priority is Ariana."
And while everything's been relatively quiet, drama-wise, since then—with the two even pranking fans on April Fool's Day with a fake Vegas wedding—there was more legal trouble for Jen in mid-May as she was arrested in connection to the battery report Ron filed against her back in January. As she awaits the resolution of the charges against her, she and Ron have remained cozy, sharing several photos of their Fourth of July spent together.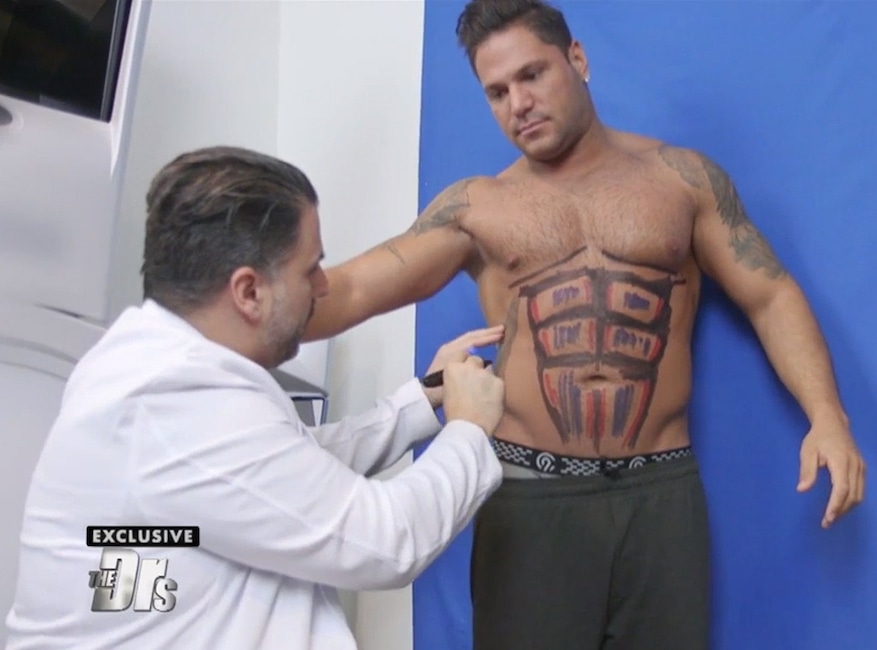 Courtesy of "The Doctors"
In May, we also learned that Ronnie had gone under the knife for some liposuction of the abs, in the hopes of bringing his six-pack back. In a two-part episode of The Doctors, fans watched as he consulted with board certified plastic surgeon Dr. Christopher Khorsandi about the procedure. "We're going to do something for Ronnie today that wasn't even available 10 years ago," the doctor told him. "When you wake up, you're going to have a six-pack."
He called in to the show after the surgery and explained that he felt like "crap," but was "excited to show off the new abs" in upcoming episodes of Jersey Shore Family Vacation. As Dr. Khorsandi explained, he still had some work to do. "You just gotta keep this up in the gym and he's gonna be just fine," the surgeon said, before offering some encouraging words. "That sick-pack is there to stay."
Article continues below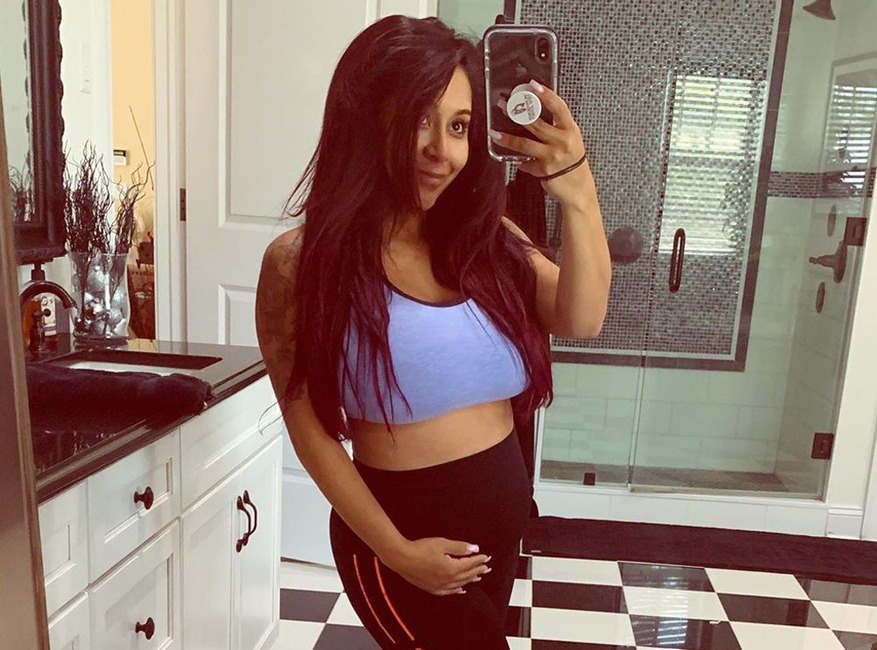 Instagram
Nicole "Snooki" Polizzi
While Snooki was certainly busy being a good best friend in the wake of Jenni's divorce, defending her BFF when necessary, it wasn't all she was dealing with. As she announced in early November, she and husband Jionni LaValle were expecting baby No. 3. Sharing a photo of son Lorenzo and daughter Giovanna holding up a sonogram on Instagram, she wrote, "What I'm thankful for this Thanksgiving."
After revealing in December that she was carrying a boy, she opened up about how difficult this pregnancy was for her. "Right now, I'm seven months, and this pregnancy is probably the worst," she told E! News in April. "Just because I'm chasing around a 4 and a 6-year-old, I'm not really having time to rest or sleep or do any of that, which is fine, but I'm grumpy."
"And I'm ready for this to be over," Snooki continued. "I'm super excited to have a third baby though, but I know it's gonna be so stressful because everyone says the third one…that's the baby that makes you crazy. And I'm already crazy."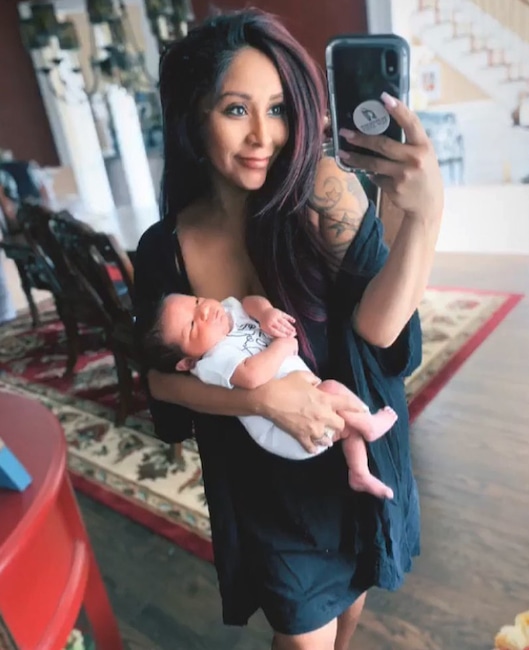 Instagram
As she approached her due date, she copped to feeling "miserable" as she encouraged the baby, whom she'd revealed would be named Angelo, to "come out you little s–t." On May 30, he finally arrived. "He's here now, he's six days old today. I'm posting a lot of videos of him on my Insta Stories," she said days later on an episode of her podcast It's Happening With Snooki & Joey, adding, "He sleeps a lot, he's like me. He sleeps a lot during the day and then at night, he's chugging and s–tting. So he's like us."
"It's so crazy and I'm trying to get my life back together," she confessed. "You know when I was pregnant I was not doing anything, I was relaxing. Now I'm trying to just get back into my groove, and it's really hard with three kids."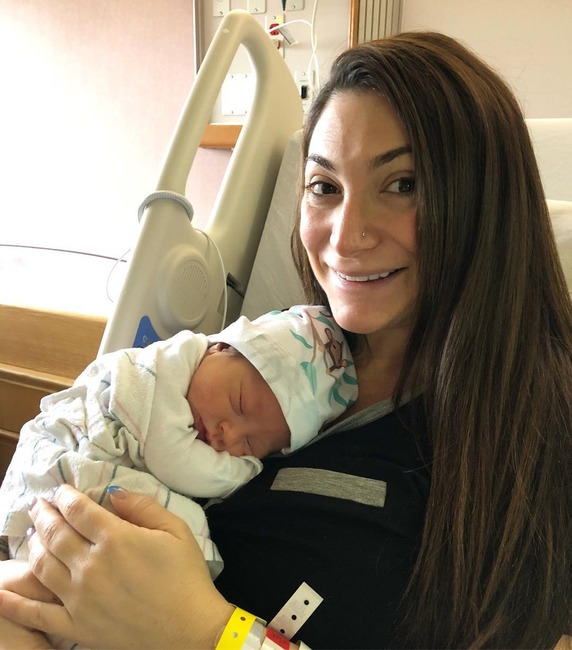 Instagram
Deena Cortese
Fans watched as Deena's pregnancy with her first child left her a bit sidelined during some of season two. And as cameras started rolling again on this new batch of episodes, she was approaching her due date. After taking a babymoon in September with husband Christopher Buckner at the Atlantis Resort in the Bahamas, she was busy preparing for little Christopher John, named after his father and Deena's father, John Cortese, who dies in 2016 after battling leukemia.
"We've been getting the baby's room ready. I just had my baby shower, so we got most of our stuff," she told People in mid-November. "We're just anxiously waiting for him to arrive. I'm so excited, and now he's moving more. It's just amazing. We can't wait for him to be here."
He finally arrived on January 5, a bit later than expected. "Uhg mommy and daddy love you so much CJ .. youre our everything," she wrote on Instagram, announcing his arrival. "i never thought i could love Chris anymore than i did until i saw him hold CJ."
Article continues below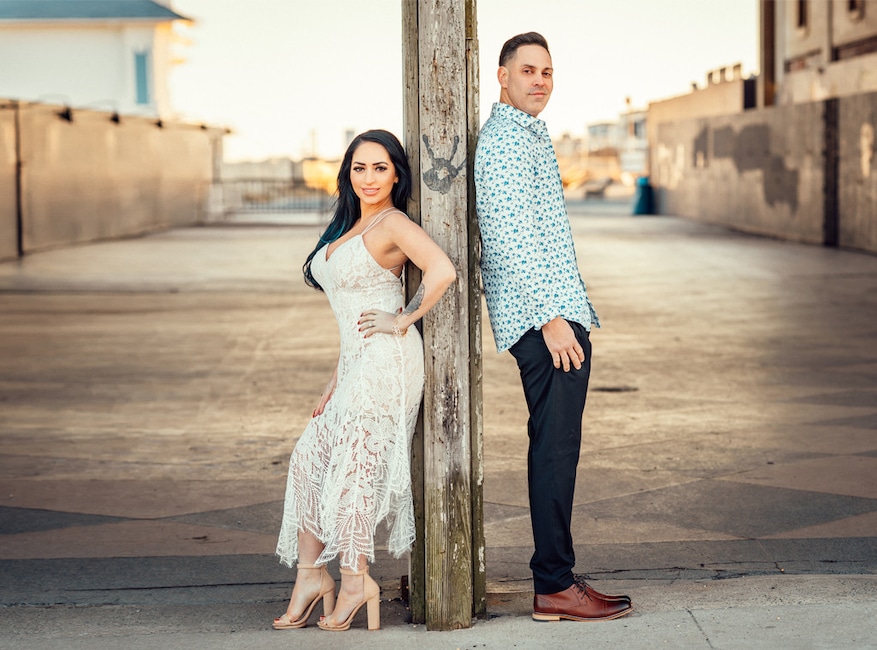 Anthony Serrantonio
Angelina Pivarnick
As Angelina prepares for her wedding with fiance Chris Larangeira, she's begun to take control of her health. As she revealed to E! News in June, she's achieved a nearly 20-pound weight loss, thanks, in part, to the Keto Guido himself, Vinny. "So I listened to Vinny, which is so cute and I sort of did half Keto," she explained. "I kind of followed [Keto], but on Sundays I gave myself a cheat day, which I think Vinny does, too. I basically followed what Vinny told me to do. Never in a million years would you think that I would be listening to Vinny."
As for when she'll finally walk down the aisle, she says it'll be soon. "It looks like my wedding will be sometimes in the fall," she said, adding the reason for the wait. "I want Mike [Sorrentino] to be there with Lauren [Pesce]."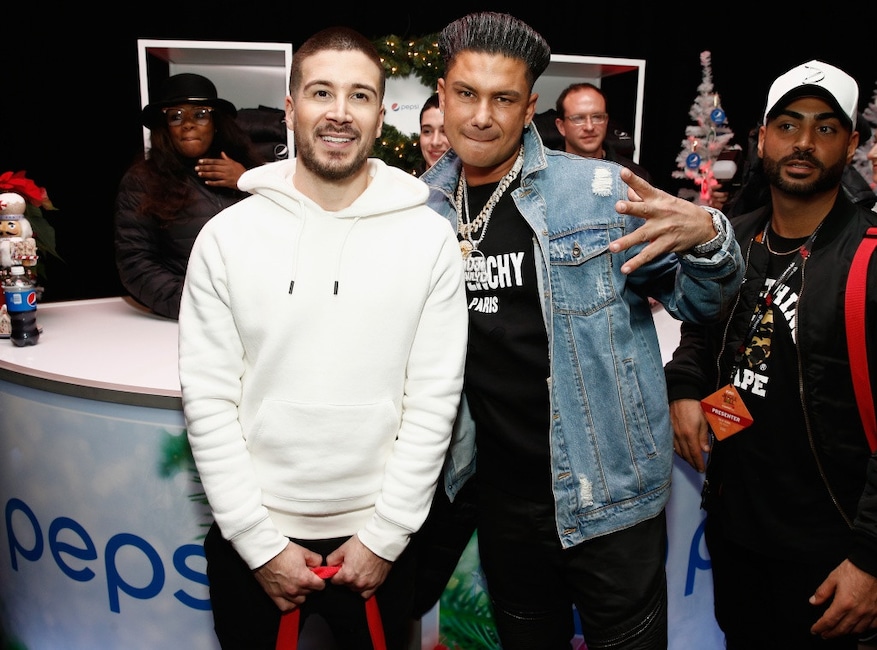 Brian Ach/Getty Images for iHeartMedia
Vinny Guadagnino and Pauly D
Ever the stable ones in the group, Vinny and Pauly had no major drama to report aside from their hunt for love as the stars of A Double Shot at Love, MTV's answer to The Bachelor. While Vin ended the season matched with winner Alysse Joyner—Pauly went home empty-handed—their romance wasn't long for this world. By the time the reunion show aired in late June, Alysse admitted, "We did talk for a few weeks, and it was great. And then it just kind of faded away. He just stopped trying."
"If you can't see somebody or even hang out with them, it's hard to do," Vinny replied, referring to the need to keep the relationship under wraps in the months between filming and the show airing.
For now, both guys are "rolling solo."
They've all faced quite a lot. Luckily, they've got each other to lean on.
"We are like each other's family," Vinny explained. "I used to film and leave my friends and family to be with these guys, and they were like my work friends and then I would leave. Now, there's no more friends in real life. It's just these guys. They're like my friends and family. So we're always just there for each other. I've gone through more stuff with them than I have with anyone else on this earth."
Jersey Shore Family Vacation airs Thursdays at 8 p.m. on MTV.
Source: Read Full Article