Fans of the hit Netflix series You may have noticed a big change in the first five episodes of season four – fewer intimate scenes. That's because star Penn Badgley made a request for showrunner Sera Gamble in the name of his marriage to Domino Kirke.
"Fidelity in every relationship – and especially in my marriage – is important to me," Penn has shared. The 36-year-old is father to two-year-old son James, and Penn is also helping to raise Domino's 14-year-old son from a previous relationship.
WATCH: Trailer for You season four on Netflix
"I asked Sera Gamble, creator of the show, 'Can I just do no more intimacy scenes?' This is actually a decision I had made before I took the show. I don't think I've ever mentioned it publicly, but it's one of the main things… 'Do I want to put myself back on a career path where I'm just always romantic lead?'" Penn continued, speaking on the Podcrushed podcast.
However Penn acknowledged that he had signed a contract years prior and it wouldn't be easy to change the character of Joe drastically: "I signed up for this show. I know what I did. You know, you can't take this aspect out of the DNA of the concept, so, 'How much less can you make it?' was my question to them."
But it turns out Sera was open to the idea, and Penn believes that she may have even been "empowered" by his request.
"She had a really positive response. She appreciated my directness and she appreciated that I was also being reasonable and practical and they came back with a phenomenal reduction," he said.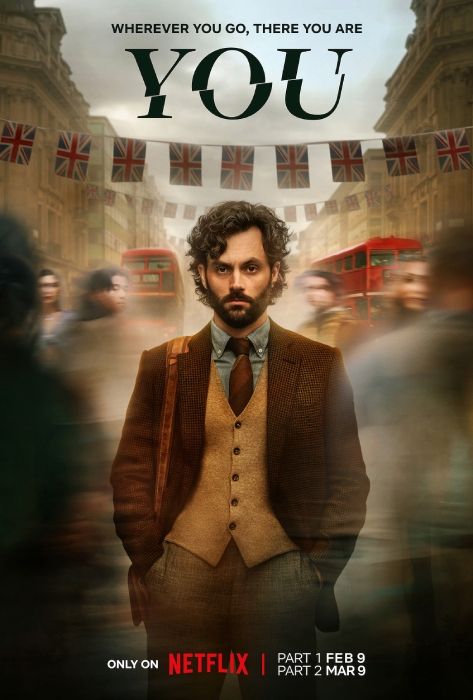 You season four part two will drop in March
You follows Penn's Joe, a bookstore manager who crosses paths with an aspiring female writer. But Joe's obsession takes a dark turn when he chooses to do anything in his power – even murder – to get close to her.
The fourth season picked up where season three ended, with Joe now in London after faking his own death and abandoning his baby son, Henry.
Showrunner Sera previously opened up about what the shock ending of season three meant for Joe's future, revealing that viewers leave him feeling "like he had to let go of everything he cared about really".
She added that season four would be "about how he gets any of that back or how he finds something else – because if the Joe you met in the first scene of the pilot, where the bell rings in the book shop and then the girl in the jeans walks in? If he had one hole he wanted to fill in his heart, now he has like 17".
Source: Read Full Article