Bella Hadid, Blake Lively and Emily Ratajkowski are among the guest list of the supermodel's fabulous birthday celebration at a private club in New York City.
AceShowbiz –Gigi Hadid is officially one year older. On Saturday, April 23, the supermodel celebrated her 27th birthday. Throwing a bash at the Zero Bond club in New York City, she was joined by her closest friends and family.
Among the guest list of the party was her dear friends Blake Lively, Emily Ratajkowski, Martha Hunt, Helena Christensen and Antoni Porowski. It was also attended by her father Mohamed Hadid, mother Yolanda Hadid, who turned up with her boyfriend Joseph Jingoli, her brother Anwar Hadid and sister Bella Hadid, who was accompanied by her boyfriend Marc Kalman.
Gigi was dressed to the nines with her semi-sheer white laced outfit. The model wore a white laced corset along with matching flared pants and a long jacket, pairing it with white pumps. She finished off the look with white pearl necklaces and white earrings.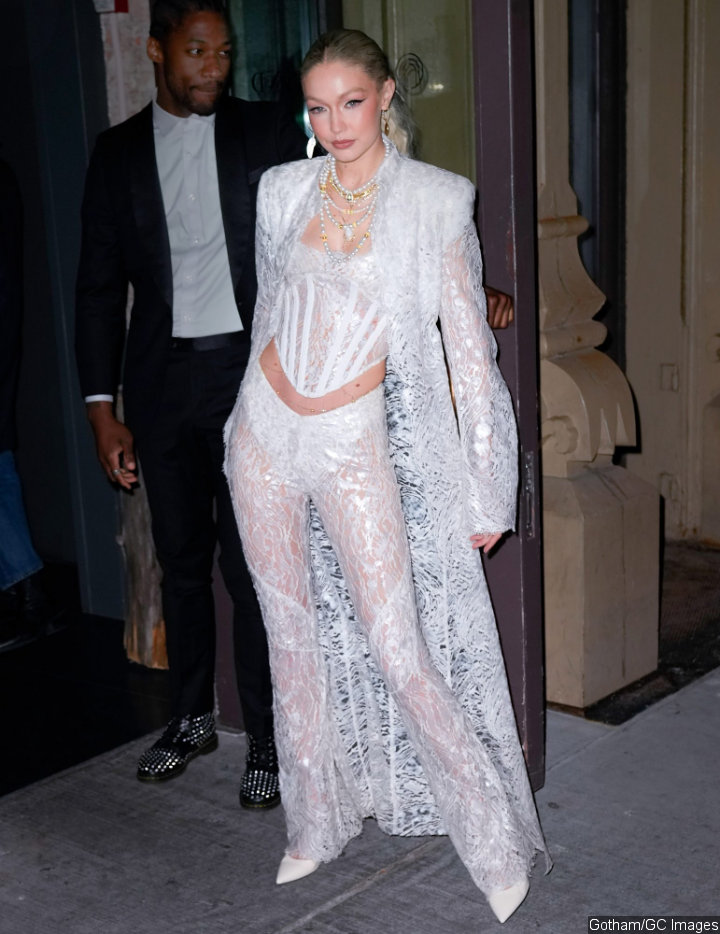 Gigi Hadid arrived at her birthday party.
Gigi's guests were also seen looking fabulous. Some of the notable looks from the party were from her celebrity friends. Blake wore a vibrant violet Sergio Hudson mini dress paired with a bright red clutch and red heels. The 34-year-old actress kept the look simple by keeping the accessories minimal.
Emily also rocked a bright-colored outfit. The English actress was dressed in a sleeveless coral and blue dress with cut-outs which highlighted her gorgeous figure. She paired it with black sandals and a silver bag. Last but not least, Bella sported a sleeveless, black button-down top with cut-out details and a mini skirt. She completed the look with black knee-high pointed leather boots.
On her social media account, Gigi received sweet wishes from family. Bella made use of her Instagram account to wish her older sister a happy birthday. She posted a series of pictures of the two of them in their childhood and adulthood days. "Happy Birthday to my big sister @gigihadid thank you for being born so that I could be born that was very sweet of u," she wrote in the caption.
Bella continued her caption, "Thank you for being the best sister, mom, daughter, human bean ever. You teach me something new everyday and sometimes I just smile because I feel so lucky to be your baby sister. I'm sitting next to you right now so don't make it weird when you read this. I love you."
Her dad Mohamed also posted a sweet tribute on his Instagram account. The Hadid patriarch posted a picture of himself and little Gigi. To accompany the post, he wrote a caption that read, "Guess what day is today. It's the princess of Nazareth was born. Self-made, hardworking, smart and loves respect all people from all Religious. Walks of life, she put a smile on everyone and she comes out the door greatest mother Daughter and sisters and brother is going to see has a heart of gold passion and drive without a break. She is after all A Hadid."
Source: Read Full Article