As one of the most famous golfers in the world, everything Tiger Woods does is under a microscope. From the highs of his career to the low points in his personal life, the public has watched every bit of it play out on the national stage.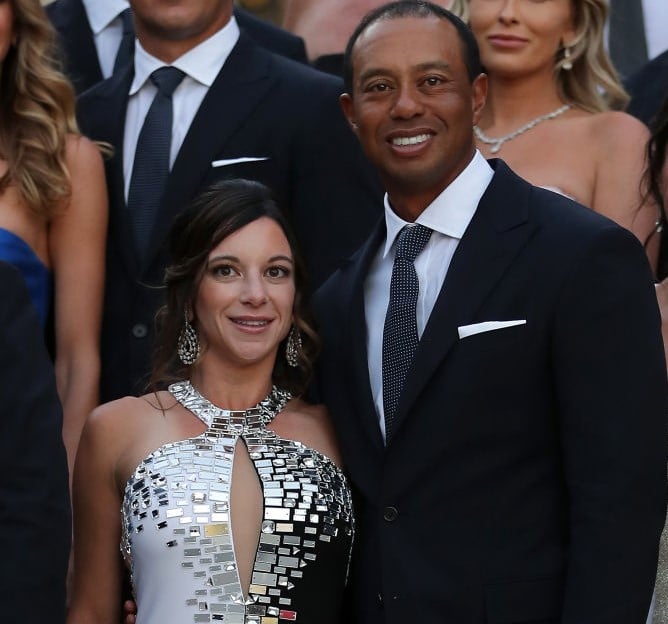 Some of those low points include his 2009 cheating scandal when he was still married to Elin Nordegren as well as his 2017 arrest when he was found asleep behind the wheel of his vehicle with the engine running. It was later discovered that Woods had marijuana, Vicodin, Xanax, and Ambien in his system at the time.
But that was then.
Now, Woods has earned his way back to being one of the best in his sport. However, it's been revealed that the woman he's currently dating, Eric Herman, has her own checkered past.
How Woods and Herman met
Herman previously worked in the restaurant business and that's when she met the golfer. She worked as the general manager of the athlete's Florida restaurant called The Woods.
They were first pictured together at the Presidents Cup in 2017 when Herman was seen wearing a badge reserved for the girlfriends and wives of golfers. Since then, she has been spotted at numerous events cheering Woods on but a source told People that the couple is in no rush to walk down the aisle.
"No one has signed any paperwork. It's not like they're pledging their lives to each other. But she's really nice and Tiger likes her. Tiger doesn't like to be alone…But he doesn't like to settle. Not anymore. So when he's with someone, he really needs to be into her," the insider said.
In February 2018, it was reported that Herman stopped working at the restaurant her beau owns.
She's had a string of financial woes with her ex
In 2018, the Daily Mail reported that Woods' girlfriend has some serious financial issues.
The publication claimed that Herman is in debt to the tune of more than $240,230.00.
Court papers filed allege that in 2010 Herman and her then-boyfriend, party planner Jesse Newton, along with business partner Ricky McIntosh, accepted $200,000 from Florida investor Tom Morris to set up five nightclubs in Orlando. Their endeavor failed and Morris won a judgment against Herman to recoup his investment, plus interest and fines. She reportedly agreed to pay him $295.60 a week.
According to Radar Online, suits have been brought against Herman and Newton other times for breach of contract including with Alena Hospitality for monthly and interest payments of $450,000.
When she worked at The Woods, her $1,586.54-a-week wages were reportedly garnished.
Moreover, the two were sued by their landlord for allegedly skipping out on the rent for their Orlando apartment multiple times in 2012 and 2013. In 2014, they were evicted.
More financial drama
Aside from her financial issues with Newton, Herman reportedly racked up some debt herself.
Radar Online also claimed that she was sued in 2012 for allegedly failing to make car payments on her 2006 BMW, which was valued at $13,000. However, after two years, that case was dismissed.
It's unclear what Herman's financial state is these days, but we do know that her boyfriend has a whopping net worth of $800 million.
Read more: Who is Phil Mickelson Married to?
Source: Read Full Article